Hawaii Coastal Lavender Editorial
Get ready for the vastness of the sea that crashes on black lava rocks, a graceful bride who seems to tame the ocean.
Hawaiian hills lie softly in the arms, shimmer dreamily in the warm sunlight. The wind moves gently through the flowing fabric of the lavender-colored dress, which bows to the bride with every gust.
Flattering the figure, it lies light as a feather around the bride's narrow upper body, giving her legs the freedom to float over the rocks.
A splendid bouquet of flowers by Designs by Hemingway accompanies her on her way. The focus is on her floral hair ornament made of the purest flowers, which she proudly drapes as a royal crown on her head.
From Debbie Hemingway:  "My inspiration for our Hawaii coastal editorial was based around the beautiful lavender silk chiffon dress from designer Leanne Marshall  that our studio recently acquired. The lovely Stella dress has layers and layers of flowy silk chiffon blowing in the wind and such a dramatic scene on the white sand beaches on Oahu, Hawaii.
The floral designs included a mixture of European blooms mixed with local white bougainvillea and orchids and a color palette of blush and antique dusty lavender blooms with a hint of eggplant.
An artful floral head crown of white bougainvillea had a whimsical mermaid feel for a coastal wedding vibe. Our table top had beautifully designed hand made papers and calligraphy by Theo Berry Stationery  atop a vintage white farm table from Signature Maui all finished off with an oversized silk runner from Silk and Willow."
Thus dreamy romance and magnificent nature become one, as the fantastic pictures of Jeannemarie Photography impressively prove.
From Jeannemarie: "Being able to to what I love in a place where I love, the Hawaiian beaches are always dramatic and magical. Being able to capture the beauty of our islands through my lens and the bring to life the vision of Debbie from Designs by Hemingway is always a delight."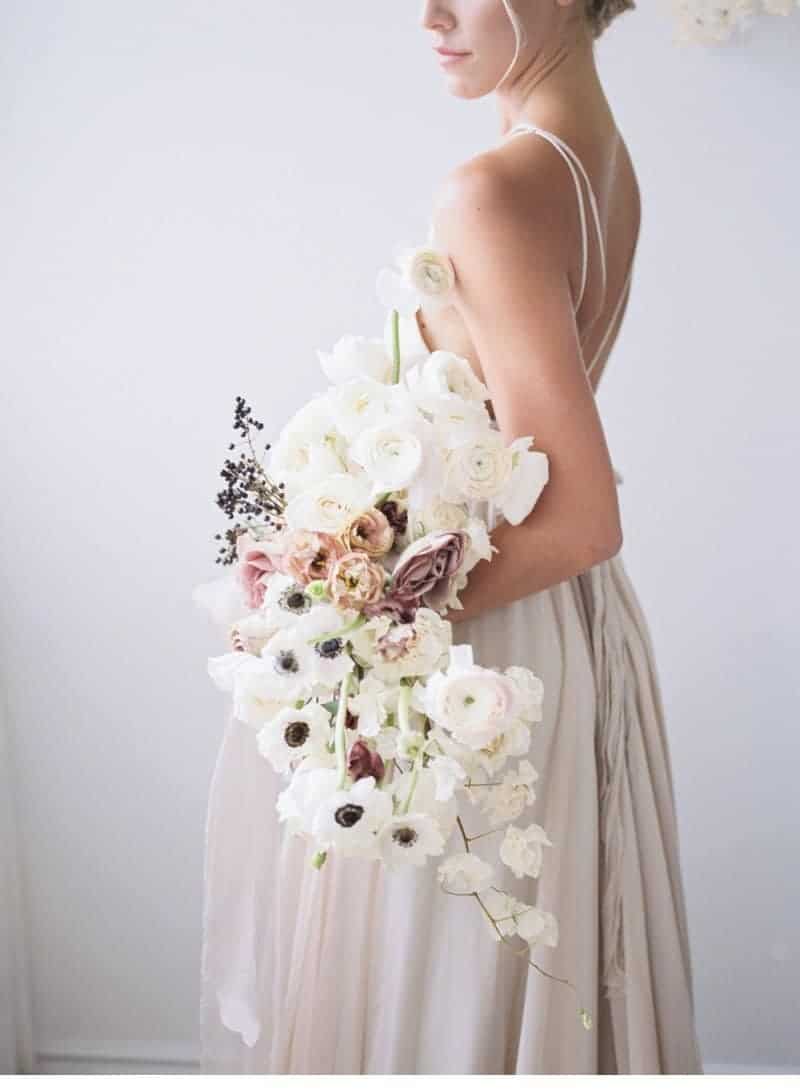 Photographer: Jeannemarie Photography 
Floral Design: Designs by Hemingway
Gown: Leanne Marshall
Silk ribbon: Silk and Willow 
Table Decor /chair rentals: Hemingway Fine Art Studio 
Hair and Make-up: Reveal Hair and Make up 
Calligraphy: Theo Berry Stationery 
Table Rental: Signature Maui 
Film Lab: Photo Vision