Idyllic beach elopement at the North Sea
A lonely sandy beach, idyllic dunes, a wide horizon kissing the sea in the distance and an enchanting and very intimate elopement take us to a summer mood today. Light waves are leisurely running out on the beach, painting their typical curved lines in the sand.
In her feathery wedding dress that gently embraces her silhouette, the graceful bride welcomes us into her world. Her eyes shine carefree, her smile exudes lightness, her movements tell of freedom and a gentle breeze challenges her hair to a spontaneous dance.
This romantic editorial by wedding planner Emilva Tervoort of Sante Weddings creates wanderlust and heart palpitations, and lets us witness a touching love story.
Together with the talented florist Katya Hutter and an enthusiastic team, a magical world of inspiration was created that invites us to dream.
In the end, it is the atmospheric big picture that enchants us and was captured photographically in such a wonderful way by Olive Wedding .
From Wedding Planner & Stylist of Sante Weddings: "Our shoot was set on a deserted stretch of beach along the North Sea. The sea horizon and windswept dunes provided the perfect backdrop for this shoot. The truly magical golden light and graceful bride in a fiercely feminine dress was more than we could ask for.
Meaningful glances of the real-life couple meet each other's hearts through the sea breeze. You can almost see their love for each other growing. They wander into the distance together, towards where happiness awaits them.
Our great team managed to create a harmonious setting, with colours that were inspired by the beauty of the sea horizon. The beautifully arranged flowers really complemented these colours and the cake was a masterpiece that completed the concept."
From Floral Designer & Producer Katya Hutter: "A wonderful German fine art photographer Erdinc Catras from Olive Wedding and his equally brilliant wife and a wedding photographer Buusra approached me and Emilva from Sante Weddings with a very special concept and a unique color scheme. Their vision was to create a dreamy setting on the Dutch coast, an intimate and really special table setting, with shades of french blue, beige, peach and a bit of yellow.
We were extremely lucky with the location – a stretch of an almost deserted beach nestled between two picturesque millennia old Dutch sand dunes. Emilva and I went together one afternoon and did the location scouting. I knew this place from my beach walks near Bloemendaal, one of the most beautiful beaches not far from Amsterdam, where my creative flower studio is located. A true natural paradise setting.
Our models were the greatest source of inspiration. After another couple canceled last minute, Emilva quickly found a much better replacement – an absolutely magical real couple Martha and Manuel. They were so natural, loving, extremely photogenic and graceful. I was amazed by Martha's beauty and talent in posing. As Emilva said, their love was so beautiful to see.
Emilva and I worked together on the tablescape. Our focus was on creating an unusual dreamy color scheme, to play with textures and different hues. The elegant stationery, the artistic wedding cake, the mind blowing dress and suit, the excellent makeup, the special florals, the sea, the dunes, the beach –  all of it was woven together into a magical visual symphony, which Erdinc captured so beautifully. The overall effect is enchanting."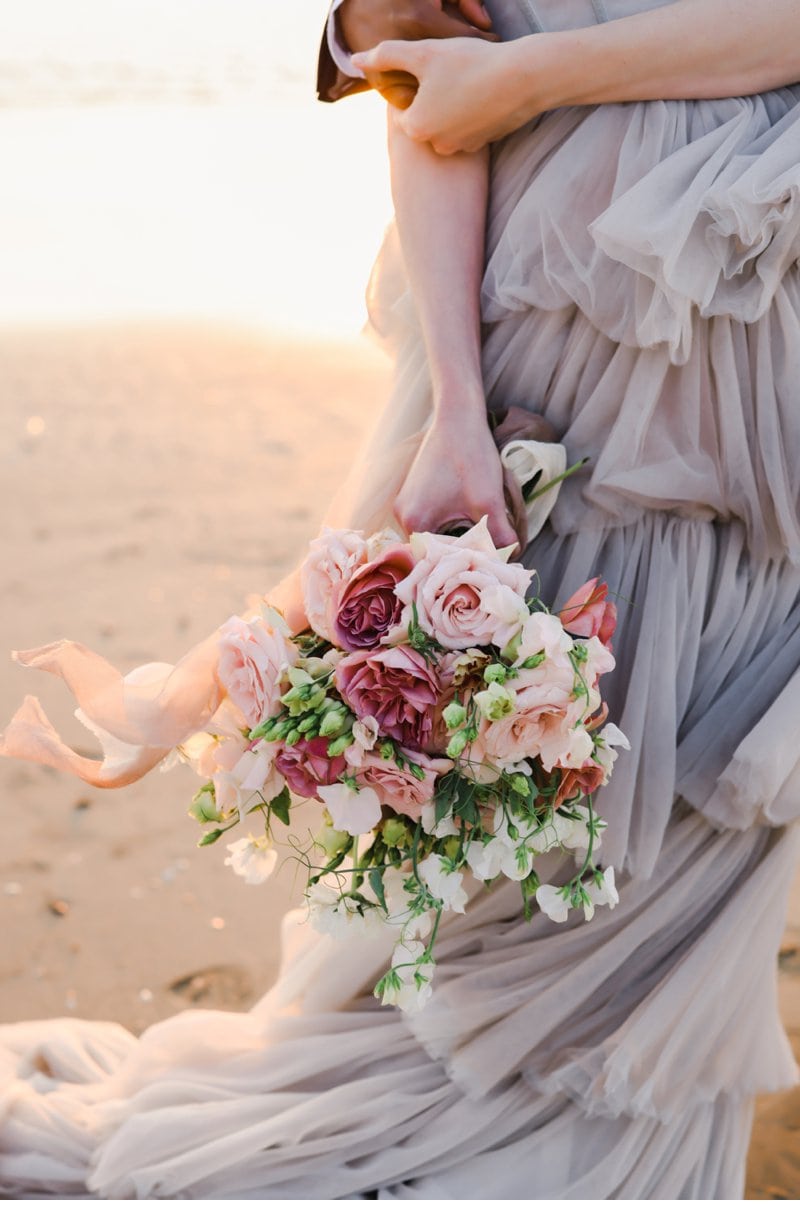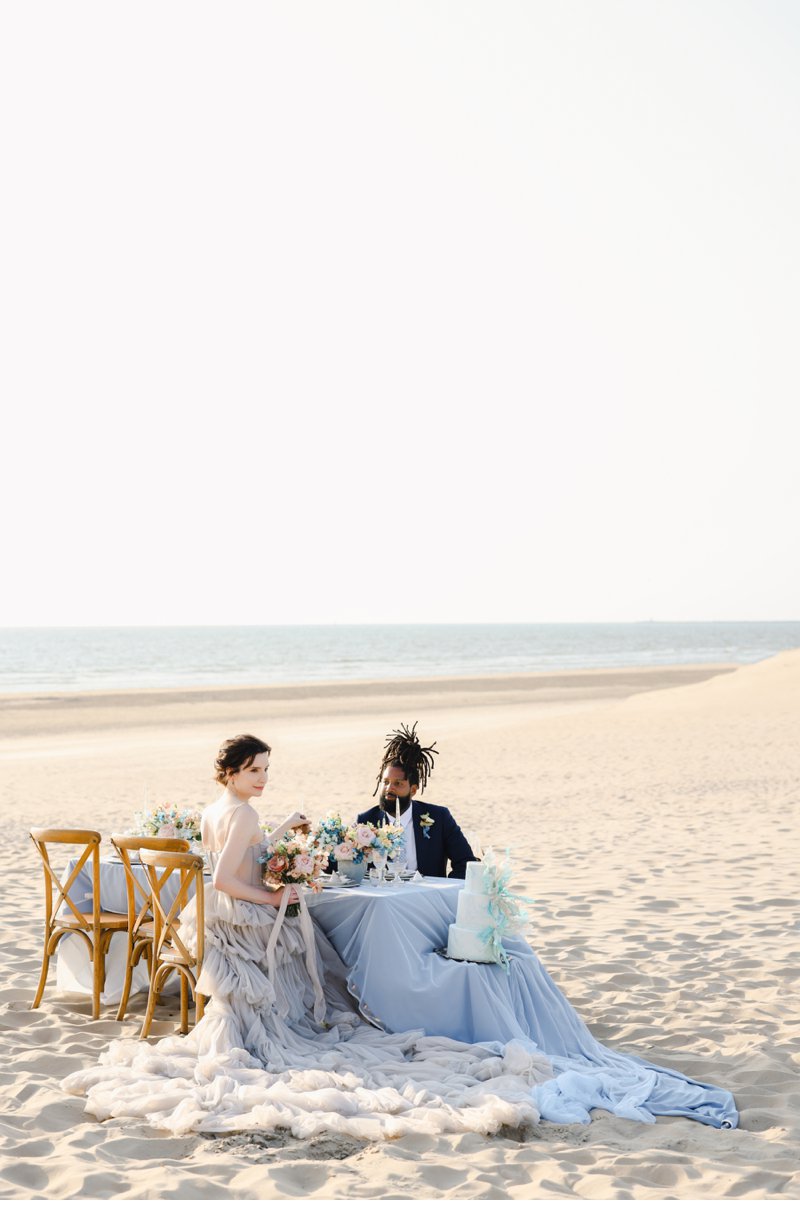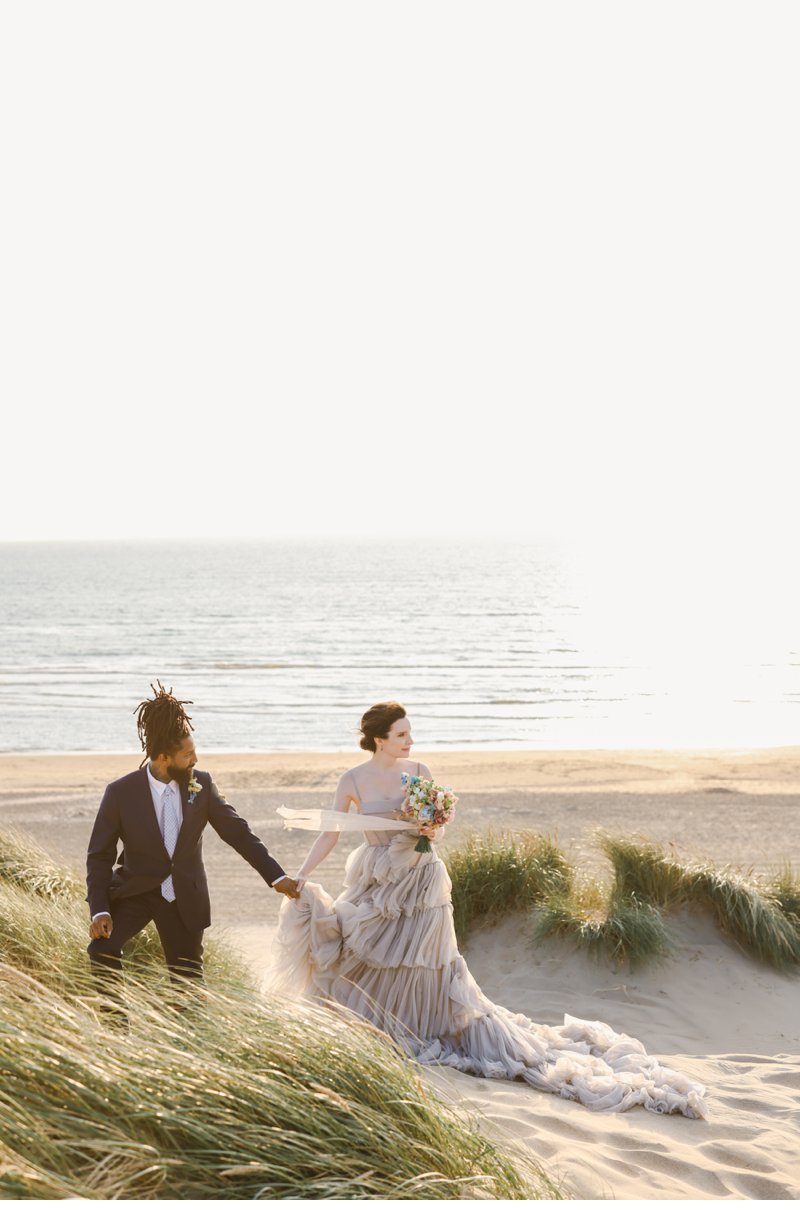 Models: Martha & Manuel