Intimate Wedding Atmosphere at Château de Pierreclos
How we marveled when wedding planner Anne-Clothilde of Hedhera sent us her impressively designed editorial.
Here she tells the background of this multifaceted story she staged at Château de Pierreclos: "Here we are now immersed in an intimate wedding atmosphere. Just him and her in the company of vines amid picturesque nature. A candlelight dinner, beautiful flowers and an idyllic place in Burgundy.
In general, you never pass by Château de Pierreclos by chance: however, unusual nights, a relaxing weekend or a romantic getaway are good excuses to find yourself among the vines. The owners of the château, a real winemaking family, were kind enough to welcome us and make this day an unforgettable moment.
The unique motto for this amorous escapade: respect for Pantone 2021, we wanted to find a beautiful harmony between the colors. I chose to incorporate pink to give more softness to this palette. Also, it was necessary to choose a tonal color, because these two colors in equal parts would not have made a beautiful and delicate image. Therefore, in honor of spring, I chose yellow as the dominant color.
You will find yellow tones in the flowers, the shoes, the gold earrings, the stationery, the napkins, the ring box and in the table decorations with lemons, grapes, pears and candles. The gray is only found on the suit, tablecloth and stationery. The pink of the flowers gives softness, femininity and delicacy to this photo session.
Concept
In every shoot I organize, the first question is "What is the story? ". I imagine a script, a thread that allows me to give the project not only a context but also a framework, to give meaning to all my decisions, but also to make the right choices for the service providers that I bring to the project.
The concept is simple: a young, newly married couple at Pierreclos Castle, where everything seems so calming and easy. An idyllic setting in a historic castle with a hidden fort, an interlude of happiness in a place with a great history.
She represents yellow: warmth, softness, beauty and joy.
He represents gray: elegance, autonomy, moderation and tranquility.
They are so different and yet so complementary, young and carefree. They plan to exchange their vows in intimacy in this great castle. They feel more united than ever to celebrate their love away from the public eye and in silence.
Choice of service providers
Sarah Stefani, a fine art photographer from the south of France, was perfect for this project. She has a good eye for couple photos and perfectly understands how to reflect the emotions in her photos. Her luminous, soft and pastel processing is impressive and incomparable. Her images will leave no one untouched. She is also regularly accompanied by Jino Agnelli, who was our videographer for this project.
The dexterity, clarity and professionalism of designer Marie of Mademoiselle Rêve, made me trust her to design THE perfect dress for this project.
Melanie of Menthe Sauvage is more than a florist, she is a true poet among the floral designers. Her soft and romantic universe could only match what I expected.
Lauren Gabriele, makeup artist and hair stylist near Grenoble, regularly accompanies me on my crazy adventures. She specializes in soft and delicate beauty….
Virginie Racano allowed me to rent her tableware and furniture fromLoc' à souhait for this challenge.
Mélaine from Mon truc en bulle provided us with earrings with clips for the model who did not have pierced ears. Thank you again!
Sylvie from Insieme Creations, highly recommended by several colleagues, piqued my curiosity and amazed me with her sublime illustrations. I am very happy to have discovered such a talented artist.
Apoline, the cake designer, had already piqued my interest. A great opportunity for me to work with a renowned cake designer from the Rhône-Alpes region.
Outfit selection
We wanted the 50's style dress to look sober but also elegant, just like the couple. Also, this dress foreshadows the " New Look* " of Dior with its yellow shoes.
The "New Look" is the name that the editor of Harper's Bazaar, Carmel Snow, gave in 1947 to the silhouette that the designer Christian Dior created for the collection "Corolle". This silhouette revolutionized the codes of femininity and fashion. The New Look is symbolized by fitted jackets with rounded shoulders and skirts that reach the knees. This 1947 fashion show is undoubtedly one of the most important in the history of fashion because of the upheaval it caused in women's fashion. It also marks the revival of Paris as the capital of fashion and its global supremacy symbolized by haute couture.
Choice of tableware and stationery
1 table for 2 people: only the bride and groom, so 2 wooden chairs but in light wood to be appropriate with the brightness of the photos.
The saucers and some glass candle holders to give the table a certain elegance.
The tablecloth and the marbled plates for the callback to the gray
Candles, mini wedding cakes, flowers, napkins and yellow envelopes for a reminder of the dominant color.
Candlesticks, name plates and silver flatware to match the gray tablecloth."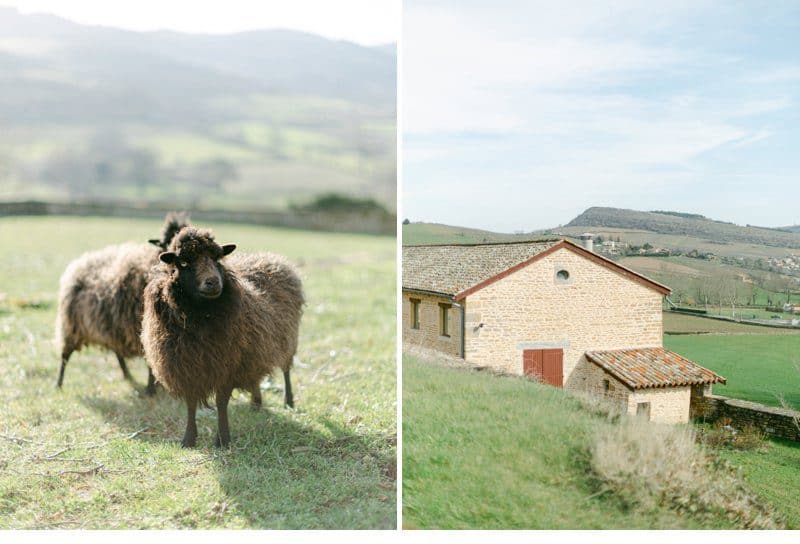 Planning, Design & Officiant: Hedhera
Photographer: Sarah Stefani
Magazine: A la folie
Location: Château de Pierreclos
Wedding Dress Designer: Mademoiselle Rêve
Florist: Menthe Sauvage
Vases: Velvet rendez vous
Suit: Odin costume
Make-up Artist / Hairdresser: Lauren Gabriele
Jewelry: Mélaine
Rentals: Loc' à souhait
Stationery: Insieme Creations
Cake Designer: Apoline cake design
Videographer: Jino Agnelli