Jeanne D'Arc – Untouchable Sensuality
Where ivy climbs up thick stone walls and the wild, rocky landscape of Ireland presents itself from it's most breathtaking side, is a romantic tribute to Jeanne D'Arc and her powerful visions found instead. In the 15th century she was first celebrated as a national hero before she was condemned and finally burned.
Now, centuries later, her legacy will find a continuation in this celestial photo shooting by the fantastic eventdesigners of Pearl & Godiva.
The beautiful Jeanne wears a grey lace trimmed dress crafted artfully down to the smallest detail. The skirt is made from multiple layers of tulle underlying the extravagant cut of the top.
Her braided hair falls loosely down her side and she is crowned by a coronet sparkling with gems. Sitting on stairs made of stone, her bare feet dangling in the air, she aspires dignity, as well as, mundane sensuality.
Silver plates adorn the simple table setting, and a two tier cake in a powerful turquoise, decorated with white flowers, acts as a tribute to the outstanding beauty and strong character of Joan.
The stationary is no less stylishly designed; grey paper with white lettering, show clairvoyant intensity, and the wax seal with the royal lily is considered to be based on Joan of arc's coat of arms.
The view back over the landscape, with a white horse galloping across the open meadows, shows a picture so innocent and sensual, it mirrors the enchanting bride herself!
D'Arcy Benincosa impresses with sensual poetry and an incomparable expressiveness in her pictures that fascinated is right away.
Translation: Heather Treven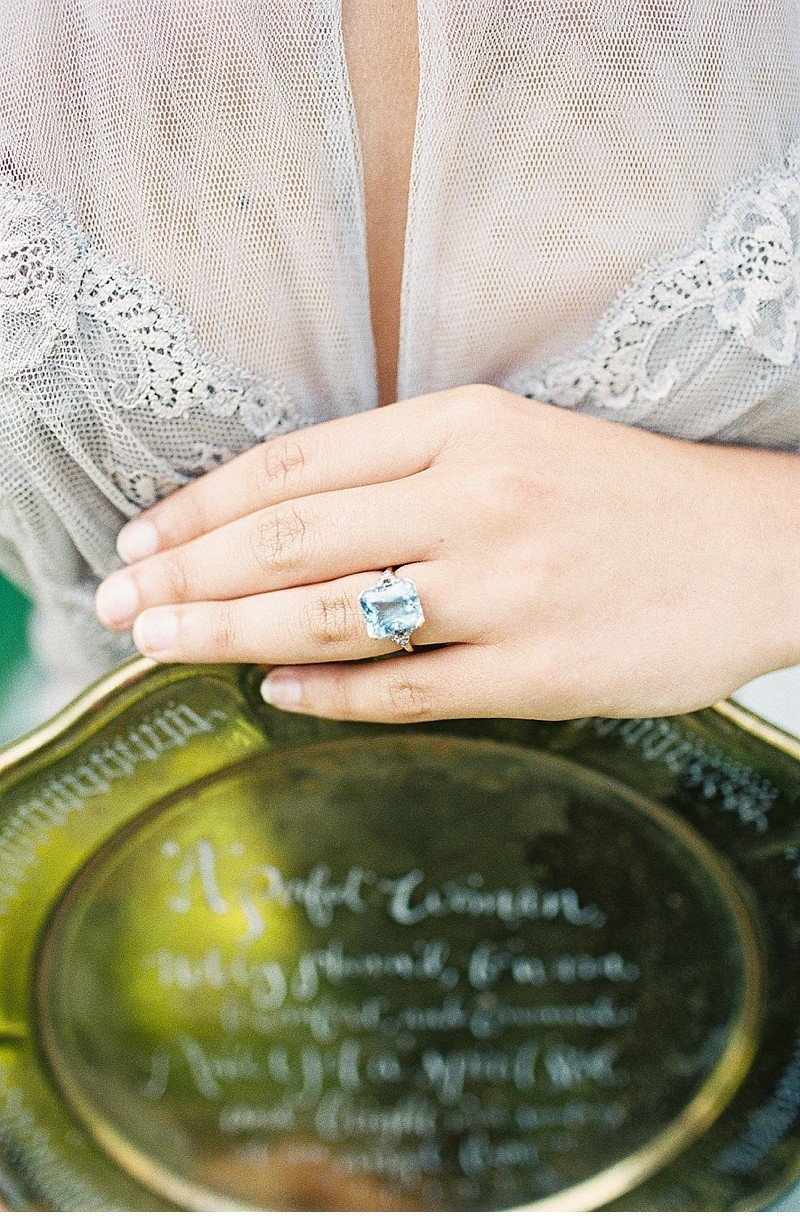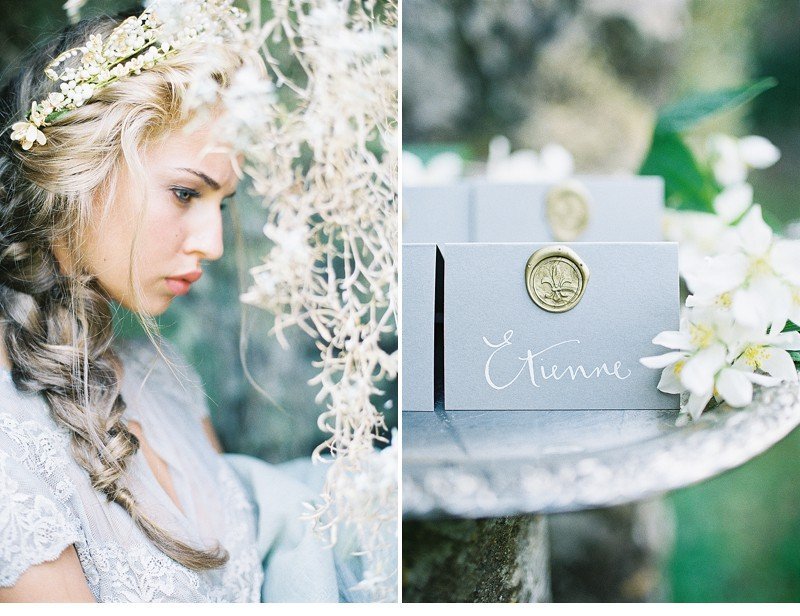 PRODUCTION, CREATIVE DIRECTION & STYLING: Pearl & Godiva
PHOTOGRAPHY: D'Arcy Benincosa
CALLIGRAPHY: Kathryn Murray
BESPOKE HEADPIECES: Opal & Owl
FLORAELS: Hanako
VENUE: Killenure Castle
JEWELLERY: Delphi Antiques
MAKE-UP & HAIRSTYLING: Vintage Rouge
CAKE: The Cake Stand
GOWN: Maria Luisa Rabell
FILM LAB: Richard Photo Lab