Kintsugi Wedding Inspirations
Kintsugi is the Japanese art of repairing broken pottery with gold and silver powder, creating new works of art in the process. Wedding planner Viviana of Blin Eventi incorporates this fascinating art in a stylish and sublime way in this extraordinary editorial.
With images by Perla and Paolo of Chiaia Wedding Studio, we are immersed in an exciting new world.
From Viviana of Blin Eventi : "Pottery is just like life, can break into a thousand pieces, but it doesn't mean that we should stop living life to the full, or working hard, or placing our hopes in our future.
What we must  do is not  avoid  living, but learn  to reward  ourselves after adversity: from a broken past to a bright future.
This is the principle of the project that I created, and the idea for the  photo  shoot  was born from the Kintsugi  technique:  the ancient  Japanese  art  of  repairing  broken pottery. When a piece of pottery breaks, the Kintsugi masters fix it with a gold resin, leaving the repair in sight on the reconstructed  work  as a  symbol  of fragility, strength and beauty.
This art teaches us to change our point of view, that is to accept the cracks even by exaggerating them, following a form of creative thinking that  leads us to  embrace new and different solutions outside our comfort zone. The result being that repairs do not diminish the value of the  object, but  makes it  more treasured. lt  is a profound message of hope and trust, perfect for the year that is about to  end. This year has shown us that our life, and dreams may break down but they can  re-emerge  if  we  know  how  to  rebuild them.
So I imagine a romantic wedding inspired by this ancient art as a wish for next season.I would like you to move forward, look to the future, using  lessons  from events  that have been abrupt ly cancelledthis year. I imagine an elegant, minimal, intimate wedding surrounded by peace and nature.
The idea based on this ancient art, incorporating entirely new personalized elements, created with co-operation of craftsmen and professionals. Behind  each  element  there was an indepth study of the subject that helped us to create the end result. I have developed the pallet in shades of anthracite and gold, an intense  color combination of glowing, elegant and refined colors that show that even  in simplicity  these can be profound richness. I have chosen to enhance the beauty of irregular wedding ring cushion by including the kenzon, a small pin covered object, used in the Ikebana, to fix the flower arrangement. I found in Ikebana, the key to build an essential and sought after floral  centerpiece, through which to convey a clear message; beauty lies in nature and it is up  to  us to  find it, while respecting the overall harmony of all the elements that make up thecreations.
Nature was also the main player in the location chosen, Telese Lake, near Naples in Campania."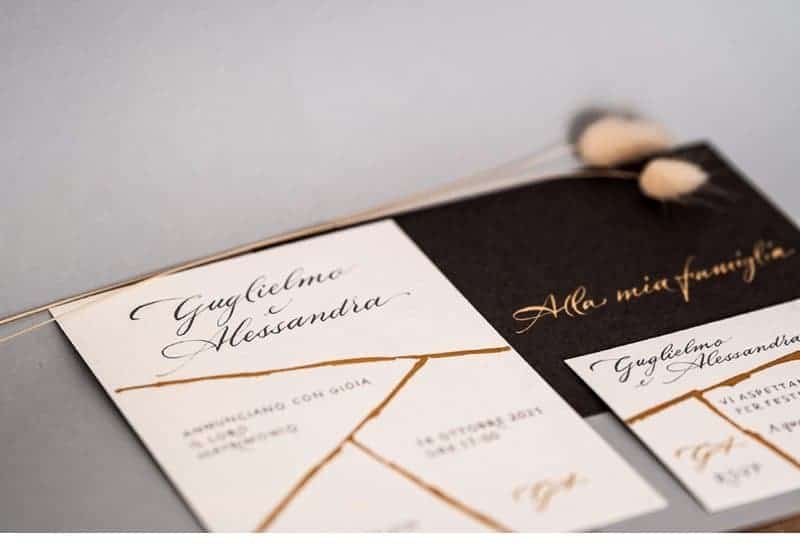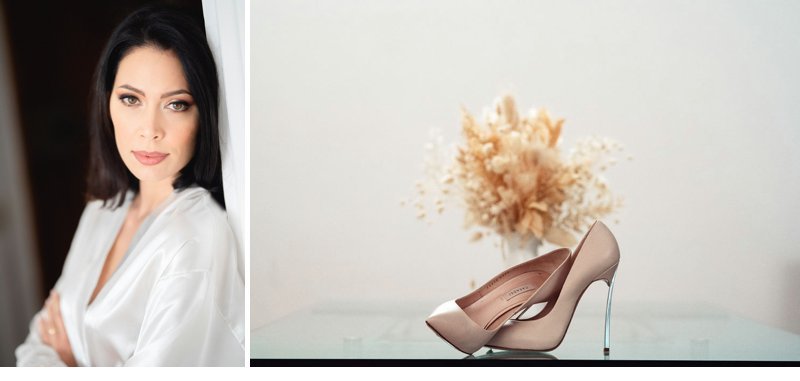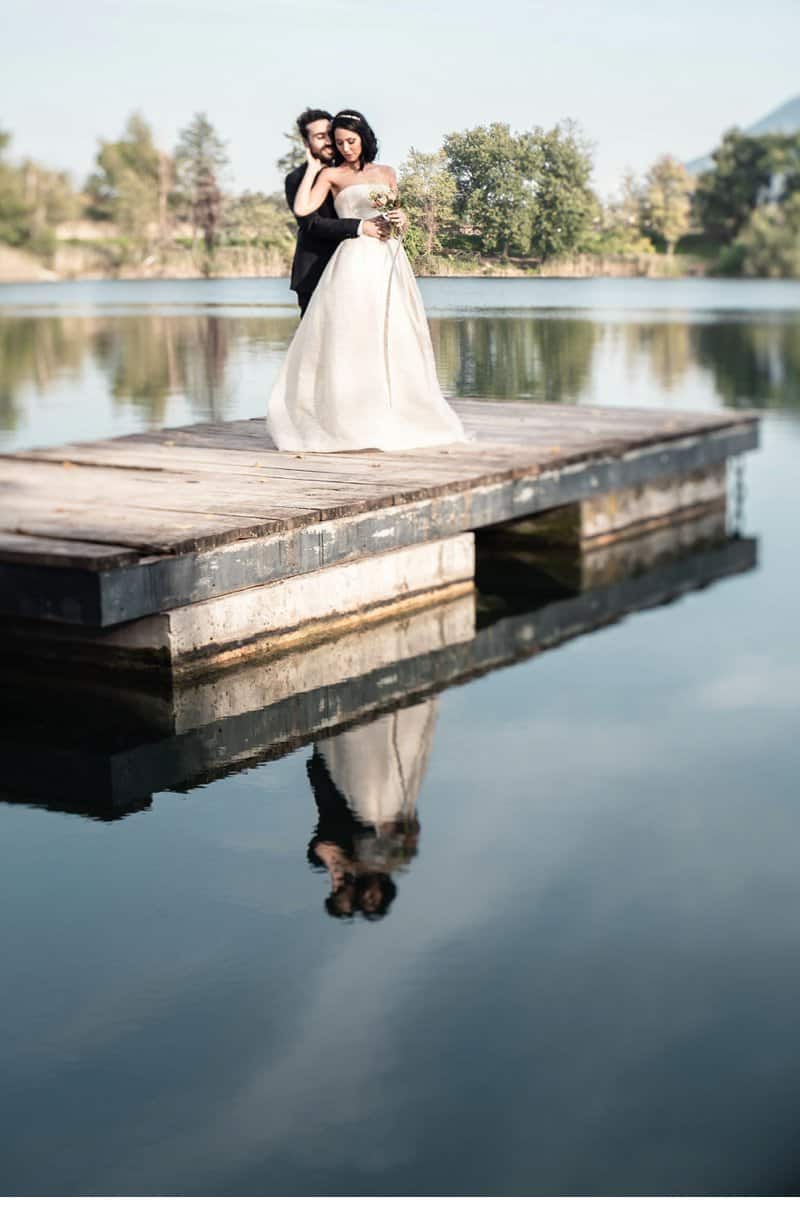 Wedding Planner & Designer: Blin Eventi
Photographer: Chiaia Wedding Studio
Stationery & Calligraphy: Beautiful Letters
Ceramic supplier: CasaCometa
Florist: Flower Grimaldi
Wedding Dress: Peter Langner via Maison Magic
Hairstylist: Alfredobrasielloparrucchiere
Make-Up  Artist: Nuny Mua
Wedding Rings: My Golden Age
Jewels: Aspettaevedrai 
Groom Accessories: Papillover
Wedding Cake: Mon Sciù 
Cake topper: le bianche margherite
Models:  Roberta Astuti and Lino Verdicchio