La Vie En Rose – an old world love story
Today, near Athens, we discover a fairytale estate in a clearing in a picturesque forest. An enchanting ambience to tell a ravishing love story.
Wedding planner Vicky Galata seduces us today into a magical wedding world full of beauty. We marvel at her talent to give this setting a frame full of romance with her sense of style, natural charm and loving details.
We enthusiastically look at the stunning images of Vessi & Yiannis Simopoulos and enjoy the variety of inspirations.
From Vicky Galata Weddings & Events: "A world where roses bloom is a world full of love. It conquers everything, even an abandoned Palace in an enchanted forest in Greece.  In 1871, at the instigation of Ernest Ziller, King George I, bought the Tatoi estate. Nature and animals surrounded the two-storey house he designed and built in Greek-Swiss architecture. After its completion in 1874, the royal family used it as its first residence. To me the palace in the forest stands for an old-world, full of chicness and romanticism. It has also inspired us to make compositions, with an emphasis on the grace love brings in our lives.
Our color palette blends in seamlessly with the environment. We used natural shades, such as ivory, dusty pink, and white, in addition to light blue and gray details for the table setting.  Moreover, we have wished to convey a Parisian elegance, through the use of silver vintage details, old world stationery, and French-inspired decoration. For the flower compositions, Maria Viltanioti from Fillo Flower Studio, has combined different varieties of blooming roses with the greenery that can be found throughout the Palace estate, symbolizing a marriage between the old and the new.
The ethereal, deux-pieces ivory wedding gown from Anna Anemomilou, leaves the bride's back uncovered, while her natural make up with rosy tones and the fine art jewel on her hair, give her a dreamy look. These elements match perfectly with the groom's blue, tailor-made, attire and plain white shirt.
A two-layered embroidered cake by Poulette Pastry, laced with sugar paste between the candles, and individual macarons with floral details, bring a French ambiance to the bridal table. The whimsical stationery, with its cotton paper, is covered with calligraphy and love letters, conveying a sense of the pure love of the past, when people used to express their feelings through letters and songs.
The photo-shoot is similarly, an ode to authentic love, captured beautifully by Vessi & Yiannis Simopoulos. Exceptional moments were filmed by Soft Focus Project and In Oblivion Films, such as the one of the couple dancing to "La Vie en Rose" in front of the Palace.
We don't find love, it finds us. But when that happens, the world is no longer the same. The roses bloom, the angels sing from above, words are a love song, and "La Vie en Rose" is always playing on the speakers.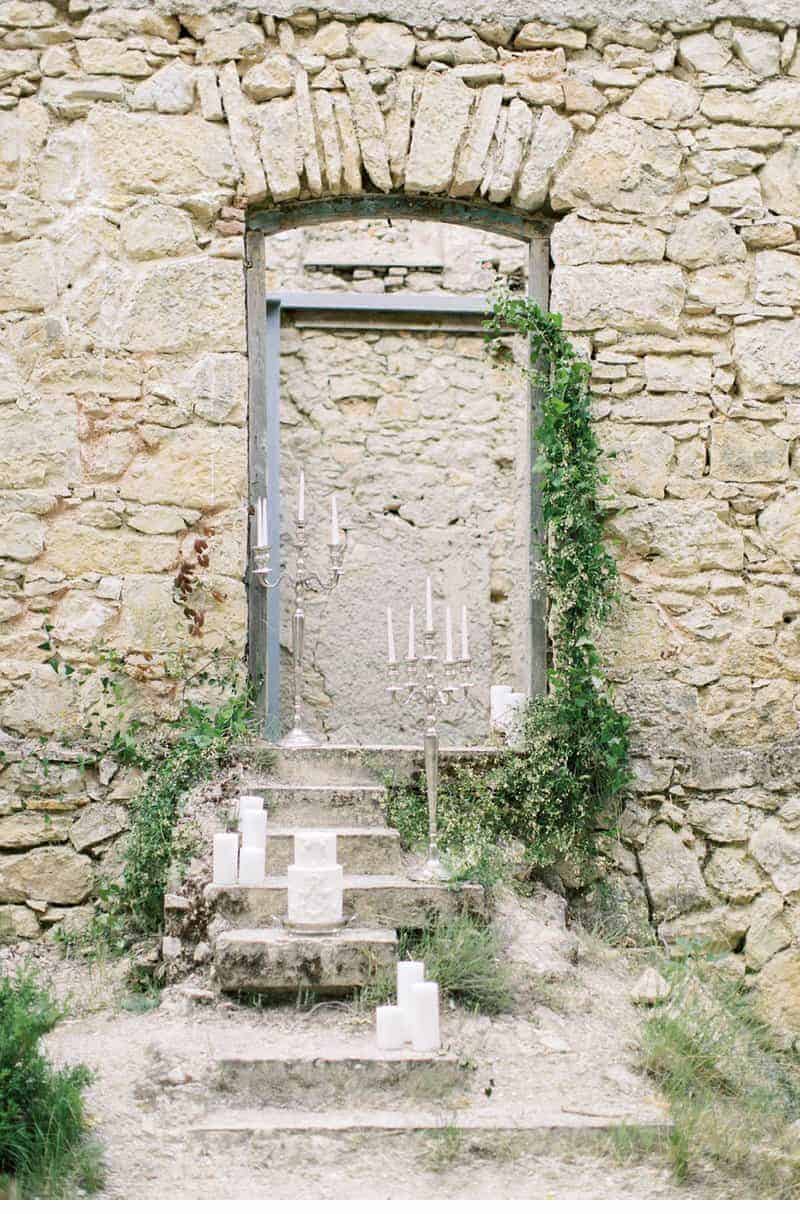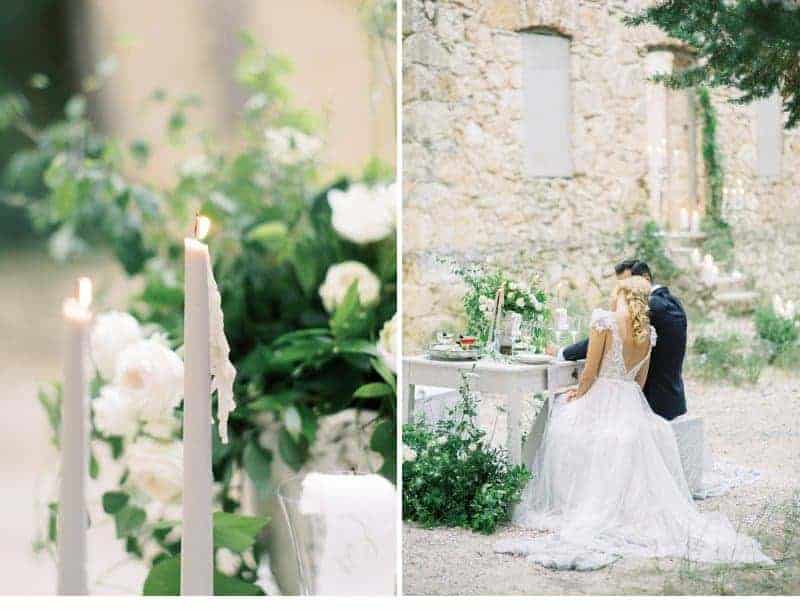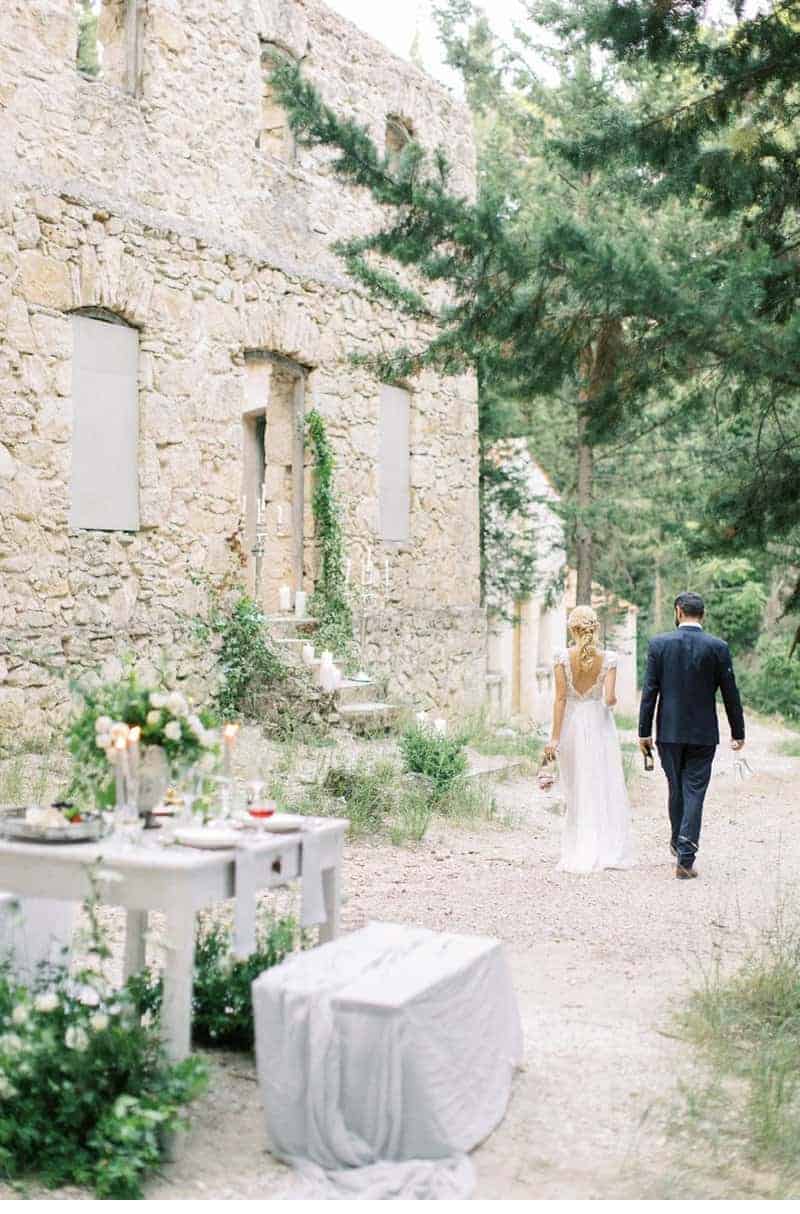 Design, Planning & Stationery:  Vicky Galata Weddings & Events
Photographer:  V&Y Simopoulos
Flowers: Fillo Flower Studio  
Pâtisserie: Poulette Pastry
Cinematographers: In Oblivion Films & Soft Focus Project  
Wedding Gown:  Anna Anemomilou
Groom's attire:  Tailor Made
Groom's accessories: Louis Vuitton & Mont Blanc
Bridal Shoes: Once upon a shoe
Bridal Accessories: Astrea Bridal Accessories
Hair & Make up artist: Frantzeska Koukoula
Soundtrack "La Vie en Rose"  Laura & Anton Song by: Edith Piaf & Louiguy
Location: Tatoi Palace, Athens, Greece