The lightness of being
Do you love it as much as we do when poetry gets a face? Vivid Symphony manages to do just that and makes the lightness of being, between old world charm and modern flair, visible to us.
"Together with service providers from Russia, Portugal, Germany, France, Belarus and Spain, we realized our big dream alongside Magnolias on Silk." photographer Mila from Vivid Symphony lets us know.
"We chose Nischwitz Castle as the location, an impressive rococo-style castle complex in Nischwitz, a small town in Saxony, not far from Leipzig." she reveals to us and adds, "We don't know what it felt like back in the 18th century when this palace was built, but with the design concept for this shoot, we not only tried to reflect the colors and architecture of this stunning palace, but also to capture the mood of the palace. Posh, playful and elegant were the adjectives to describe the overall mood we wanted to create."
For this they had with the wedding planners of Magnolias on Silk one of the best partners at their side, which Mila and her partner Stephan could only wish for.
"The idea of a colorful, vibrant theme and color scheme that creates a beautiful play of colors is based on the decoration of the garden room. The walls are painted with a limited color palette of mint, blush and gray tones. Instead, the ceiling houses a very colorful and expressive fresco. The colors of the interior are also reflected in the color palette of the design concept. We used white as the base color for the plaster and combined it with bright pink, coral, dusty red and gold accents for a luxurious touch."
Luxury, a keyword that has run like a golden thread through both the castle and the concept, as we can see in many other details.
"The table settings fit the luxurious theme very elegantly as we combined white tableware with gold accents. Sweet Enchantment 's wedding cake is a three-tiered classic design that includes delicate details such as a painting of one of the location's wall frescoes and white sugar plaster. And the stationery from Lettering by GRG from Madrid is also made with great attention to detail. The letterpress printing of the golden coat of arms of the couple monogram combined with hand calligraphed details of golden ink gives the book a special touch of luxury."
However, the event designers finally proved that it is also possible to attract attention with restraint and naturalness when styling the bride: "The styling of the bride is kept very subtle and natural. Her makeup enhances her natural beauty and striking features. Papilio wedding dress is playful, feminine and classy."
A successful blend of opulence and minimalism, of glamour and elegance, of old world and modern, if you ask us. If you want to catch a glimpse of this seemingly contradictory world, take a look at the fantastic collection of Vivid Symphony and you'll see how coherently and harmoniously these contradictions blend…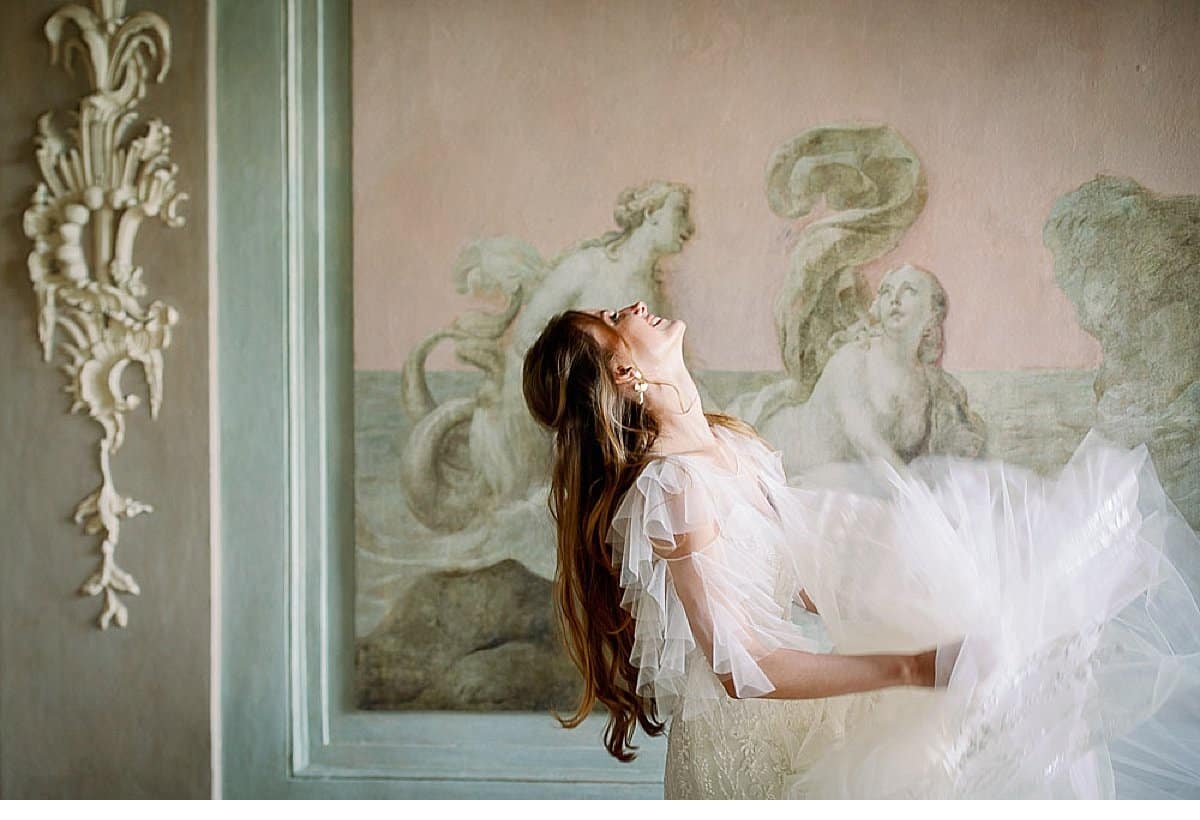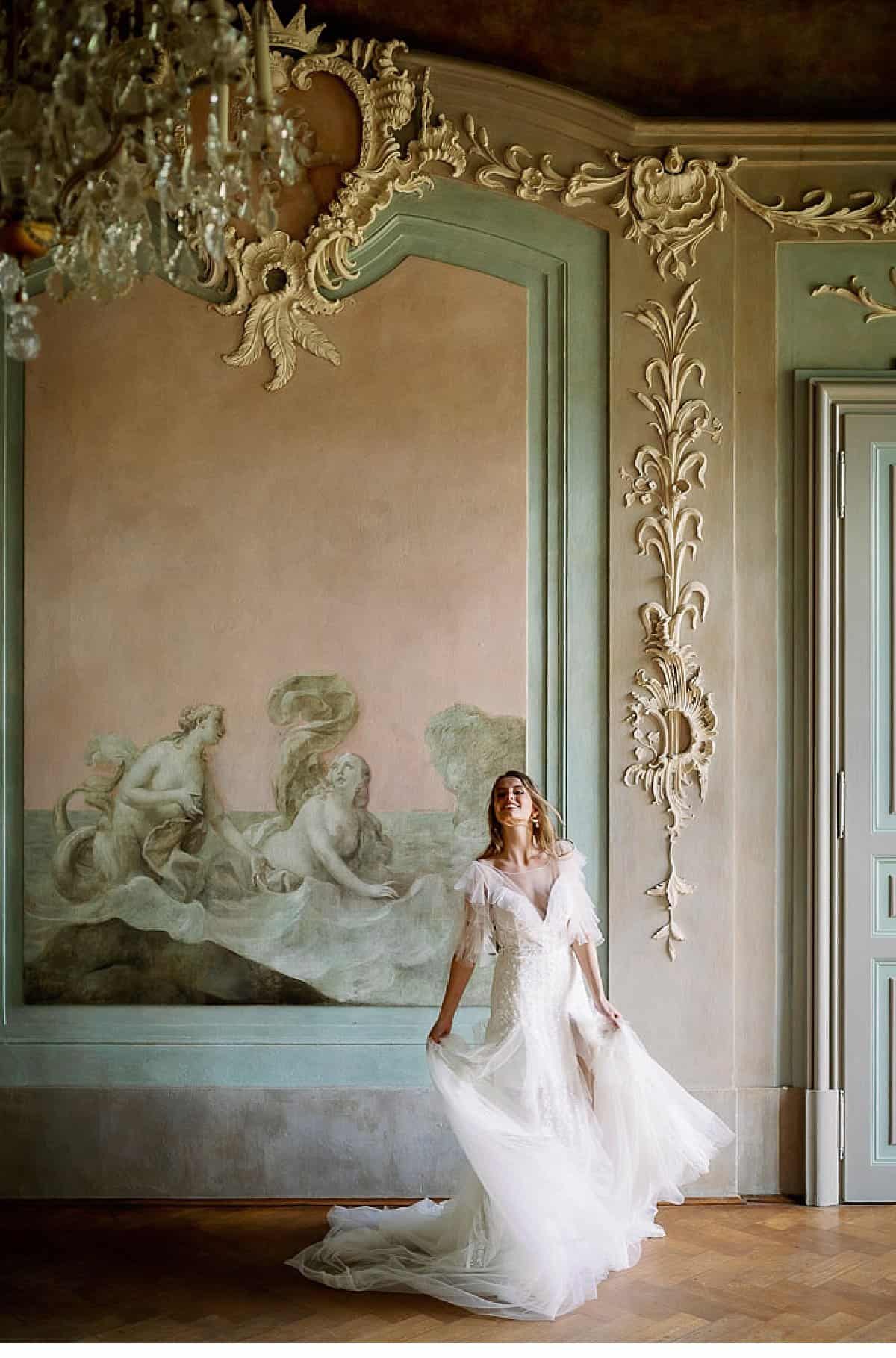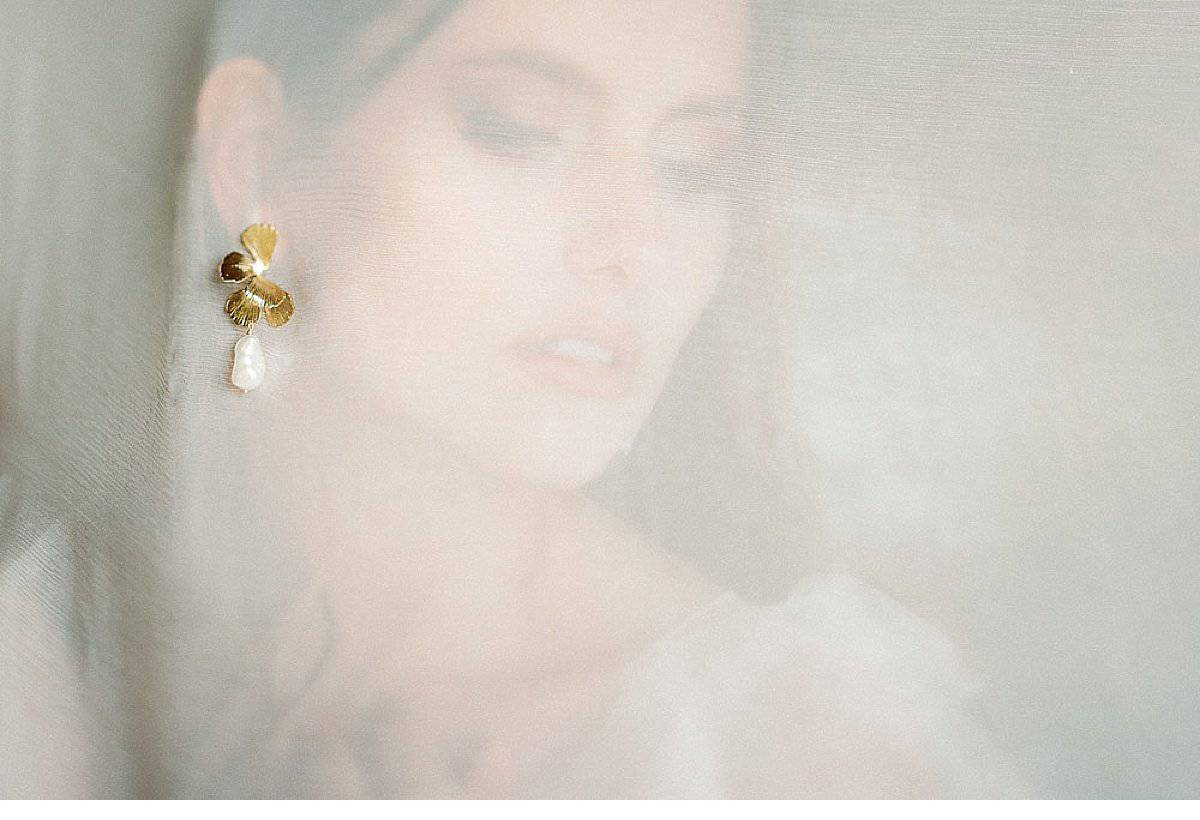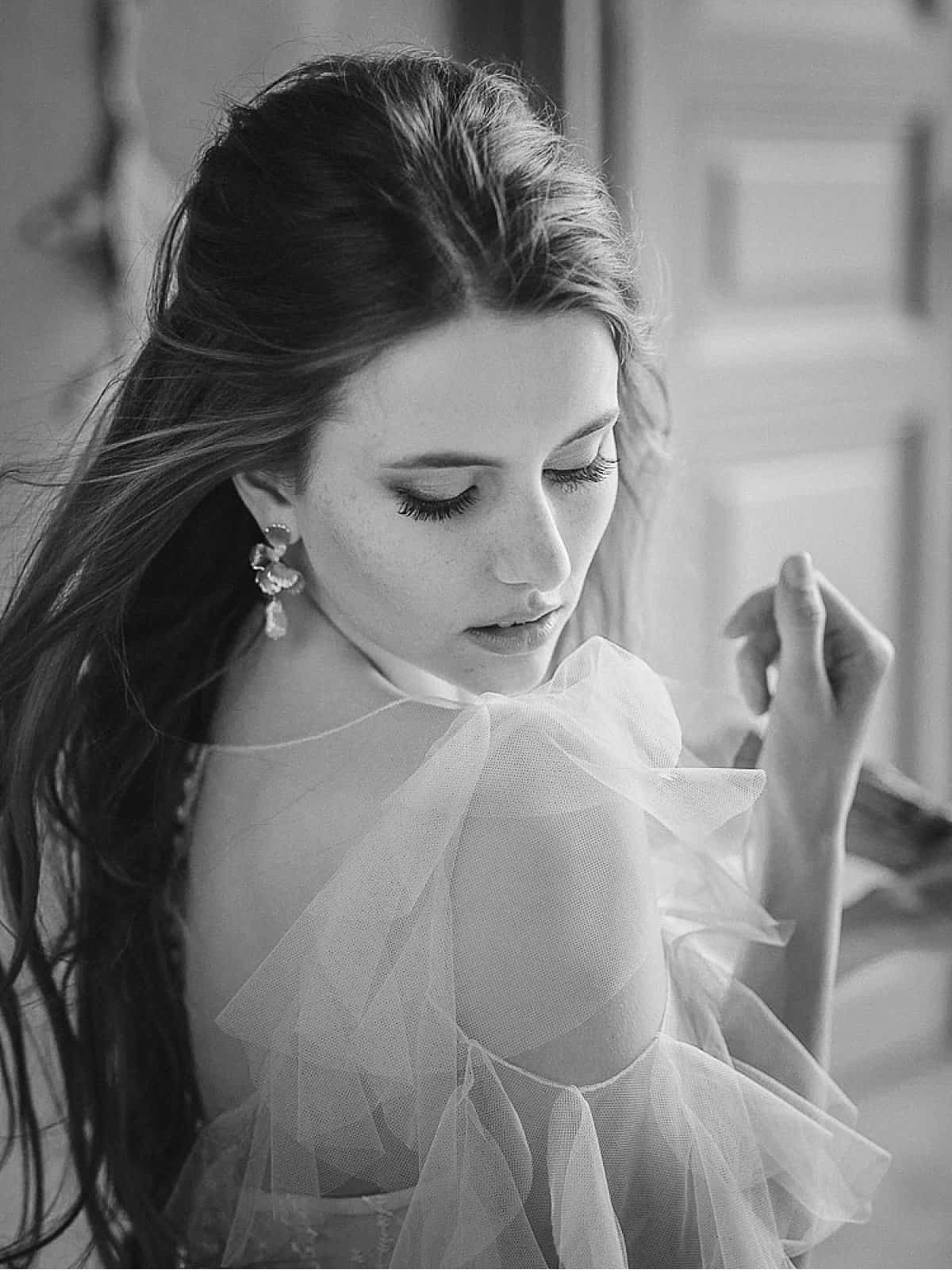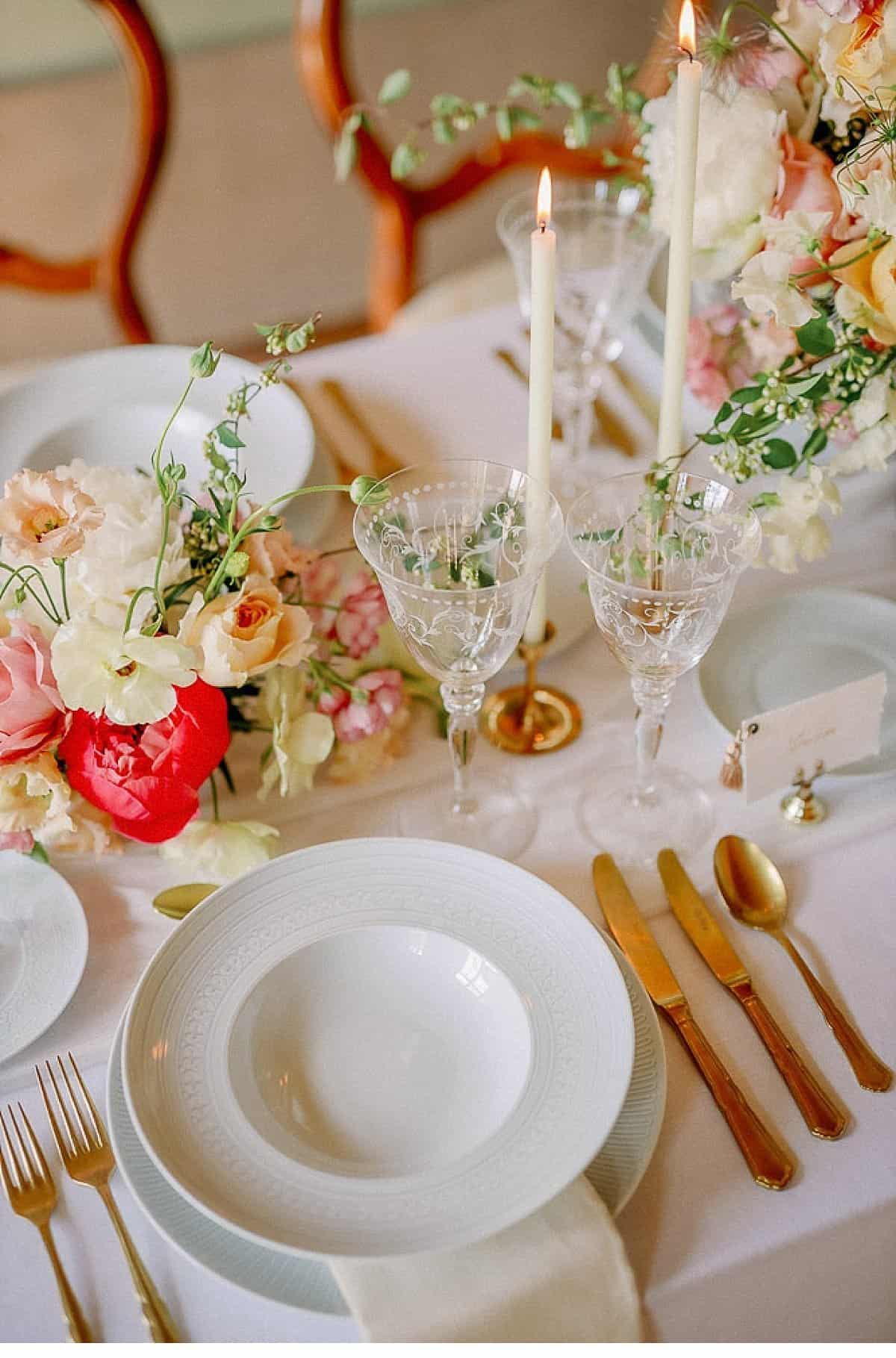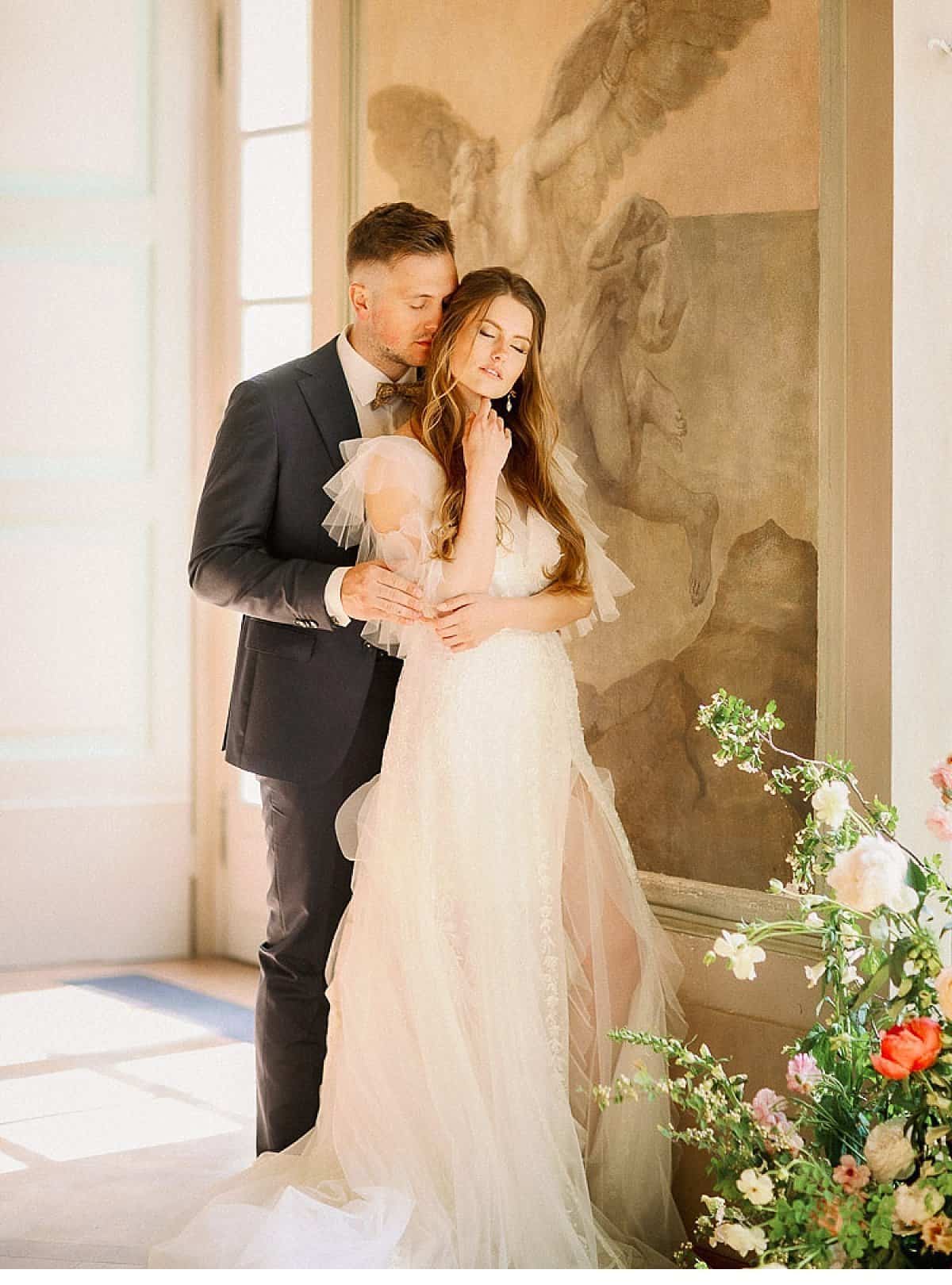 Photography, Concept & Organization: Vivid Symphony
Concept, Styling + Floral Design: Magnolias on Silk
Hair + Make up: Tatiana Pirog
Wedding Dress: Papilio via Bridal Boutique Baden-Baden
Styling Goods: Marry & Lilo
Wedding Cake: cake design sweet enchantment
Stationery: Lettering by GRG
Shoes: Bella Belle Shoes via Bridal Boutique Baden-Baden
Groom's Attire: De Scale custom clothing
Tableware: Vista Alegre
Jewelry + Headpiece: Maison Sabben
Silk Ribbons: Silk & Linen
Cutlery: EMS Event Rental Service
Location: Nischwitz Castle