Love in the shadow of the Duomo of Florence
Visitors to Florence, Tuscany's beautiful capital city, can feel the magic and splendour of days gone by here.
Countless artistic masterpieces, churches and impressive buildings embody the cultural and artistic presence of the Renaissance. The cathedral square at Basilika di Santa Maria del Fiore represents the heart of the city of Florence. The photographer Erika Parker also loves this city and is here to impress us today with this expressive editorial.
She told: "The Duomo is one of my favorite cathedrals in the world. I think one of my happiest ways to spend an evening is sitting on a bench in the shadow of the Duomo eating a gelato watching the sun go down over the plaza, listening to the church bells. The entire building lights up with a pink glow that doesn't seem real. A building can do that? I think of all the history that has happened here. If only the walls could talk.
I wanted an editorial to reflect the romance of the city. Florence is a city like no other, there are poems, and stories written about it. I wanted an editorial to capture images that reflected timelessness. This could be a love story in 1820, 1920, 2020. These walls have seen it all. We shot this editorial at six in the morning. On a more practical note, I think this is so key to having beautiful pictures in a place like Florence."
With a romantic dress by BHLDN, ​​an elegant ring by Susie Saltzman and enchanting calligraphy by Pigment and Parchment  she invites us on a trip to Florence.
Dive with us into the fascinating world of pictures shot by Erika Parker and get inspired and carried away…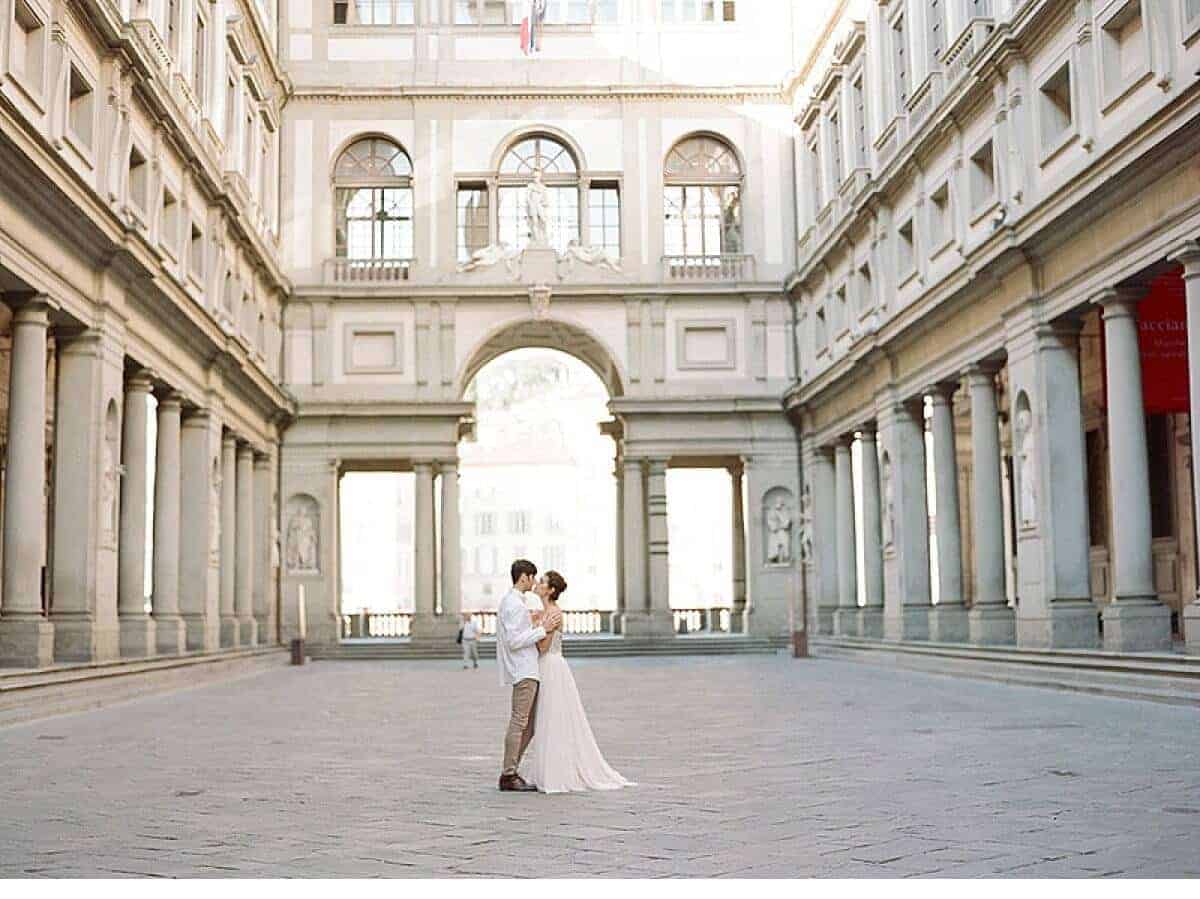 PHOTOGRAPHER: Erika Parker Photography
DRESS DESIGNER: BHLDN
MAKE-UP ARTIST: Virginia Guidotti
HAIR: Maurizia Paradisi
VENUE: Florence, Italy
CALLIGRPAHY AND PAPER PRODUCTS: Pigment and Parchment
RING: Susie Saltzman
STYLING BOARD: Emma Natter
MODELS: Daphne Morelli , Samuele Chiovoloni