Luxurious Break At The Arua Private Spa Villas
Undisturbed silence, a wonderful Alpine panorama, an uninterrupted view of Merano and an excellent service – who indulges in a luxurious break in the Arua Private Spa Villas spoils body and soul on an unprecedented level.

A heartfelt wish
With the opening of the four exclusive apartments and the two spectacular penthouse units in August 2019, the South Tyrolean restaurateur Otto Mattivi dared to step into the hotel industry and thus fulfilled a long-awaited heartfelt wish.
Together with his son Johannes Gruss, he developed an all-round carefree concept for unique holidays at the highest level, which, through its holistic and sustainable approach, had the finger on the pulse and convinces with stylish luxury.
The Name
The name says it all, because 'Arua', meaning peace, relaxation and recovery, is omnipresent. The privacy and regeneration of their guests is paramount to the successful Father-Son team, which they impressively demonstrate with this premium ambience and their generous oases of peace.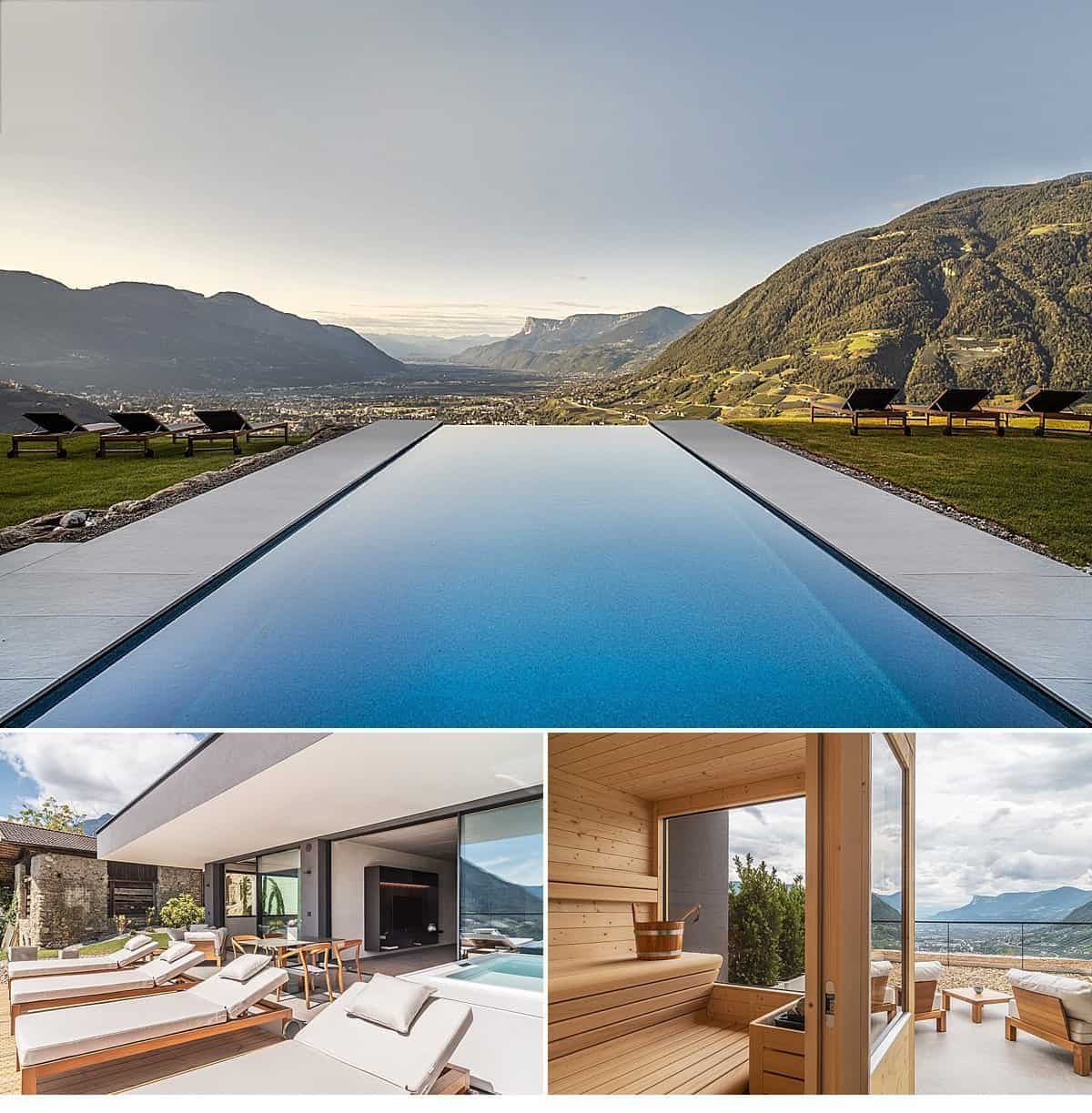 High-quality design from A to Z
Only renowned Italian designers such as Nicola Gallizia from Milan and Molteni & C from Giussano were commissioned with the architecture and interior design of the Arua Private Spa Villas.
The result? Six modern feel-good islands with direct relation to nature on a living space between 210 and 460 square meters, own private sauna on the terrace, unparalleled panoramic view and fully equipped kitchen.
Large, open spaces give a feeling of freedom and calm through the use of selected, natural materials.
It´s the small things that count
But it's not just the very special ambience that makes the two hosts lovingly pamper their guests, but with a great deal of effort, they offer additional "small things" that leave nothing to be desired.
These include, among other things, the daily breakfast, which is served in each villa, an attentive concierge service, a modern and heated infinity pool with relaxation room and of course fine spa treatments.
Culinary and other leisure activities
In Otto Mattivi´s restaurant Hidalgo in Burgstall his hotel guests are always welcome. And if, after a few days of rest between idyllic olive groves and orchards, you are looking for something more active, you can visit the specially designed, 2.5 hectare alpine-Mediterranean vineyard and garden park. Due to the unique location you´ll also find numerous hiking and climbing tours in the surrounding mountains as well as day trips to the nearby cities of Merano, Lana and Bolzano.
Whether freshly in love or inseparable for years, whether for a romantic spa weekend, an unforgettable marriage proposal or a common escape from everyday life, the Arua Private Spa Villas are perfect for any break, in which you want to enjoy peace and togetherness to the fullest. So what are you waiting for? Off we go, to the beautiful South Tyrol!