Venice – When Passion Meets Romance
Slowly the night´s fog dissolves, hanging mysteriously in narrow alleys. We can hear the Canale Grande rush silently – it´s the gondolier sliding his gondola evenly through the water.
Venice – probably the most romantic city in the world, World Cultural Heritage and inspiration for numerous artists. Due to its impressive architecture, almost 400 one-of-a-kind bridges and more than 170 branched channels this popular city not only attracts tourists but is also a paradise of subjects for photographers.
With the historic district in the background the team of Sapphire Events created unbelievable scenes full of passionate romance. Highlights of their creations were a bright red dress – beguiling and elegant – and an likewise deeply red cake to die for.
This shooting was magical and mysterious. Love and passion filled the air and Venice impressively proofed why it is called the city of lovers.
Even more impressive than the city itself are the great pictures shot by the photo poet Koby Brown.
Text: Marina Jenewein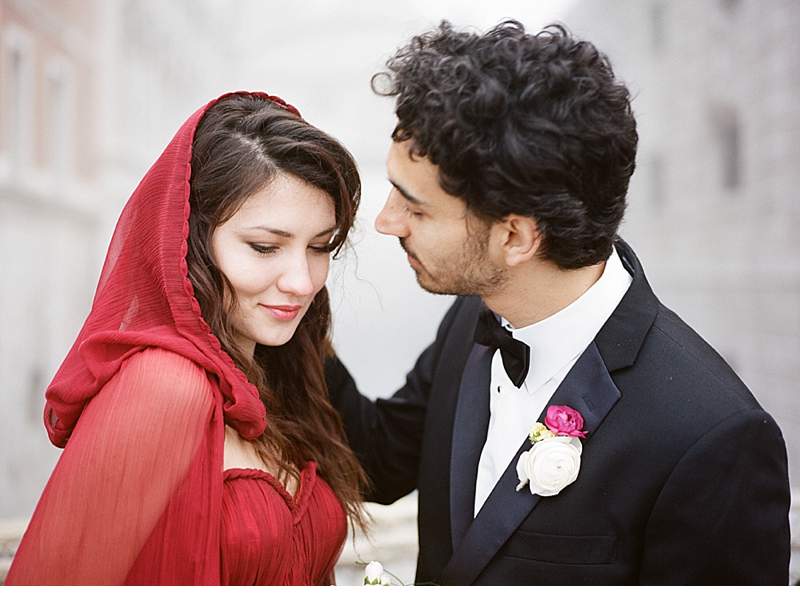 PHOTOGRAPHY: Koby Brown
STYLING, DESIGN, FLORALS + MAKE-UP: Valerie Gernhauser with Sapphire Events
LOCATION: Venice, Italy
CAKE: Melissa's Fine Pastries in New Orleans, LA
INVITATION SUITE + CALLIGRPAHY: Laura Hooper Calligraphy
TABLE RUNNER + SILK RIBBON: Silk & Willow
DRESS: Joanne Fleming Design
JEWELRY: Vintage
SHOES: Bella Belle
HAIR: Terilyn Brown of Archetype Studio Inc.
MODELS: Jeni Anton and Roberto Palanca
FILM LAB: Richard Photo Lab