MAGICAL WINTERINSPIRATIONS
Winter with all its magic and the wonderfull colours inspired the stunning event designer Tamara Nicole to take a breathtaking snowshooting.
Simply by Tamara Nicole's inspiration for this shoot was winter (all the sparkle, colors and magic that comes along with it) . . . but with a new updated modern twist.
She told us: We wanted to add a little of the industrial feel (metal, wood) with the coziness of winter (cable knit, a hot toddy bar, etc) with a clean modern vibe (painted wood, clean lines). Tie it all together with some snow! And you have our Blue and Pewter winter shoot, shot by Blue Rose Photography.
We started out with a warm table-scape tying in some modern dishes. Note the soup bowl: perfect for a winter fete! The salad plate is metallic, tying in just a smidge of a clean industrial feel. The table number was a slab of wood, painted in the pale blue color, with a modern shaped metal house number attached. The napkins were pewter color tied with grey lace and a cinnamon stick.
At each place setting was a favor: "charcoal mint lip gloss" handmade by an Etsy shop. They had cute little tags saying "pucker up". The floral centerpieces were perfect for a more modern winter bouquet. To tie in the cozy feel of winter we brought in some cable knit glitter candles to add just a splash of winter sparkle.
The invitations were designed to be simple and wintery, with a small touch of industrial feel with the "nailed metal" piece holding the date. This design was also used on the escort cards that we displayed in birch blocks.
The dessert table: The cake was a mixture of modern (offset set up and clean fondant lines) with rustic winter (with the hand-painted wood lower layer, and the winter flowers/berries). In addition to the cake we had some homemade marshmallows, fudge, smore's pudding, creme puffs, candied pears drizzled with chocolate, as well as chocolate cookies and powdered donuts.
The "Hot Toddy Bar" had "Tuaca Apple Cidar" (with vanilla citris liquer), "Alpine Hot Cocoa" with peppermint schnapps, and "Iceberg Hot Toddy" with white mint and cinnamon schnapps. Also included were some warm espresso beverages "Nutmeg Latte" "Mulling Spices Mocha" and "Snowy Cappuccino". To keep all of the guests warm! These warm beverages were served in custom-labeled cups. The sign "Winter is being cozy with you" completed the table.
Yessie created a few fun winter looks for our model Hannah. The first one was a more soft romantic look with some fun blue eyes and soft curly hair to go with Claire La Faye's dress. We had many fun accessories to play with, like the gorgeous "Juliet Caps".
Then we go to a more fun and dramatic smokey eye and the stunning black gown. Add in a fur stole and we have a fun edgy bridal look which contrasts so well with the pure white snow! Winter is fun to accessorize for, you can add in a fur jacket, stole, or some fun gloves or arm warmers."
The fantastic team with its very special creativity enchants us with heart, talent and last but not least its passion. Bittany von Blue Rose Photography takes us with her picturers on a journey through a romantic winter fairy tale.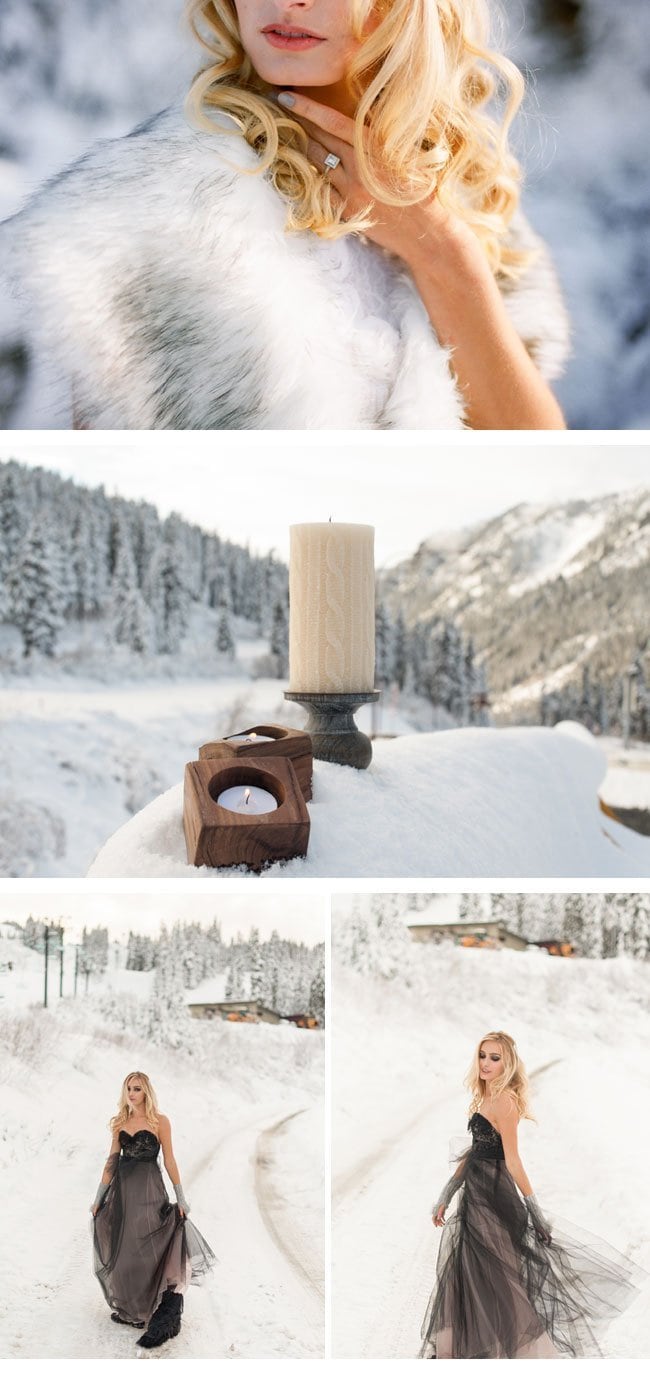 FOTOGRAFIE: Blue Rose Photography
STYLING + PLANUNG: Simply by Tamara Nicole
BRAUTKLEIDER: Claire la Faye
HAARSCHMUCK + SCHLEIER: Stella's Design
FEDER HAARSCHMUCK: Maggie Mowbray Minery
HAARE + MAKE-UP: Yessie Makeup Artistry
FLORISTIK: Florarama
TORTE: The Sweet Side
PAPETERIE: Just Milled
HOLZ KERZENHALTER: Wolfhound Woodshop
SILBERRING: Roses and Lemons
KUNSTPELZ braun: SpAZooiE Bridal
KUNSTPELZ weiß: Hot Hats
GASTGESCHENKE (Lippenbalsam): Tokyo Factory
FINGERLOSE HANDSCHUHE: Masha Crochet
CLUTCHES: Julia Sherry Designs
MODEL: Hannah Loop