Mariage a la Art Nouveau – 19th century meets modernity
The baroque castle Blankensee spoils its guests with its charming ambience, a dreamy landscape park and idyllic nature.
Wedding planner Denise Arndt of Hochzeiten by events.and.more was inspired by this picturesque setting for a unique shooting. The pictures by Claudia Gerhard are a feast for all the senses and take us on a magical journey. Enthusiastically we look at the many lovingly arranged details, which were created by a dedicated team with a lot of passion and sense for aesthetics and still. Enjoy with us a sensual couple, a breathtakingly beautiful table decoration, a perfectly coordinated stationery, an elaborate floral design and many small pretty details.
From Denise Arndt of Hochzeiten by events.and.more: "Dreamily, the romantic location lies in a small village, hidden in a beautiful, spacious park. Perfect setting for a wedding in art nouveau style. The colors shine from light pink to radiant gold and at the same time give the eye peace through muted, natural grass tones, all interspersed with ferns and pampas grass.
From the outside, the castle looks like an enchanted place; from the inside, the long-gone times harmonize with the modern interior. This creates an ambience that stands for freedom, sensuality and serenity.
The wedding couple finds itself in the park, in the hall and by the fireplace to celebrate their sworn love – the dress by Tilda Knopf Bridal is itself a mixture of Art Nouveau, Boho and Gypsy, the male counterpart convinces with its elegant casualness. With that, the guests head out into the garden for the free wedding ceremony, which takes place in an arcade. Delicate guitar sounds and wonderful words are the beginning of the next chapter of the loving couple.
The romantic and playful table setting is a visual eye-catcher, from the delicate and exotic floral decorations by Green Queen Flower to the graceful stationery by Lisa Brüning. There is also something culinary on offer here. Light appetizers as finger food to fish for the main course and sweet delicacies – the guests should want for nothing. The wedding cake from Süße Flora, decorated with ornaments, stands next to fine sweets that are just waiting to be discovered by the guests.
The common thread of the concept creates a cheerful, swinging mood that leaves plenty of room for romance, but also ravishing joy."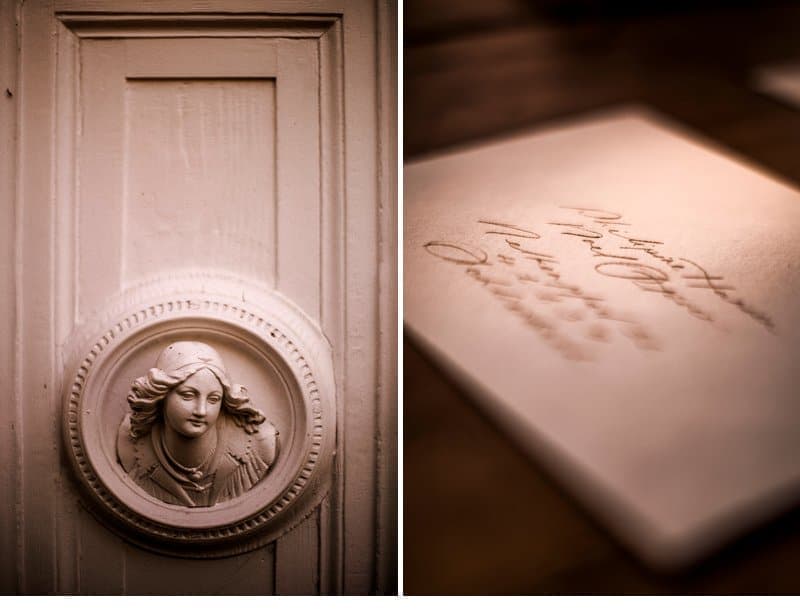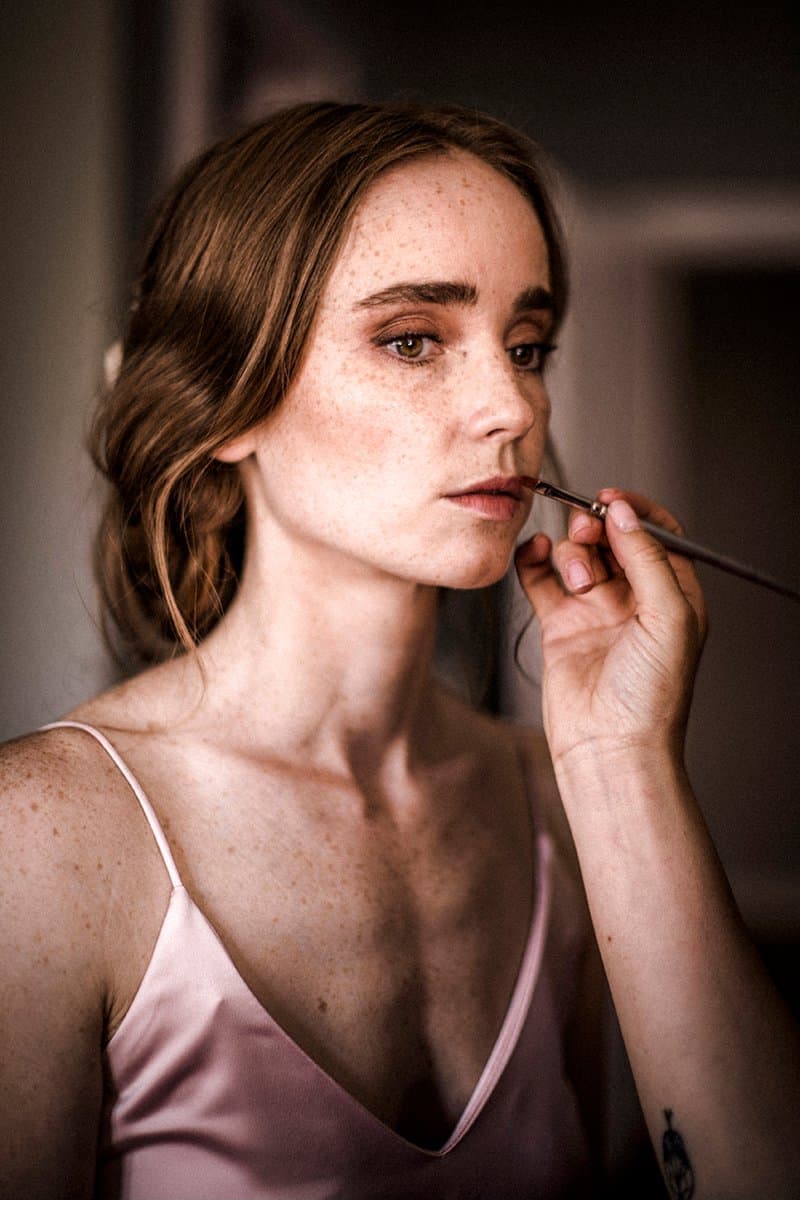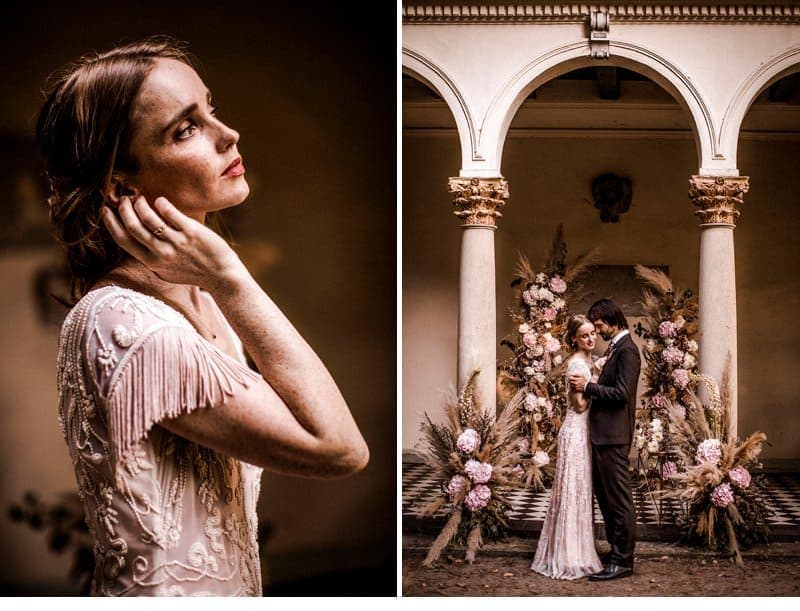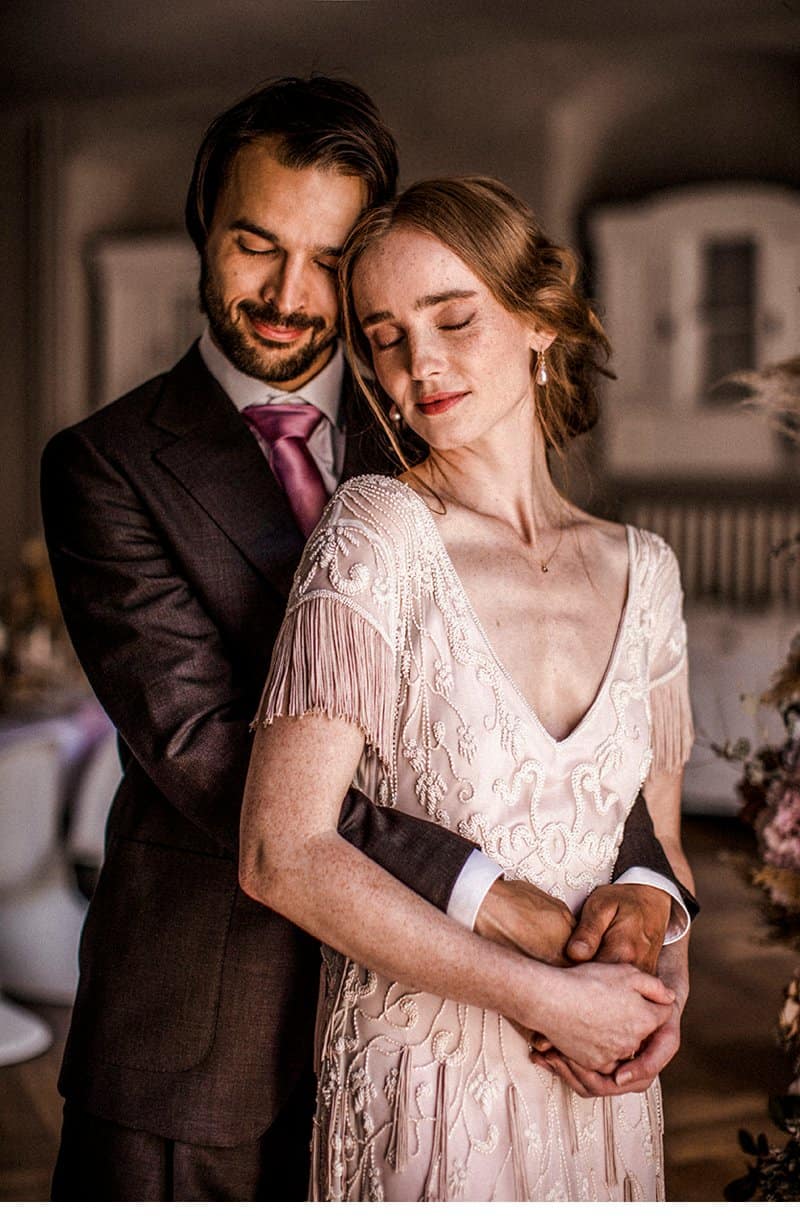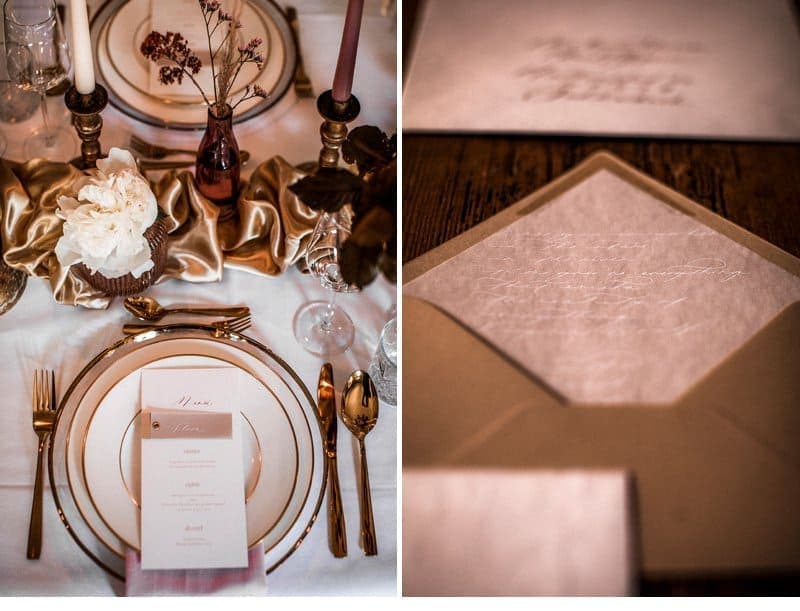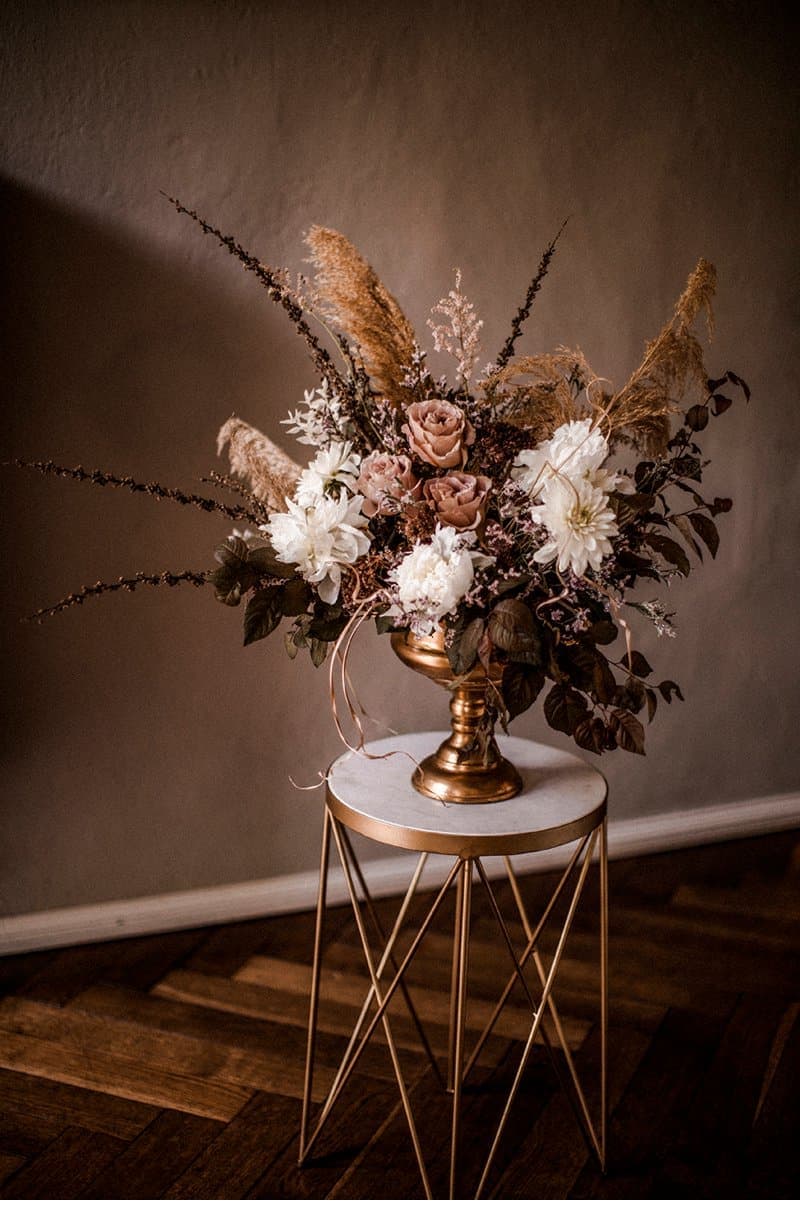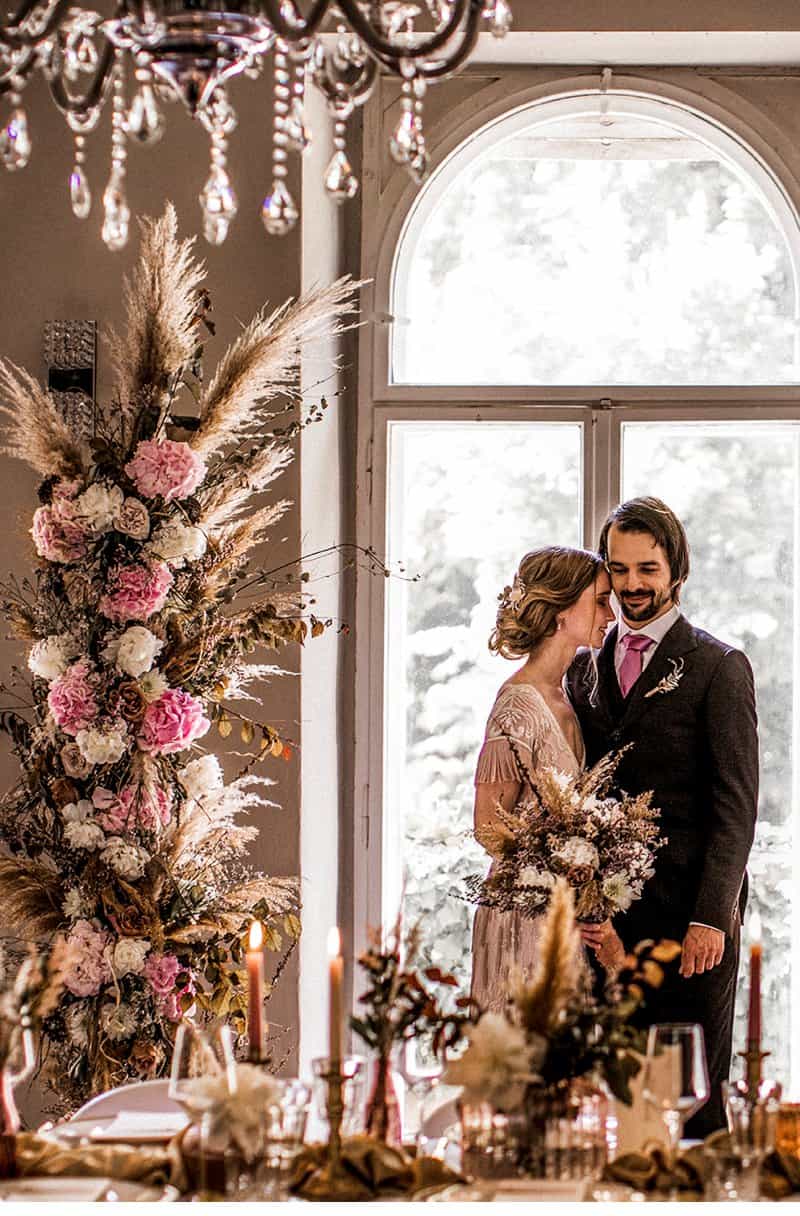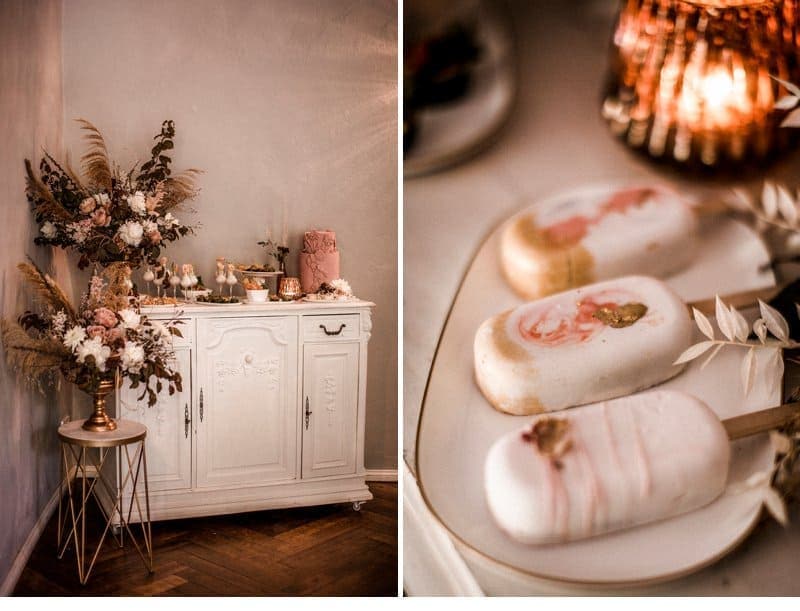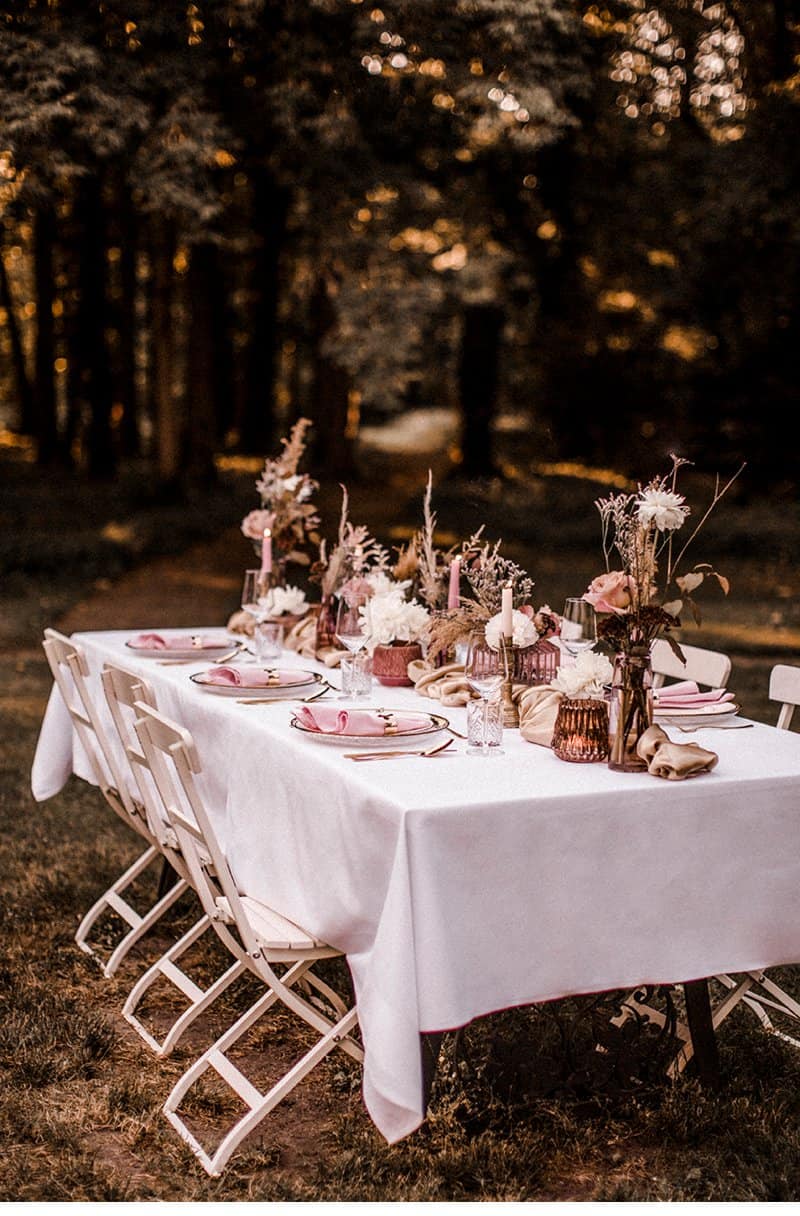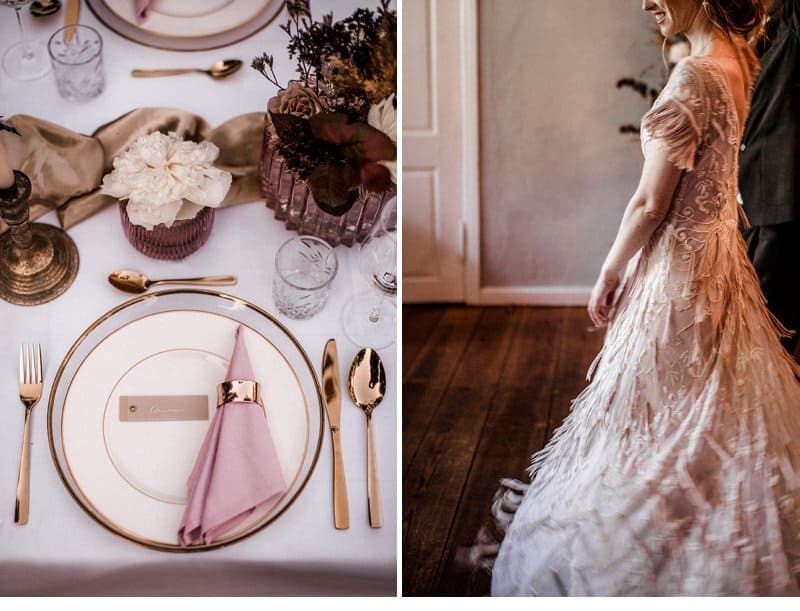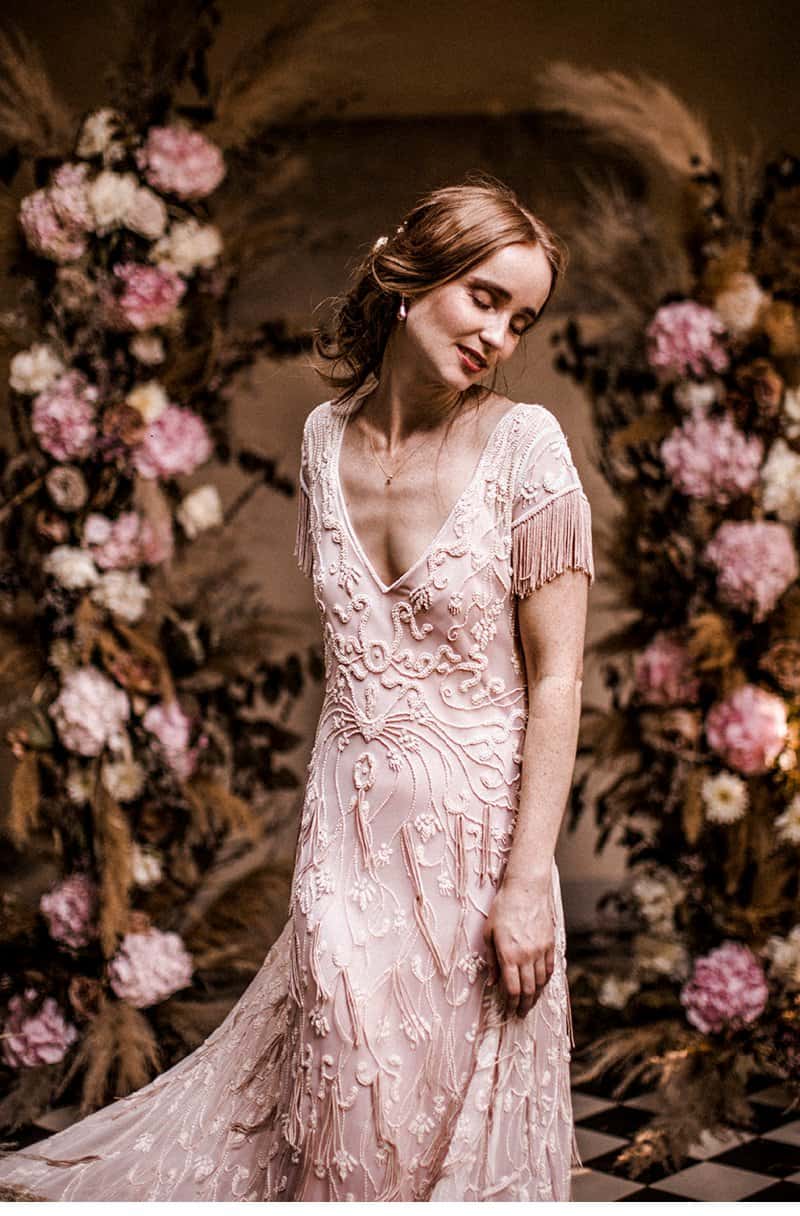 Planning / Concept / Decoration: Denise Arndt von Hochzeiten by events.and.more
Photographer: Claudia Gerhard
Video: Hochzeitsfilme – Sonnen Media
Cake Design / Sweets: Süße Flora
Bridal Dress: Tilda Knopf Bridal
Suit: Rook & Rocks
Jewellery: Schmuckbotschaften
Floral design: Green Queen Flower
Stationery and Calligraphy: Lisa Brüning
Hair and Make-up: Urnaa Unii Hair & Make-up Artist
Location: Schloss Blankensee
Rental: Happily Ever After
Officiant and Singer: Anne Fraune
Models: Betty Lösch und Bart Rijckaert