Minimal Lushness
With his modern fine art bridal inspirations Andreas Nusch shows us today, that minimalism and opulence do not necessarily exclude each other. While the delicate color palette of this shoot retains discreet it is the handpicked and well-placed details that are numerous to discover.
All-round Talent Mari of Nosioko has done a great job as a Floral Designer. However, anyone who takes a closer look recognizes how much love and instinct she also put into planning and implementing the conflicting concept, or this shared vision.
 "When we decided to get together to create an inspirational shoot we wanted to highlight all the best features Fine Art has to offer and combine it with a modern feel and look."they told us. "We chose a classic color palette of whites and blushes with golden accents but we turned it into something rather bold and modern yet organic looking."
A touch of sensuality, a pinch of sexiness but a lot of grace – Fine Art set the rules of the game: "We were inspired by women who have a voice but who do not reveal everything and who can be bold but fragile at the same time. Thus our dresses from Sandra Nymphius, Michèle Weiten and Victoria Rüsche represent a feminine but also sensual aesthetic with a modern twist." they explain.
And this combination is also reflected in the design elements such as the stationery: "Our invitation suite on textured paper might come as a surprise because it's simple in its design and carries botanical scribbles. Nothing fancy, just pure and honest. This is what the aesthetic really is."
 While some details score with restraint, nature has its grand entrance: "Nature's movement and abundance is everywhere from the bold asymmetrical bouquet of ranunculus, cherry blossoms and roses to the lavish backdrop with blooming branches and the abundance of ranunculus in golden bud vases on the table. Minimal but bold."
 Minimalist but opulent also applies to the exquisite location, the Weingut von Winning – spacious rooms with high ceilings, white double doors and artful wooden floor. Almost a beautifully framed, blank sheet of paper on which the team drew their artwork."The venue at a beautiful vineyard was chosen because of its old charm and its beautiful wooden doors and floor. The light that came streaming in through several windows was the main reason why we fell in love with the setting and helped our photographer Andreas Nusch capture the airiness and movement of our shoot inspired by abundant nature in a minimal design."floral designer Mari added.
Did their words make you as curious as us? Then come along and lose yourself in the great shots of Andreas Nusch.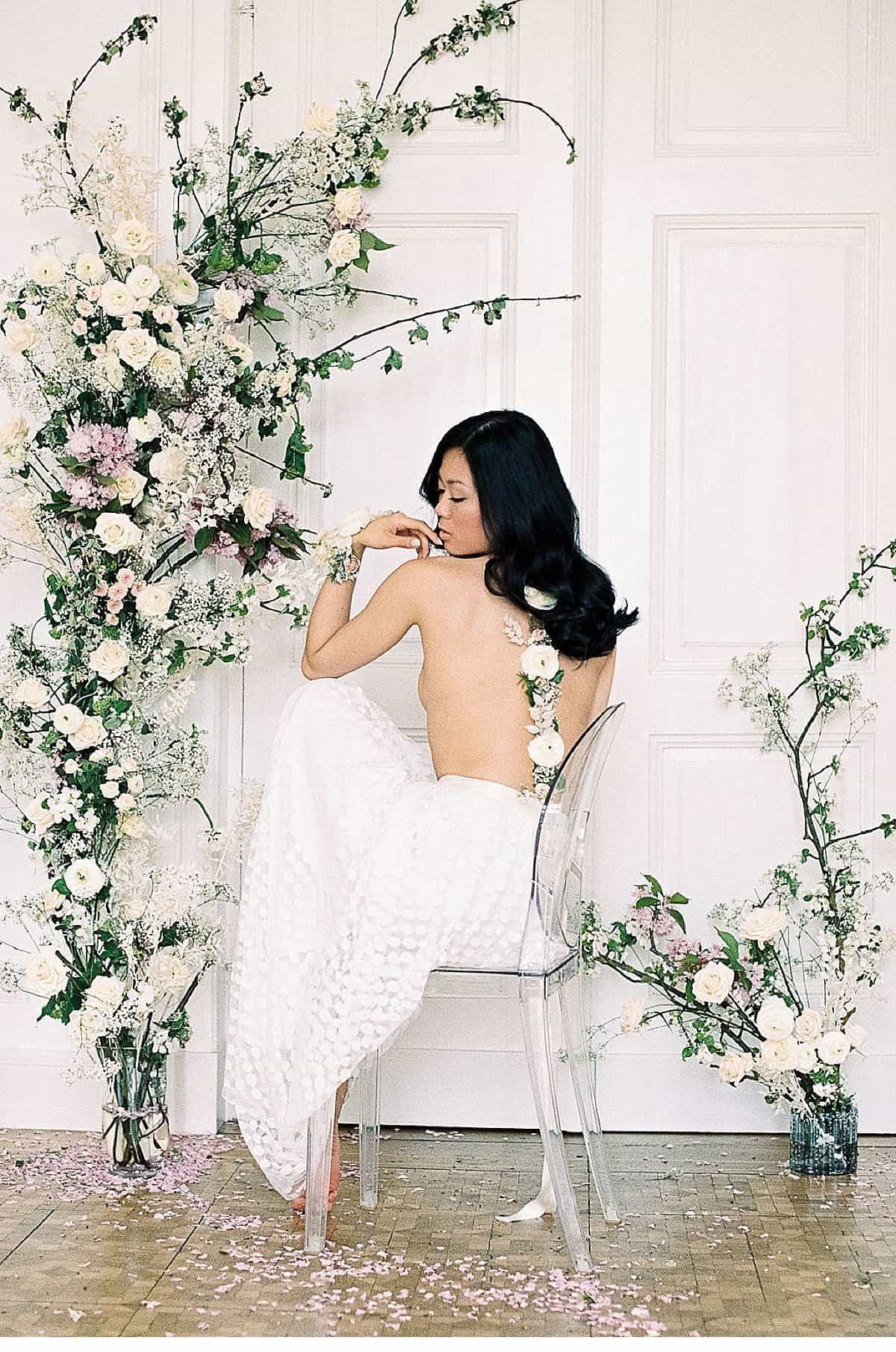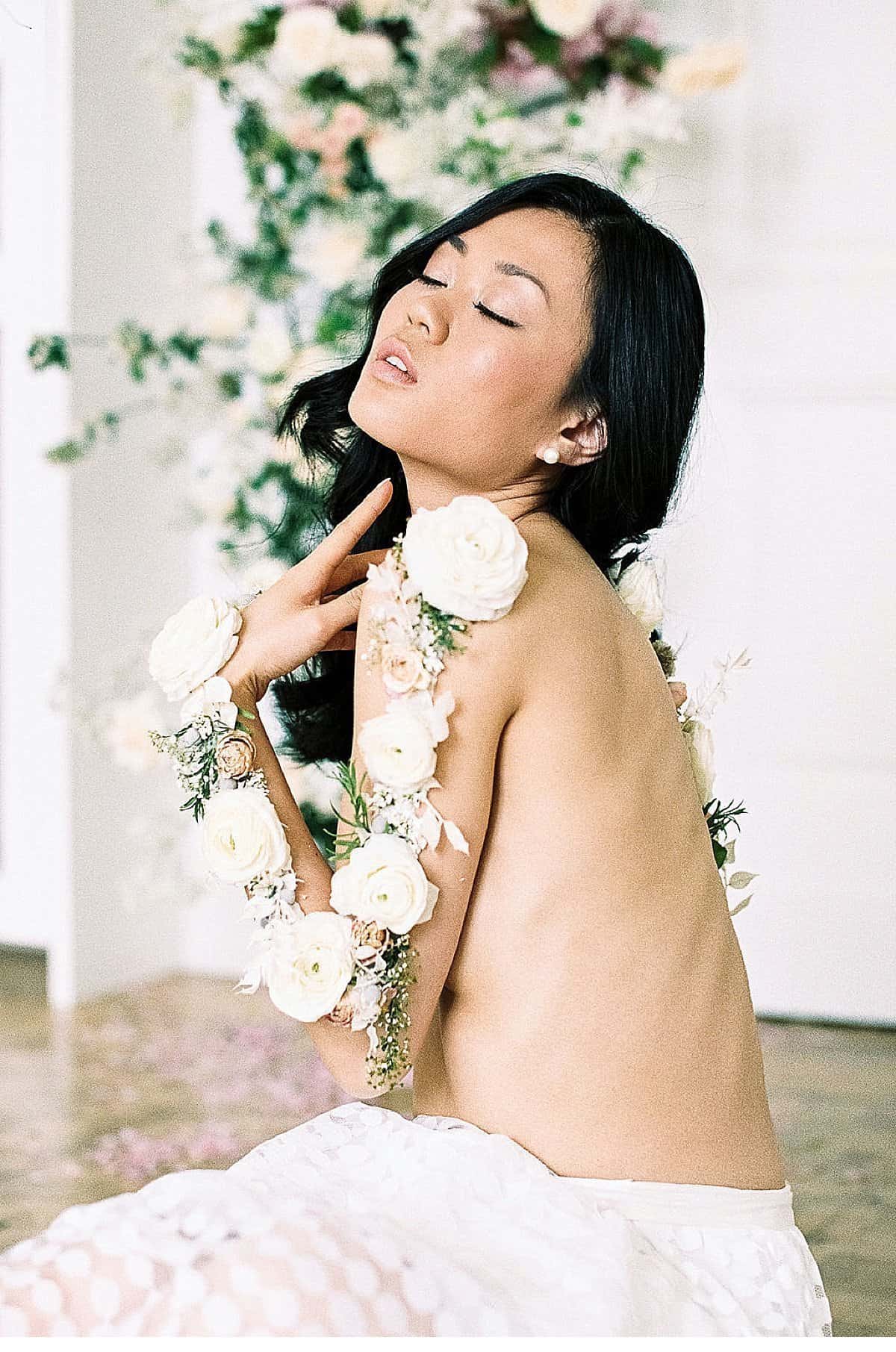 PHOTOGRAPHER: Andreas Nusch Wedding Photography
STYLIST / PLANNER: Nosioko
FLORAL DESIGNER: Nosioko
VENUE: Weingut von Winning
DRESS DESIGNER: Victoria Rüsche, Michèle Weiten, Sandra Nymphius
ACCESSORIES: Marry me Beautiful
HAIR & MAKE-UP: Anna Steiner
STATIONERY: Hello Jules
FILM LAB: Mein Film Lab
MODEL: My