MISS DIOR, AN HYMN OF LOVE AND FEMININITY
This french wedding's inspiration was held in the sumptuous  property of Bastide du Roy, known as a Historic Monument from Antibes.
Wedding planners Manon & Manuella of Auroria Wedding chose the Miss Dior theme for their multi-faceted and sophisticated editorial. The arguments for their concept are feather-light, aesthetic and stylish. Fascinated, we marvel at the exceptionality of the motifs and the harmony of the color palette.
With his inspiring imagery, fine art photographer Christophe Serrano leads the viewer through a poetic masterpiece.
From Manon & Manuella of Auroria Wedding: "We chose this magical place, dating from the end of the 16th century, for its story as well as its French and Spanish gardens, with shimmering allures. But also for its romantic settings which create the perfect atmosphere and aura for weddings.
The inspiration for this series of photos came from the famous publicity of Miss Dior fragrance which represents the symbol of a passionate, romantic and free woman. In fact, Miss Dior challenges, vibrates and invites all beauties all around the world and to love. During the photo shooting, we would pay a tribute to modern and free women, while contrasting with the use of a very féminine code by creating a pink and flowery universe.
In order to do that we highlighted a french young woman who is very natural and who has a carnal beauty. All of that inside an idyllic setting bathed in sun. The presence of bridesmaids highlights the feeling of feminine and freshness complicity.
Femininity , freedom and romanticism, these terms allowed the photographer Christophe Serrano to pay tribute to Peter Lindbergh, who wanted to show to the whole wild world how a woman could be beautiful once she is liberated from ditacture and artificial clichés which composed fashion during the 80's.
The whole décoration must incarnate the sensual, luminous and full of energy universe of Miss Dior. To do that we created a flowery and pink decoration while respecting the identity of the publicity. The choice of flowers was made very important and we chose together with Blush Floral Designer prestigious flowers such as peonies which reflects femininity and elegance. Roses were also chosen because they are the symbol of love, subtlety and refinement.
The ceremony took place in a romantic and feminine vibe inside the music garden which is a green setting with rounded shapes. This is an intimate setting for lovers and guests.
The head table arranged in a chic and romantic way, is composed of a pink linen tablecloth and made with an unstructured floral pattern as a table runner, which gives a worked and opulent appearance, where the profusion of flowers reigns. An elegant porcelain crockery with golden border and crystal glassware from Arques bring a touch of refinement and embodies French elegance and know-how.
The card has been designed with delicate watercolor graphics and unique hand-worked calligraphy by Encres et Nuances, magnified by subtle gold lines. Premium paper was used for full color expression. The discovery of card making is done in several stages: a gently calligraphic envelope revealing as if with modesty, a layer that reveals without showing too much, an invitation that gives way to a liberated and fully assumed femininity
For the choice of the wedding dress, we fit for princess style tulle dress by Accord Parfait, referring to an assumed femininity. Its powdery shade, composed of a drop of delicate floral lace, with sensual and romantic lines, goes well with the rest of the shoot. For the suit, the choice fell on a double-breasted black tuxedo with velvet lapels and patent Repetto shoes by Maison Geraci. A timeless revisited, sober and elegant."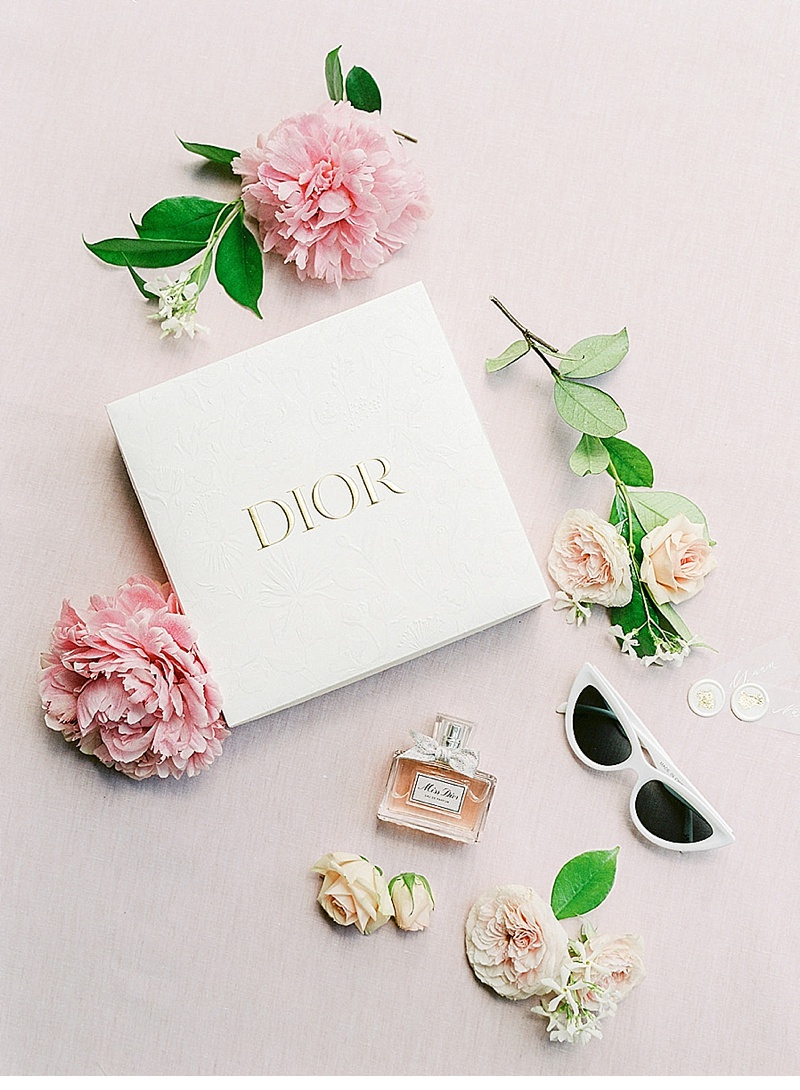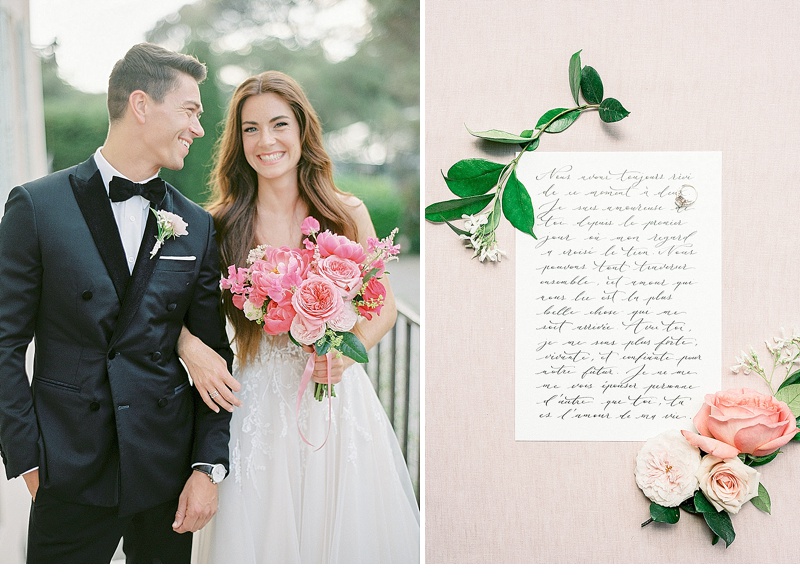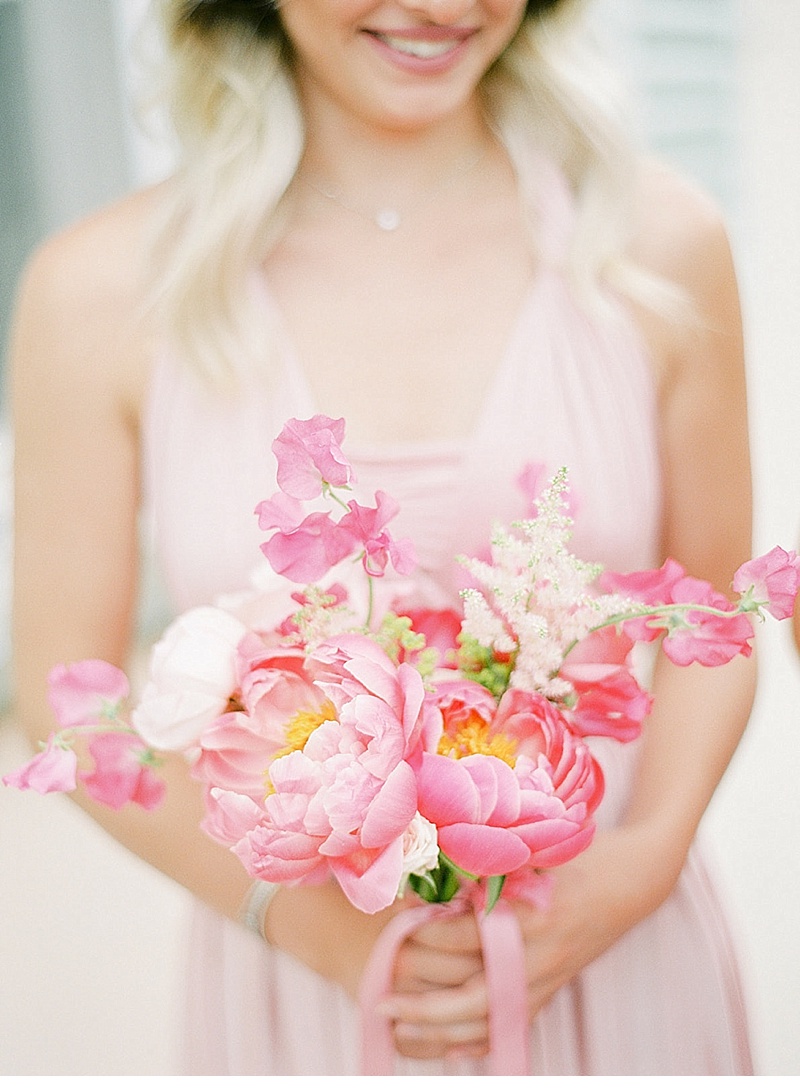 Planning & Design: Auroria Wedding
Venue : Bastide du Roy
Photography: Christophe Serrano
Videography: Wedd in Time
Floral Design: Blush Floral Designer
Stationery : Encres et Nuances
Bride's Gown: Accord Parfait via Anna Sposa
Bride's Shoe: Bella Belle Shoes
Groom's Attire & Shoes: Maison Geraci
Bridesmaids' Dresses: Caralys
Hairstyle: Julien Matha 
Bride's Makeup: Amandine Poisson
Furniture Rentals: Be Lounge + Maison Options
Model: Maealliez + Victor