Modern and simple Wedding at the Chartreuse de Valbonne
Majestic, spiritual and enchanting, the  Chartreuse de Valbonne in the heart of Gars is an atypical place full of history and legends where time seems to stand still.
The romantic ruins of this monastery, which served as the backdrop for Christophe Serrano's  last workshop, are also an enchanting setting for a church wedding. Wedding designer Anne Simonin of The Wild Moon, who fell in love with the charm of the place, presents us today her purist vision of a wedding through a scenography that is at the same time modern, romantic and poetic.
The fashionable, elegant and artistic accents of the editorial immediately captivate the viewer. The woman is brought to the fore in all her sensuality and femininity by the light falling through the openings of the cloister.
The stylish color palette includes beige, ecru, gold and orange. The accessories are simple and natural, like the mother-of-pearl earrings or the faience on the table. The elegance here is based on different textures and materials like marble, pearls and plaster – the mineral is next to the organic. The soft curves, the flowing and light draperies contrast with the austerity and unevenness of this imposing backdrop. The nobility of the Chartreuse de Valbonne and the model nourish each other.
The Eva Lendel dress was chosen for its simplicity and unique elegance to convey a modern and fashionable high-end bride. The luxury is suggested by a geometric and effective design. The decoration was designed to fit into the atmosphere of the place with its rustic, elegant and modern touch.
The stunning paintings by Cristèle Domanec approach the analog style in a soft and bright style.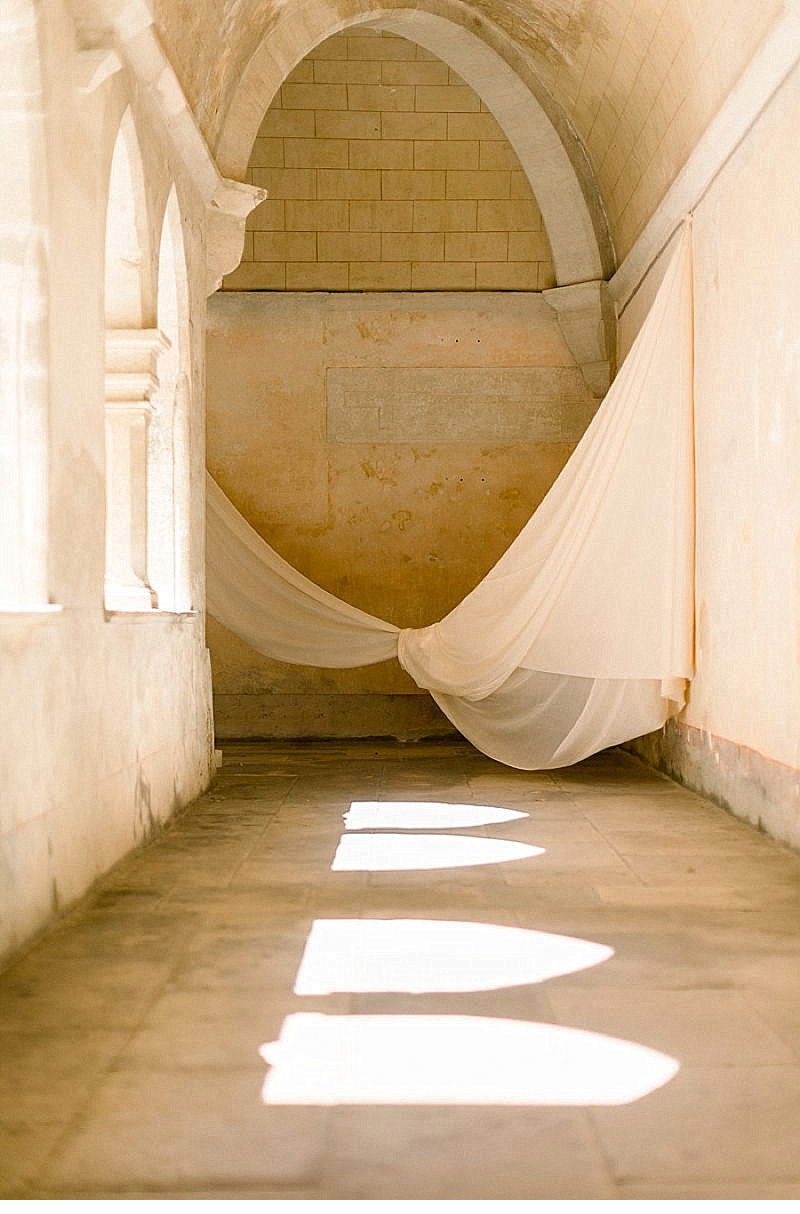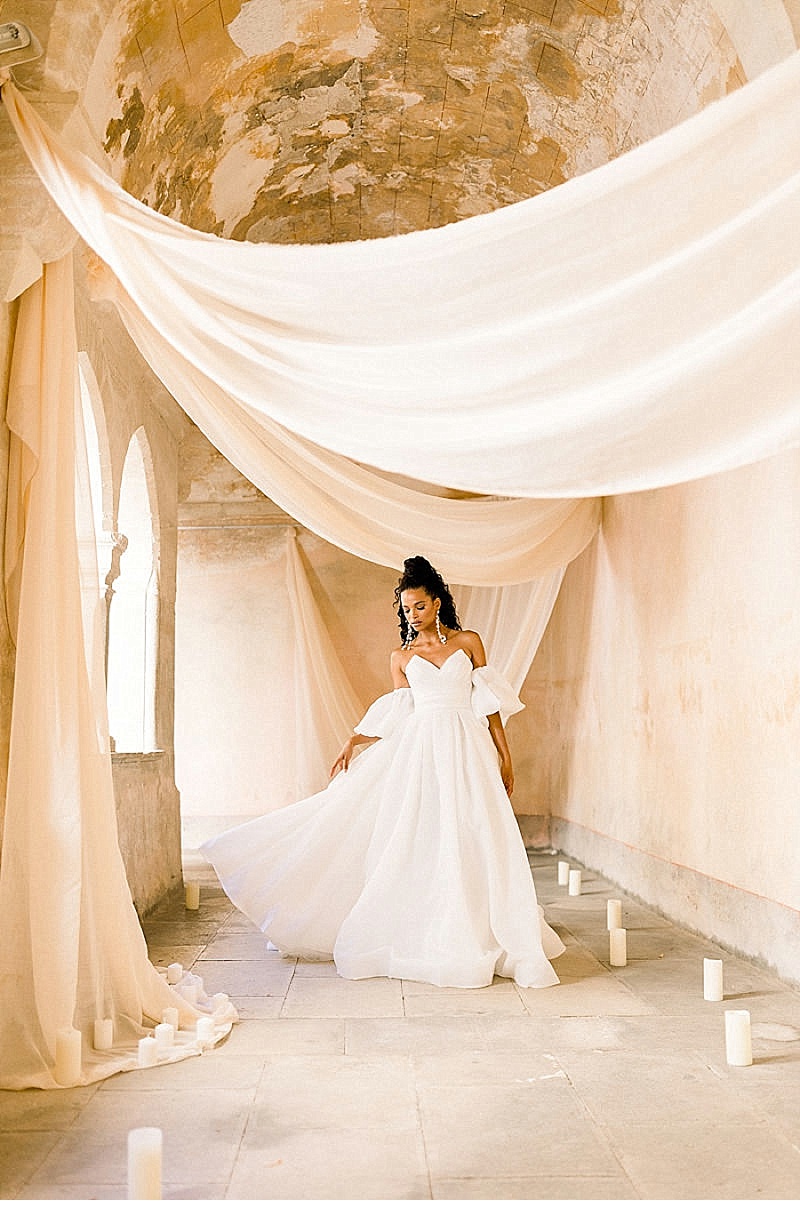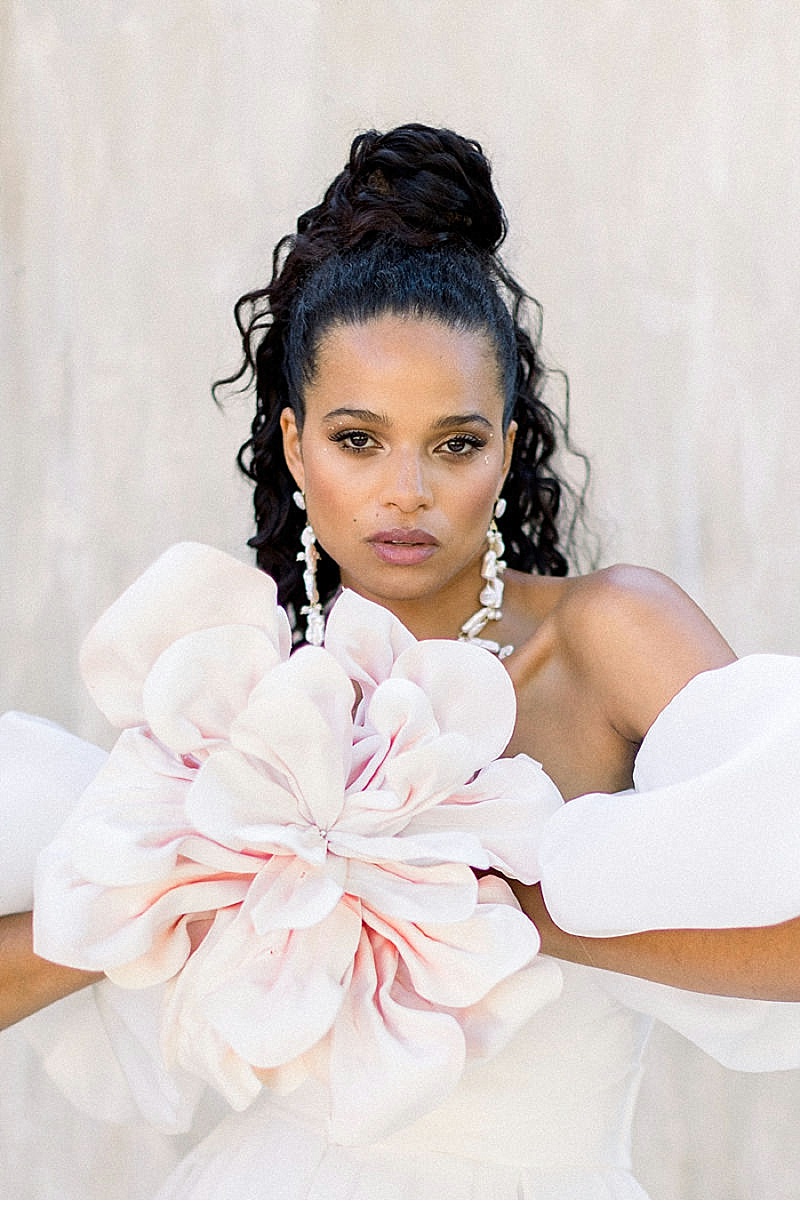 Photographer:  Cristèle Domanec
Workshop: Christophe Serrano
Second shooter: Matthieu Kobi
Wedding designer & DA: The Wild Moon
Wedding planner et officiant: Le Romances de Marie 
MUA Hairmaker:  Anne Simonin
Assistante makeup artist: Nathalie Heu
Venue: Chartreuse de Valbonne
Florals: Ricci Floral Creation 
Robe: Eva Lendel
Shirt and pants: Rodier Paris 
Shoes: Bella Belle Shoes and Asos 
Jewelry: LBV Cheveux
Ceramist design: Studio Perletters
Chairs, glasses, candlesticks & cutlery: Jolie Bazaar 
Decorative elements, Curtains & Design Table: The Wild Moon
Stationery: Papier June
Wedding cake:  Combava Cake
Model: Beatriz Fortunato