MODERN LOVE
An abanoned church. Manoir des Prévanches at the Normandy. A soft knock on the door, a daring step inside. Two people who want to celebrate their love in a very special way: put into the spotlight by designer La Mariée aux Pieds Nus and the photographer Greg Finck.
Nonchalantly the bride leans against huge, white glass windows. She´s waiting in the daylight on white high-heels that only cover half of her feet.
In front of her stands a rustic wooden table as dark contrast to this light surrounding. On the table we find different old bottles, white blossoms rise from their necks to see what happens around them: we become witnesses of a scene that could not be more adventurously.
Transparent glasses with corrugated pedestal meet simply used beer-bottles, classic white plates stand on a table without any cloth or runner. It´s astonishing there´s regular cutlery! Yet the theme of these pictures is: "modern love" meets French chic.
This beautiful scarf made of ivy lays on the brides shoulders. A composition of light pink and dark blue cards are spread across the foyer that invite to an unconventional wedding day of the bride and groom. Lights are wrapped around creaking stairs, cased in golden hoops like souls caught in a thousand cages about to be released in deep love.
With the dreamlike pictures shot by Greg Finck we go on an expedition into a fascinating world of inspirations.
Translation: Marina Jenewein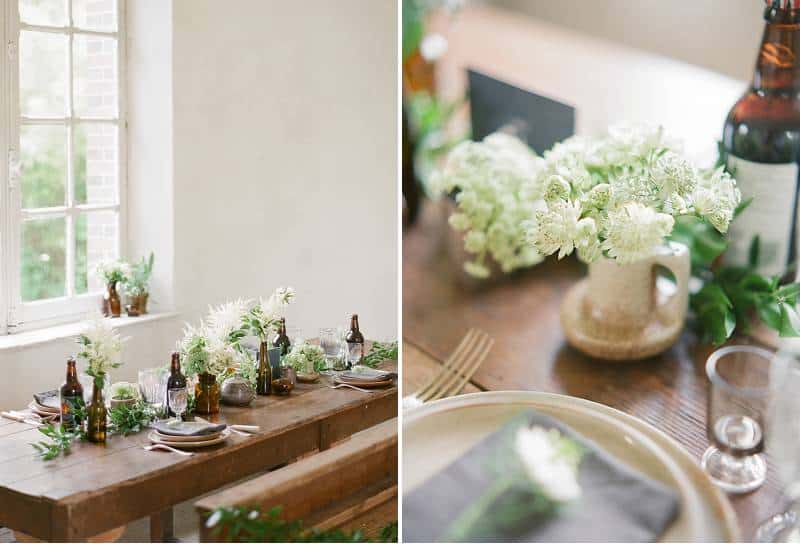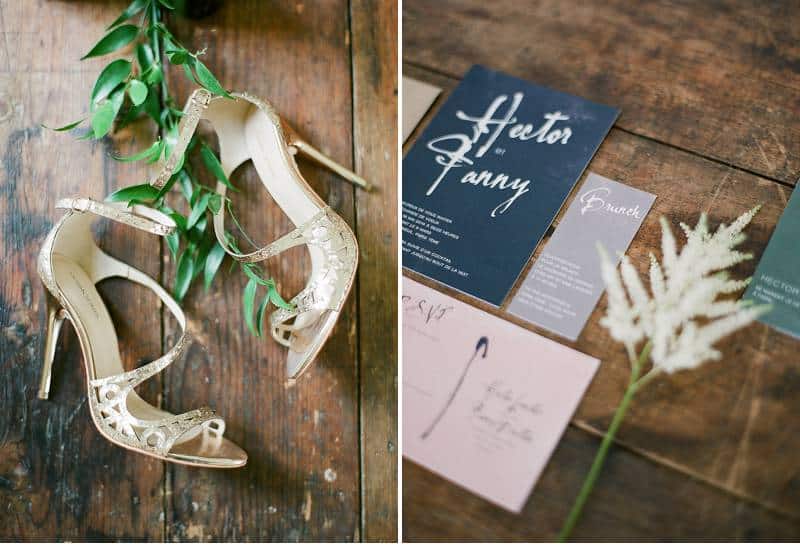 PHOTOGRAPHER: Greg Finck Photography
DESIGN AND FLORALS: La Mariée aux Pieds Nus for Made InYou
BRIDE'S GOWN: Atelier Anonyme
GROOM'S SUIT: Faubourg Saint Sulpice
MAKE-UP AND HAIR: MyBeautyCorner
STATIONERY: Mister M Studio
VENUE: Manoir des Prévanches
MODELS: Aurore and Christophe