Modern.Romantic.Japanese
This romantic editorial by La Blonde et le Barbu Design is creative oasis for simple beauty. A breeding ground of inspiration for modern brides looking for innovative ways to add a personal touch to their wedding.
The team knows how to soften elegance with playfulness and amazes with the talent to impressively blend the different components under the aspect of naturalness.
Let's take a look at the grandiose result so artfully captured by photographer Thomas Audiffren.
By La Blonde et le Barbu Design: "The decoration and the flowers:  Inspire and be inspired, the leitmotif of a wedding designer. Inspire by offering an original touch that we hope will touch the bride and groom, and draw inspiration from various sources on a daily basis, which will nourish our ideas and project them into the atmosphere of a new wedding.
This is what we wanted to do here by bringing together several universes that seemed to answer each other:
– the "Hanami" celebrating the arrival of Spring in Japan
– the romanticism and softness of Roses combined with the modernity of Tulips
– but above all a striking colorimetry: the contemporary black, the Cafe Latte pink of "reflex" Roses and Tulips, and the dazzling white of the other flowers, the tablecloth and the white glasses, in permanent contrast.
The choice of flowers and their color was essential for a perfectly successful atmosphere: Modern, Romantic, Japanese.
 Japanese Floral Art at the heart of floral decoration: The floral arrangements are all made in Japanese Floral Art, Ikebana: a meticulously chosen placement of the flowers for a perfect graphic appearance and a successful harmony of colors.
The bouquet takes up some delicate branches of Spring among its lush and round flowers, and its tulips with a bright heart.
 A modern and inspiring table: On the table, regional figs and blackberries accompany the relative softness of the black plates with pearly reflections from Jolibazaar. The glass roof recalls the authenticity of the place with this black and white checkerboard pattern. The black velvet chairs from Be Lounge are as romantic as they are modern."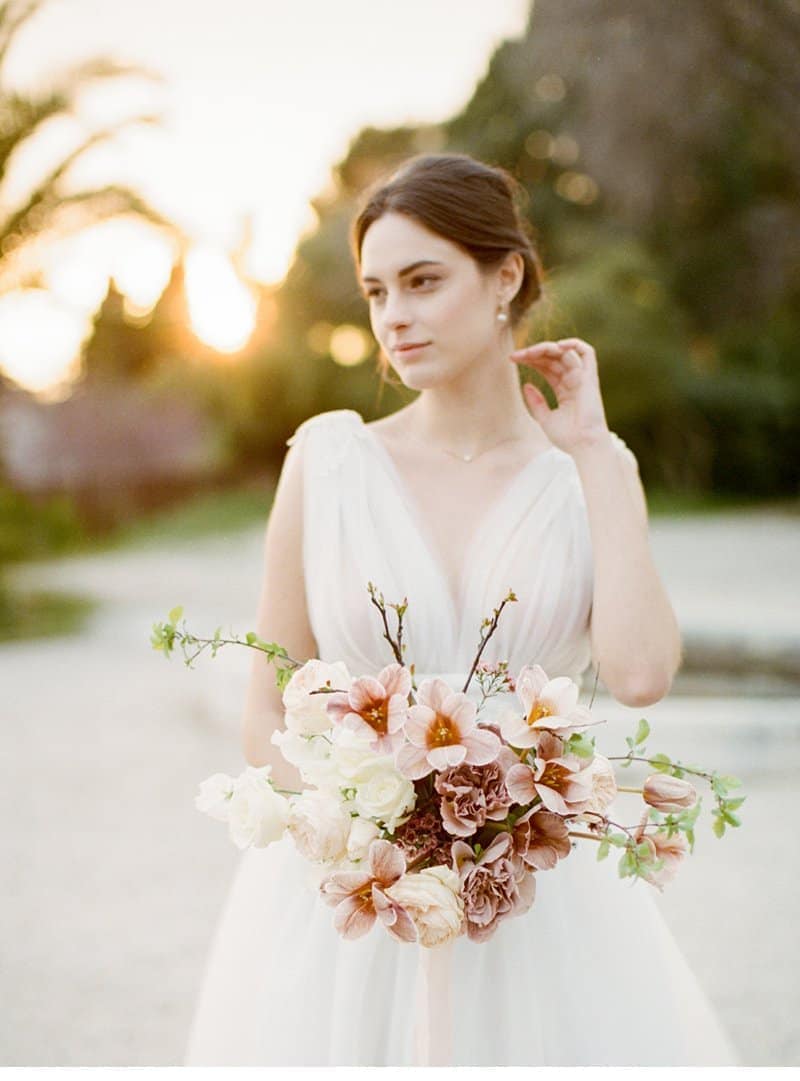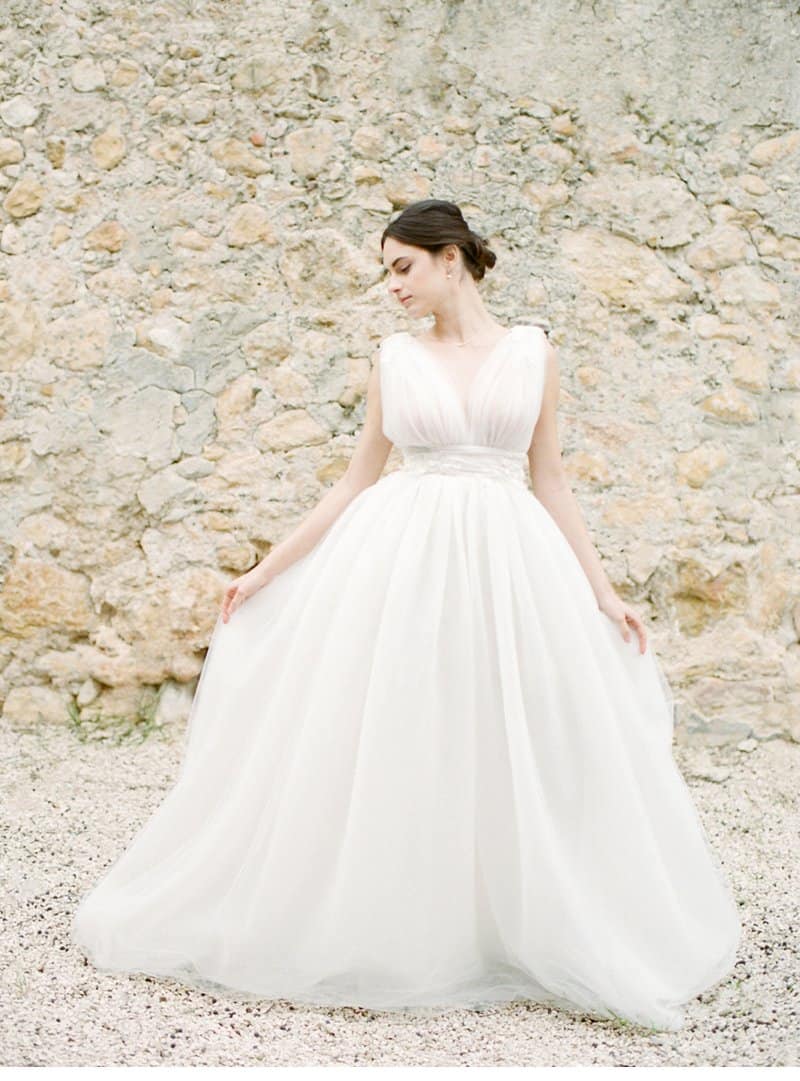 Design, decoration, planning and flatlay design: La Blonde et le Barbu Design
Photographer : Thomas Audiffren
Filmmaker: Jino Agnelli
Wedding Venue: Villa Brignac
Wedding dress: Marion Fera
Makeup Artist and hair design: Karine Brossard
Wedding Stationery: Promesse Graphique
Wedding Cake: LB Cake Design
Shoes: Bella Belle Shoes
Jewelry: So Helo
Tableware: Jolibazaar
Gaze runner: Decovita Events
Chairs: Be Lounge
Tablecloth: Madame de la Maison
Tulips: VIP Roses 
Film Lab: Carmencita Film Lab 
Model: Ornella