Multicultural wedding vision with style and elegance
This intimate, relaxed and multicultural wedding editorial, was planned and executed by creative event planner Cynthia of Kimberley Rose Design. Inspired by the Persian story of Esther, she and a dedicated team implemented their visions of this love story with great attention to detail and a keen sense of aesthetics in a stunning setting. Photographer Cristina Ilao  inspires with her stylish and beautiful imagery.
From Cynthia von Kimberley Rose Design: "The story of Esther is one that has captured my imagination for a long time! A young, kind orphan girl raised by her uncle in a vast Persian empire far from her home country  captures the heart of the Persian king, Xerxes, ruler of this vast and powerful empire. What  a love story!
I often wondered what their wedding would be like and imagined them having a private, intimate wedding to celebrate their love. This is my interpretation of how I envisage it unfolding, a fusion of persian and english influences. It's perfect inspiration for ardently in love couples with a love of history looking to incorporate their own cultural influences into their intimate wedding. I stayed true to the story by incorporating some old world Persian influences but still kept it relevant to our modern day.
We used the Fernery, an annex on the grounds of
Ashridge House
 nestled in the english countryside that provided the perfect backdrop of being a great castle fit for a king but having the light infused annex – the Fernery, that is perfect for an intimate wedding where our couple escaped to for their intimate wedding feast.
The Fernery with its sculpted arches reminiscent of some of the ones found in ancient Persia provided the perfect inspiration for our stationery design as Valentina of Velvet May Designs depicted and captured them arches so beautifully in her menu designs for the shoot.
The dresses were hand picked antique fabric and designs that had the old world feel of the Persian era. We also choose the groomswear with unique designs that suited our groom well. Our dress designer Sophie of A Lover's Thread, designed 2 gorgeous dresses fit for a queen, both made from vintage antique designs, one was for the day, a simple sheath dress with a lace slip dress that enabled ease of movement for our bride and the other was a single piece with flowing capes that sashayed gracefully as she walks. The hair accessories we chose helped to enhance our bride's regal look but still kept her looking serene. Adie of Hair and Make-up by Adie did a braided backdrop of our bride's dark tresses to go with the design of the two dresses and kept the makeup subtle and understated.
I choose a neutral colour palette with hints of peaches, pinks and greys to add to the relaxed vibe of the shoot and complimented the fernery with it's potted plants , quite well. Loose wild florals was the perfect accompainment to the organery in the fernery with it's light and airy interior filled with potted plants and lots of greenery to ensure we had a relaxed feel to the shoot and our floral designer Louise Langdon, did not disappoint! She created loose ferns that framed the doorway to the fernery for the couple and loose abundant florals for the tablescape to add to the elegant and yet relaxed feel we were going for and complimented the Fernery beautifully.
We kept the florals loose and abundant to enhance the intimate feel of the shoot and picked tableware pieces that were reminiscent of the Persian era with hints of old gold metallic in our cutlery. We wanted to create something that was relaxed and intimate but still feel elegant so we used grey and stone coloured linen table cloth and napkins to give it that relaxed feel, persian-like grey antique chargers and antique crystal glassware completed the design.
We used beaded ceramic style flatware to infuse a bit of modern influence to the individual place settings with light gold metallics in the cutlery to bright up our tablescape and rolled up the bespoke hand drawn menus scripted on deckled paper into scrolls sealed with wax seals as reminiscent of the old world. To add to the relaxed feel of the shoot, we had boards laden with some Persian delicacies that the couple could nibble on as they wait for their wedding breakfast. We had quail eggs, walnuts, pistachios, grapes etc.. Fragrances of figs, pomegranates and cinnamon wafted in and filled the air from the scented candles provided by the Scent Styling Co  that certainly enhanced the Persian feel to our shoot. Adding bespoke scented fragrances is such a good way to make your wedding day intimate and bespoke.
I hope this inspires your readers planning multicultural weddings and provides them with ideas on how  to incorporate cultural influences into their intimate weddings."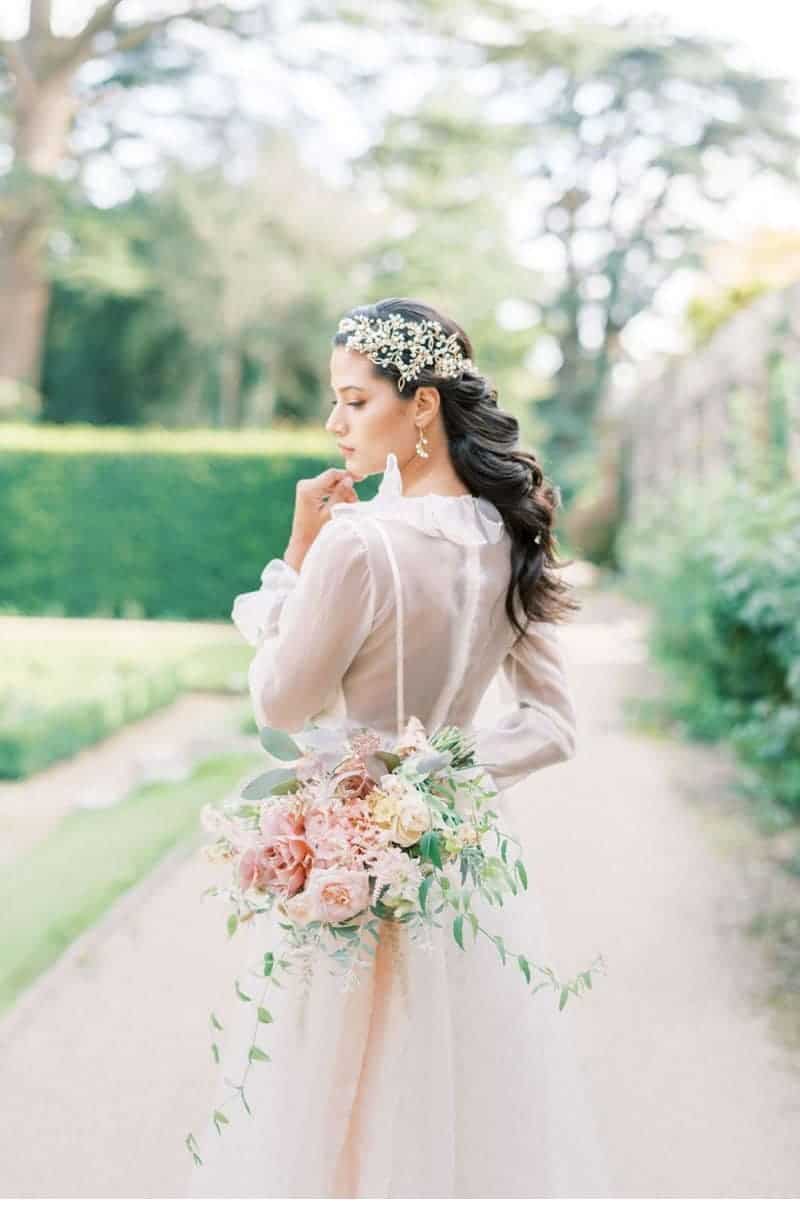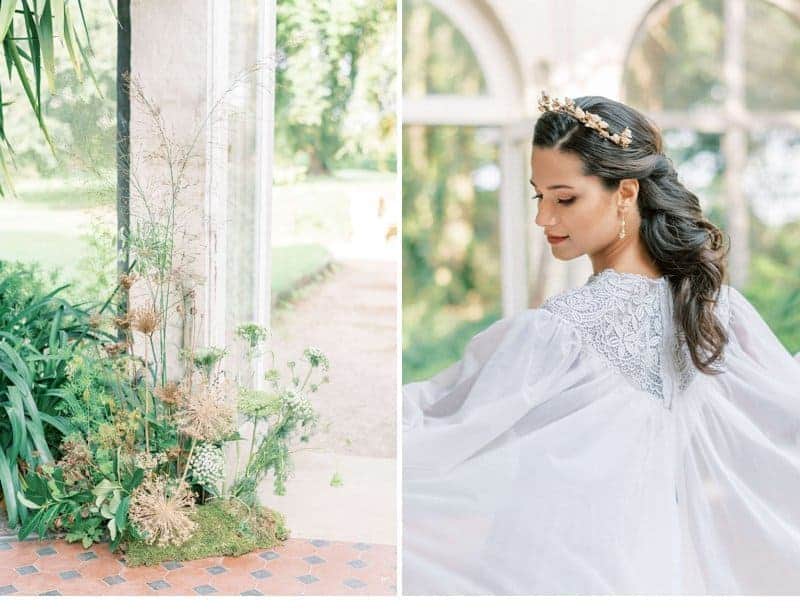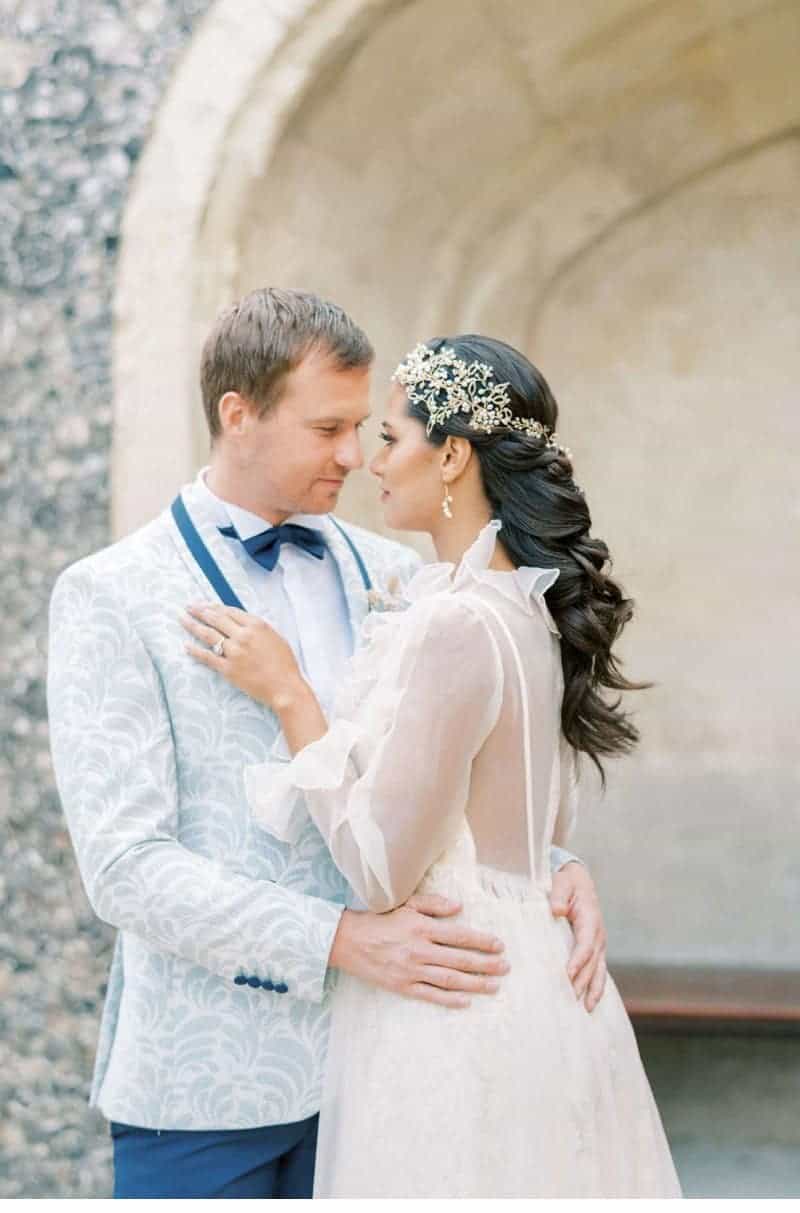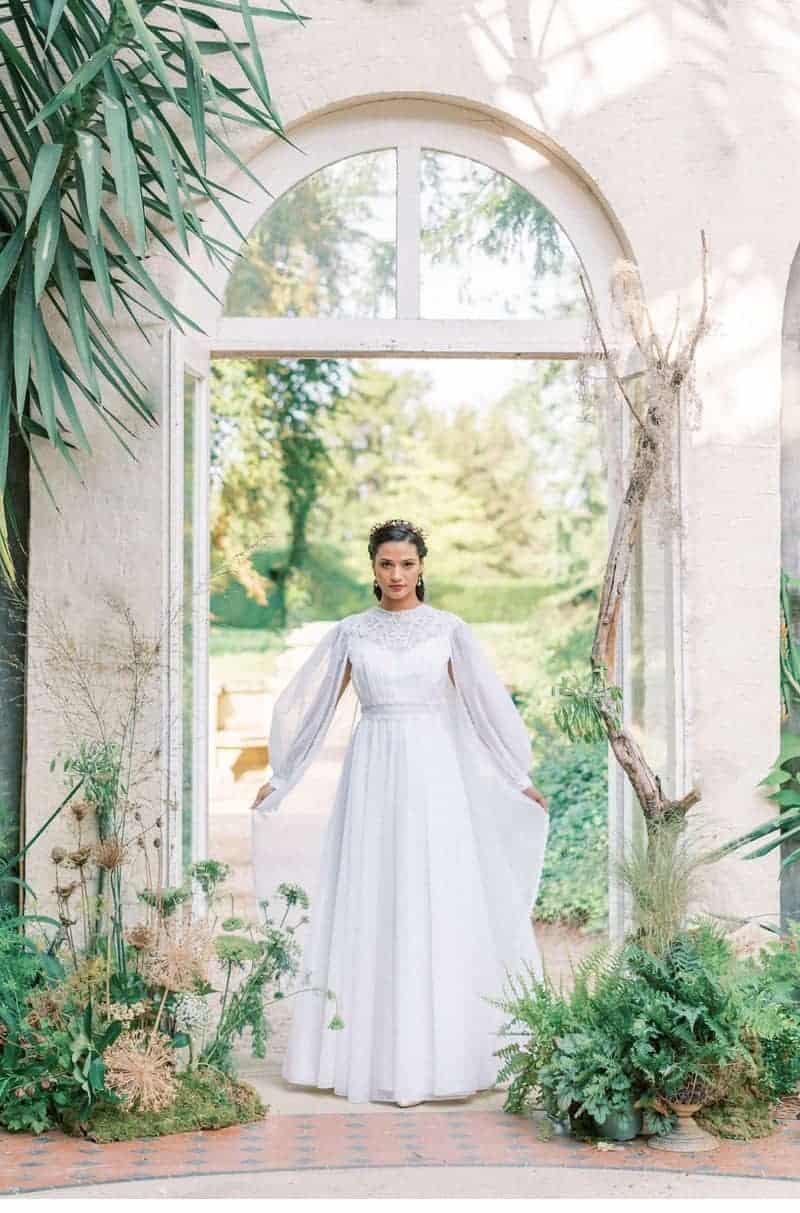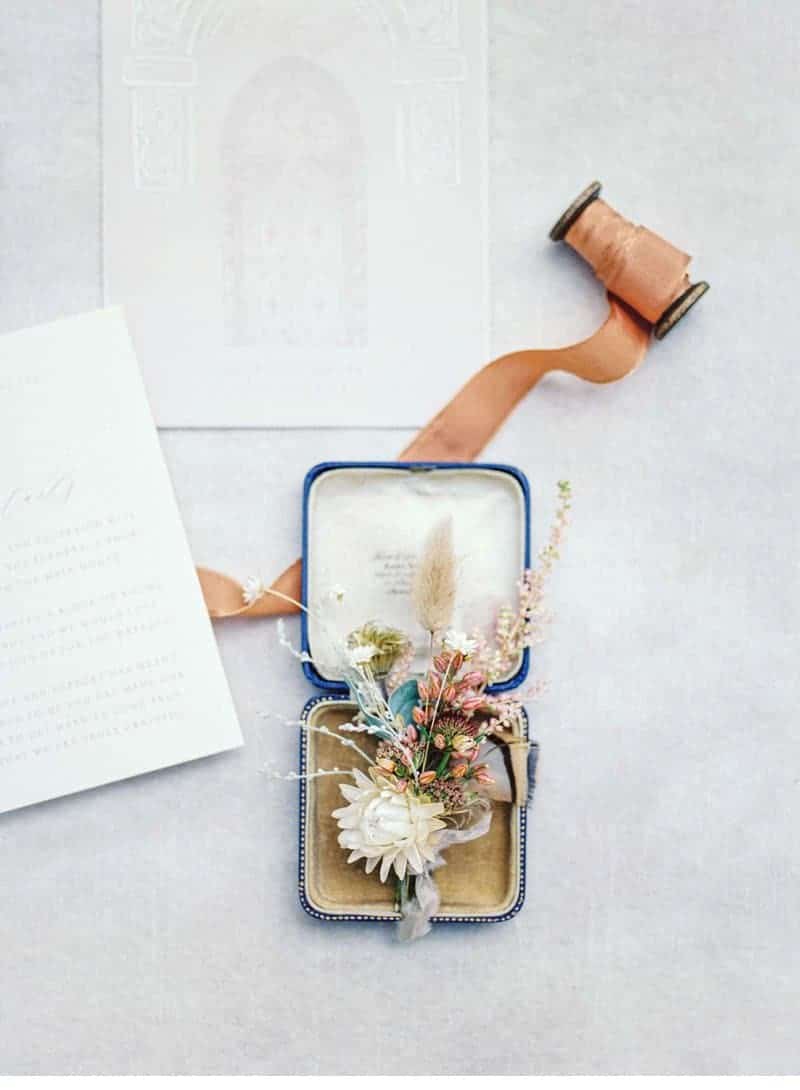 Planning + design: Kimberley Rose Design 
Photography: Cristina Ilao 
Venue: Ashridge House 
Floral design: Louise Langdon Florals 
Wedding dresses: A Lover's Thread
Shoes: Bella Belle Shoes
Hair accessories: Hermione Harbutt  
Tableware: Durchesse & Butler 
Stationery + Calligraphy: Velvet May Designs 
Cake: Monannie Cakes 
Hair + Makeup: Hair and Make-up by Adie 
Wedding rings: London Victorian Ring
Videography: Terri & Lori
Scented candles: Scent Styling Co 
Styling mat: Marry & Lilo 
Silk ribbons: Silk & Purl 
Napkins: Wilbur & Wolf
Groomswear: Aristocracy London  
Couple: Louana + Arthur