Of Light and Love
There is a crack in everything, that's how the light gets in… Leonard Cohen sang in his Anthem. Before him, it was Hemingway who spoke of what seemingly is a "break" on what we know and how we function, and Rumi even further in the past, delving into the deep intimacy and affirmation times of challenge can bring to the world.
Wedding planner Christina Lazopoulou of Vintage Weddings & Events tackled the theme of breaks, light and love with this editorial. With a lot of passion and sense for style and aesthetics, she implemented her visions in impressive details.
Photographer Aristotelis Fakiolas accompanied the dedicated wedding planner and her team to breathe life into these luminous inspirations.
From Christina Lazopoulou of Vintage Weddings & Events: "This styled shoot was conceived musing on these words, their significance, and allusion to what has been deemed as unprecedented times. Mid-lockdown, and before hospitality and destination wedding services became accessible again in our country, our team set off on a quest to seek out the light between the cracks, a means to create something utterly charming in the most minimalist means possible, and a way to translate a story of heritage, into one of organic beauty and oh-so-delicate love.
Thessaloniki may a contemporary destination in Northern Greece, but for the connoisseurs, it is also a city with a very distinguished fin de siècle feel. French architect and urban planner Ernest Hébrard's designs are proof, and one never fails to get fascinated with its Parisian vibes. The streets were practically empty when we took the elevator to the second floor of the 1925 art deco masterpiece that is Hermeion, Thessaloniki's first department store ever as rumor has it. And like a mesmerised Carry Bradshaw upon our arrival at the elegant, plaster-coated Lumiere Studio, whose massive windows gaze across the city's skyline we sighed "so this is where they keep the light… " It was just perfect.
We thoroughly believe in keeping things intentional for brides and grooms at all times, and although our first thought was that this space could become the perfect canvas for a cornucopia of hues to explode, at the same time we kept falling under the spell of its clean lines and air of prominence. Our minds went to naturalism, the crack that allows for light to trickle and nurture, the wispy motions of gowns, and a gently-bedecked celebration gracefully ensconced inside, but at the same time almost dangling above the city. The long white curtains billowed as the breeze blew from the massive windows, giving us a feeling of freedom and early summer sweetness.
Foraged with thoughtfulness and combed by botanical designer Evergreen Flower Market to follow the movement of light cascading upon the facade of our studio, Fritillaries, Hedera Ivy, Hellebore, Matthiola and Rosehip embraced stems of Tulips, Ranunculus, Allium, Roses, Freesias, and Delphiniums, while Viburnum carlesii and Eucalyptus added to the olfactory notes of our flora; all of them unpresumptuous, freshly picked, and well-chosen to complement the clarity of the ambiance and the airy character of a bride who understands sophistication. We kept our tablescape lines neat and trim, a nod to the subtlety naturalism calls for, little touches of gold, grey linen, and made-to-order stoneware gilded with single-line drawings, matching marble napkin rings, and marble-carved menus.
Desserts styled in marble glasswork trays and bubbly served on according coasters by MaryGro and Narcissus Fine Art  coordinated perfectly with the calm, dove grey accents of the tablescape and became the little note that "cracks" for light to seep in. Our bride wore two gowns from designer Luccia B who created these different looks to conjure the allure of the city and stir up the Idylle. A classic, crisp, sweetheart a-line piece with virtually invisible yet totally functional pockets, and a pièce de résistance, gradient ruffled-skirt dress with an open back, paired to glass-effect Fairymade handmade pumps dressed our muse, whose natural beauty was accentuated with dewy makeup and two comely hairstyles that ooze elegance.
As designers, we have a very soft spot for spices and herbs, seeds and grains; as they are a major part of our locavore, and a symbol of light and love in many parts around Greece, including ours, we wished to adorn Manousenia's invitation suites and paper elements using handfuls of these little treasures. Manousenia who also designed a cameo of our naturalist, light-loving bride on the suites followed the movement of sun on the styling flatlays to indicate the clockwork passing of time as the glow shifted in our space."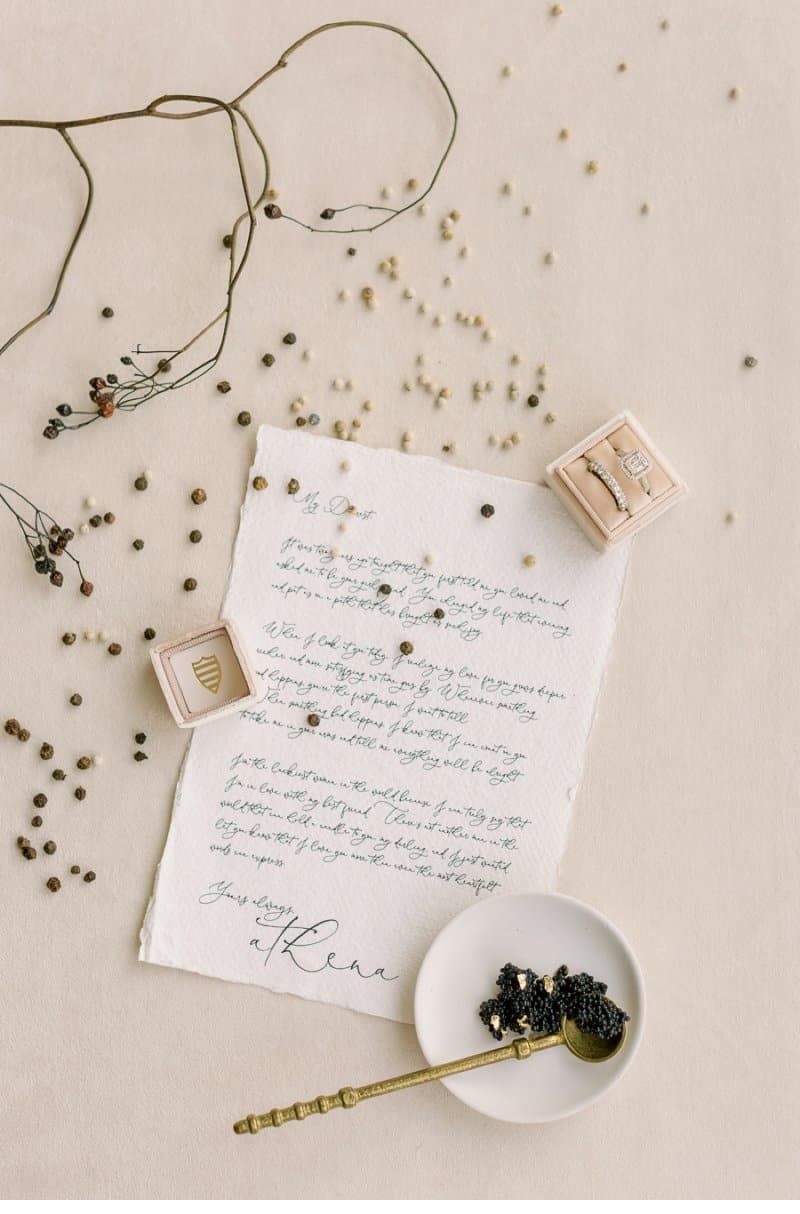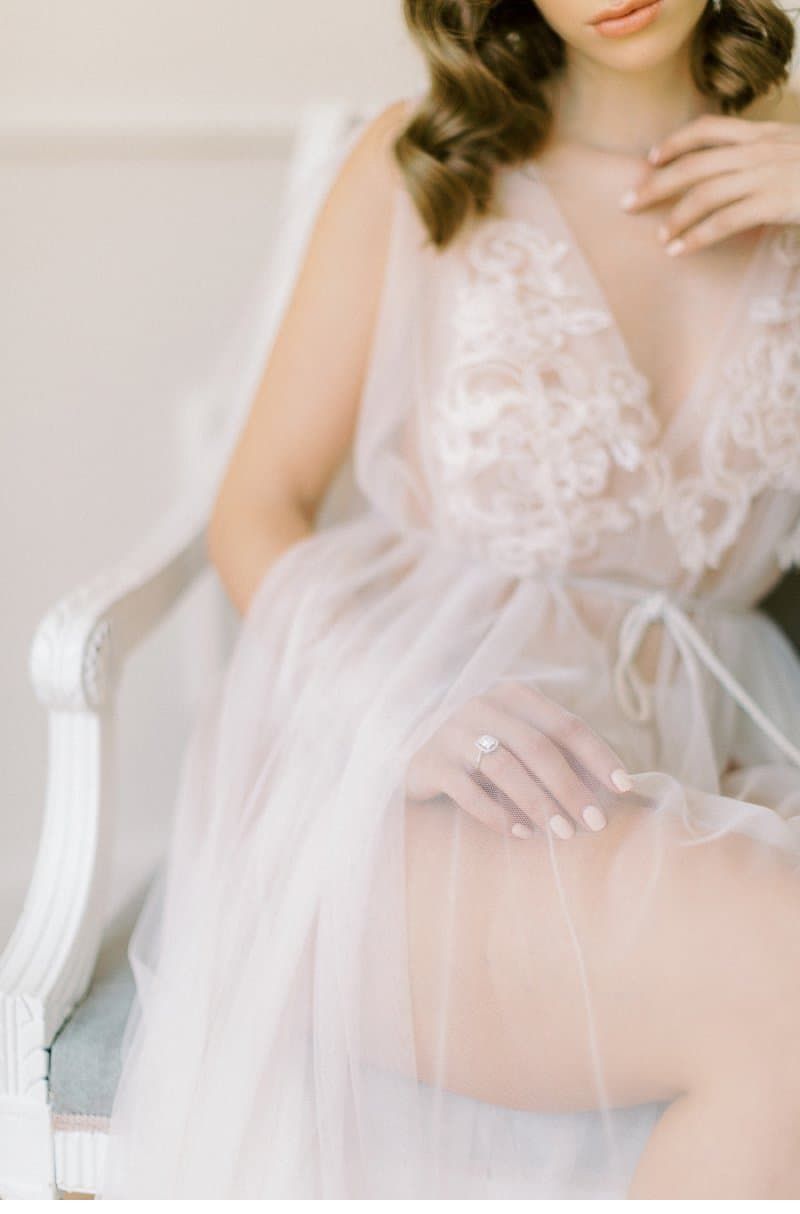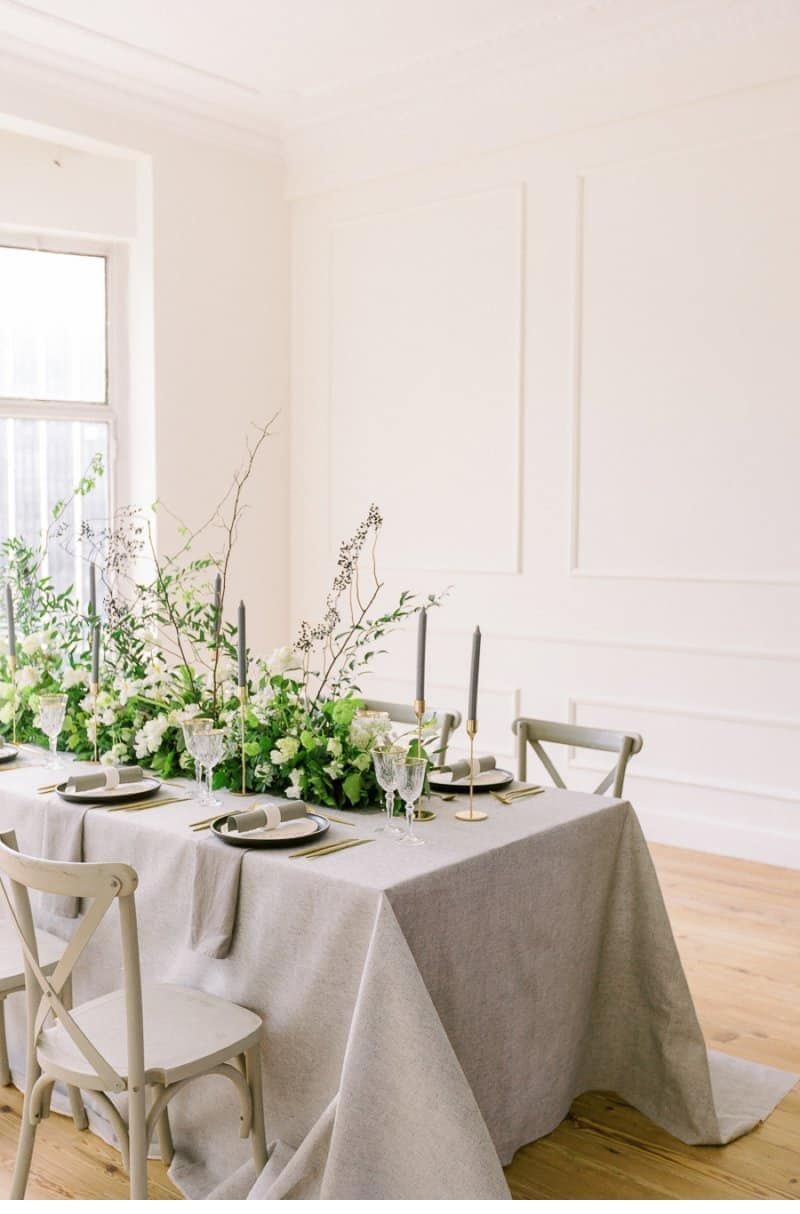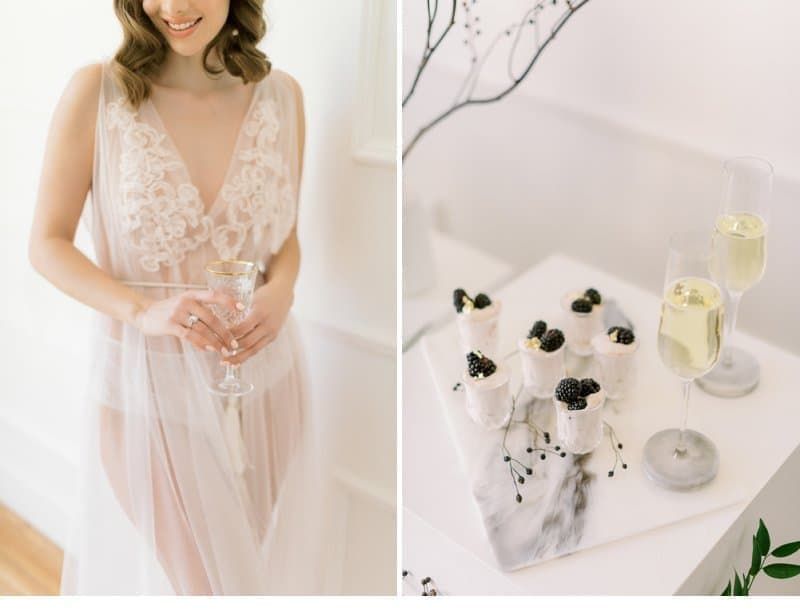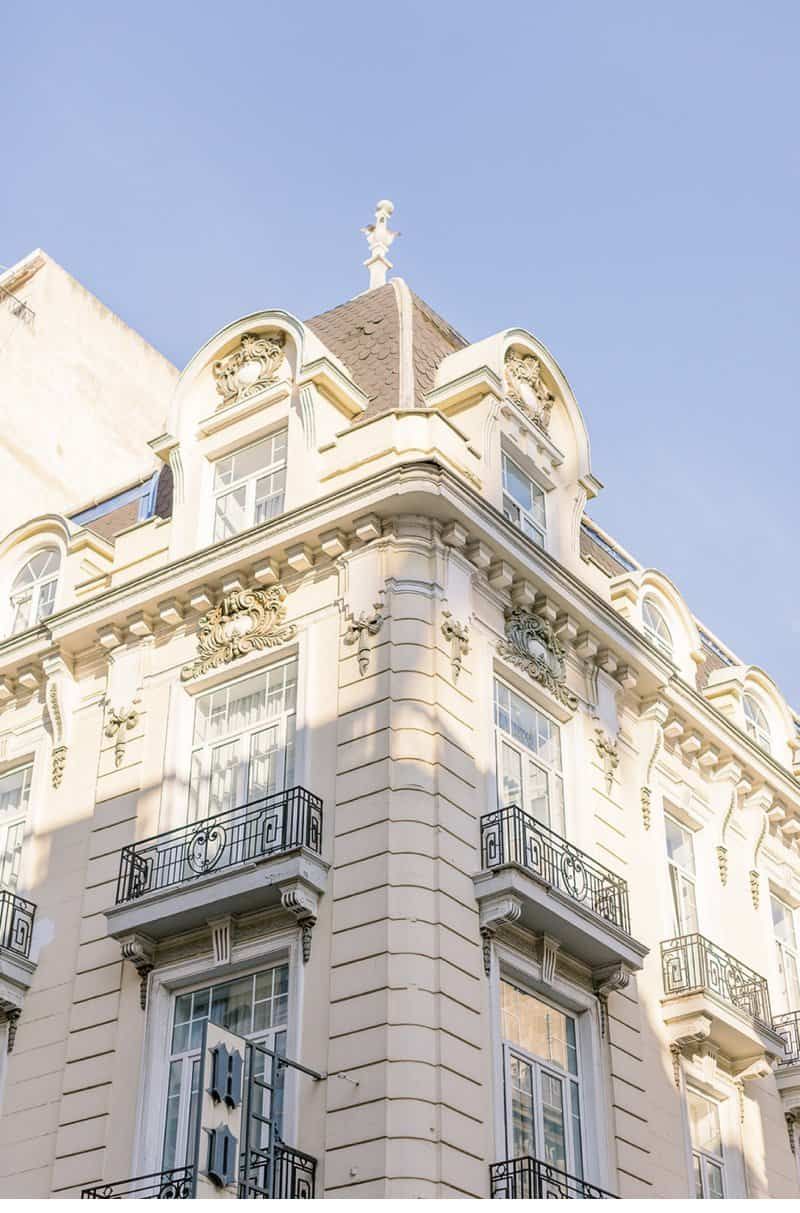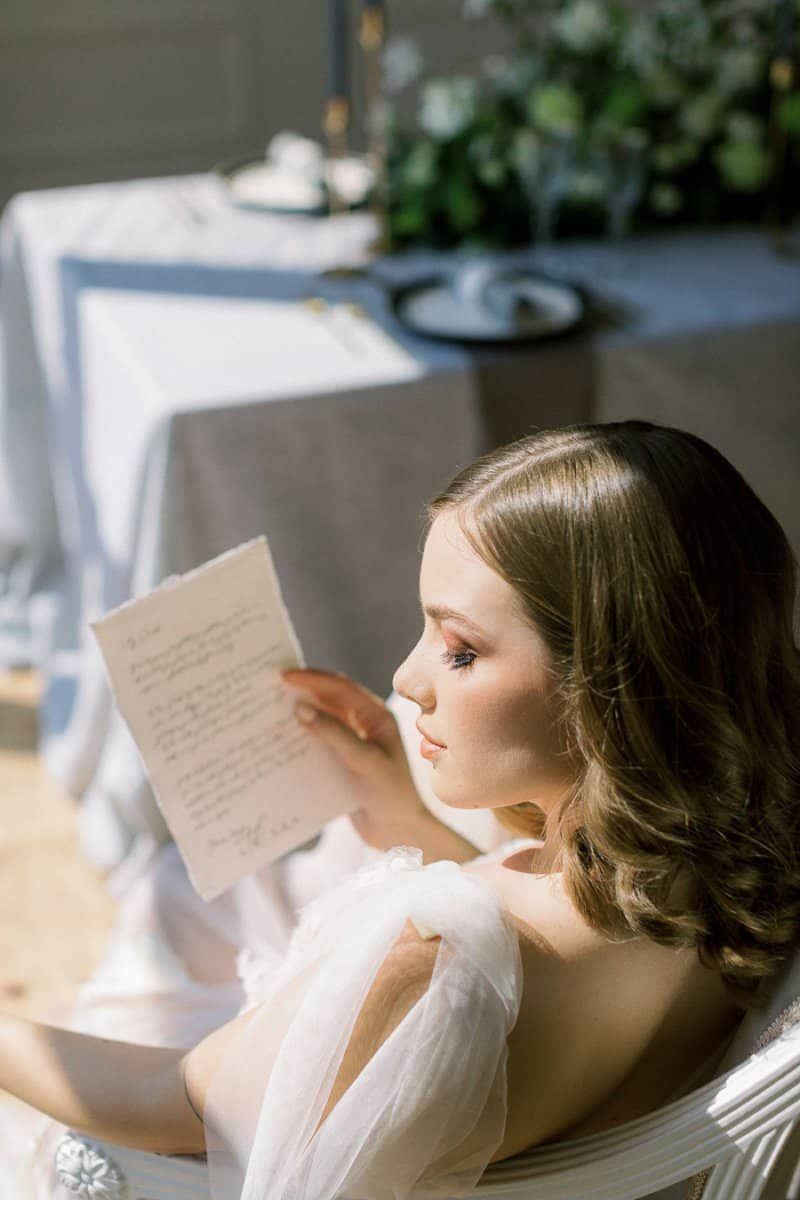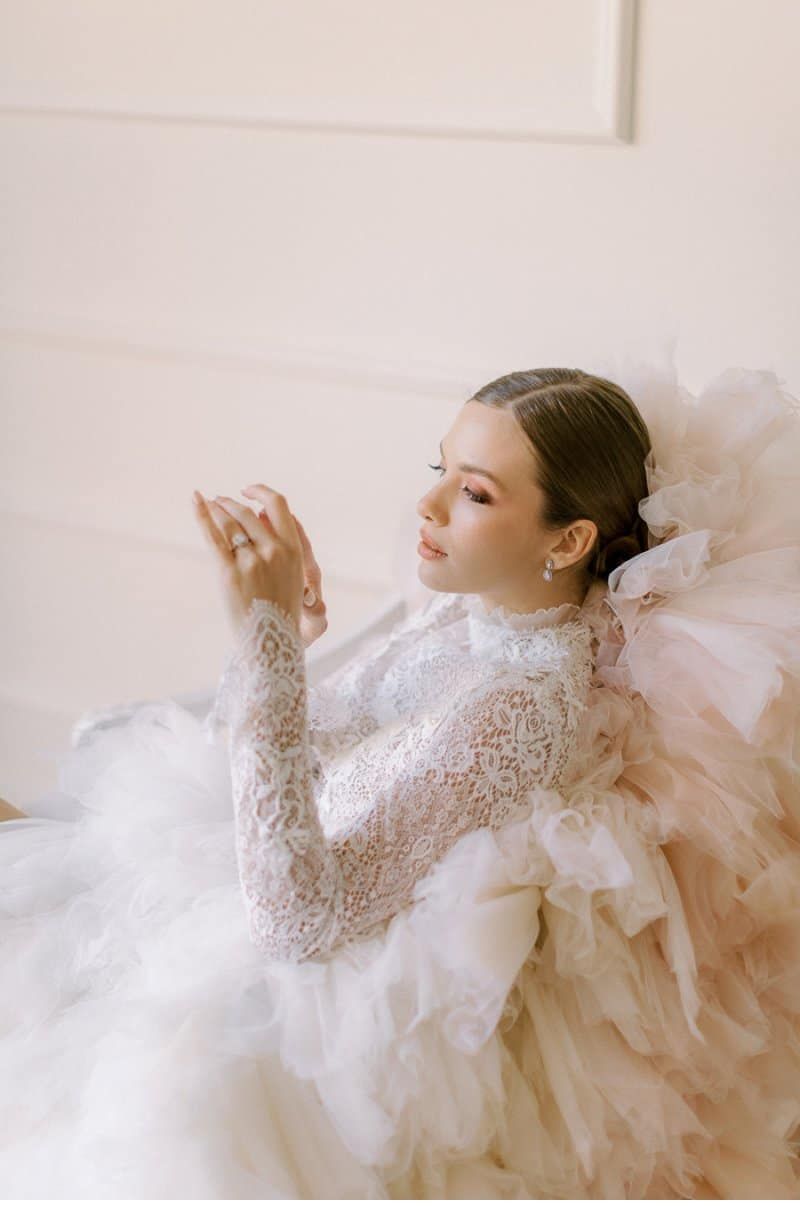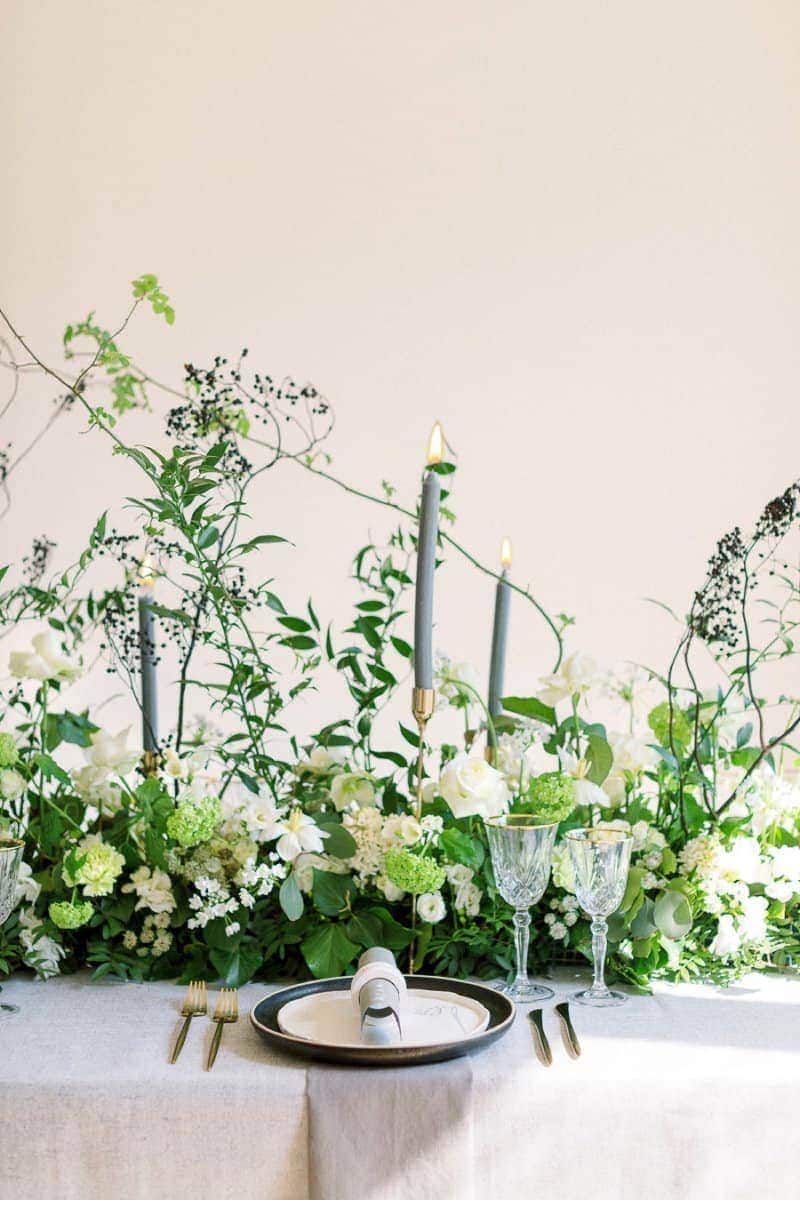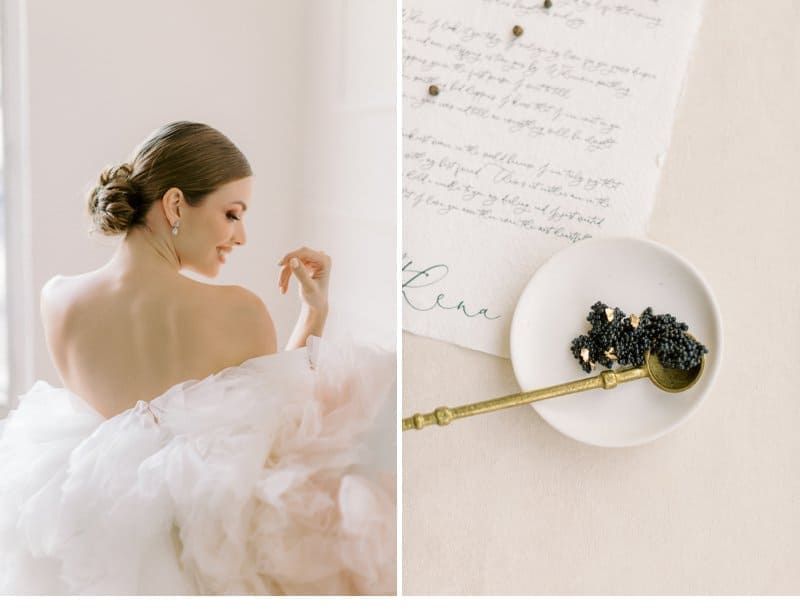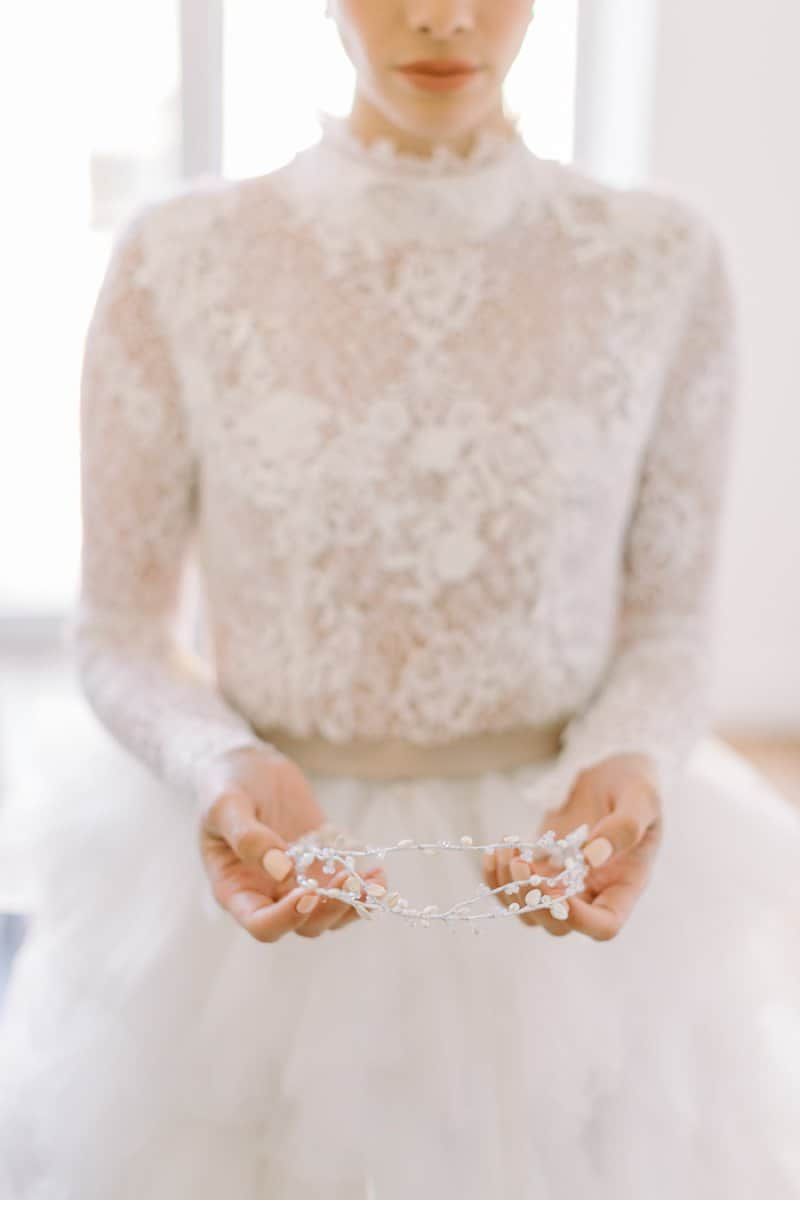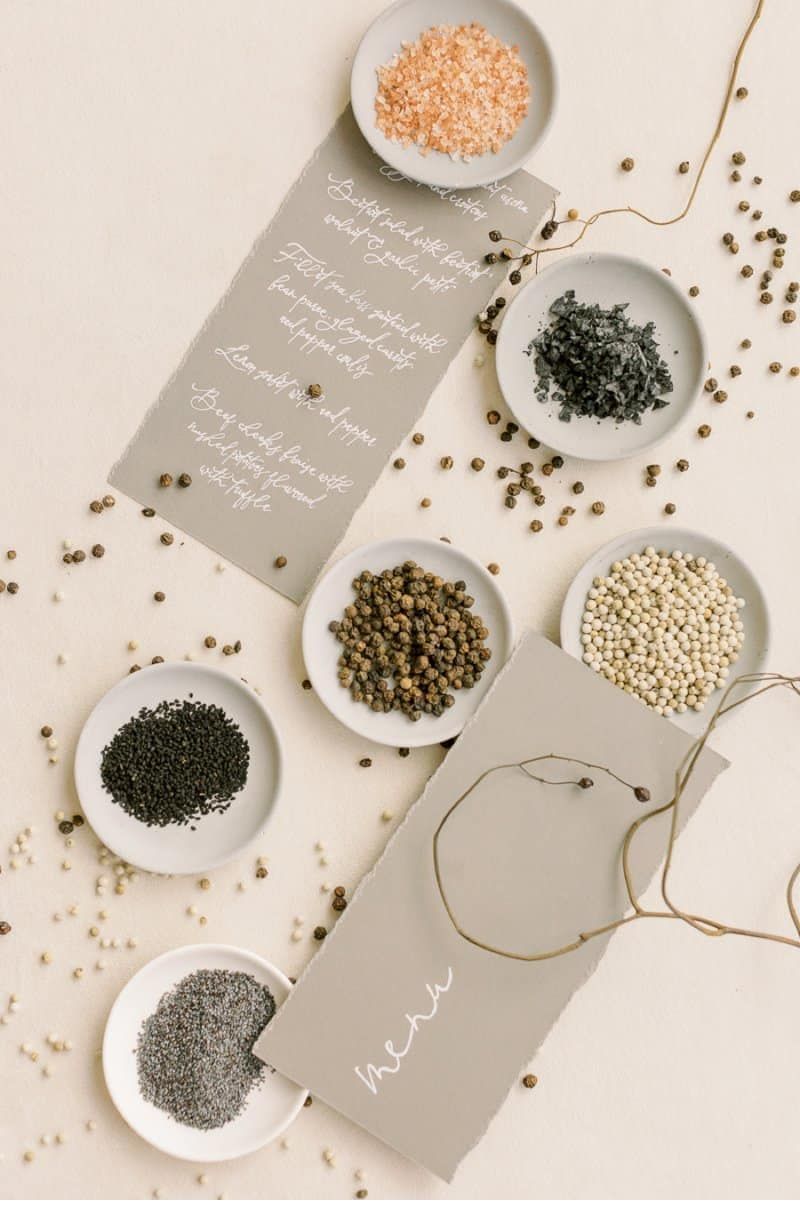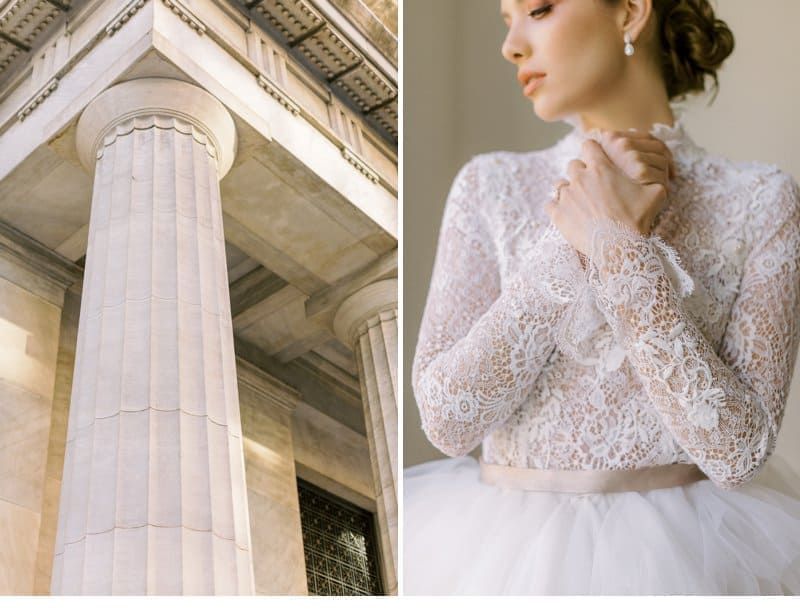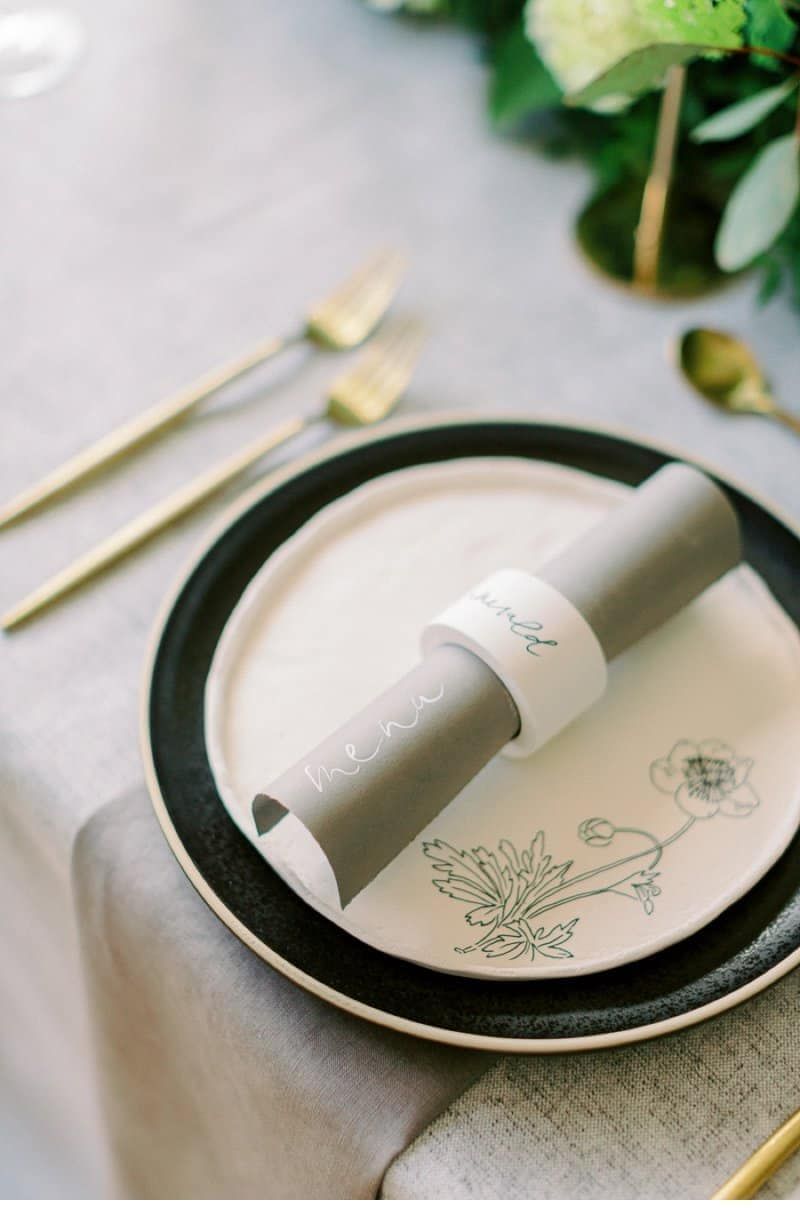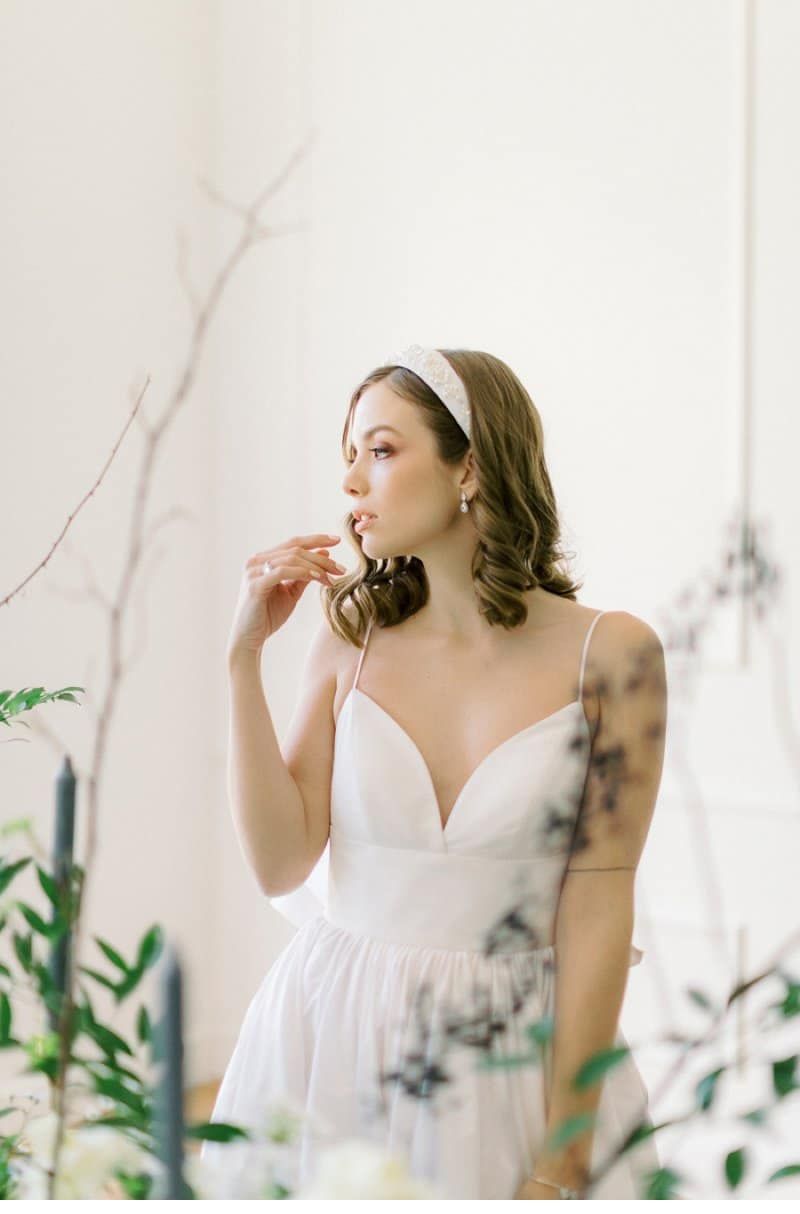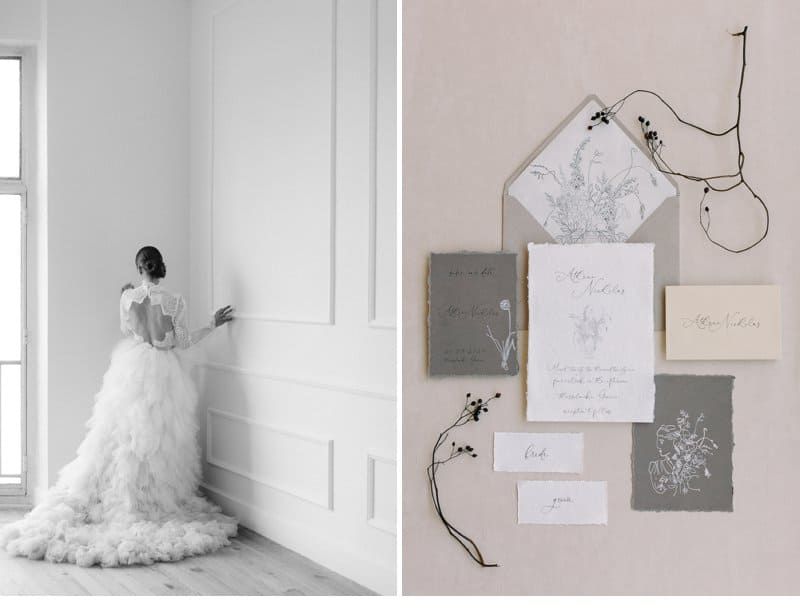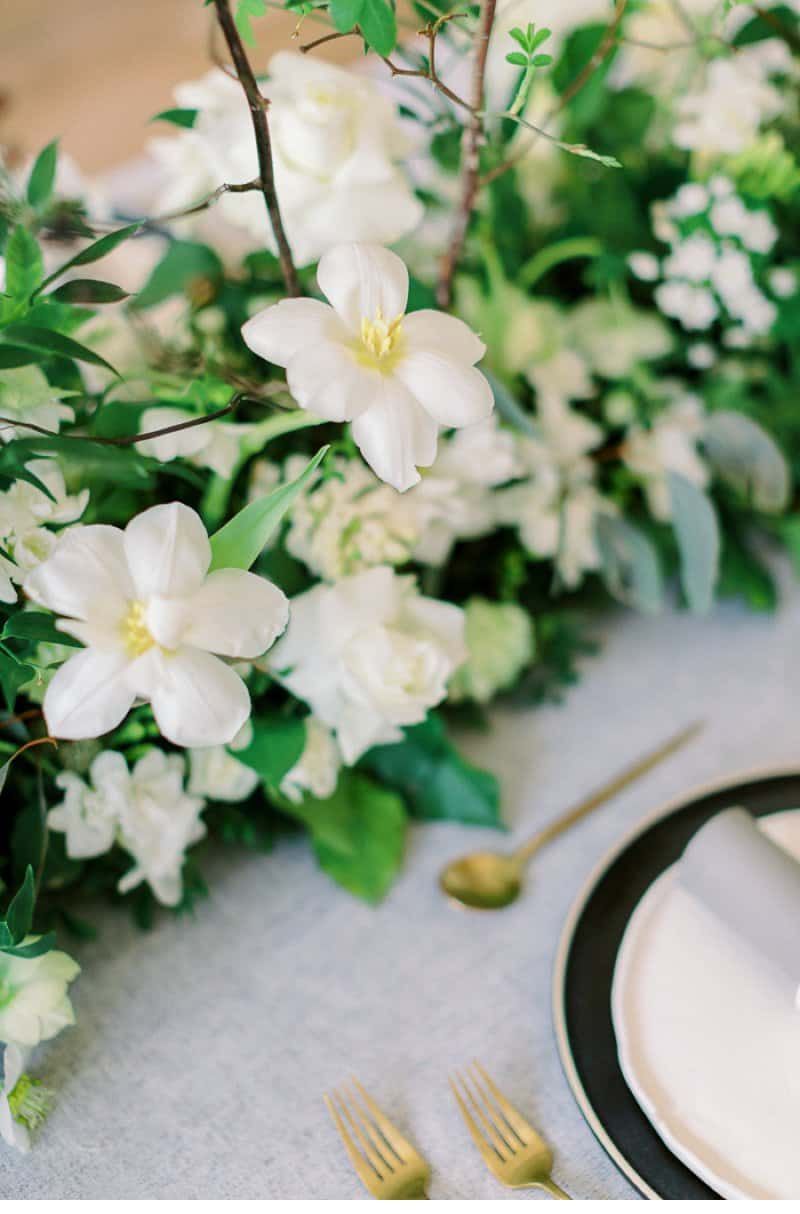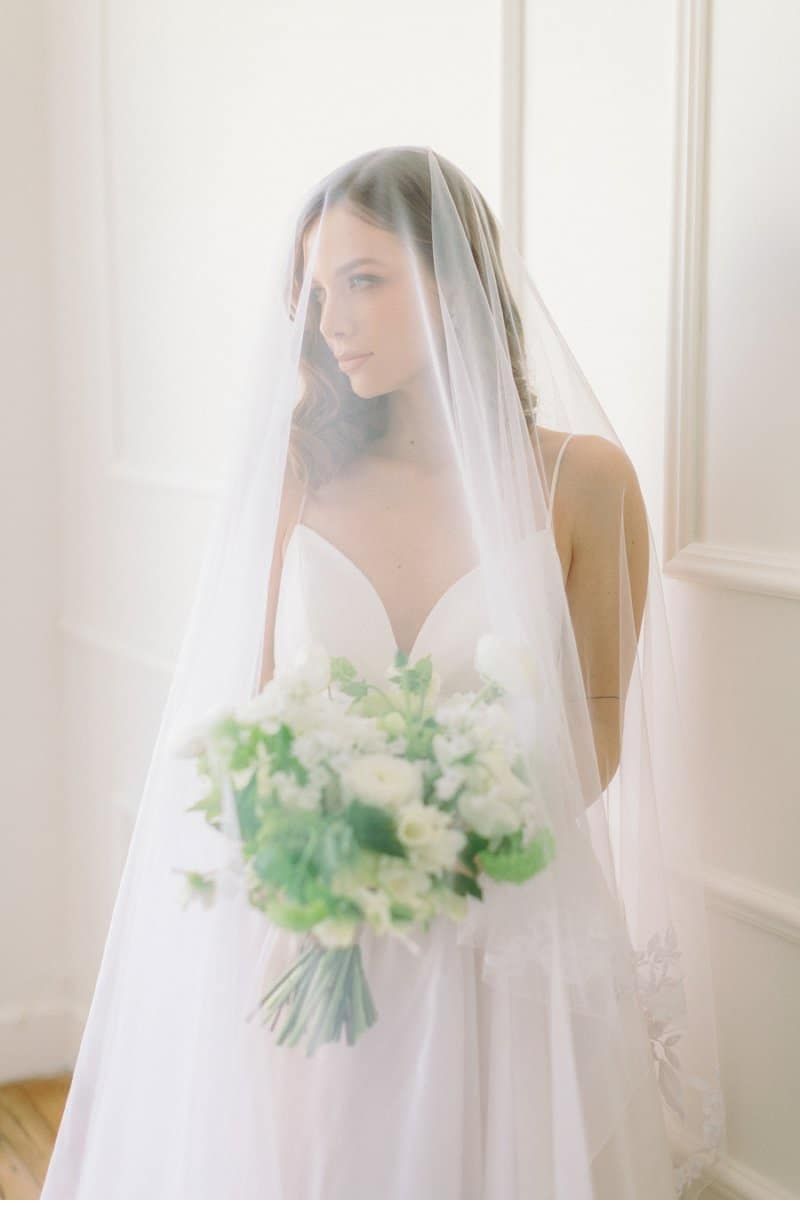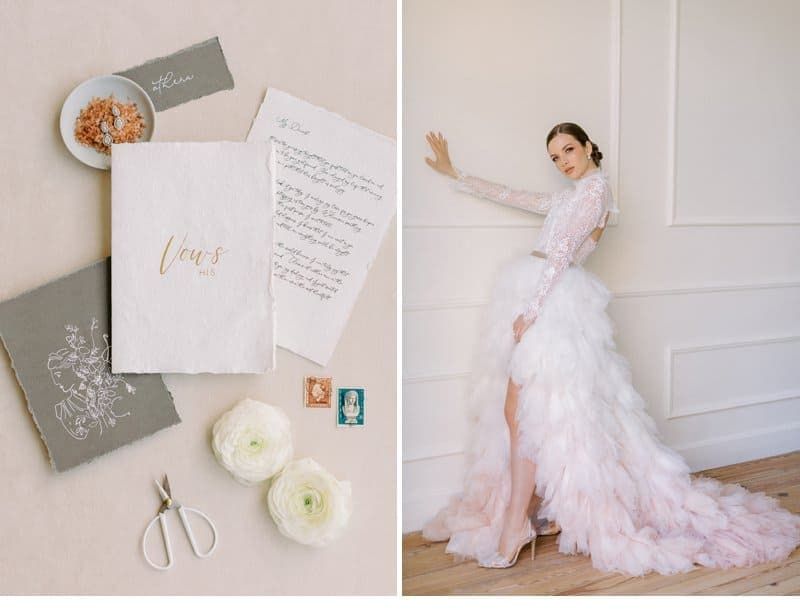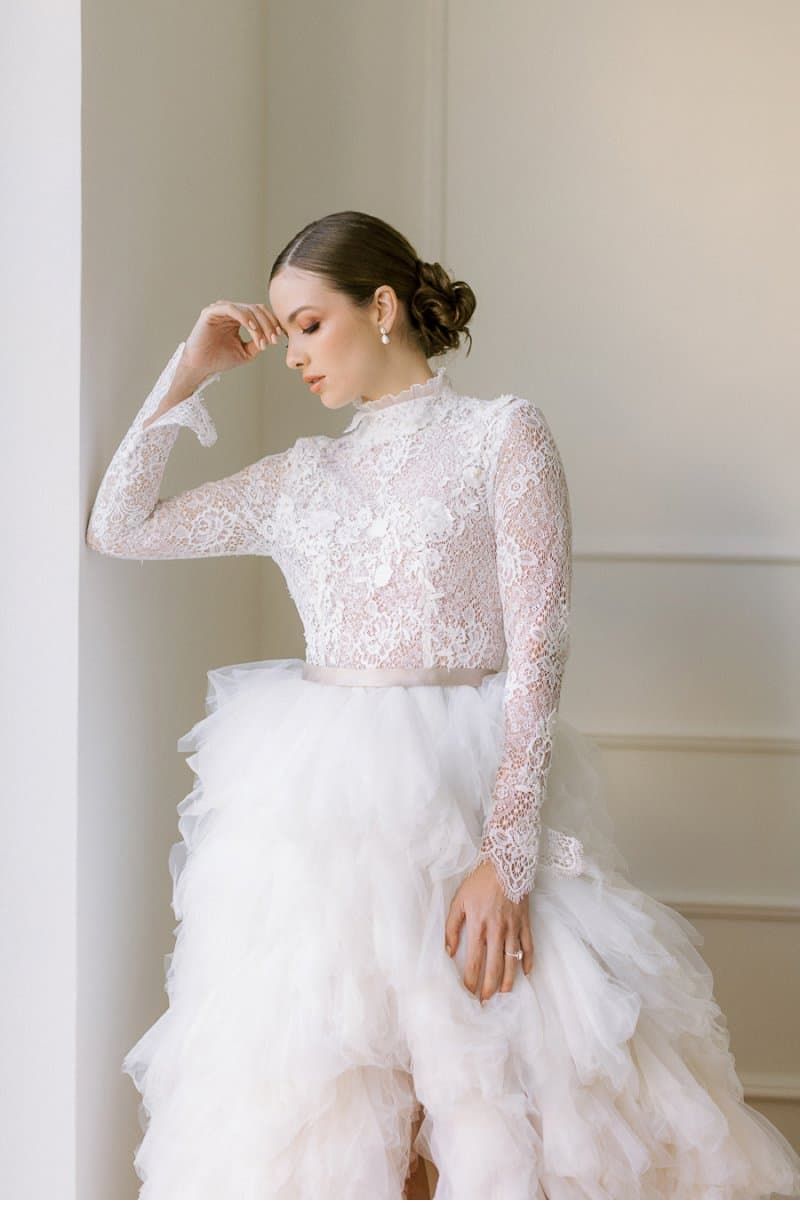 Design, Styling & Planning: Vintage Weddings & Events Photographer: Aristotelis Fakiolas
Videographer: Aggelos Lagos
Flowers: Evergreen Flower Market
Stationery: Manousenia Design
Wedding dress: Luccia B
Wedding shoes: Fairymadeshop
Hair & MUA stylist: Elissavet
Art de la table: Mamalis Catering 
Styling Goods & handmade plates: Narcissus Fine Art
Fine Art Details: MaryGro 
Wedding cakes & desserts: Martha's Sweet Philosophy
Jewellery: Tempus
Handmade Candles: Luxury Candles
Venue: Lumiere Studio 
Model agency: Team Agency