Pastel-Love – Light Colors Powerfully Played To The Gallery
Light pink, yellow, green or blue – the main thing is that they present themselves from their tender side. Combined with white and filigree materials they become wonderful eye-catcher that no one can ignore.
Due to the expressive pictures shot by the talented photographer Anja Schneemann these soft colors come out as powerful as never before.
Live out your love for pastel within every imaginable way: head pieces for brides, sweet tables or lemonade filled glass bottles peppered with straws – there a are no limits set to your creativity.
Floral creations designed by the florist Rieke from Milles Fleurs spark real fire-works of inspirations.
Stationery designed by Karina Gold appears playfully, light and aesthetically and fits so perfectly into the scenery.
Pastel colored cupcakes with cute little pompoms and elegant wedding cakes look heavenly tasty and invite us to grab a bite.
Let's get infected by this cheerful atmosphere and discover the fabulous world of pictures shot by the photographer Anja Schneemann…
Translation: Marina Jenewein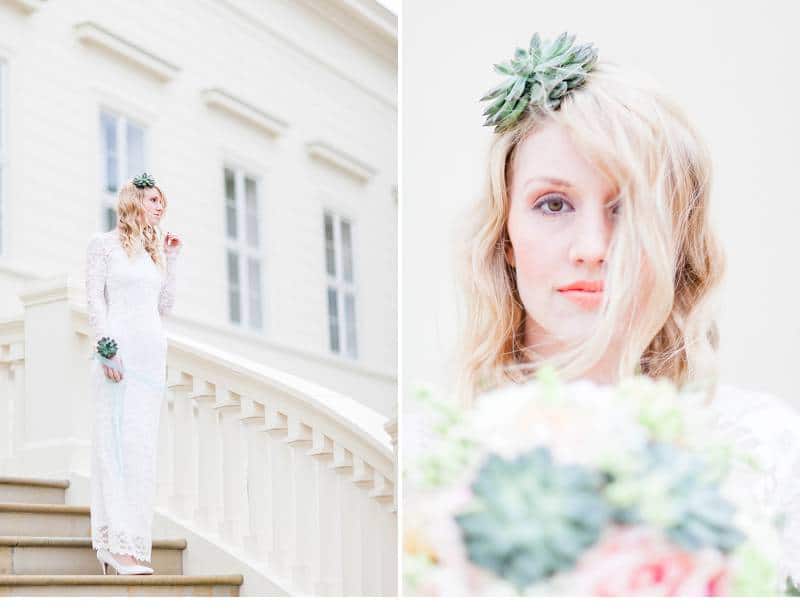 FOTOGRAFIE: Anja Schneemann Photography
FLORISTIK: Rieke von Milles Fleurs
HAARE UND MAKE-UP: Rebekka Masterstylistin
PAPETERIE: Karina Gold
GLÄSER UND POM-POMS: Anna von eventArt Design
TORTE UND CAKEPOPS: Joy von Süßer Glücksmoment
MODEL: Melina
Kleider: privat
EMPFOHLEN IN UNSEREM SCHATZKISTCHEN:
Anja Schnemann Karina Gold Milles Fleurs