Poetry of Love
Photographer Andreas K. Georgiou took a journey through time for love to liven up one of the most romantic love stories of the 19th Century.
His path led him to Rome for a very specific reason: "Where do Wedding Photography and Poetry meet, if not in the city of Poets, Rome?" he thought and gave full scope to his visions: "This photoshoot is an aide-memoire to one of the most celebrated romances in history, the love story of Romantic period English poet John Keats, and his fiancée Fanny Brawne."
For the experienced fine art photographer, only one location was considered for the most authentic implementation and staging of these visions: "The photoshoot took place in the beguiling surrounds of Villa Borghese in the heart of Rome: a setting steeped in inimitable natural beauty, crumbling marble surfaces and weathered sculptural elements that fuse poetically with nature." Andreas raves.
With this extraordinary shoot he is fulfilling a dream that he had but consciously realized now: "John arrived in Rome exactly 200 years ago, in 1820. With frail health due to tuberculosis, his doctor instructed him to leave the cold London for Rome. During his sojourn in Rome, Keats sauntered through the large landscaped park of Villa Borghese and thoughts of his beloved Fanny led him to compose some of the most poetic love letters ever written. Fanny and John remained in love until his untimely passing in Rome."
A fact that gives this shoot its touching melancholy, which can be clearly felt in most of his expressive pictures. "With a poetic intention intertwining a sense of melancholy and respectful tribute, we photographed Fanny at the exact same spots that John loved, as if she was there, by his side, during Keat's walks."
The nature, the atmosphere, the couple – it almost seems as if all of this has already been there and Andreas K. Georgiou and his team only had to make it visible to the human eye. "The styling drew inspiration from the surrounding environment – the textures, the earth tones flaking in the sun, and the colour of the stone, so as to create something that felt harmonious and authentic to the environment." we learn.
We find bride Fanny particularly remarkable as she longingly walks through the gardens in her breathtaking Complice Stalo Theodorou wedding dress to be close to her love. Her only companion: a magnificent bouquet of flowers.
"The bouquet was designed by Flower Addicted and can only be described as one of the most beautiful bouquets I ever got to photograph. The feminine and delicate pale blooms collide seamlessly with the white marble classical statues and Italian architecture, while the white snowberries in the bouquet harmoniously mirror the white pearls in our model's headpiece by Vitabloom. The headpiece completed the entire visual code of youthful elegance, and spirited playfulness that Fanny was known for."
You see, with this profound styled shoot, nothing was really left to chance and every scene was arranged down to the last detail. Just to create a harmonious work of art in the end, which also included precious stationery: "Stationery designer Thespina Creative custom-designed a beautiful suite on handmade paper, whose deckled edges added to the historic charm of the story. A quote from one of Keat's letters to Fanny, and an original gold victorian locket bring our couple's story to life."
If you too feel like embarking on an exciting journey between two worlds, get on board and let Andreas K. Georgiou and his fantastic images take you…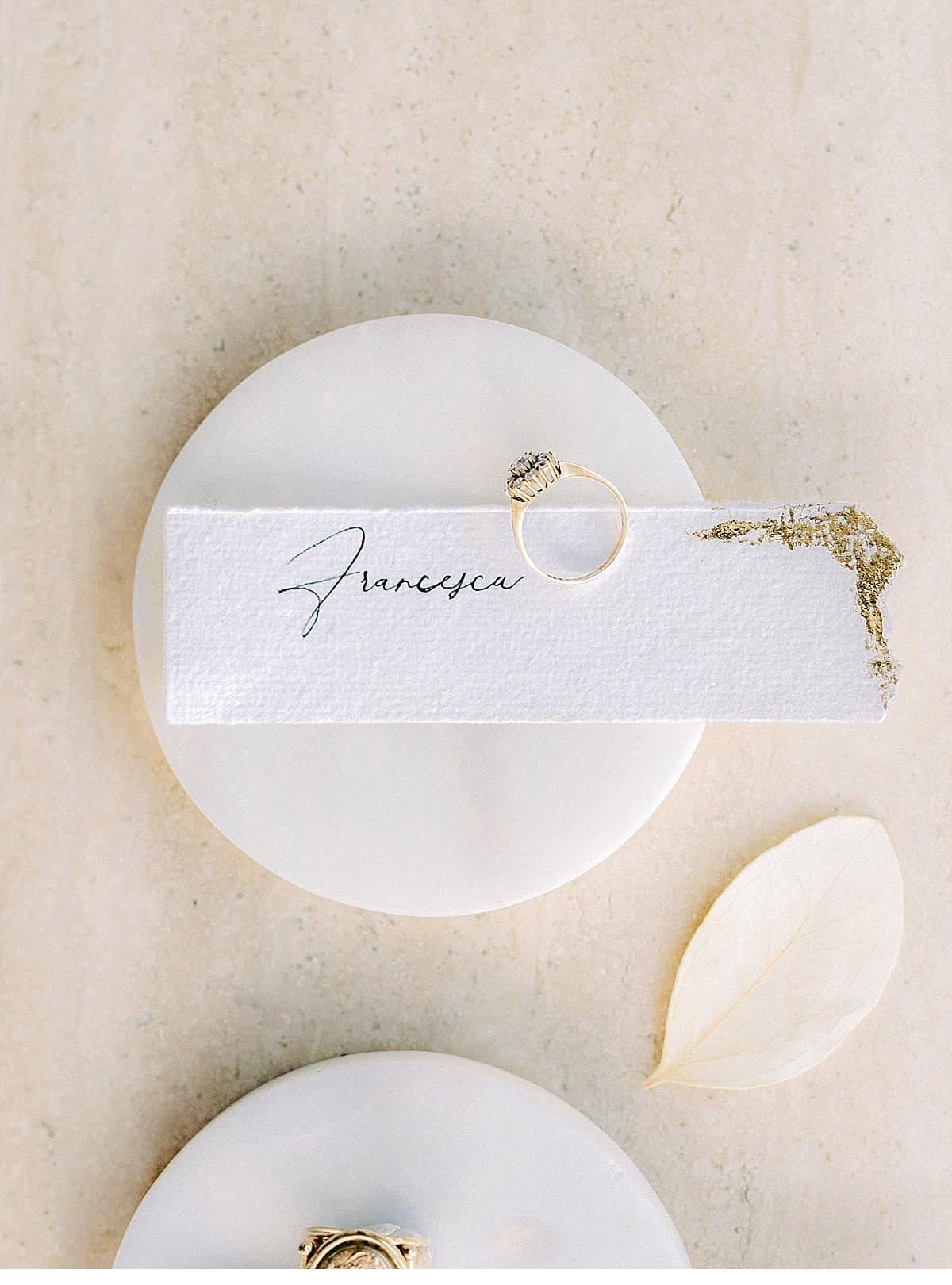 PHOTOGRAPHY: Andreas K. Georgiou
FLORALS: Flower Addicted
CALLIGRAPHY & STATIONARY: Thespina Creative
HAIRPIECE: Vitabloom
BRIDAL GOWN: Complice Stalo Theodorou
SILK RIBBONS: Lancaster & Cornish
FILM LAB: Carmencita Film Lab
RING: DeBeers
VENUE: Villa Borghese, Rome