Provence wedding visions in shades of lemon and lavender
In the heart of Provence, between olive groves and lavender fields, an impressive team enchants us with heavenly light wedding inspirations in shades of yellow and purple.
The charming Mas d'Arvieux estate in the heart of picturesque Provence exudes an air of serenity and resembles an oasis of peace. An old Provençal farmhouse from the 16th century, built on the foundations of an ancient Roman villa and gradually transformed by its various owners, awaits its guests in a warm and refined atmosphere.
In this romantic ambience, photo artist Christophe Serrano  staged one of his popular workshops.
Stylishly arranged by wedding planner Laetitia Caroline, peppered with historical flair as well as modern subtleties and rounded off by the recurring element of lemons and lavender, the beautiful details draw us completely under their spell.
With her poetic images, the impressive photographer Virginie Templier immerses us in the idyll of Provence.
From Virginie Templier: "If I had to describe this shoot in one word, I would obviously say SUN. It was during a workshop by Christophe Serrano that we did this shoot. A dozen photographers were once again gathered to learn or perfect the art of fine art photography.
Shades of yellow in the bouquet and on the table, a Provencal house with a pool that calls for swimming and surrounded by fields of lavender and olive trees … Cicadas, Provence and summer are here for sure! Our bride and groom each got ready in one of the rooms of the mas, where we had a lot of fun playing with the light, creating chiaroscuro shots and beautiful portraits. Different flatlays were created, some in the white, grey and rather neutral tones of the building, others in yellow and purple tones, reminiscent of our basic inspiration elements, lavender and lemon.
A table for 12 was set up on the covered terrace, decorated with flowers and candles, always in these sunny parma tones. The big challenge of this shoot was to capture the champagne bucket and the dessert mignardises, all made of ice encrusted with flowers. In the middle of June, under 28 degrees Celsius, it was not an easy task. But the pictures speak for themselves, we want to eat everything!
At the end of the day, we realized the couple session partly in the lavender field of the Mas d'Arvieux. Champagne, smiles and tenderness flowed then, letting us benefit from an incredible summer light… But we couldn't miss the olive fields and so we also took some shots in the front of the mas."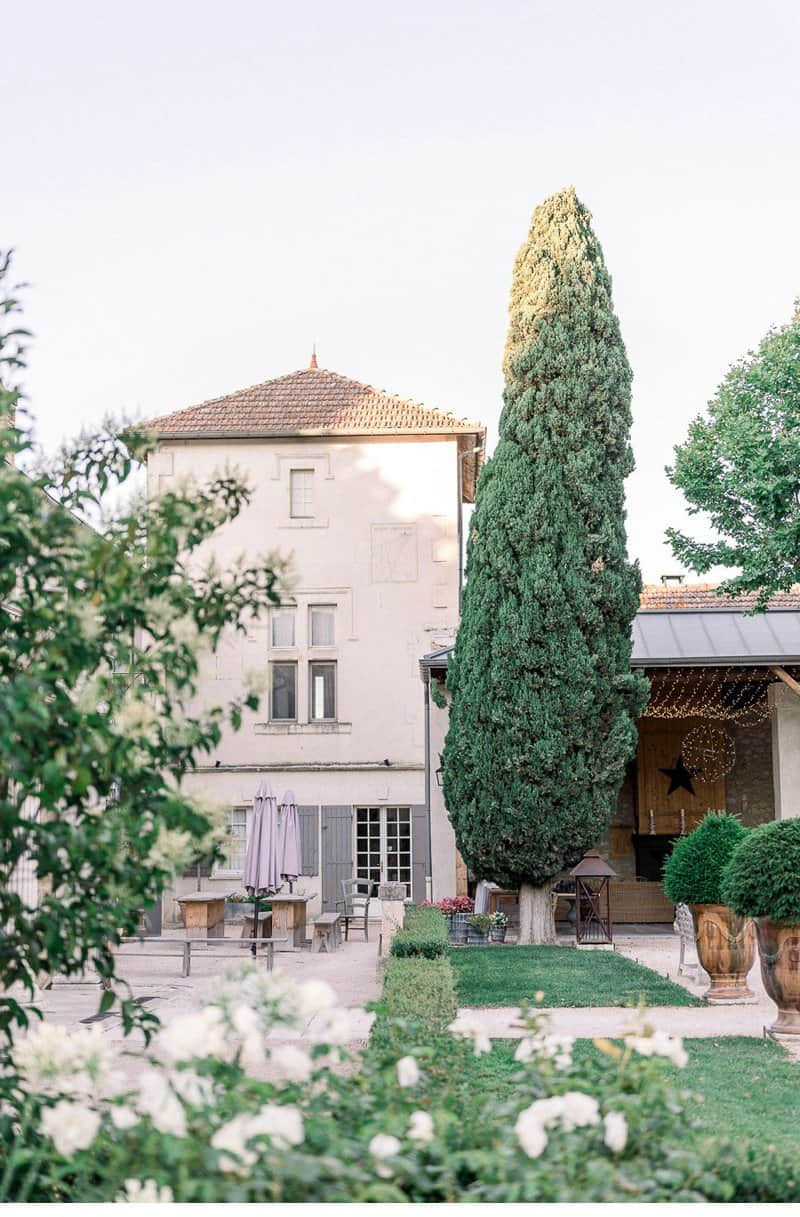 Workshop: Christophe Serrano
Photographer: Virginie Templier
Venue: Mas d'Arvieux
Wedding-planner: Laetitia Caroline
Artistic direction, wedding and floral designer: Laetitia Ricci 
Table and decoration: Pièces uniques location
Photographer assistant: Matthieu Vasquez
MUAH: Sophie Gayler
Wedding dress and suit: Accord Parfait
Shoes: Jimmy Choo
Stationery: Jul In Bloom
Wedding cake: Célébrons Joli Moment
Ribbons: Silk Linen
Jewelry: So Helo 
Flatlays funds: The flatlay Design
Models: Sarah Guerre and Alejandro Dalejano