Pure romance on Lake Como
Italy, with its timeless beauty and enchanting landscapes, has long been considered one of the most romantic destinations for weddings. Among the many picturesque places that dot the Italian countryside, Lake Como stands out as an idyllic backdrop for couples looking for a fairytale wedding. This wedding inspiration photographed by The Lockharts shows the magic of the lake and the famous wedding location Villa del Balbianello.
Surrounded by lush greenery, majestic mountains and charming villages, the lake radiates peace and romance. The picturesque landscapes form an enchanting backdrop for wedding ceremonies and celebrations, turning every moment into a visual masterpiece.
The luxurious villa with its terraced gardens offers a perfect blend of old world charm and modern amenities, making for a timeless and opulent wedding experience. Weddings on Lake Como are synonymous with style and elegance. The region is very popular with celebrities and dignitaries and impresses with its simple elegance. Couples can add a touch of chic glamor to their weddings, drawing inspiration from the timeless allure of Lake Como itself.
The stylish stationery by Kate Wiseman Creative in blue, white and gold with floral elements announced the elegant shoot. Of course, the couple's romantic boat trip on the lake with Lake Como Boat was not to be missed. The bride wore a wedding dress with lace by Moniquel Huillier. Stylish hair & make-up styling by Vero Verdaguer completed the look. The groom in suit and bow tie was dressed by Black Tux. The bridal bouquet by Della Bella Fiori was particularly lush, colorful and cheerful, immediately radiating good humor and joy.
The villa has such a wonderful garden with a view of the lake that the photographers from The Lockharts found an infinite number of incredibly beautiful motifs for the shoot and staged the couple and nature perfectly.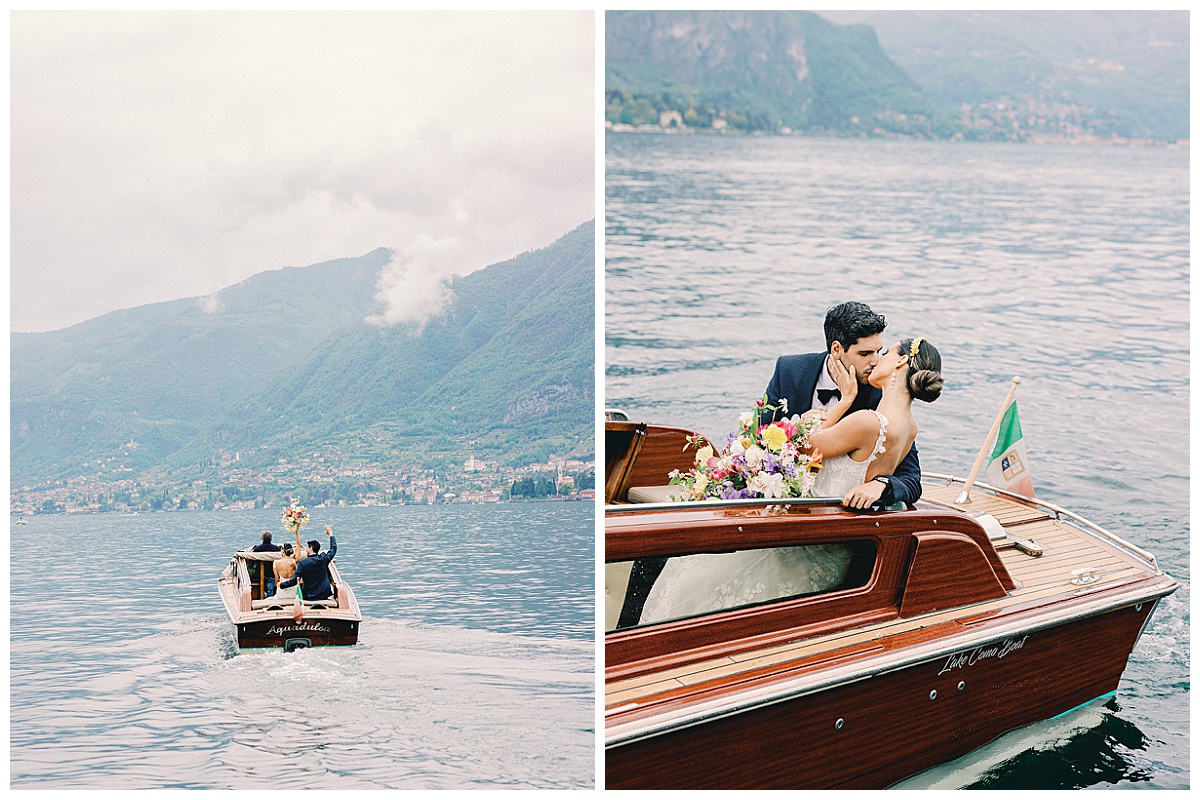 Photography & Video: The Lockharts
Venue: Villa del Balbianello
Florist: Della Bella Fiori
Jewelry: Della Bella Gioielli
Stationery: Kate Wiseman Creative
Hair & Make Up: Vero Verdaguer
Wedding dress: Moniquel Huillier
Shoes: Bella Belle Shoes
Suit: Black Tux
Boat: Lake Como Boat