Quiet moments for the soul at the lake Polyfyto
Our gaze glides over the motionless Lake Polyfyto in Servia, Greece, embraced by tall, green plane trees. We watch barely visible waves and listen attentively to our own heartbeat. Giving the body a time-out and giving the soul space to find its way back.
Inspired by the magical scenery, wedding planner Chrysoula Thymniou staged an oasis of fine art to stop our own universe for a moment.
In the gray-green waters, she created a floating dining table with a gorgeous sea of flowers from Amaryllis Florist, sumptuous cakes from Deux K Bakery and candlelight.  Callas, anthuriums and scabiosa float on the surface of the lake, framing the stone tables with handmade clay details. Artful chandeliers hang from the branches, adding a beguiling atmosphere to the scene.
Dreamy, the delicate bride allows herself to be enchanted by the magical atmosphere and carried away into daydreams where the clocks tick slower. Artful jewelry made of zircons and diamonds by Tyrodimos Jewellery Watches makes her face shine.
Let's allow our everyday life to slow down while we sink into a completely detached world of images by Theodoros Chliapas.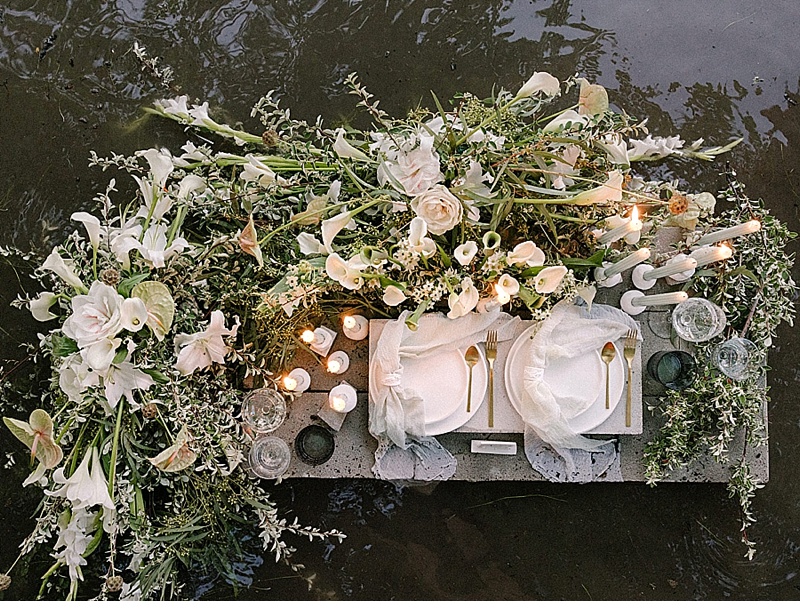 Photography: Theodoros Chliapas
Planning and design: Chrysoula Thymniou
Jewellery: Tyrodimos Jewellery Watches
Video: Konstantinos Manousaridis
Flowers: Amaryllis Florist Shop
Ceramic details: Pure Art
Make up artist: Elli Theodoridou  
Hairstylist: Bronx.str coiffure
Cake of art: Deux K Bakery
Cocktails: home_cafe_bar 
Macrame details: Evanthia Roka
Cocktail dress: Despoina Vartala
Model: Chatzinakou via TEAM.modelmanagement