Rehearsal Dinner and Elopement at Chateau Martinay
What could be more beautiful than experiencing Provence with all your senses. Narrow streets, picturesque villages with traditional stone houses are just as typical for this landscape as endless wide vineyards, bright red poppies of poppies and fragrant fields of lavender. This feels heavenly.
And what would the southern French region be without its majestic chateaux. Endless, beautifully designed gardens, antique rooms with historic artwork, impressive stone staircases and terraces offer themselves as tailor-made settings for unforgettable weddings.
The ambience of Chateau Martinay was the breathtaking backdrop for this editorial here, which was staged by an internationally successful team with creative and elaborate details.
"The impressive Chateau Martinay was the inspiration for our Rehearsal Dinner. From the unique and symmetrical boxwood gardens to the black and white tiles in the entrance hall, the Chateau is a fantastic mixture of an old European world and modern accents.
We wanted to highlight the black, white and green elements inside the house. We set up the table for dinner on the terrace, with a view of the beautiful boxwood garden and the estate.
In her private room, the bride prepared herself in a stunning dressing gown while the groom put on a white suit of Jean Jacques Ceremonie with unique handmade cufflinks by goldsmith Michaela Römer.
Some friends had already gathered at the beautifully set table when the bride in her extraordinary dress from La Metamorphose Official appeared to celebrate the Rehearsal Dinner together.
Event planner Stephanie from WEP in Provence and her team organized matching outdoor lounge furniture and created a cosy atmosphere with candles, a natural table runner and many small details.
For the elopement, the bride in her dress by Ziad Nakad looked simply stunning. With the beautiful bridal bouquet of white orchids, Florist Celine completed the total work of art," enthused stylist Carrie Moe of Type a Society.
The impressive pictures of Tamara Grüner now take us on a trip to the South of France and let us dive into a wonderful world of inspiration.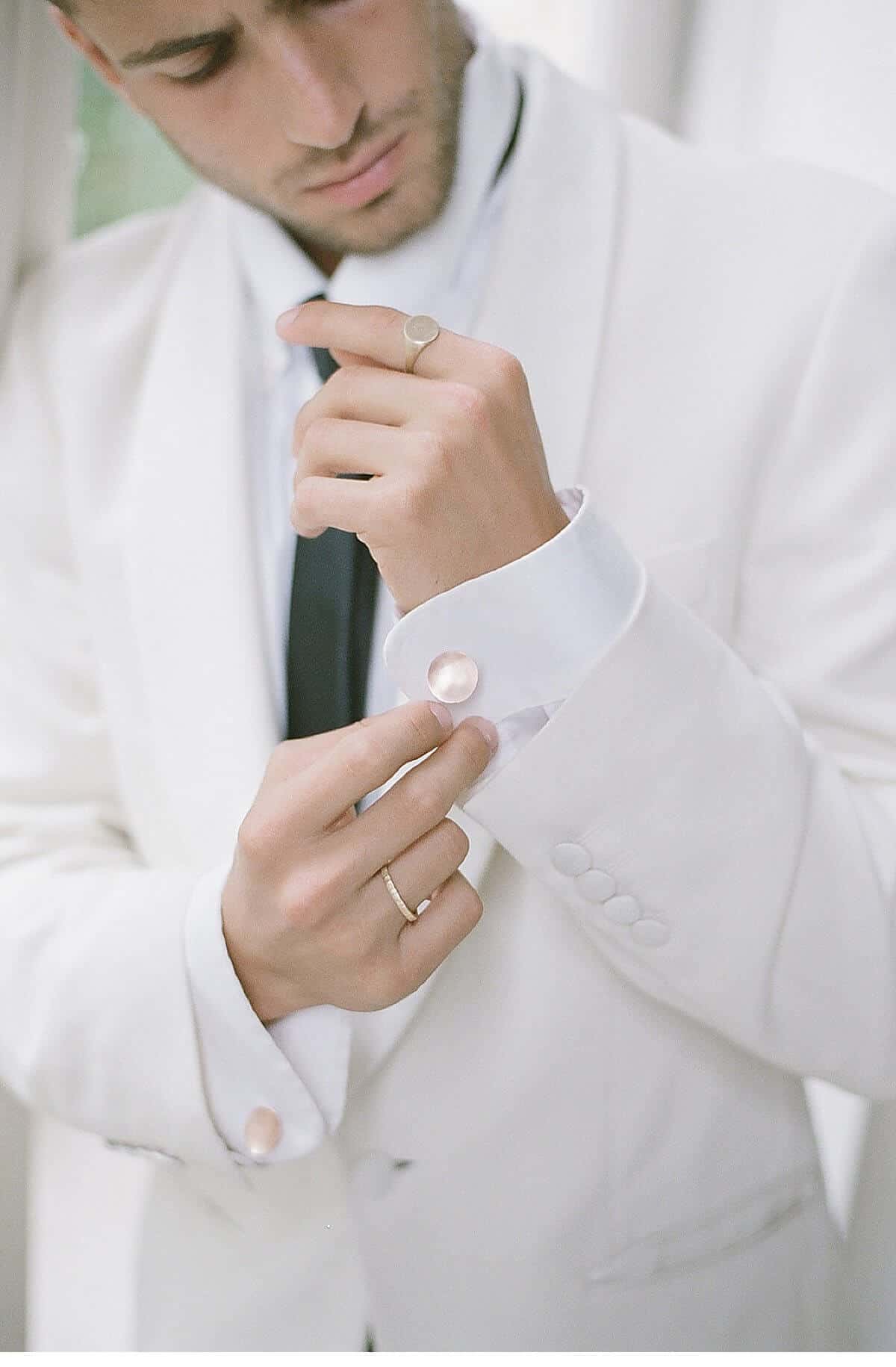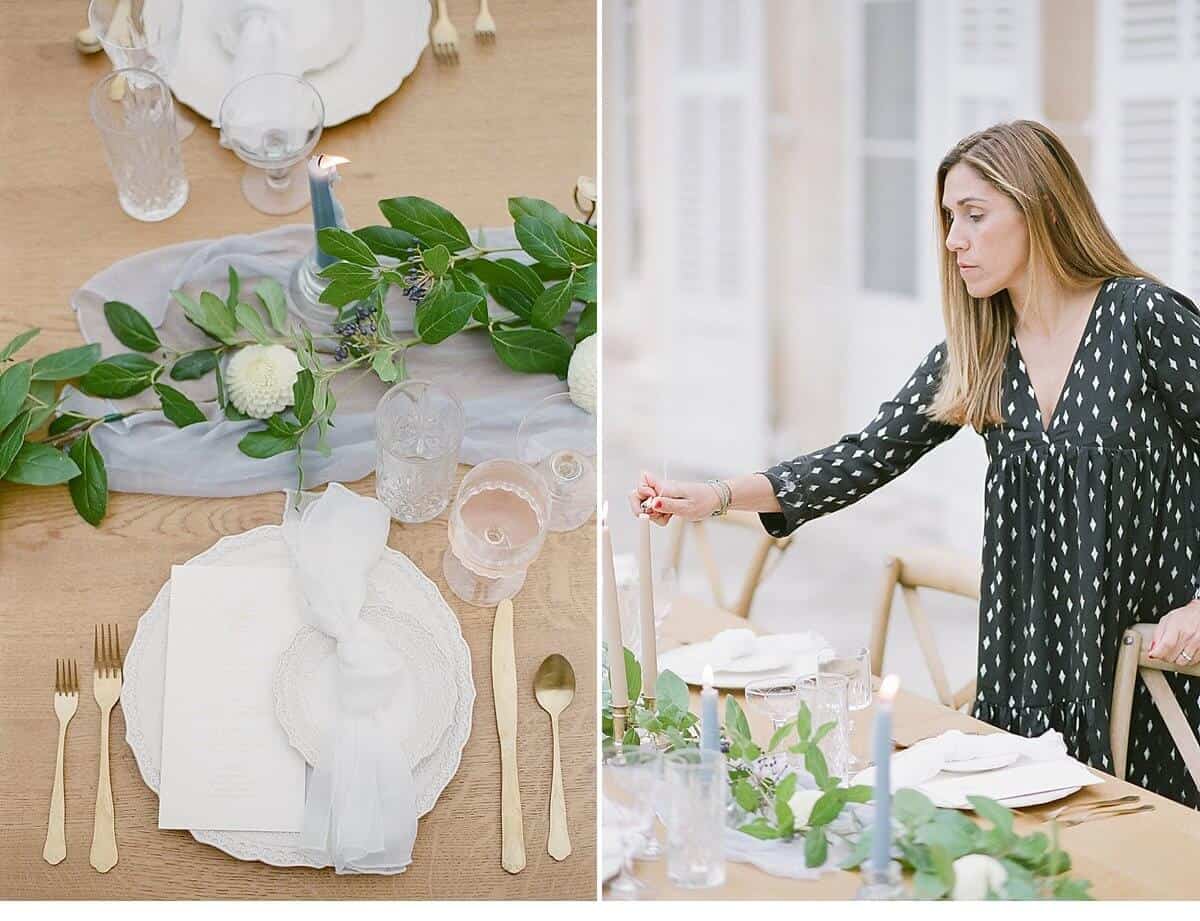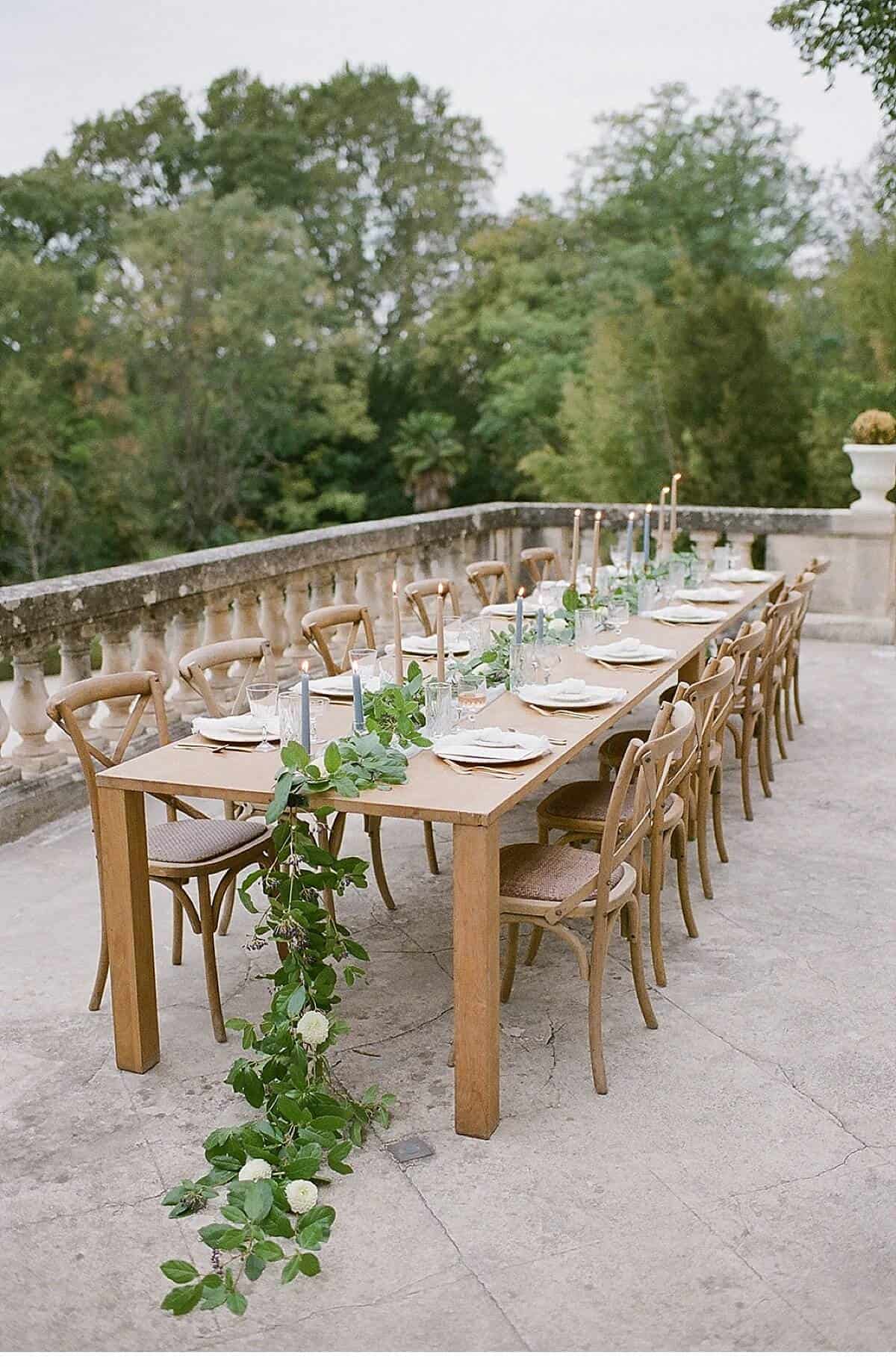 Photographer: Tamara Grüner Photography
Stylist & Designer: Carrie Moe of Type a Society
Event Coordinator and Planner: WEP in Provence
Florist: Flower by Celine 
Venue: Chateau Martinay 
Women's Black suite: La Metamorphose Official
White gown: Ziad Nakad
Grooms Outfit: Jean Jacques Ceremonie
Jewelry: Michaela Römer
Hair and Make-up: Beauty by Maeva
Tabletop Glasses and silverware:  Madame Le La Maison
Table china: Canigueral Mesas Con Esencia
Fashion looks pulled from: Mephistopheles
Table Runner: Party Crush Studio 
Furniture: Be Lounge
Black invitation: Written Word Calligraphy 
Shoes: Jimmy Choo and Dior
Ring box: Voeu Du Coer
Robe: Girl and a Serious Dream
Filmmaker: Alex Chevalier Films