Romance and elegance in Paris
Whether you've been there yourself or not, Paris, a city full of love, romance and elegance, probably casts a magical spell on everyone. Some are eager to go, others would prefer not to go at all.
Similarly, Floral Artist Debbie of
Designs by Hemingway
, as we learn, "I haven't been to Paris in 20 years but it felt like I never left. It's still just as beautiful as I remembered."
Photographer
Jeannemarie
was also thrilled, though more by the gorgeous location, a charming antique castle.
"Our location was the Chateau de Santeny. When I entered it, my heart overflowed with joy because it was simply stunning, with its beautiful stucco, impressive floor-to-ceiling doors and ornate fireplaces. For me as a photographer, it was an oasis of inspiration. "
Also for Floral Artist Debbie from
Designs by Hemingway
it seems to have been an unforgettable moment: "The grandiose castle with its elegant chambers, old wooden floor and ornate decorations was like a photographer's dream come true, and for me, like a blank white canvas on which to create my floral artwork."
Piece by piece, the team worked their way from room to room and from inside the castle out into the expansive garden.
"We started with a simple but sensual boudoir shoot in one of the rooms, between floor-to-ceiling windows and antique doors, while the gentle drizzle outside set the perfect mood for our shoot."
As is well known, sunshine follows rain, and so the team was able to arrange a gracefully set table at the foot of the imperial palace, which, in addition to simple white china and delicate gold cutlery, was particularly impressive with a floral table runner. We keep looking and find more incredible, fragrant Designs by Hemingway masterpieces scattered throughout the house.
"I used one of my wonderful Floral Pieces to decorate one of the gorgeous fireplaces in Salon Victoria and a flowered table runner for our table on the landing. Our lush bridal bouquet of peonies, roses and ranunculus lent the stunning wedding dress by
Inbal Dror
the final bit of luxury." sums up Design by Hemingway for us.
Also photographer
Jeannemarie
summarizes this unique Bridal Session impressively in her impressive collection of pictures, which we now want to take a look at with you.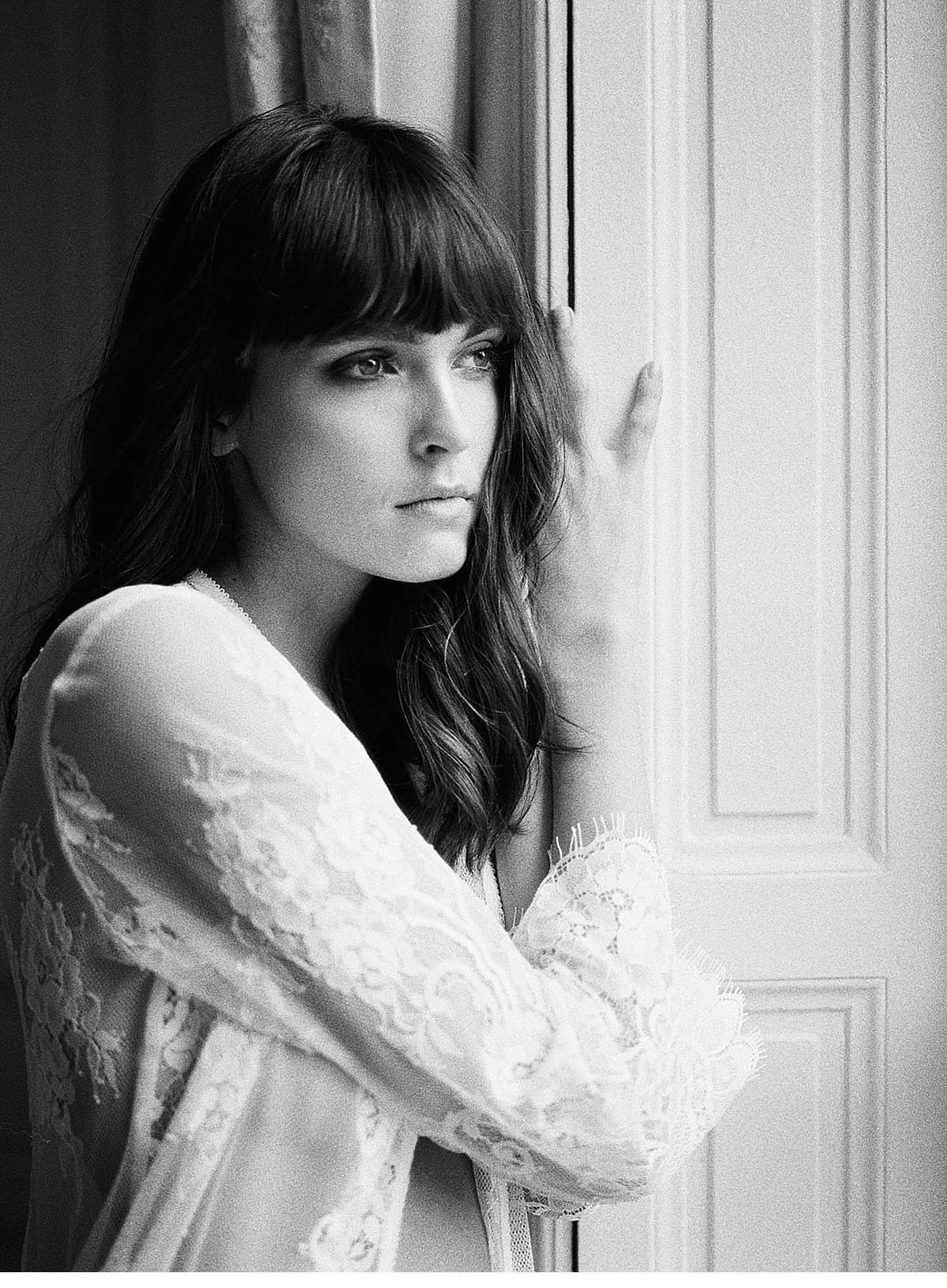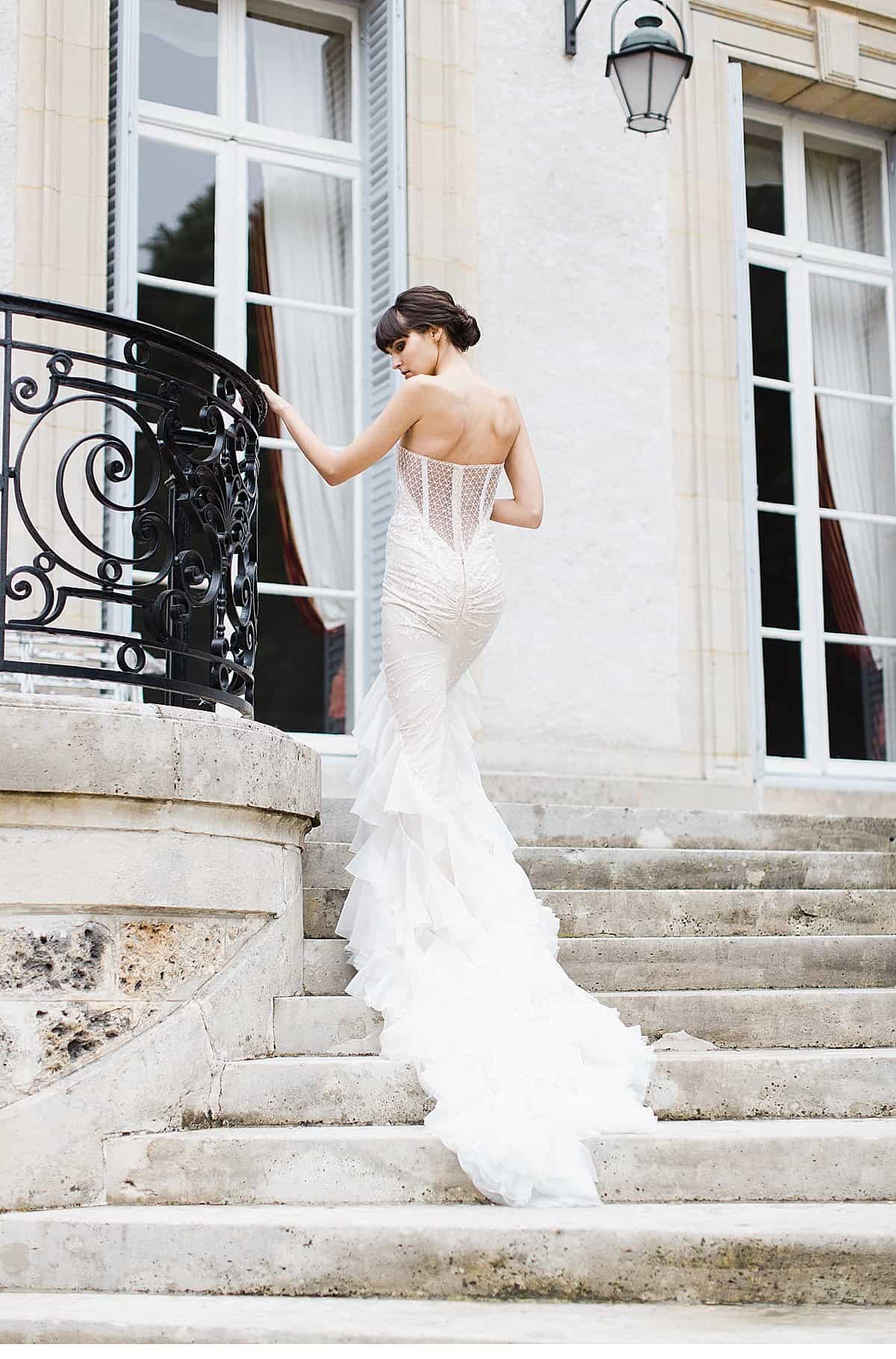 Photographer: Jeannemarie Photography
Design/Direction: Christine Clark
Venue: Chateau de Santeny
Florals: Debbie Hemingway from Designs by Hemingway
Lace Robe: Girl and a Serious Dream
Gown: Inbal Dror
Bridal Boutique: Metal Flaque
HMUA: Trine Juel
Stationery: Veronica Halim
Rentals: Vaisselle Vintage
Shoes: Bella Belle Shoes
Agency: Metropolitan Models
Model: Nataliya
Film Lab: Photovision Prints