Romantic and timeless elegance at Chateau du Thil
Timeless elegance and natural glamour find the perfect ambiance to unfold at Chateau du Thil. Nestled between picturesque fields and unspoiled nature, far from the hustle and bustle of the city, this chateau epitomizes the notion of romance, tranquility and serenity.
Saskia and Ivan from Simply Si Weddings and an international team were inspired by this setting and the British show "Escape to the chateau" to create a beautiful concept with an enchanting wedding variety. The many lovingly designed details were captured by the photographer David and Kathrin in a great world of pictures.
From von Simply Si Weddings: "We all love the UK broadcast show "Escape to the chateau" where you can see «normal people» taking over mostly very dilapidated french castles and renovate them with tons of hard work and attention to detail to create their family homes and mostly stunning event venues.
We especially love the vibe of this show and were keen on transferring it to an inspirational elopement shooting; being surrounded by the splendour of a breathtaking french castle and  creating a modern and fresh approach to a traditional chateau wedding.
The amazing Chateau du Thil offered us all we hoped for. A rather small and intimate castle in the heart of Burgundy, lovingly renovated in respect of it`s grandeur but with a modern twist. Fairytale turrets, a magnificent little park, it`s own private chapel, a madly in love real couple and the most amazing team of vendors made our vision picture-perfect.
The balance between modernity, freshness and the natural glamour of our venue was the canvas we started to experiment on and then transferred it to any other aspect of the shooting: photography, floral design, bridal dress and grooms attire, table setting, stationery and cake.
Cascading, wild florals by TML Tabea Maria-Lisa, beautifully draped materials for table setting and ceremony backdrop and ethereal layers of silk and tulle for the bridal look was the main focus for our design.
We found australian brand Evie Young and their dresses totally embody this modern, sophisticated yet romantic bridal inspiration we were looking for.  Huge thanks to our amazing bridal store Dolce Vita who made it possible to get the dress sample 1 months prior to it`s official release in order to being able to use it for the shooting. It was simply perfect: style, fit, color – everything…… a real stunner!
The color range was another important factor of the visual concept. We love fall season with all it`s colors and loved the idea to play with twigs and leaves from the chateau`s forest and combine it with classic roses in soft-blush, apricot and neutral colours to create a more ethereal autumn look. The delicacy of the soft color range of the flowers, candles and linens worked  beautifully together with the accents in apricot and the natural play of autumnal colors within the branches and leaves.
Our dear friend Donata from Le Bianche Margherite makes the most poetic iron-wire cake toppers and as we told her about our project she was immediately hooked and made us the most georgious piece of art, showing a little castle together with the bride and groom! It was such a highlight and the perfect match to our soft blush frosted cake which only needed to be decorated with the topper and an airy silk ribbon. Modern, fresh and romantic, in the best way.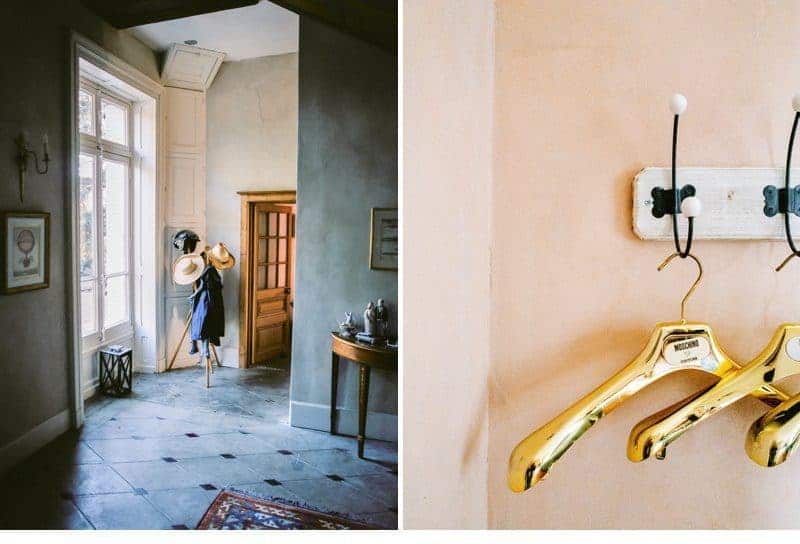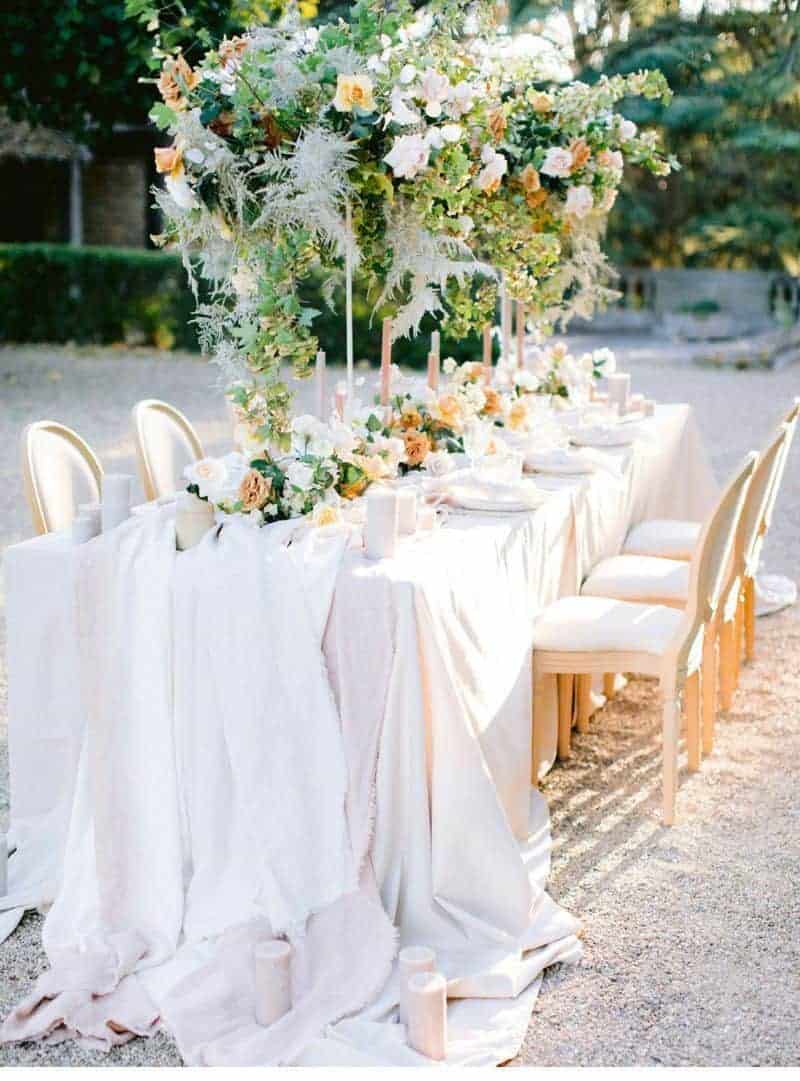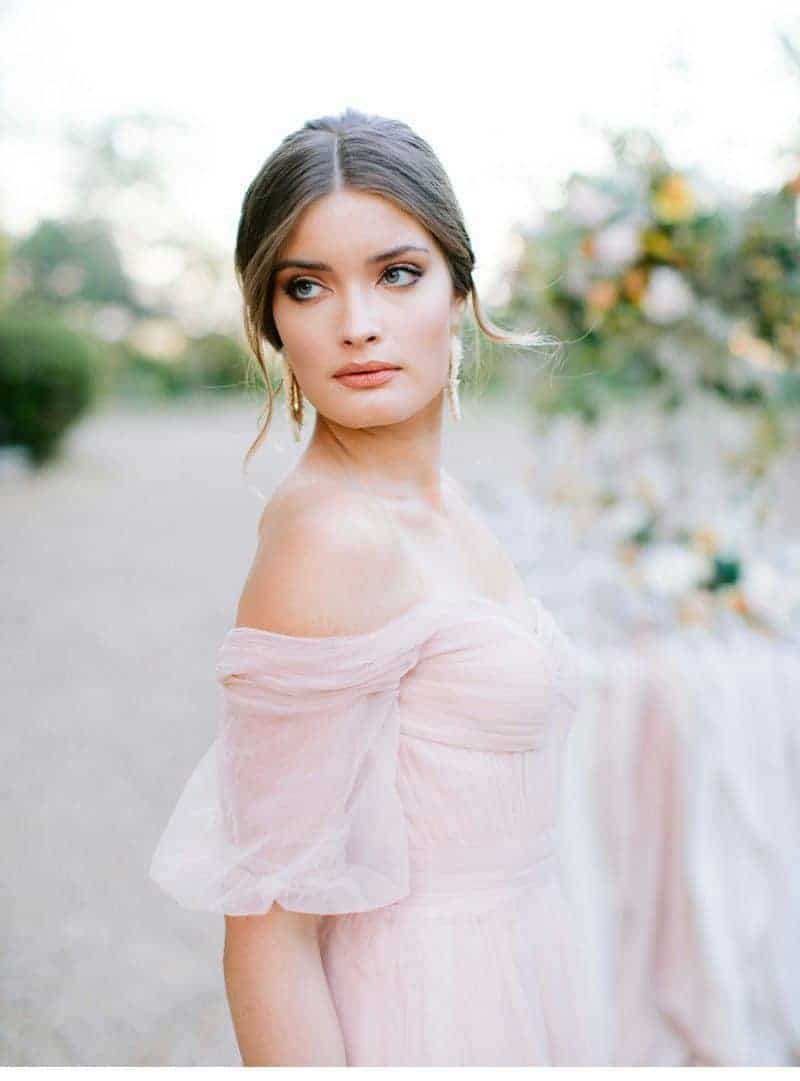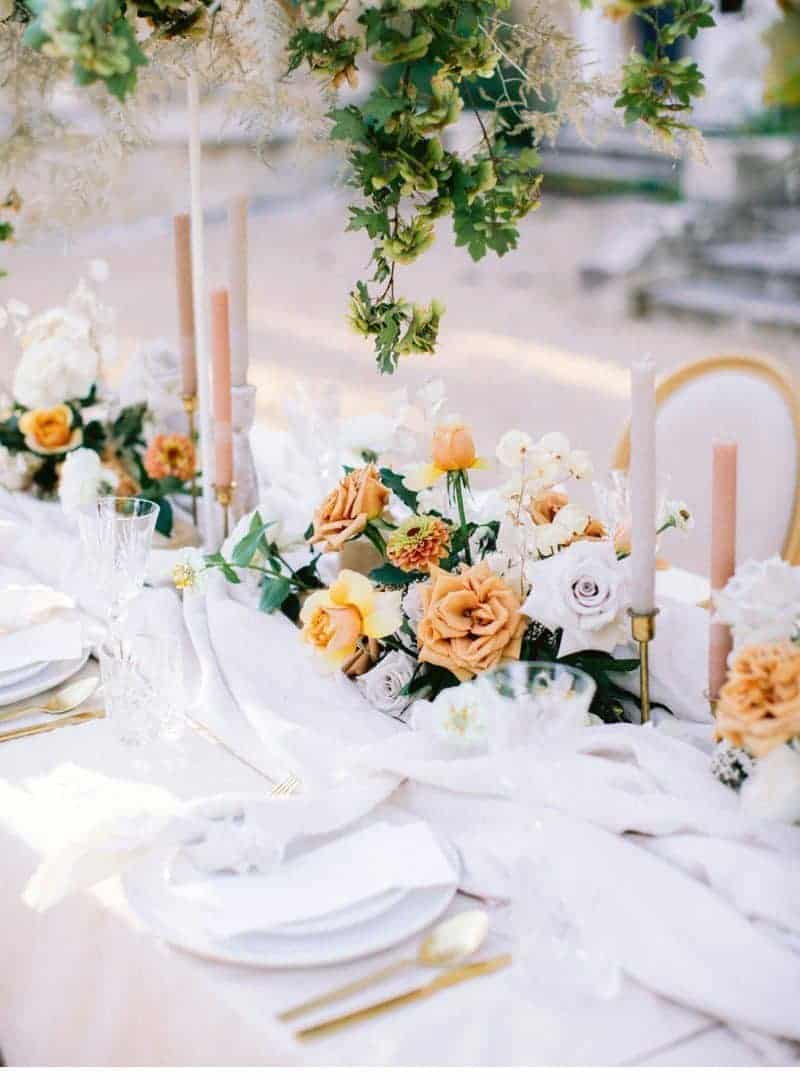 Concept, Design, Styling & Planning: Simply Si Weddings
Photography & Film: David and Kathrin
Floral Design & Styling: TML Tabea Maria-Lisa
Venue: Chateau du Thil
Stationery and Cake: Simply Si Weddings
Rentals: Options
Bridal Dress / Grooms Outfit / Rings: Evie Young via Brautmode Dolce Vita
HMU: Sinem Yavsaner
Cake topper: Le Bianche Margherite
Model Couple: Jennifer & Adrian