Romantic bride in the historical villa Pamphilj
Rome. Everyone knows the Eternal City for its glorious past, for its iconic monuments, suggestive churches or picturesque popular neighborhoods. But perhaps not everyone knows that Rome also preserves a myriad of Villas set in splendid parks. One of the most famous is certainly Villa Pamphilj, a beautiful historic residence, whose Casino del Respiro, an architectural masterpiece of the seventeenth century, was the root of inspiration for this styled shoot.
The idea of ​​the photographer Elisa Rinaldi and the floral designer Eleonora Gnecchi was to recreate the romantic and aristocratic feel  of the beginning of the last century, including marble statues, old jewellery, family heirlooms and hand-painted ceramics. The delicate color palette that comes to life among the English roses, dahlias and hand-dyed silk ribbons that wrap around the bouquet, recalls the orange grove that borders the villa and the tones of the intense sunset that was the backdrop for this shooting.
The dress chosen, romantic and strong at the same time, is tailor-made by Nadia Manzato, whose high-necked bodice that evokes the fashions of the time, is characterized by two different laces, one geometric and one floral, from a wide neckline on the back and a very light georgette half-wheel skirt.
The hair gathered in an elegant bun to enhance the collar of the dress  and the strong lipstick, give the look a glamorous  and timeless note.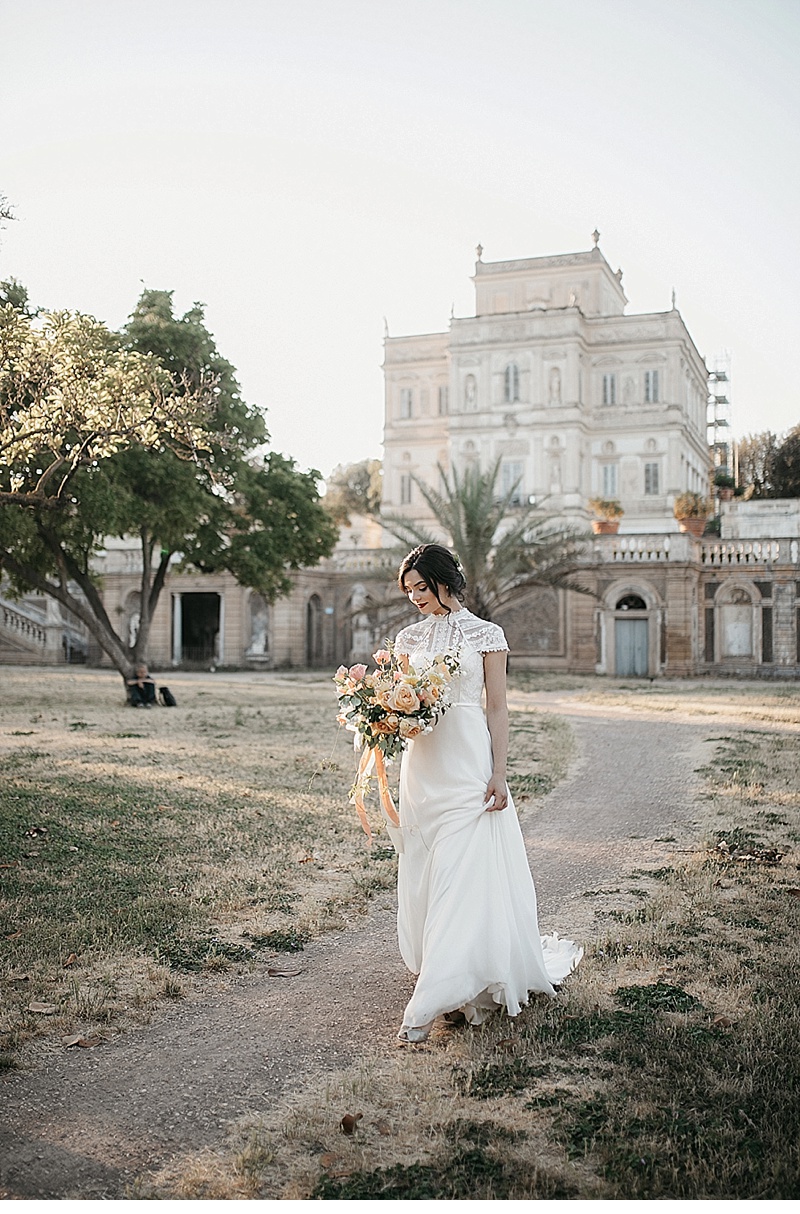 Photography: Elisa Rinaldi
Floral:  Eleonora Gnecchi
Silk Ribbons: Eleonora Gnecchi
Bridal gown: Nadia Manzato
Bridal atelier: Merry Meroma
Shoes: Anniel 
Hair & Make up: Linda Lynn