Romantic Engagement Session in Florence
Florence , the beautiful capital of Tuscany is a magical place full of beauty. It is especially known for its numerous Renaissance art and architecture masterpieces.
Get ready to be enchanted, because this engagement shoot staged by wedding planner Eleonora Voci is full of historical backdrops, breathtaking motifs and emotional moments between the couple in love.
From the breathtaking images of Irene Fucci, we now let ourselves be taken on a romantic journey to Italy.
From Eleonora Voci, wedding planner:  "This is the story of Eliza and David, a young loving couple linked by a great passion for art and design. They are from California, but David has Italian roots and he spent a couple of years in Florence to study architecture in the past so this city is very important to him. That's the reason why they decided to get married in Tuscany and have their engagement photos taken in the beautiful Florence.
I organized something very special for their romantic getaway: a stay in one of the most exclusive studios of the city: the Window to the Duom, well known for its a unique and breathtaking view of the Duomo. Danella, owner of the cozy space, prepared a delicious breakfast on the terrace for them: some waffles, fresh fruits, juices and espresso of course!
The wedding graphic designers from Pink Ink Studio and the illustrator Giulia Dragone teamed up to create a lovely suite including a Save the Date, a handwritten love letter with some sweet words from David, a city map and other exquisite details to decorate the table.
The groom-to be decided to surprise his beloved Eliza with a custom aquamarine and diamonds engagement ring from aya Jewels and an organic bouquet in pastel tones created by Stiatti. Doesn't it look like it came out of a Botticelli's painting?
The bride to be, on her side, made extra attentions to the choice of her outfits and accessories. She wore two custom silk dresses by the artisan brand Flomì, a couple of earrings made by the expert hands of Nea Milano and a pair of pale blush lacey heels by Bella Belle Shoes. The make-up artist and hair stylist Suely Menichetti helped her completing the look creating a glowy, natural make-up and sophisticated low ponytail enriched by a dusty blue ribbon from Silk & Linen.
Every single moment has been captured by the talented Irene Fucci. She has an eye for details and was the perfect photographer to immortalize the chic, ethereal mood of the day."
From Irene Fucci: "Florence has a special place in my heart. It's the first city I've ever travelled to with my boyfriend. I had just turned 18 and that romantic getaway was my birthday gift from him. Everything was so perfect: art, architecture, food, weather. I was astonished by all that beauty. However I wasn't into photography yet so I have just a few ugly pictures from that trip. It's kind of sad to think about it now, but this always push me to give my best each and every time I have the change to shoot a sweet couple exploring the Tuscan capital. I really want them to remember the great time they had and how special exploring the world with your beloved is."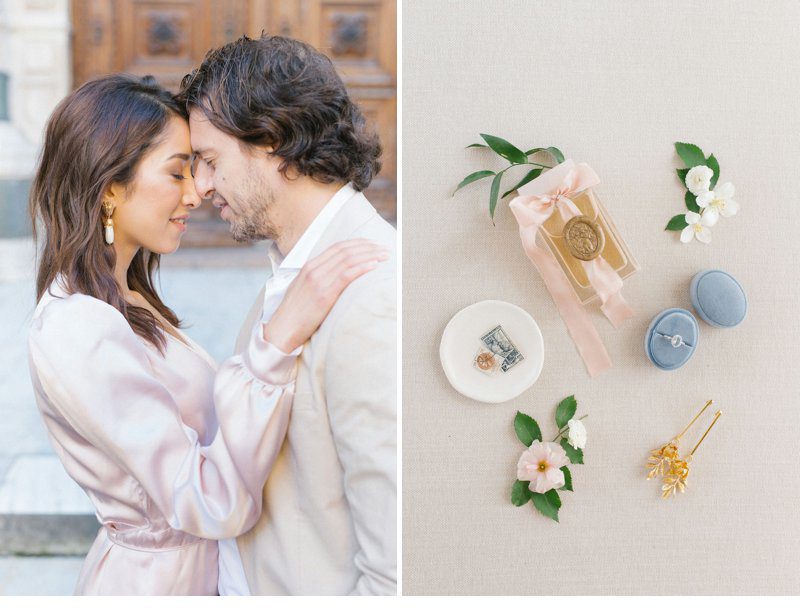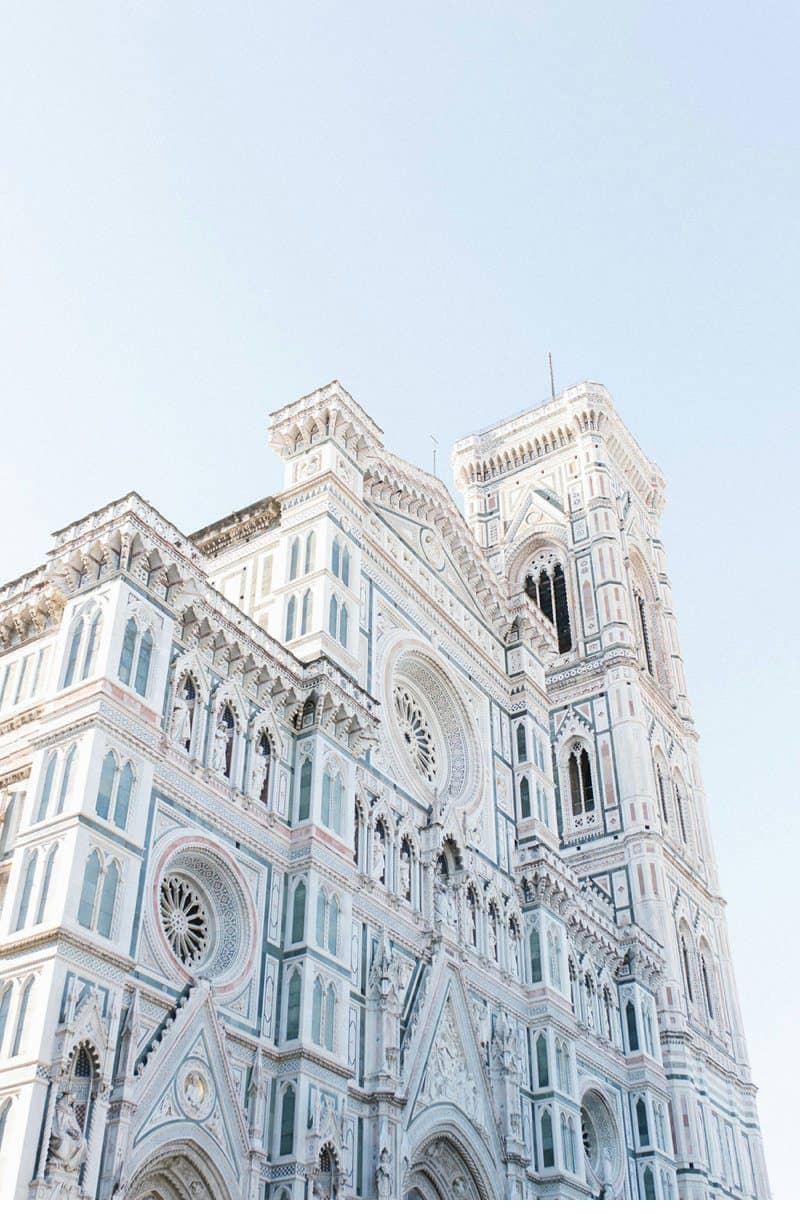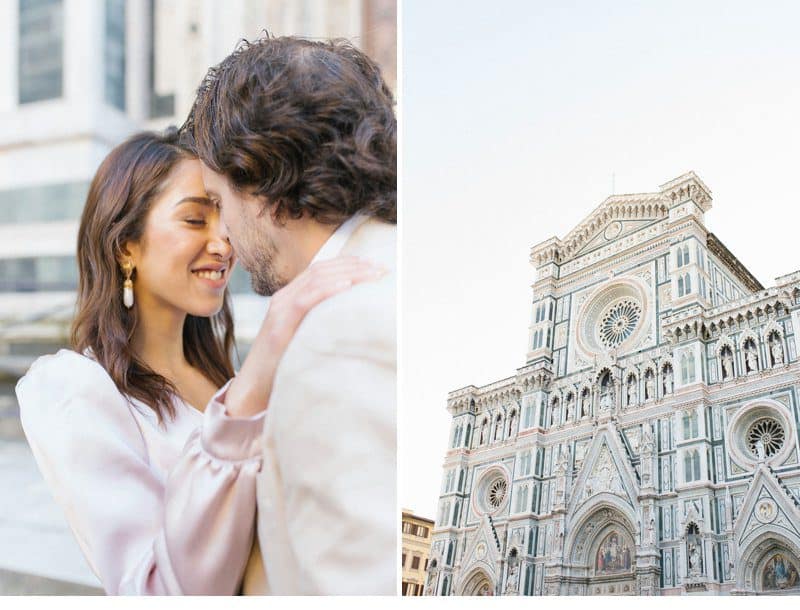 Wedding planner and designer: Eleonora Voci
Photographer: Irene Fucci
Stationery: Pink Ink Studio
Illustrations: Giulia Dragone
Location: Window to the Duomo
Flowers: Stiatti
Muah: Suely Menichetti
Bridal accessories: Nea Milano
Vintage props: Magnolias on Silk
Silk ribbons: Silk & Linen
Bridal shoes: Bella Belle Shoes
Dresses: Flomì
Engagement ring: Taya Jewels
Rentals: Self Party Group