Soft and timeless romance in Mykonos
Inspired by the breathtaking view on the cyclades, the typical streets and traditional churches of Mykonos, the famously called « island of the winds »  was the perfect backdrop for this dreamy editorial in Greece.
Designed by Veronique Lorre and planned with Héloïse from So Hélo, this editorial channeled a romantic narrative of an intimate greek island elopment. Filmmaker Sandy Cluzaud and photographer Vivien Malagnat captured all the essence of this story in a stunning way.
Featuring the natural beauty of this island that makes this place a dreamy destination for lovers, the idea was on evoking a soft and timeless romance of two brides  with some bold luxury and couture accents.
Then, the scenes of this story are a women couple walking in the beautiful little cobbled alleyways, engaging in front of a white-washed church with blue roof and naked feets dancing on the beach and dining with a view, before ending their day watching the sunset over the characteristic windmills of Mykonos.
The brides wore beautiful embroidered gowns from Made Bride, ethereal and romantic combined with exquisite shoes from Bella Belle. For our bridal hair and make-up, Melissa and Magali from Affinité Beauté kept the brides natural and fresh and opted for very romantic low hair buns to showcase a timeless style while achieving a romantic aesthetic.
Then, The handmade jewelries and hair accessories from So Hélo graced the portraits of our two brides with beautiful unique customised details, bringing an elevated and editorial « french touch » to the bridal look. Lastly, the bridal bouquets were the perfect mix of the most romantic flowers (garden roses, ranunculus and carnations) in blush, white and warm nude tones to compliment this romantic, ethereal style.
We envisioned the evening in a private villa overlooking the sea and the « Breasts of Aphrodite », that perfectly set the vibes for an intimate romantic dinner
We laid the table on a top terrace with a breathtaking view on the beaches and turquoise waters, including linen and tabletop pieces from Jolibazaar, perfectly complimented by a striking centerpiece from Veronique Lorre and the delicate and refined stationary work of Insieme Creations. Subtly constrasting with the natural environment, the scene features a lovely romantic shade of blush pink, peach, white and nudes tones.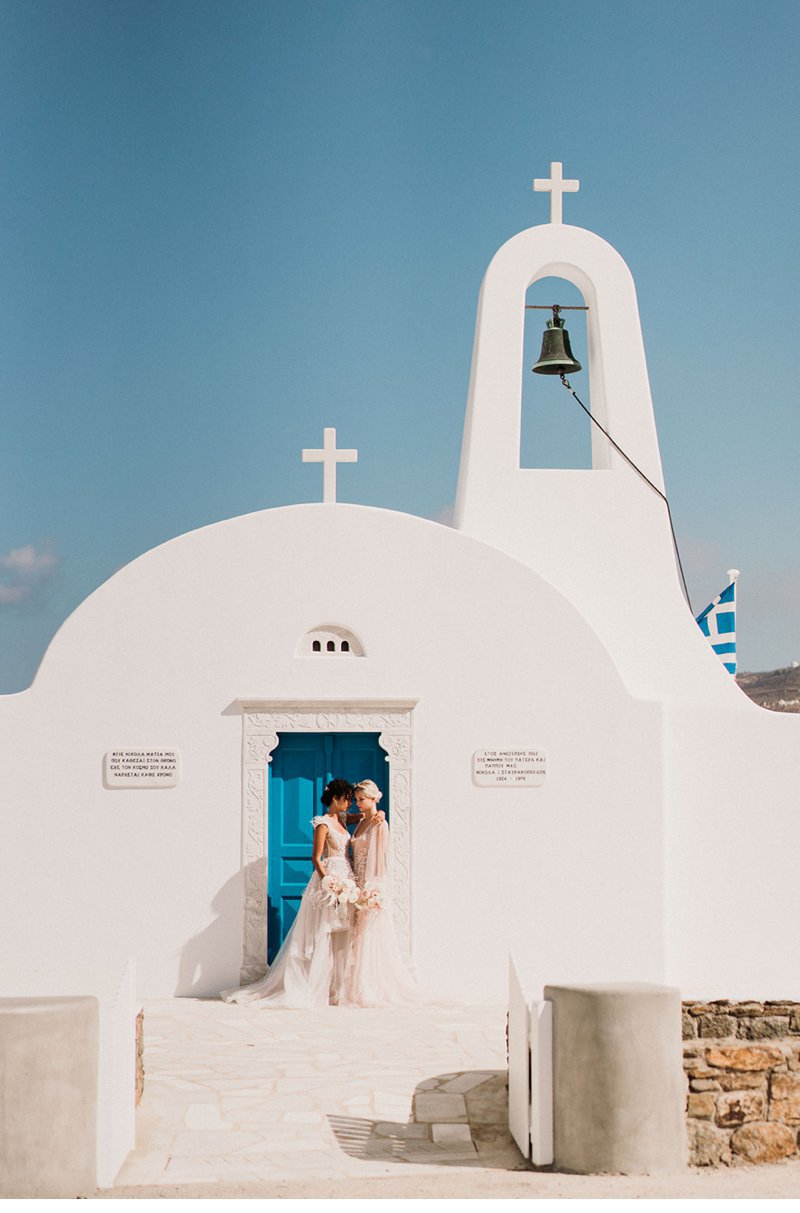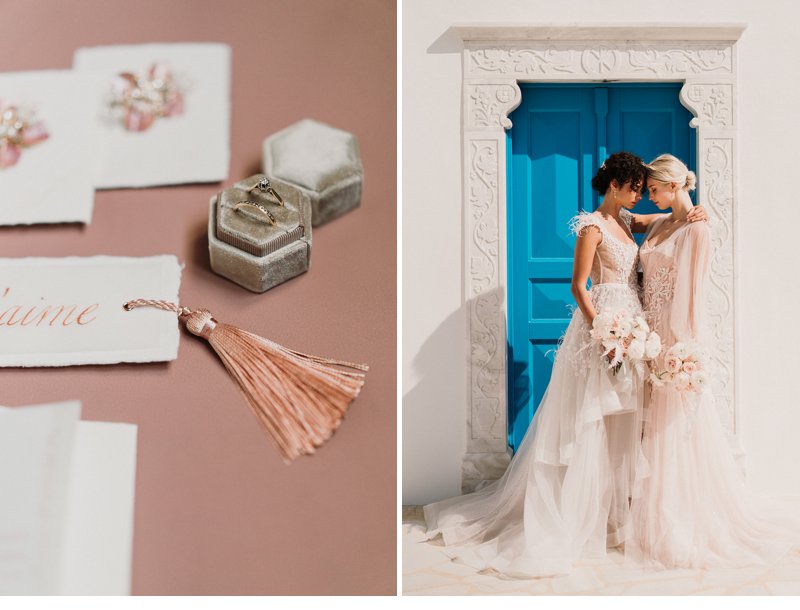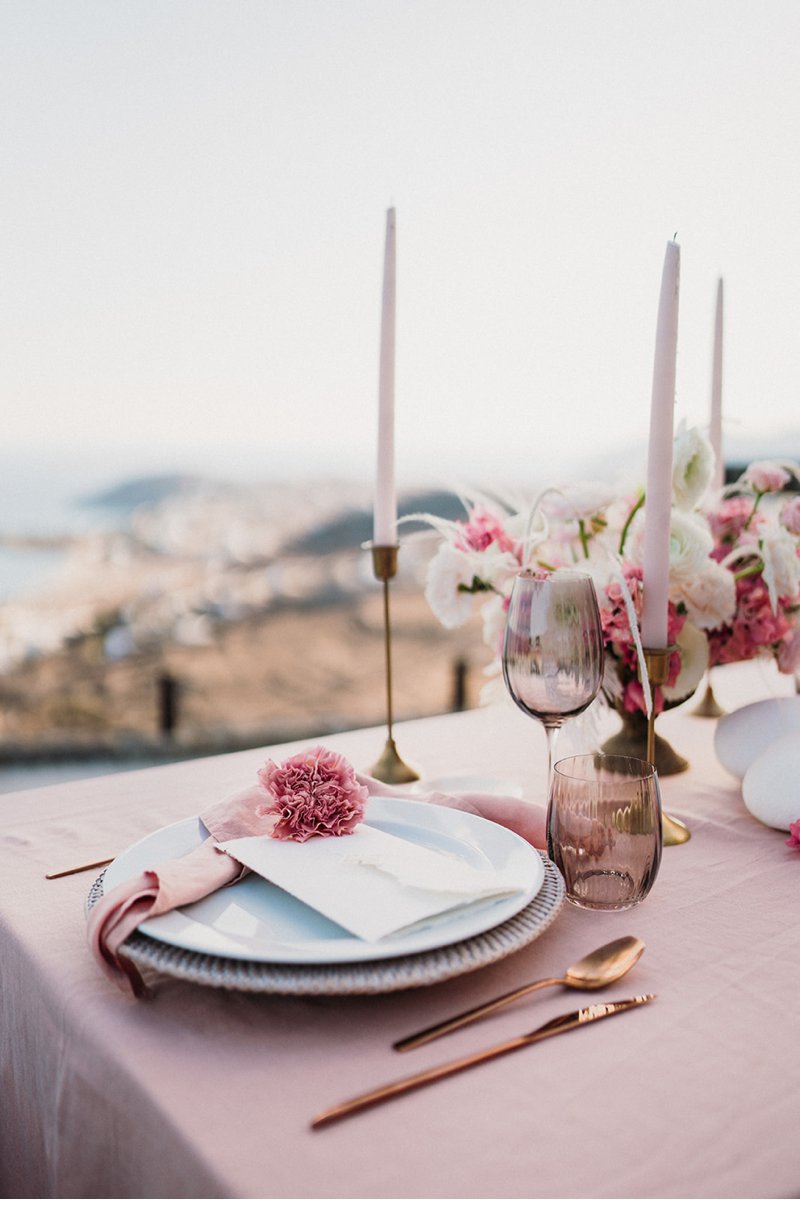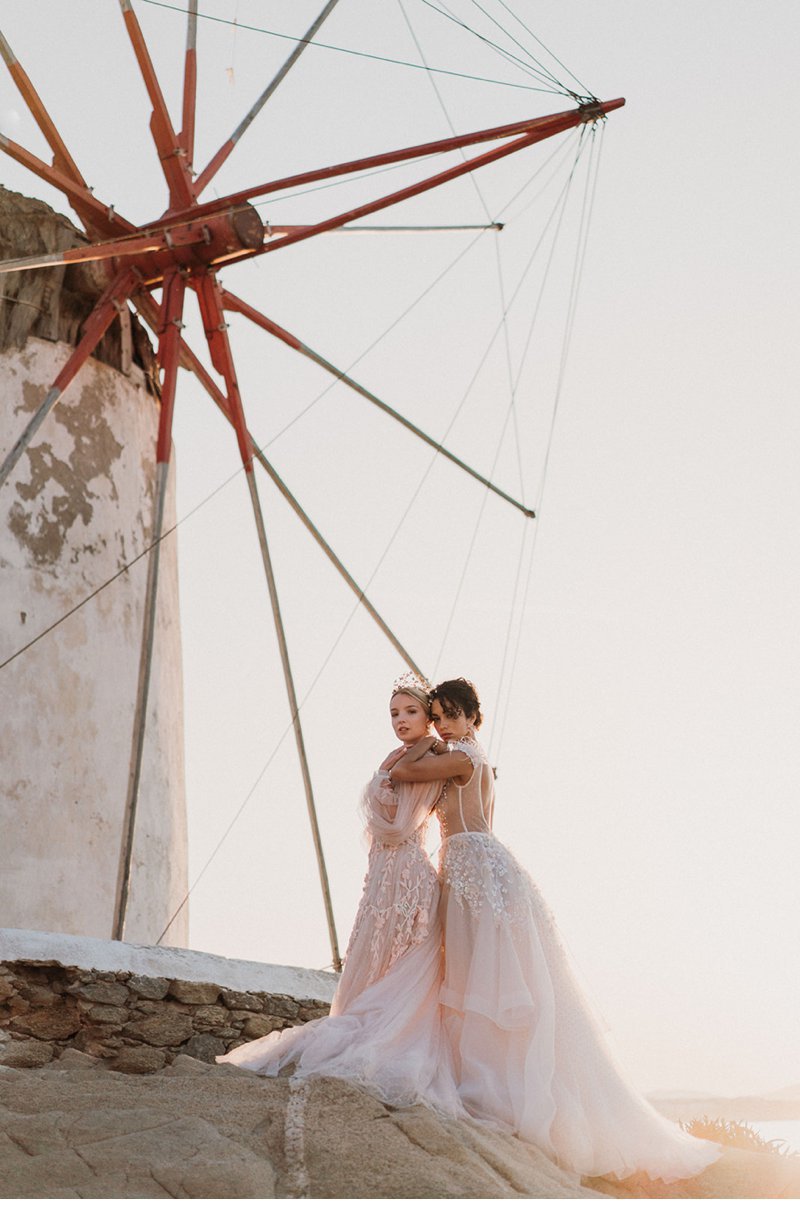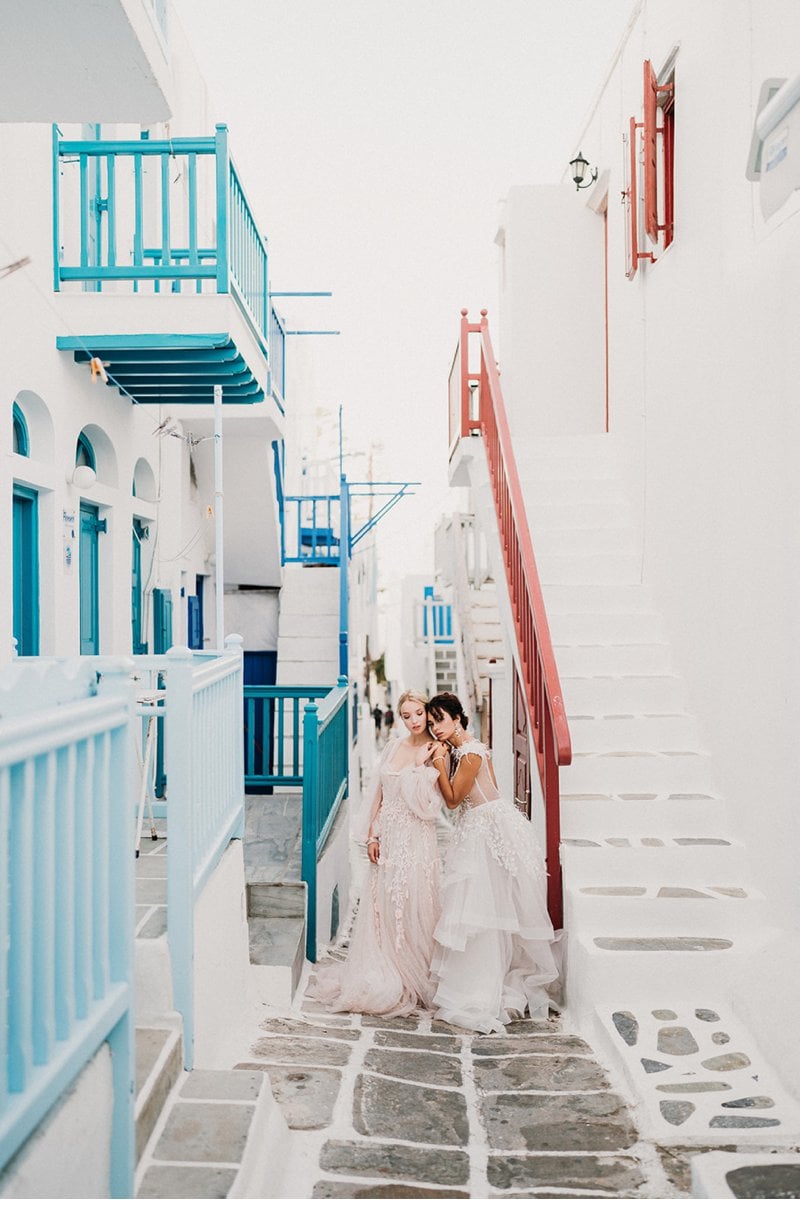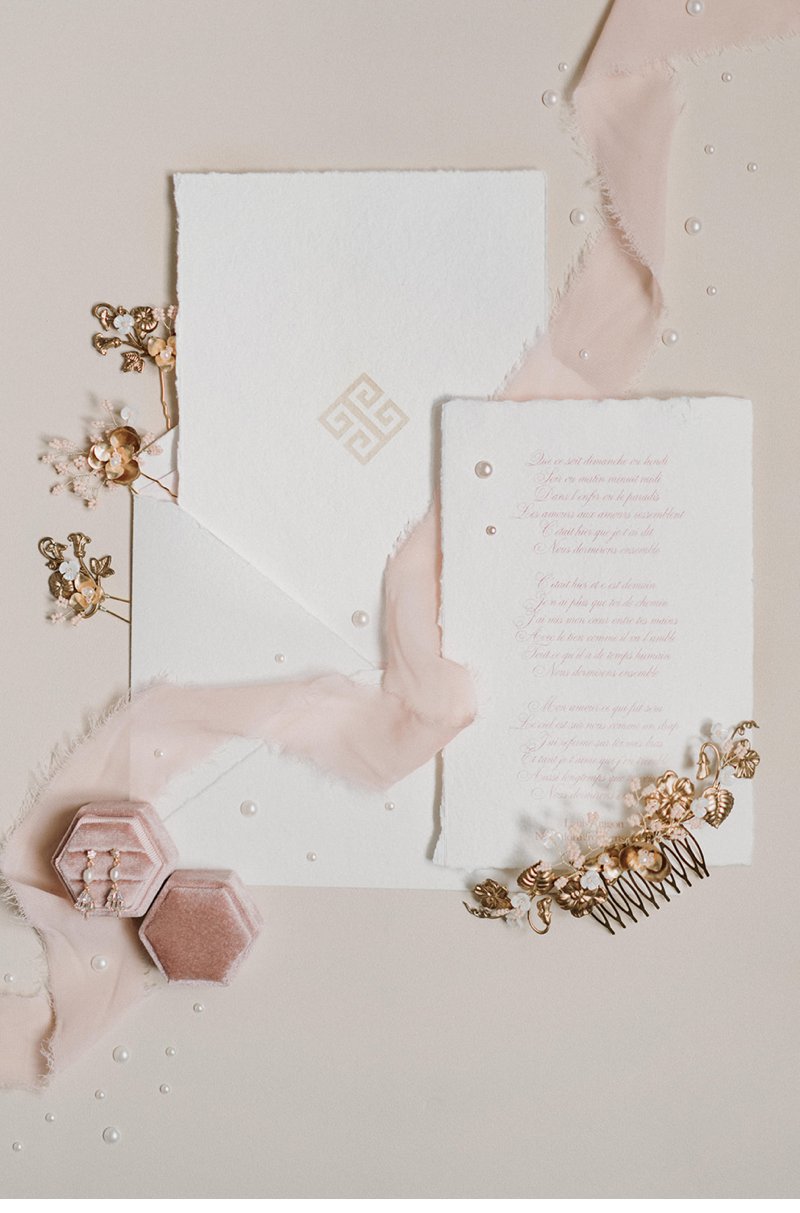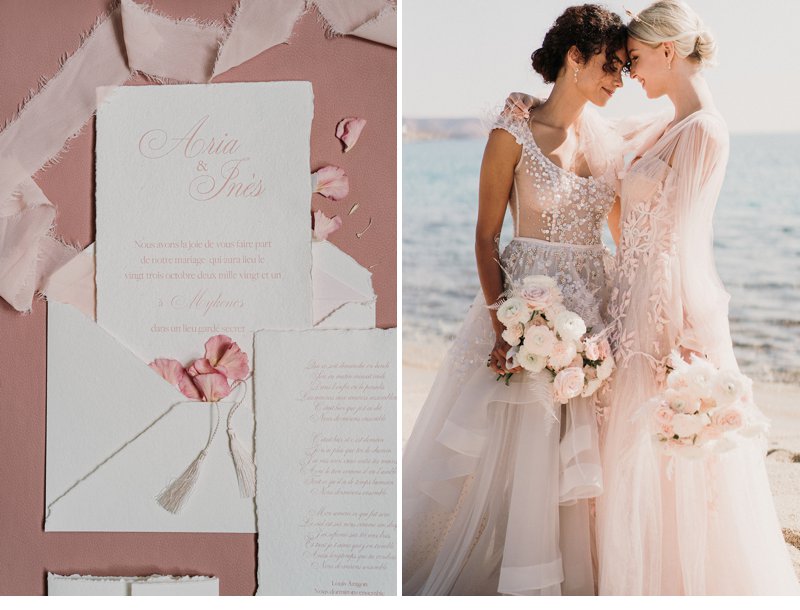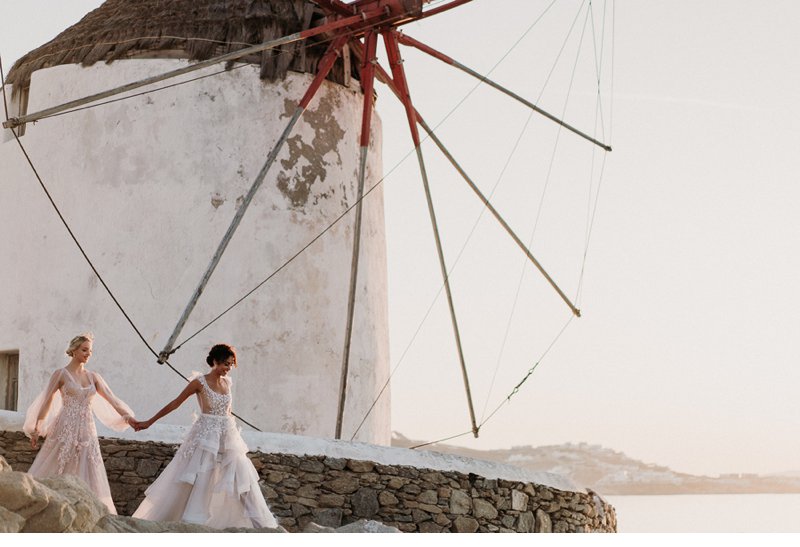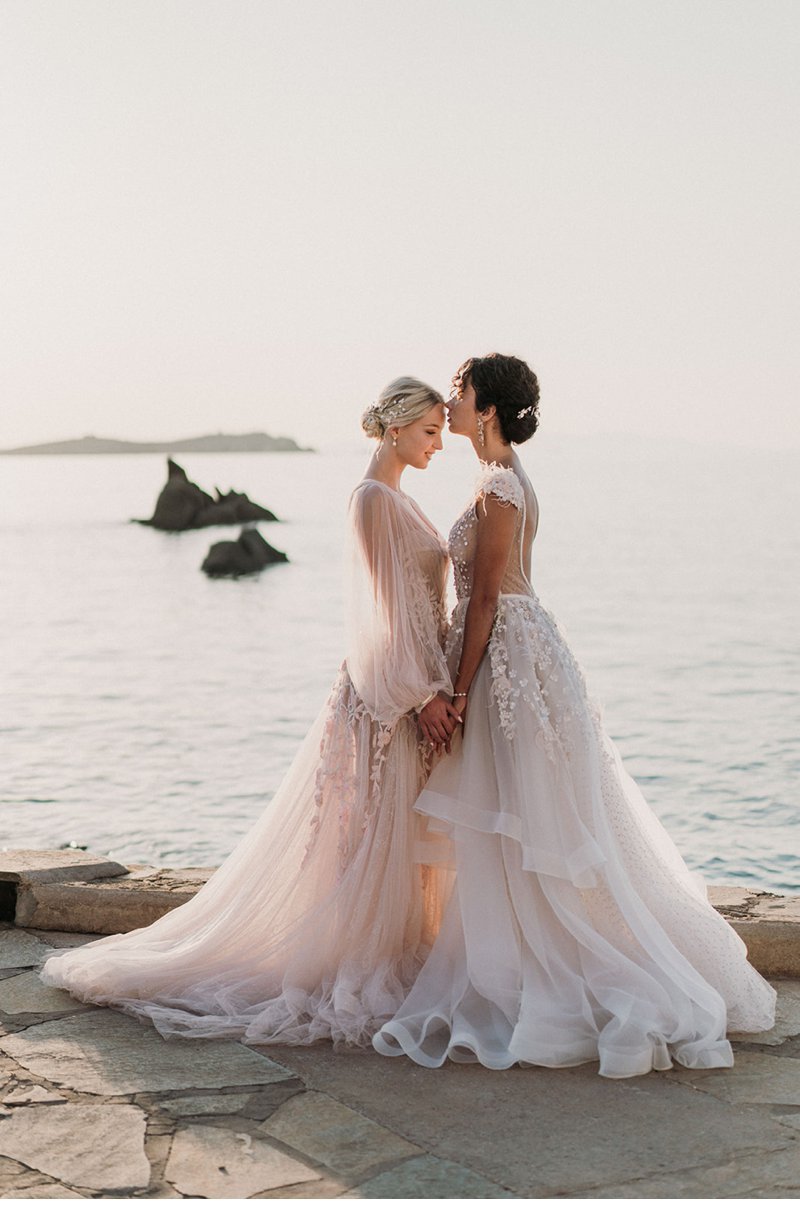 Creative Direction, Floral Design & Styling: Veronique Lorre
Photography:  Vivien Malagnat
Film maker: Sandy Cluzaud
Planning:  So Hélo and Veronique Lorre
Gowns:  Made Bride
MUAH: Affinité Beauté
Jewellery & Hair accessories: So Hélo
Shoes: Bella Belle Shoes
Stationery: Insieme Creations 
Linen & tabletop pieces: Joli Bazaar
Models: Krin & Elodie
Film Lab: Carmencita Film Lab