Something blue in Siena
The team around photographer Alina Indi and wedding planner Diana from Edelweiss Weddings chose the Villa di Geggiano with its breathtaking history as the backdrop for this inspiration. The villa has been owned by the same family since 1527, in the famous Chianti Valley near Siena. Originally built as a farmhouse in the 14th century, it was converted into a magnificent villa with a private chapel and a lush garden in 1768. In 1790, the famous Austrian artist Ignazio Moder was commissioned to paint the now famous entrance gallery, which depicts the twelve months of the year.
The villa, which is almost unique among Italian private houses, still has several rooms with original 18th century furniture in the style of the Veneziano Rustico and incredibly well-preserved antique French wallpaper and fabrics. In 1995, Bernardo Bertolucci chose the villa for his film with the young Liv Tyler "Stealing Beauty".
The architecture of the villa, the frescoes, the magnificent "alla Italiana" garden and the amphitheater will give you goosebumps. Everything here is designed to inspire and celebrate the most beautiful and unforgettable day of your life.
The bride wore a romantic tulle dress with hanging short straps by Honeymoon Sposa Italia, which emphasized the bride's delicacy and femininity. The blue and gold crown in the bride's hair was particularly pretty and original. The groom came in a classic black suit with bow tie.
Pastel colors with a hint of blue and soft pink were an ideal match for the historic villa. Fiori Etruschi used spring flowers for the floristry, including delicate ranunculus. The color blue was reflected in the decorations, stationery and the bride's accessories. Even the beautiful shoes contained a blue hue in the lace elements. The idea for this color came from the frescoes in one of the villa's boudoir rooms. Inspired by the film that was shot in the villa with its fascinating interior, exterior and history. The team wanted to convey the authenticity, purity and charm that surrounds this magical place. The wedding cake with delicate blue motifs by Olivia Catering Events was also particularly fitting.
The day of the shoot in April offered everything the sky has to offer. It was raining, cold and at the time of the ceremony, the sun came out and the sky had beautiful clouds hanging over a breathtaking view of Siena.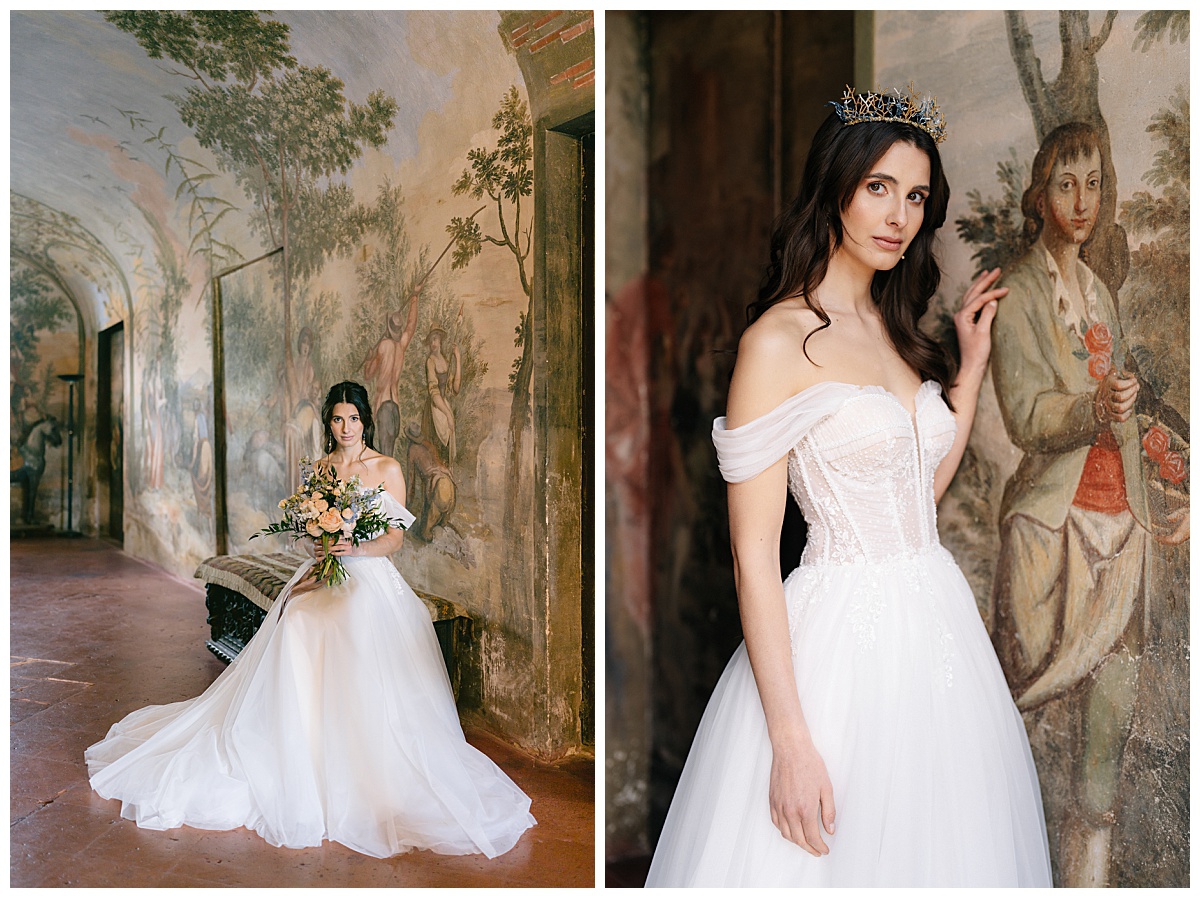 Photography: Alina Indi
Venue: Villa di Geggiano
Wedding Planner: Edelweiss Weddings
Florist: Fiori Etruschi
Videography: Stefano Casati
Hair & Make Up: Yana Zolina
Wedding dress: Honeymoon Sposa Italia
Catering & wedding cake: Olivia Catering Events
Ring Box: Filles Box
Jewelry: Della Bella Gioielli
Stationery: Edelweiss Weddings
Bridal shoes: Bella Belle Shoes