Sophisticated Elopement at Valadier's Temple
This time event planners Natascia Zignani and Rosa Tritto take us to a magical place – the Temple of Valadier in Frasassi Cave. This ancient chapel was the perfect backdrop for the refined elopement styled by Stilelibero and realized with dedication and creativity together with a great team.
The guide line of this artful editorial was a stylish, innovative and sophisticated approach. And above all, it should have Italian charm. Photographer Mantino Francesco accompanied the team with his camera and inspires with his impressive imagery.
From Natascia Zignani and Rosa Tritto: " We are an Italian team, we coming from different part of Italy, one of us lives in the U. S. but all of us love this country so much and are willing to show  its  incredible secret beauty.
That's why we chose this outstanding little church, built in a cave and surrounded by uncontaminated nature. An enchanted place where time seems to stand still, a venue where a man has built a precious jewel.
The balance between the colors of the nature and the work of men inspired our palette. We used white, blush  nuances and a special touch of opal gray to remained the natural elements in the cave: travertine marble, the stone wall and the outstan­ding and charming reflections of light on them.
A breathtaking and eternal place for a breathtaking love between two beautiful and young women, as eternal is the atmosphere for the ceremony that Stilelibero Wedding Design and floral designer Valentina Battistini created with the flowers: white and titanium gypsophila, asparagus plumosus and limonium. The compositions rise gracefully like clouds from  the grounds to the heavens.
How precious is this love? We imagined it with the table set up: very precious flowers, like orchids phalenopsis, quicksand e playa blanca roses and anthurium. We chose white chic handmade porcelain dishes and kintsugi bowls, porcelain repaired with 22k gold leaf by Dodicisessanta and silk linen.
We loved this project! We put in it all ourselves. We studied every single details, every single member of the team worked with all the passion they have.
Cristina and Marco from Beautiful Letters developed the entire calligraphed stationery, started from the "welcome" on the cotton cloth to the menu. They used fine cotton paper and custom modern calligraphic style. All pieces are adorned with silk knots.
The layout of historical buildings in Rome served as an inspirations for the wedding bands, which were marvellous crafted by Coro Jewels.
Time to talk about the brides. Their gowns are made in Italy and with preciuos silk. Isabella and Elisa, the heart of Poesie Sposa, are two talented designers, with this big dream of a workshop of tailored gowns. These creations were a real poetry, a simple line with refined details.
Last but not list the headpieces are a masterful creations of Nea Milano."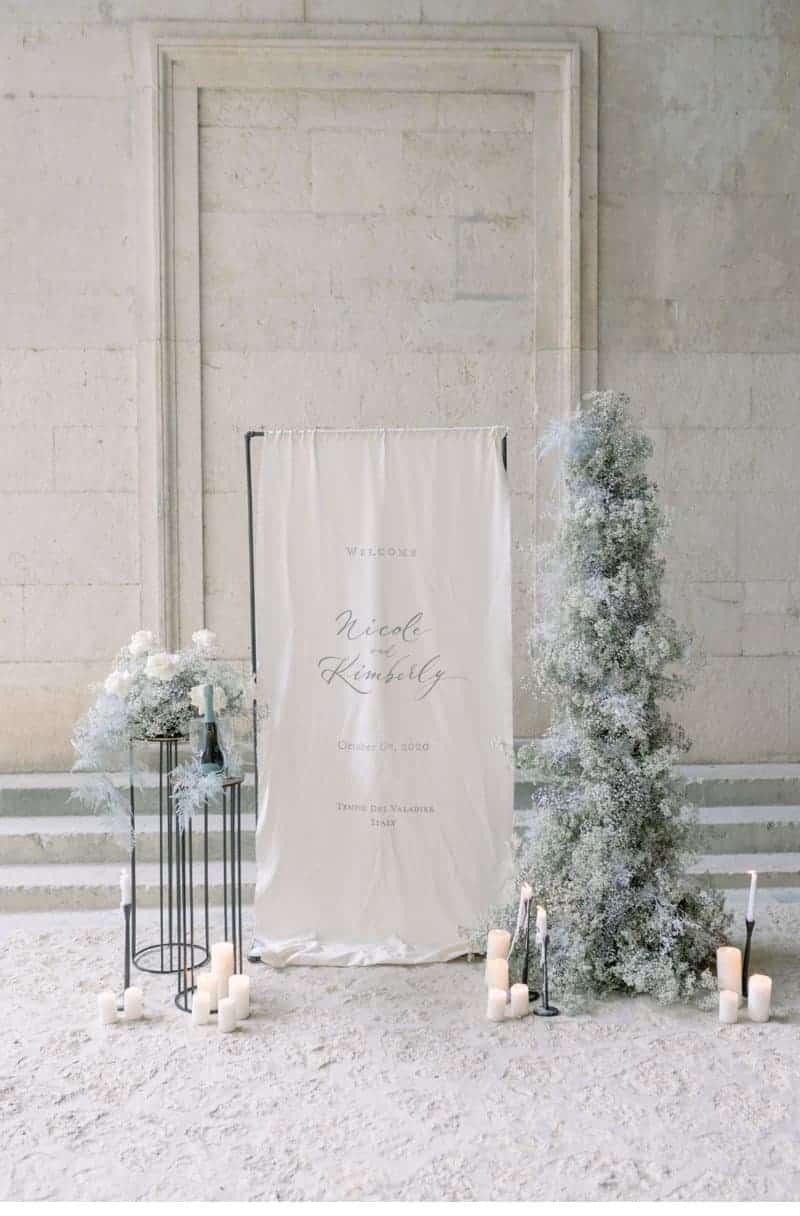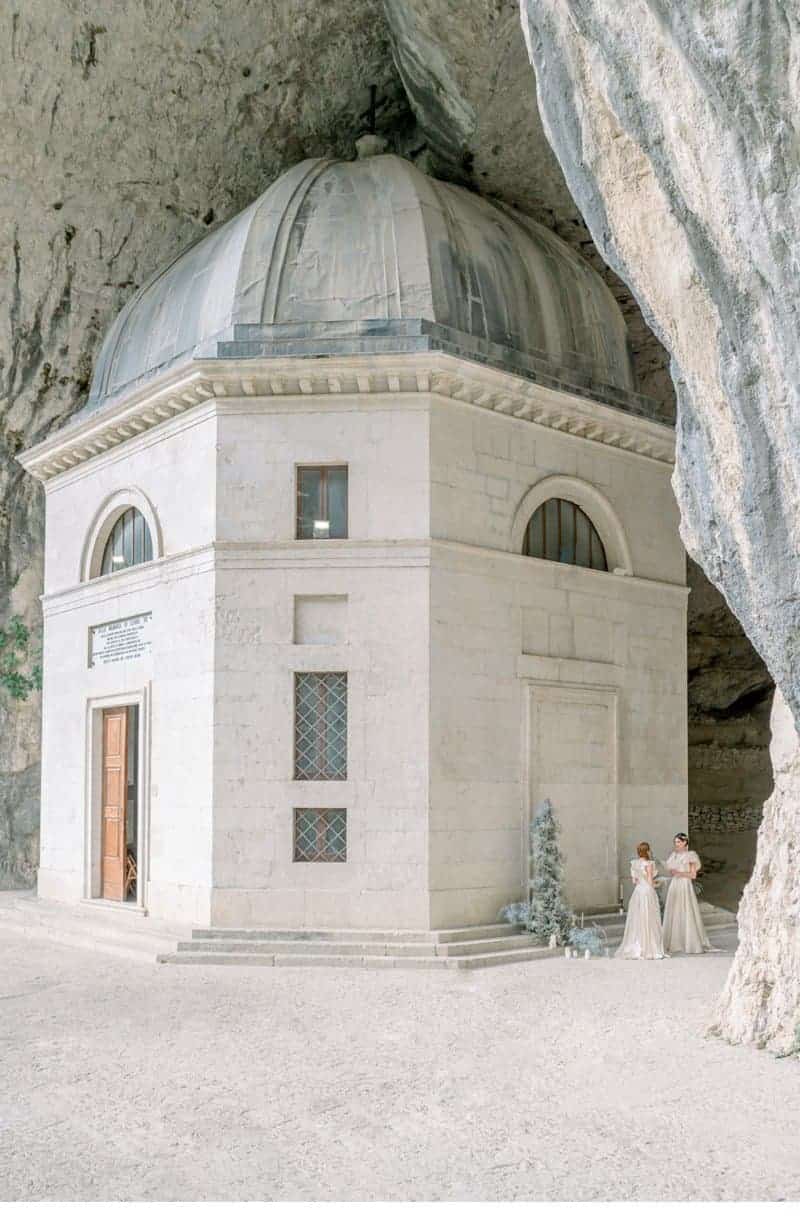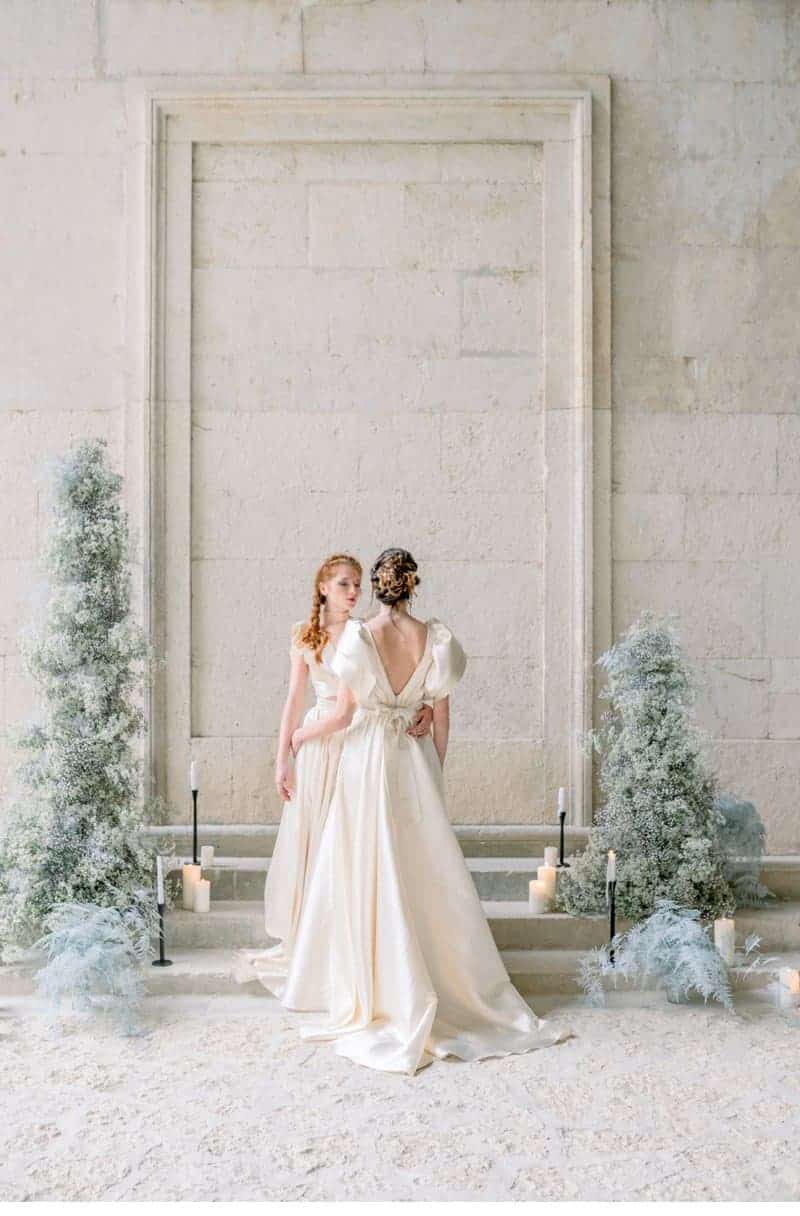 Planning: Natascia Zignani and Rosa Tritto
Styling: Stilelibero
Photography: Mantino Francesco
Videography: Lumos Produzioni Videography
Floral Designer: Valentina Battistini
Bridal Dresses: Poesie Sposa via Sara Concept Bride
Bridal Shoes:  Jimmy Choo
Jewels: Coro Jewels
Headpieces: Nea Milano
Stationery and Calligraphy: Beautiful Letters
Hair & Mua: V.Maison
Italian wine: Bellavista
Ceramist: Dodicisessanta
Venue: Temple of Valadier at Frasassi Cave