Spanish Love
Today we are taking you to an old, highly ornamented Spanish church with glorious round arch windows and heavy oak tree doors near Seattle.
The photographer Brittany of Blue Rose Photography discovered this church by strolling along the streets and got inspired to a lovely bridal shooting by the historic walling.
Together with a great team she created a simple but elegant spring-look with Spanish accents. Old lantern, a fountain made of stone and stucco ornaments on the walls let us inhale Spanish flair. Wonderful eye-catcher like the rosary with tender pearls, the nice paper-work with Spanish poems and give-aways with tiny succulents which were planted in a sea urchin are some of the romantic elements.
The bride fascinates us with two elfish and body hugging wedding gowns and beautiful styling. For the updo her stylist got inspired by the Mexican artist Frida Kahlo.
With her adorable pictures Brittany of Blue Rose Photography tells a dreamy Spanish love story that makes us smile.
Translation: Marina Jenewein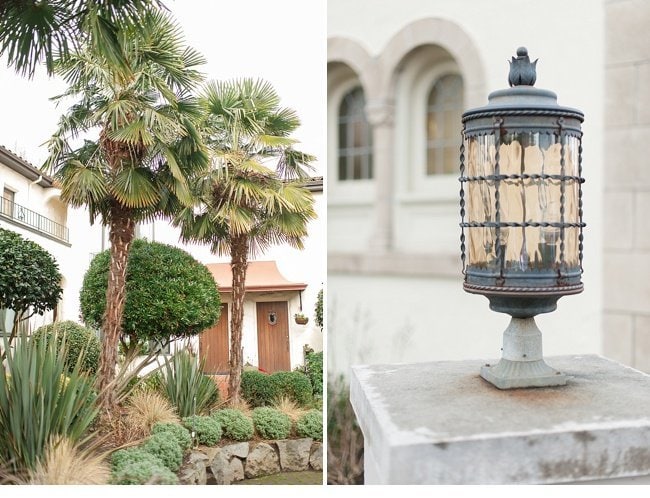 FOTOGRAFIE: Blue Rose Photography
LOCATION: Seattle Church Of Christ
FLORISTIK: Geneva Diane Designs
PAPETERIE: JLC Printables
GASTGESCHENKE: Robin Charlotte Air Plants
BRAUTKLEID: Pure Magnolia und Jillian Fellers
SCHMUCk: Blessed Bead
HAARE + MAKE-UP: Pacific Brides Mobile Makeup Artistry
GÜRTEL: Tessa Kim
HOLZ HAAR Clip: A Fluttered Collection
MODEL: India Gants of Seattle Models Guild