Spring fever at Chateau de Massilan
Pastel pink, peach tones and a touch of green make us dream of spring days in Provence.
"From the impressive facade to the giant weeping willow overlooking the private pond, every corner of the Chateau de Massilan inspired me in the design of the details," says Charlotte von Celian Mary Photography, the designer behind this beautiful styled shoot, which she did together with a fantastic team that included Laura from Laura Mariages as an assistant to the shooting coordinator.
The idea was to accentuate the natural beauty of the Château inside and out, preserving the authenticity of this historic site while creating a stylish, romantic atmosphere for an intimate and refined spring wedding.
Always inspired by fashion and design, Célian Mary incorporates architecture into his photographs to create stunningly bright images using natural light and pastel colors. The bride wears a romantic dress with a big bow and high quality lace and the groom wears an olive green suit by Aude Violette Creation.
The precious vintage jewelry, the luxurious perfume by Campomarzio70 and the bridal shoes by Bella Belle emphasize the bride's look as well as the luxury watch and the original Italian handmade bow tie by Mani del Sud for the groom.
The stationery was designed by Sylvie of Insieme Creations and features the Château and the same woman's face that appears on the silverware for the custom menus.
Our reception table was set with antique table linens from Pieces Uniques, decorated with rose petals and gold leaves. It was accompanied by English antique dinnerware, crystal glasses and an abundance of flowers in silver trays and vintage Chambord vases – all from Pièces Uniques.
Inspired by the old architecture, the furniture of Joli BazaarandPieces Uniques and the beauty of the gardens, Ricci Floral Creation played with romantic flowers to sublimate the reception table, the wedding cake by Les Delices de Gladys or the cocktail and champagne area with the delicious cocktail bites by Helen Traiteur.
Enjoy the video by The Artists Filmmaker and the artful images by Celian Mary Photography that will take you on a romantic and intimate journey.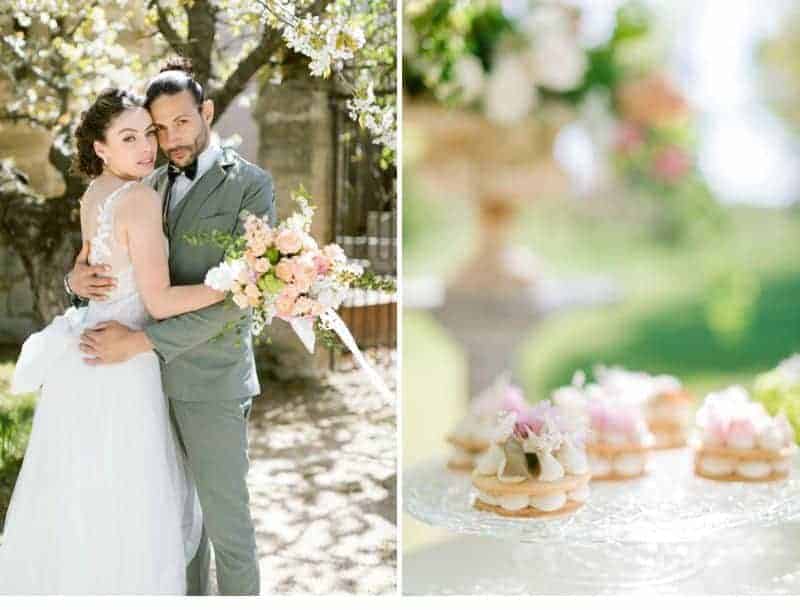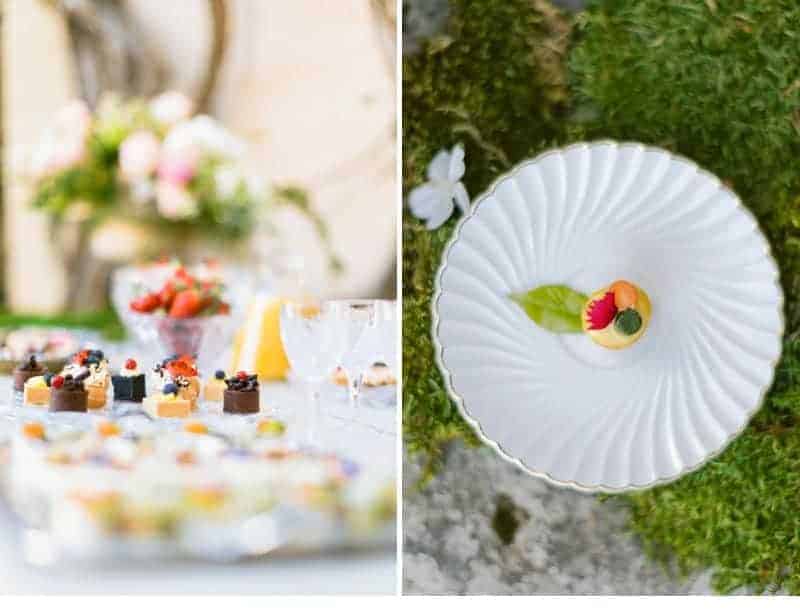 Photography / Shooting Designer: Celian Mary Photography
Wedding Venue: Chateau de Massilan
Videographer: The Artists Filmmaker
Make-up artist: Dounia Loud
Hair-style: laura_hairlove
Wedding dress & suit: Aude Violette Creation
Lingerie: M'Alice Lingerie
Floral Designer: Ricci Floral Creation
Table Design & Decoration: Pieces Uniques Location
Wedding Cake: Les Delices de Gladys
Vintage Jewelry: Bijouterie Lemoine
Perfume: Campomarzio70
Furnitures: Joli Bazaar
Bride Shoes: Bella Belle Shoes
Fine Art Wedding Stationery: Insieme Creations
Caterer: Helen
Technical light: The Artists
Coordination: Laura Mariages
Models: Naouel Lahlah and Mehdi Stark-Sethi