Spring Zen Bridal Inspiration
A Japanese garden, fragrant magnolia blossoms, a mindful Getting Ready with yoga and a cozy tea ceremony let us today dive into a wonderful world of inspiration of wedding planner Claudia Fitzinger.
A nice hint to welcome the wedding day joyfully and relaxed and to enjoy it consciously already in the morning hours – we love this idea.
Caterina Hoffmann spoils us with her fantastic pictures, which impressively bring us closer to the many details and the atmosphere of this editorial.
Claudia Fitzinger tells: "Spring in Vienna – City of the Arts and the Sound of Classical Music. A special place to observe the blossoms and spring in Vienna is the Setagayapark. A Japanes garden with a spring, a waterfall, a pond, typical Japanese plants and a tea house, which is used for tea ceremonies and yoga classes.
There you can see magnolias and cherry blossoms in full beauty. A quiet place to relax and create such inspirations. Together with the decorator Mademoiselle Fée and a creative team we wanted to show a respectful and relaxing bridal inspiration. A mindful Getting Ready with yoga, meditation, a tea ceremony and pure beauty or maybe create a new kind and trend of "Bridal Shower". Every bride would enjoy her wedding day and/or wedding countdown even more if she would start her wedding day in a calm, relaxed and conscious way.
By creating a pleasant atmosphere after getting up, choosing a nice scent and starting with relaxing yoga exercises to open the heart and enjoy the anticipation in peace. Finish the mini-yoga session with a few minutes of meditation. Always remember to breathe deeply and let the stress flow away and let the love in. The shower that follows is refreshingly wonderful. Wrapped in a silk kimono, the bride devotes herself to the tea ceremony. We recommend green tea or Matcha to revive and a piece of pure chocolate – that makes you happy. For the shooting we had received a praline filled with Matcha from one of the best, oldest and traditionally experimental chocolateries in Vienna – Chocolaterie Fruth. Very very tasty!
The colors are soft like the beauty of spring and reflect the bright colors of the magnolia blossoms. We chose only magnolia branches as bridal bouquet to let them shine in their infinite royal beauty and because we love the meaning of magnolia. They are a sign of love, purity and depth.
We also chose some typical Japanese accessories like a paper parasol and a fan. Both are personalized with fine calligraphy details by Sarah Zemlyak. Make-up is clear, fresh and natural and open to glamorous hairstyling. We have chosen natural pearls for the jewelry and headgear. In Japan, pearls are as much a sign of luck as the crane. It is an old Japanese tradition to give 1000 origami cranes as a wedding gift and thus fulfill a wish."
And let yourself be inspired by Caterina Hoffmann's fantastic paintings.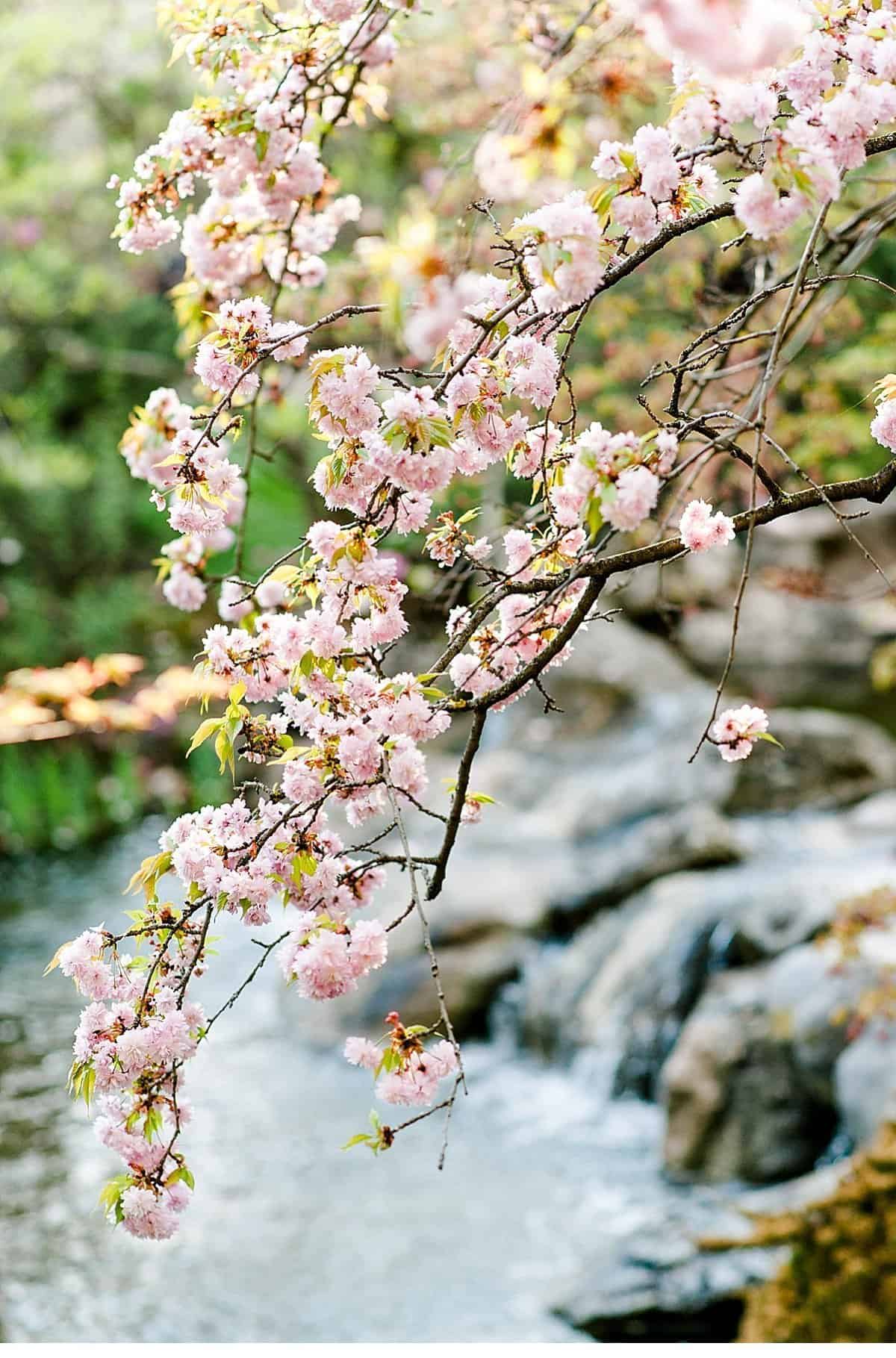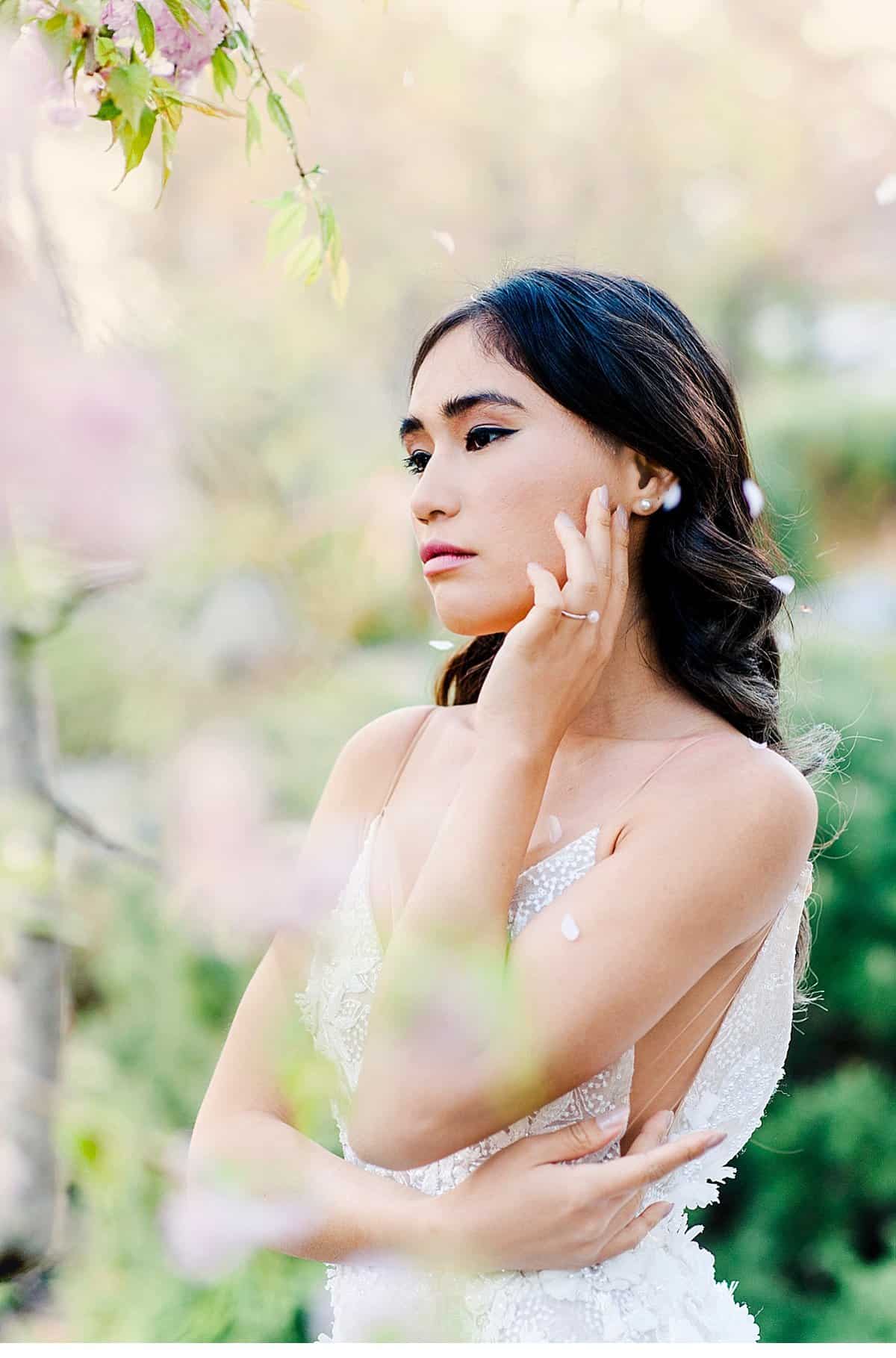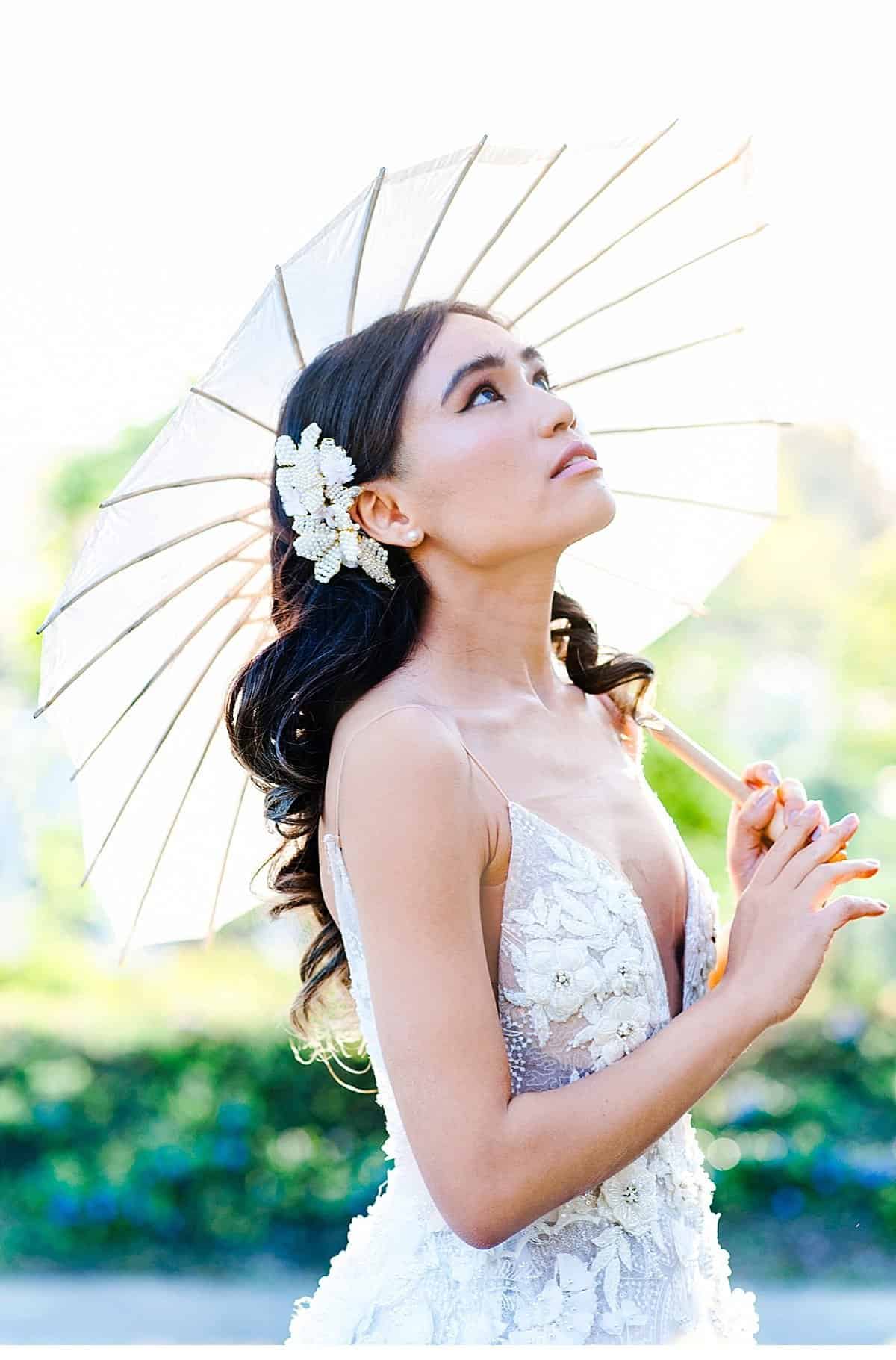 Konzept, Planung und Art Direction: Claudia Fitzinger – plan. create. design.
Photography: Caterina Hoffmann Photography
Dekoration: Mademoiselle Fée
Schriftstücke und Kalligraphie: Sarah Zemlyak
Brautmoden Boutique: Wedding Atelier Wien
Hochzeitskleid Designer: Milla Nova
Schmuck: Goldschmiede Michaela Pinter
Make – Up und Haare: Marion Pail
Headpiece: We are Flowergirls
Fächer: Bohoquartier
Tee und Teeservice: Tete a Tee-Teesalon
Kimono & Geta Holzsandalen: Japan Kimono
Pralinen: Chocolaterie Fruth
Model: Madina
Location: Setagaya Park