Tender anniversary session in Paris
Paris, eternal and surprising, magical, sometimes mysterious – the city of love, chansons and fashion. Romance meets seduction, antiquity meets modernity. What could be better than discovering this great metropolis. This city is not only popular with tourists, but also for lovers and photographers it is an exciting backdrop with captivating motifs.
And so, Greek wedding planner Vicky Galata and her husband Chris decided to celebrate their 10th wedding anniversary in this inspiring city. Tender glances, loving kisses togetherness, time for each other – here hearts beat in unison, two souls are united.
The two were accompanied by photographer CheyAnne from L'Amour de Paris, who lets us share the great feelings of this day with her touching pictures.
Vicky Galata:  "As a couple who love Paris so much we couldn't imagine a better location for our 10 years together anniversary photoshoot than the most romantic city in the world. We decided to spend the day visiting some of our favorite spots, from iconic Musée du Louvre and Palais Royal to sidewalk café Les Nemours. During our anniversary session we enjoyed coffee and croissants at a quaint table fortwo. As a wedding planner, based in Greece, it is difficult for me to go to the otherside of the camera for my own shoot! I am usually the one who designs and organizes shoots for my clients and this time I was the client with my darlinghusband. Our photographer, CheyAnne from  L'Amour de Paris, was so helpful and professional and keep told us to enjoy this lifetime experience. She was totally right and I must thank her. I shared a mood board with some of our favorites spots in Paris and with her encouragement and timetable, we were able to feel natural, relaxed and comfortable enough during the early morning shoot.Eventually, we ended up with a series of moments of intimacy during a morning walk in Paris, with each other, just me, him and Paris! What more can I ask for?This gallery is a pure love!"
CheyAnne from L'Amour de Paris: "Vicky and I became instant "insta" friends via our instagram accounts a few years ago. We easily bonded over our shared love between Paris andGreece, and the beautiful wedding imagery in both locations. When Vickymessaged me that her and her husband were traveling to Paris for their 10thanniversary, we knew a shoot had to happen in the City of Love! I was honored to be the one she called upon. Sometimes I'm a bit nervous to photograph someoneelse in the industry because I know they understand all the ins and outs, and I simply want things to be perfect — for them to experience everything the way a normal client would, and be able to relax and enjoy one another's company without overthinking anything.
I believe this was very successful with Vicky and Chris. She communicated to me the most important part of the shoot was to convey their love for one another.They easily settled into one another's arms literally – as it was quite chilly in Parison this particular August day! By the end of their shoot we all cozied up at Cafe Nemours and shared breakfast together. Now my husband and I are working on when we can visit them in Athens. I love when photography, love, and the love oftravel brings us together, all while preserving special memories. "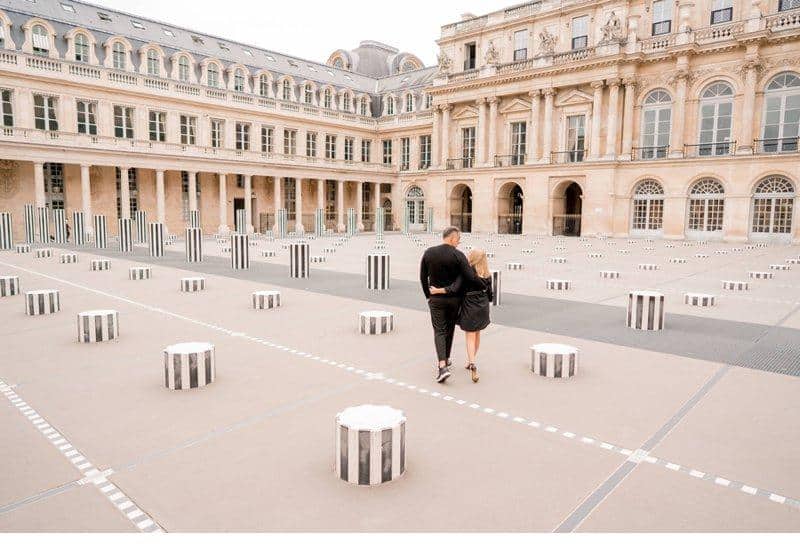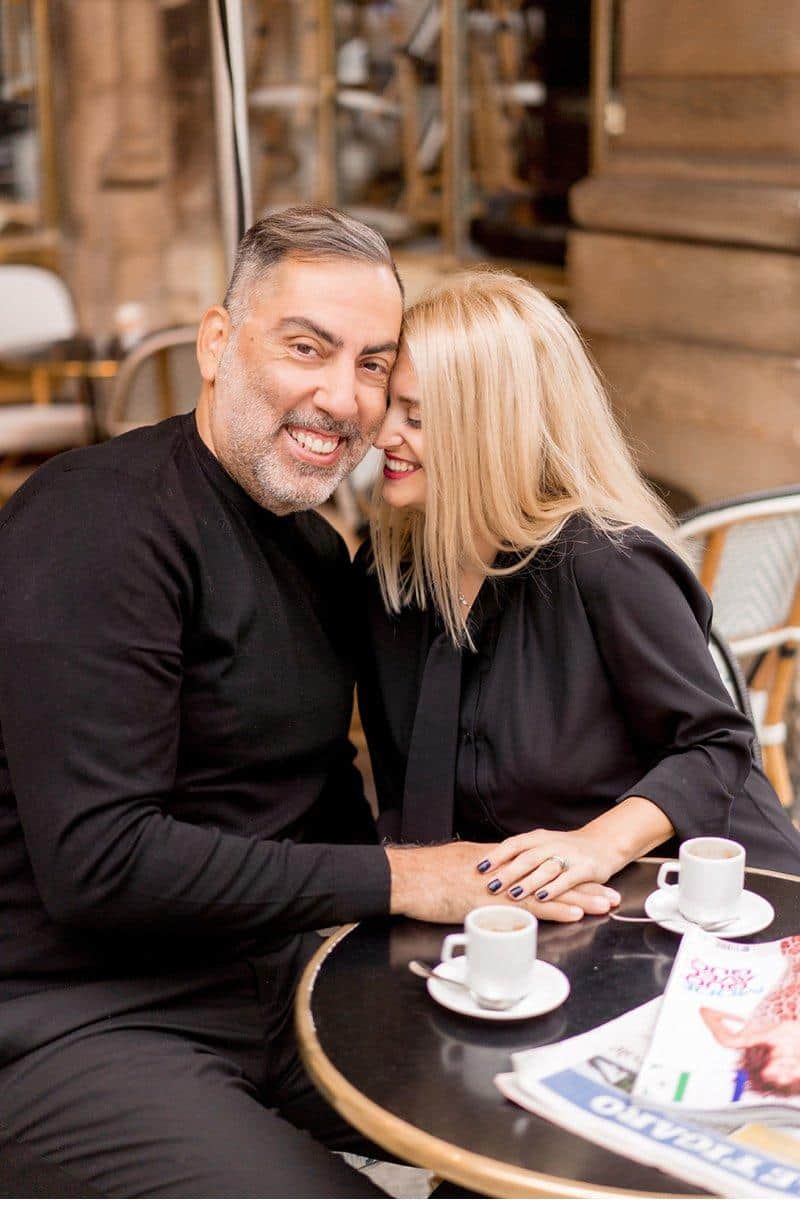 Photographer: L'Amour de Paris
Planning: Vicky Galata Weddings
Dress: art du basic
Accessories: Gucci
Shoes: Zara
Man's shoes: Ralph Lauren
Man's outfit: Massimo Dutti