The Aesthetics of a Wabi Sabi Bride
If you know the league the successful fine art photographer Louise of Taylor & Porter in, you know we´re about to experience something unique, and that´s fascinating wabi sabi bridal inspirations.
These spectacular shots were taken in April, during her lavish Northern Skies Photography workshop at the historic St. Giles House in England.
The numerous settings and motifs were staged and styled by Sofia Ferreira, Creative Director & Stylist bel Brancoprata. With customary love and dedication to detail, she practiced the perfection of the motto wabi sabi. Even though this time it was not about being perfect, as we learn: "In traditional Japanese aesthetics, wabi sabi is a world view centered on the acceptance of transience and imperfection. The aesthetic is sometimes described as one of beauty that is "imperfect, impermanent, and incomplete". In other words, wabi sabi acknowledges three simple realities: "Nothing lasts, nothing is finished, and nothing is perfect."
These three principles formed, if you will, the framework of a living work of art that sought to be filled with beauty and aesthetics. Again, the successful stylist was inspired by the Buddhist faith: "In Zen philosophy, there are seven aesthetic principles in achieving wabi sabi: Kanso – simplicity, Fukinsei – asymmetry or irregularity, Shibumi – beauty in the understated, Shizen – naturalness without pretense, Yugen – subtle grace, Datsuzoku – freeness, Seijaku – tranquility." she explains to us.
Those principles can be found in a subtle yet impressive way within the delicate flower arrangements by Jo Flowers or the elaborate stationery by Esther Clark Co. Finally, Sofia Ferreira even draws our attention to a very special detail: "A great example of wabi sabi in creativity is the art of kintsugi, where cracked pottery is filled with gold dusted lacquer as a way to showcase the beauty of its age and damage rather than hiding it. The fault is not hidden but highlighted.
Wabi sabi is the beauty in imperfection, and the acceptance of the cycle of life and death."
We are very impressed by what we see on the amazing photos shot by Taylor & Porter. Deeper and deeper, we dig into her world and are addicted to the perfectly imperfect details she captured.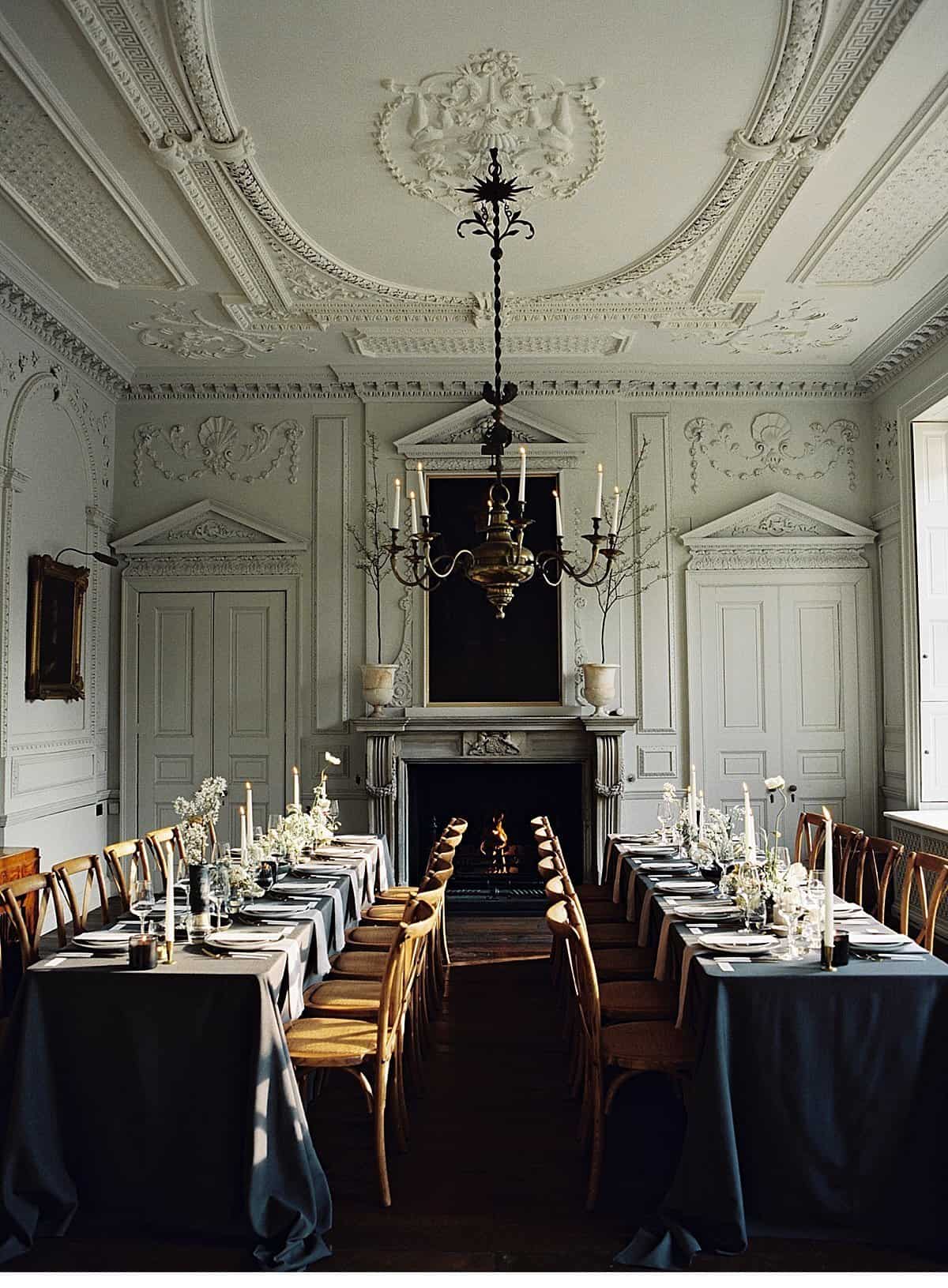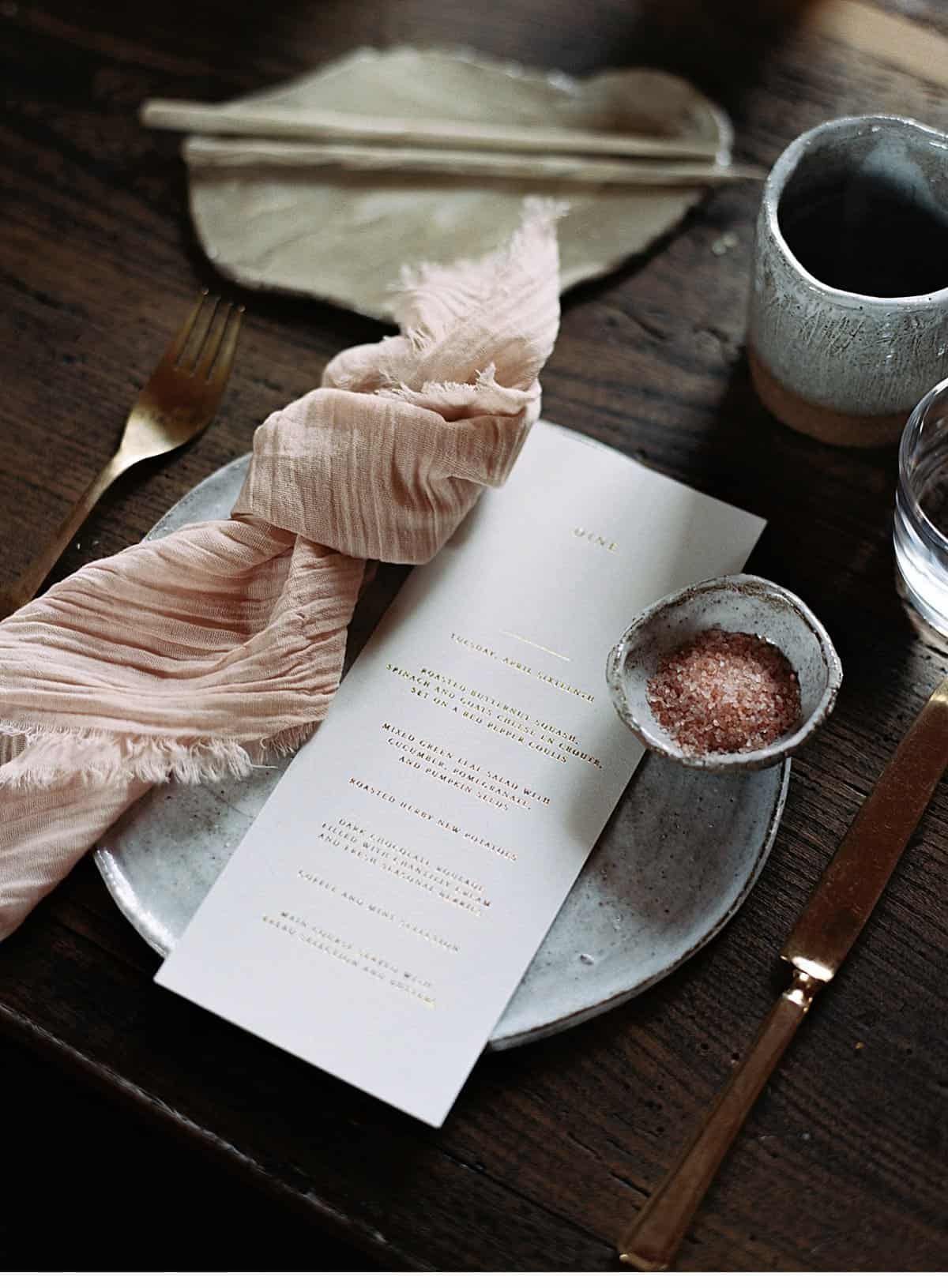 Captured at the Taylor & Porter Northern Skies Photography Workshop
Location – St. Giles House, England
Creative Direction & Styling – Brancoprata  Floral design – Jo Flowers
Photography Assistants – Maddison Willmott & Angela Harrington
Videography – Kaasam Aziz for Taylor & Porter
Make Up & Hair – Emma Jane Walsh
Paper Goods – Esther Clark Co.
Chopsticks & Welcome Bag Gifts – Muji
Ceramics & Painted Backdrop – Kana London
Fabric Backdrop – Sundari Ferris  Dinnerware – Helene Millot 
Table Linens – 88 Events
Chairs – WedHead
Napkins – Maison Christina
Cookies – TBakes
Catering – St. Giles House, England
Kimono – L'Arca Barcelona
Dresses – Morgan Davies London
Jewellery by Maison Sabben & Zoe Morton  Shoes – Bella Belle
Album Sponsor – Dekora
Social Media Expert – Sara Russell from Wedding Sparrow
Styling Mat – Locust Collection
Photo Lab Sponsor – Photovision
Model – Nasung
Real Couple – Chelsea & Grayson Hart Modelling Agency – Wilhelmina