The fabulous wonderworld of inspirations
Watch out – it's getting romantic and really beautiful now!
From the first moment the photographer Jen Wojcik discovered the breathtaking location Cal-a-Vie in San Diego she dreamed of arranging a dazzling inspiration-shooting there.
This place holds an uncanny impressive atmosphere in the middle of a natural mediterrian landscape.
All over the place you see natural beauty combined with rustic elegance.
Every room in this Spa contains French antiquity items of the 16th, 17th and 18th century. And every single mediterranean mansion of the 32 was built with Terra Cotta roofs and wooden doors, furnished with luxurious hand-made furniture and individual decoration. The terrace offers an unbelievable view into a hilly landscape surrounded by stones and trees.
Entering the little chapel makes you feel like entering a past era. It exists for more than 400 years now and was built stone by stone, right next to this beautiful little yard.
For this shooting Jen, Talyor from Folklore Vintage Rentals and a talented team of fantasic vendors, adapted the harmonic colors of the surrounding landscape. Gold, grey and nude-tones as well as the warm and earthy Terra-Cotta-Orange. Here and there you see some ashy blue and lavender, too.
The goal was to combine natures beauty with the style of antique interior items in this location. Even the gorgeous bride and her beautiful brides maids match perfectly into the concept without taking any attention off the whole scenery.
The cute "table for two" was standing right next to an adorable pavilion between two little ponds which were decorated with opulent water lilies.
The two french chairs and the antique table were decorated with branches of an olive tree and a metal chandelier with crystals accents the room.
The interior furniture was brought outside in exchange for French settees, chairs and church pews which were placed in front of a wall made of roses, ferns, olive-branches and hydrangea.
On the main table which was placed in the Orangerie we find stylishly and adorable arranged French porcelain combined with classy vintage-cups. Again on this table you can marvel at the harmonic bloomage of roses and hydrangea.
Well, enough said – let's enjoy this heaven of wedding-inspirations created by the incredibly talented Jen Wojcik together.
Translation: Marina Jenewein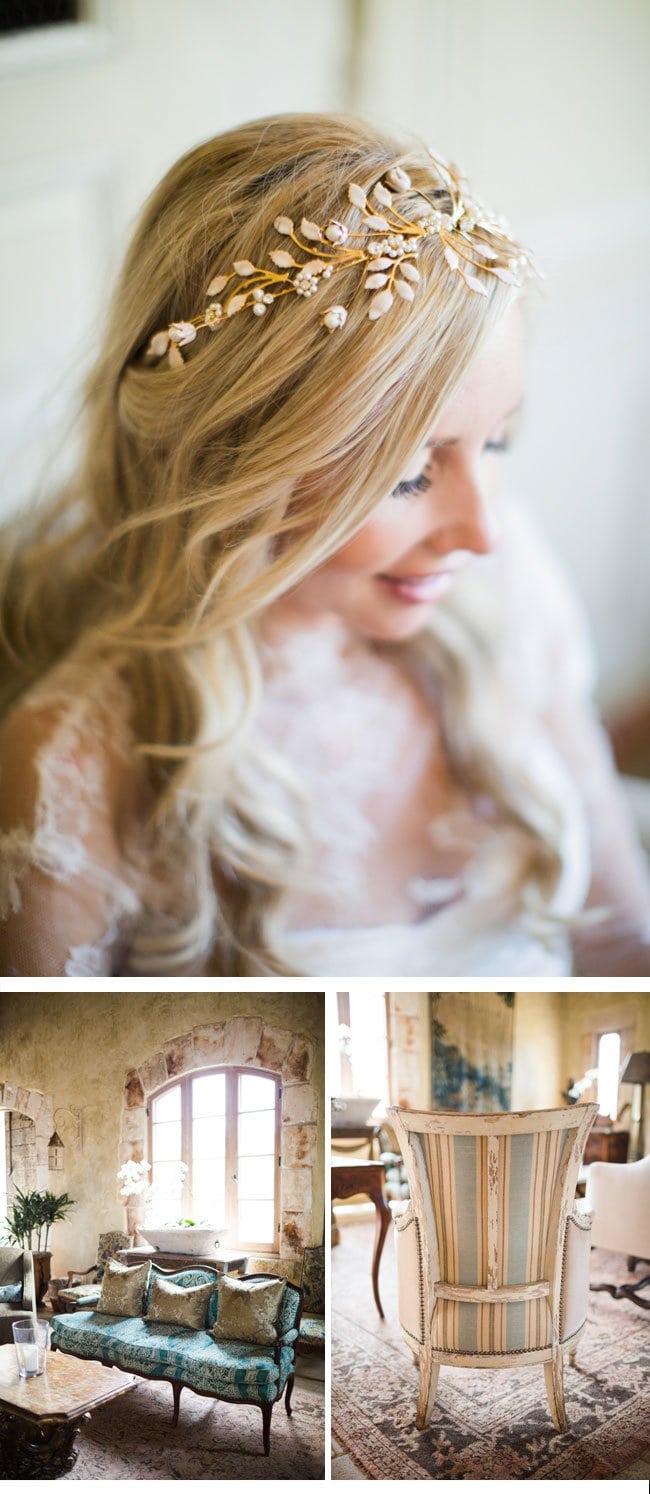 FOTOGRAFIE: Jen Wojcik Photography
LOCATION: Cal-a-Vie Health Spa
KOORDINATION: Carly Rae Design
MIETMÖBEL + DESIGN: Folklore Vintage Rentals
STYLING: Folklore Vintage Rentals & Carly Rae Design
FLORIST: Pamela Lowe Floral Design
TORTE: Hey There Cupcake!
PAPETERIE: Paper Scissors Print
BRAUTKLEID: Monique Lhuillier
HAARE + MAKE-UP: Ashlee Thelen, Laura Phillips, & Kim Finlan from the Beauty Department at Cal-a-Vie Health Spa
SCHMUCK: JNB
HAARSCHMUCK: Erica Elizabeth Designs
VIDEOGRAFIE: Caleb Wojcik Films
MODELS: Shamon Freitas