The magic of glamour and elegance
The breathtaking view of Rome, the beauty of its gardens and the historic spaces make Villa Aurelia an ideal setting for unforgettable events.  The wedding planners Giorgia and Anna Veronica of Parade Wedding were inspired by this magical setting to create a variety of wedding ideas.  Enthusiastically we look at the images of Rossini Photography, which immerse us in a world full of aesthetics, elegance and style.
From Parade Wedding: "We started designing this styled shoot during the lockdown in Italy, when we had to slow down our work but we strongly kept dreaming: we wanted to talk about a re-birth by searching for beauty and its shapes. We involved an amazing vendor team whose work has gone beyond all expectations. We felt the desire of them all to keep a positive thought and we were brought together by this experience.
We wanted to tell what luxury is to us: it's not the pomp or the glitter. It is the magnificence hidden in the natural elegance of the details hand-picked one by one; it's the ability to emphasize their authentic beauty by combining them in a harmonious yet unexpected way. We deeply believe that luxury can be achieved through harmony and balance between textures and colors. It can be built on a design which immediately provides emotion because each element is effortlessly part of the whole.
We were looking for a refined eye able to capture this beauty and give it back as pure emotion: Rossini Photography has been the answer. Their fine art photography, with luminous, delicate, and emotion-filled images, was exactly what we were looking for. As well as for the video: Vanessa Illi realized it with her unique poetic touch.
Our set has been the beautiful and elegant Villa Aurelia, overlooking Rome, from the hill where it is located, in one of the most iconic neighborhoods of the Eternal City. Villa Aurelia could not but be the venue for this inspirational shoot.
Fresh and dried flowers were mixed in creating amazing installations both for the table and the ceremony. The precious hands of Sartoria Floreale made magic from magic: the delicate balance of  the non-symmetric flower installations, hanging over the table and embracing the ceremony arch, engages the eye in a circular search for the center, which is not found in a single element, but given by the interaction of all the parts of the setting.
The table was rich in details and the combination between light elements and material ones was stressed in each choice. Lunaria (Honesty) dried seed pods and Pampas grass flowers were central in the single-side floral arch and their lightness was completely balanced by raw handmade ceramics combined with a neutral mise en place. 
The cake from Annika Toni Cakes highlighted the idea of playing with textures, with its golden drips mixed with a soft flower decoration and a silk ribbon bow.
Colors used were soft and ethereal: white and grey with a touch of gold, pale pink, mauve and sugar-cane blue. The stationery from Studio Alispi, completely handmade, was delicate although it was written on textured paper. 
The bride, sweet and self-confident, was radiant with joy with her large bouquet in her arms while wearing a tailored haute couture dress. Its many layers of tulle contrasted with little glass decorations and feathers on the bodice.
Jewels she wore were one-off pieces that stressed the femininity made of simplicity, as well as her make-up and hair aimed to emphasize the natural, beautiful colors of the smiling bride."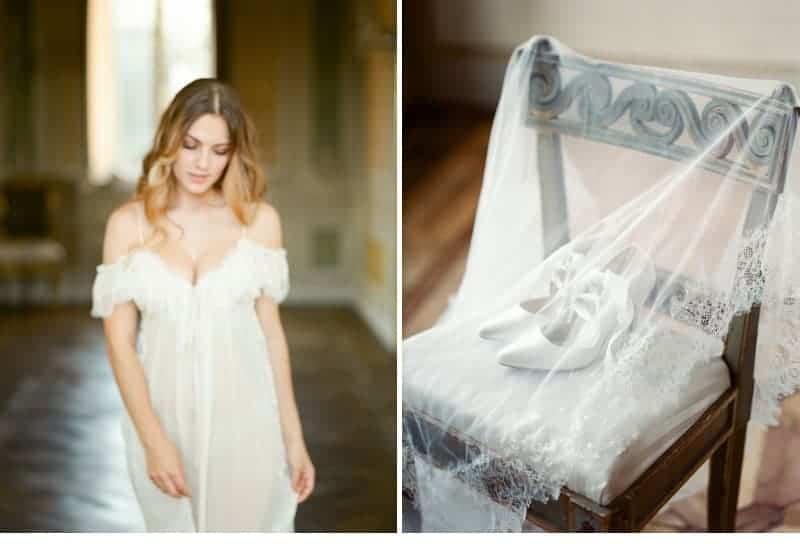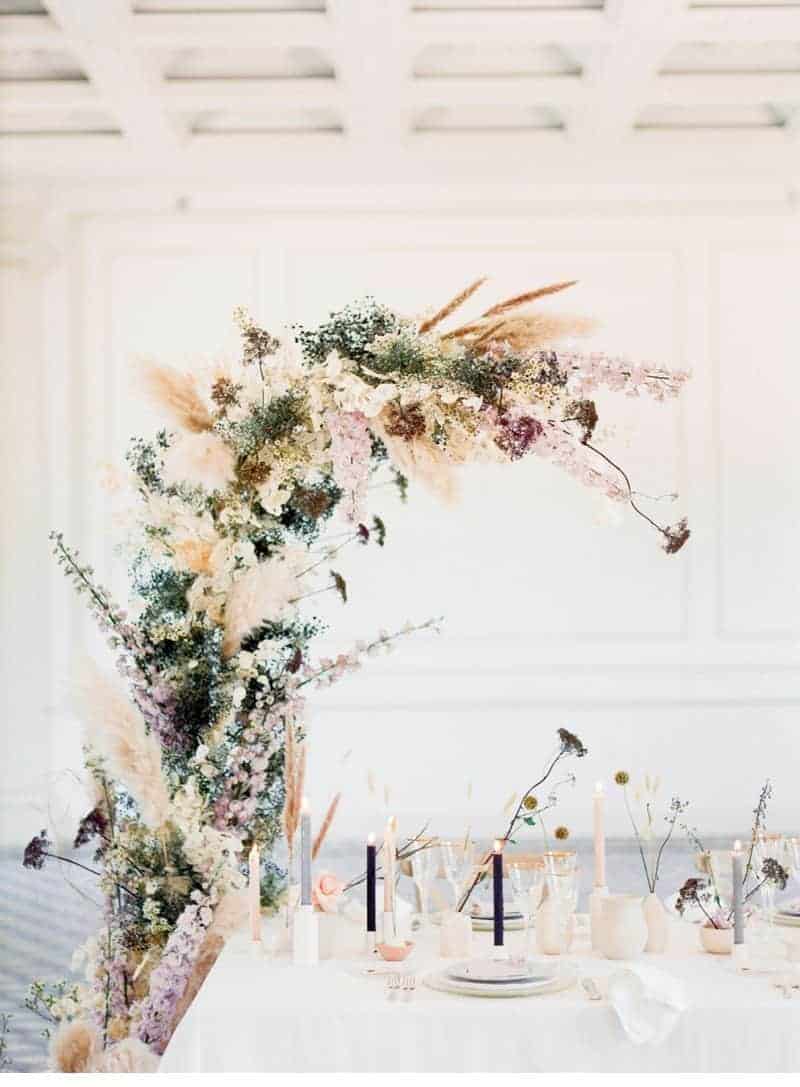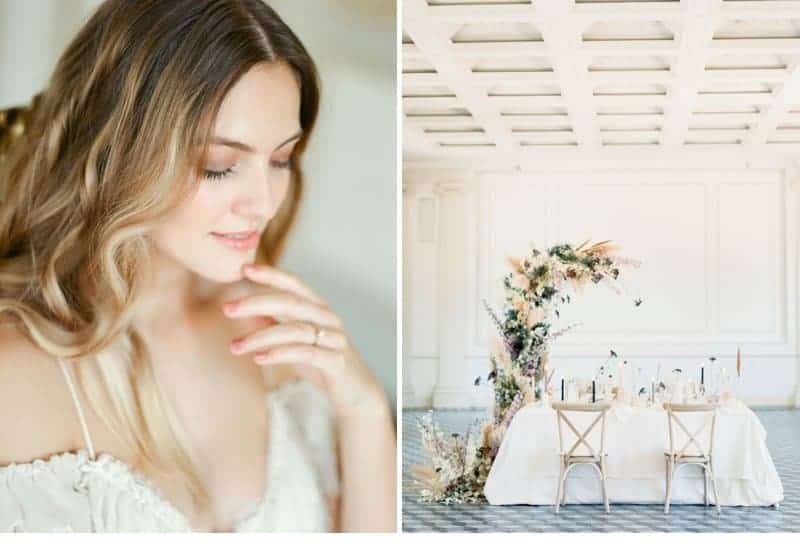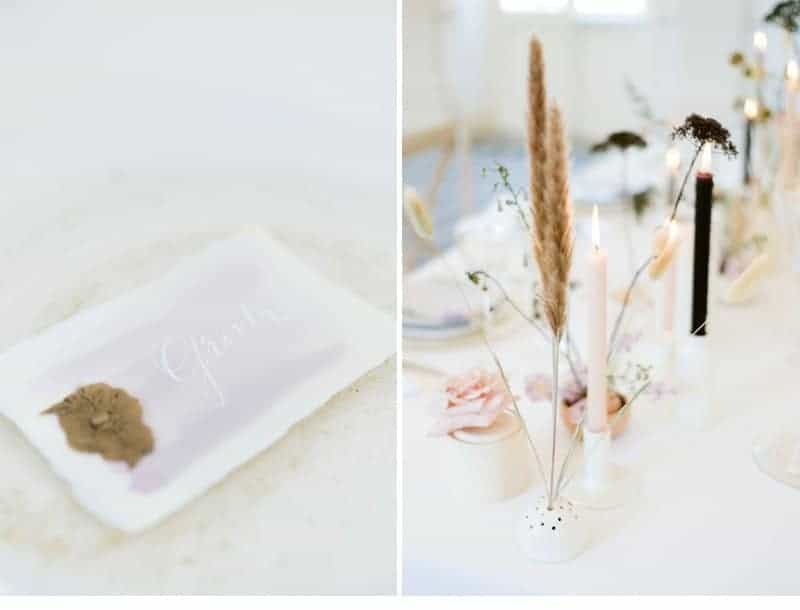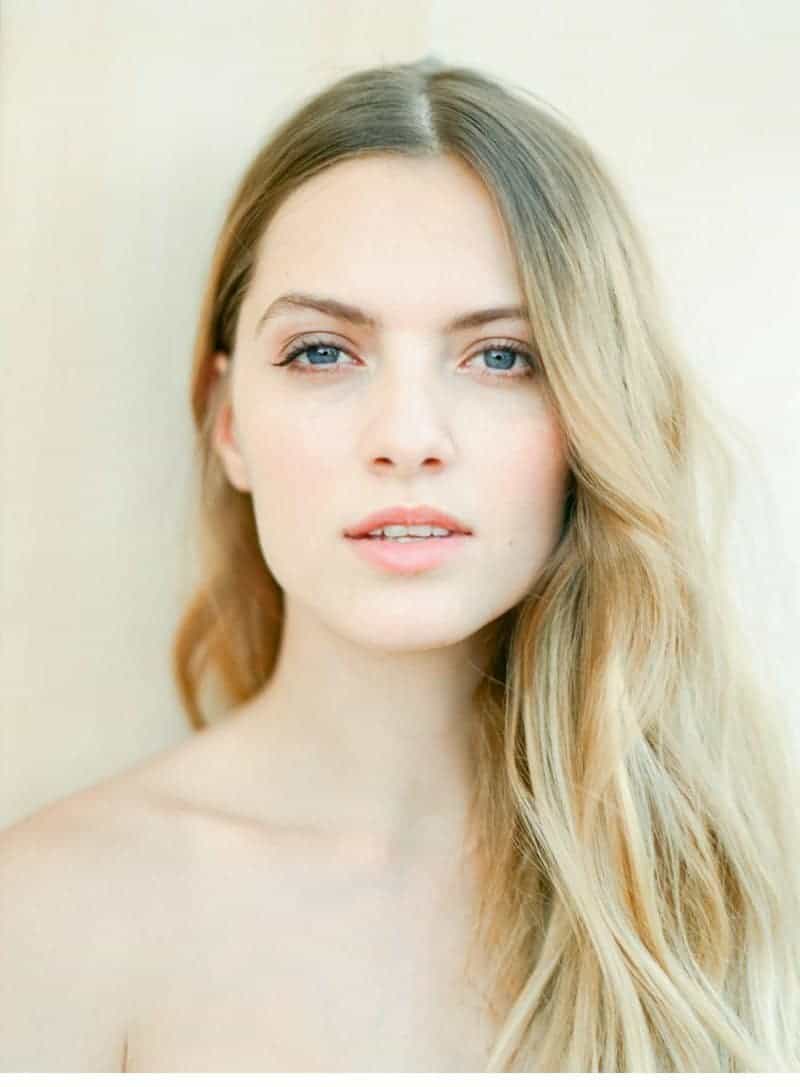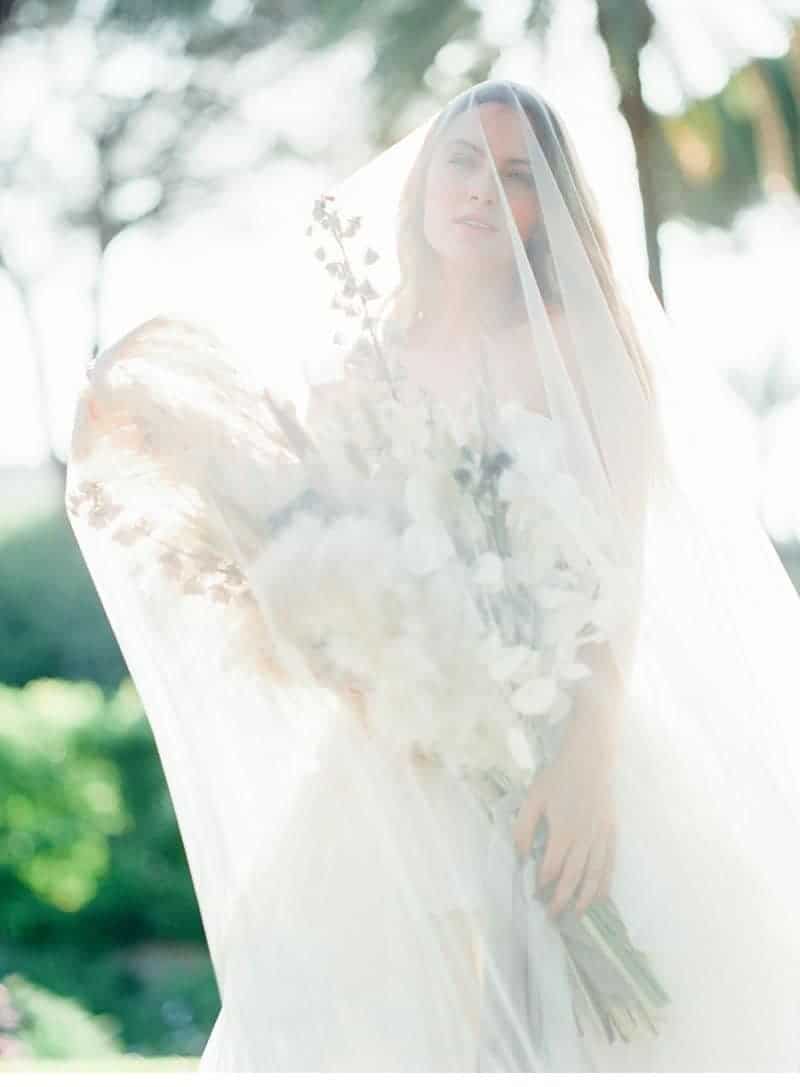 Photography: Rossini Photography
Planning and design: Parade Wedding
Venue: Villa Aurelia
Video: Vanessa Illi
Atelier: Antonella Rossi
Flowers: Sartoria Floreale
Jewels:  Nanou Giogielli
Ceramics: Madlen Ceramics
Cake: Annika Toni Cakes
Make-up artist and hairstyle: Isabella Avenali
Model: Masha Yerokhova
Stationery: Studio Alispi
Ribbons: Allegroia Textiles
Furniture: California Catering Rome