The Modern, Minimalist Bride
Do you see yourself as a modern, minimalist bride with a flair for sustainability and are you looking for suitable wedding inspirations? Then fine art artist Radostina Boseva has some impressive photos that might interest you.
"Modern minimalism became quite popular in the past couple of years and gains more and more followers. If you are attracted to that style here are some ideas for you." she explains and stirs up our curiosity about her current heart project.
With a lot of sensitivity, she recently devoted herself to this trend and stylishly implemented a few great visions. Now she has agreed to reveal a few of her secrets and to bring us six of her ideas closer:
"1. Make the right venue choice – urban, white walls, industrial touches, concrete. A venue that doesn't have a busy background. Look around you – modern museums, hangars probably could work too. Search for a venue with plenty of natural light, simple and modern and maybe a big garden.
2. Dry flowers and modern ikebana – In the spring, you have a wide range of in-season flowers to choose from, but as winter approaches, your choices are more limited. As an alternative, you could try dry flowers arrangements in a modern ikebana style for a fine art look.
 3. The dress – the best ethical choice is to find a vintage one – think about a stunning vintage piece like this one by the designer Vera Wang that we used here. You can also rent one, but if you don't want to do that – consider an independent local designer. In our case – this stunning gown by Studio REN  has clean lines, amazing textures and the designer herself – Orly – made sure that the dress fits perfectly to our beautiful Camille. 
4. If you feel that this modern minimalist will look too modest at first glance, you can always add some luxury details here in there. In our case, for the wall installation here, our florists Bough + Twig went with pampas grass but decided to also add some stunning, fresh, white orchids to bring in some liveliness and a really luxurious feel. 
5. One of the key elements of every minimalist modern table is the ceramics. Clean lines and natural warm tones are a must. There are plenty of super talented ceramics artists who you can contact. 
6. Calligraphy – simple, with plenty of negative space and classical fonts. The delicate small handwriting is carefully curated and demonstrates the minimalist aesthetic that we all love."
We are under the impression that Radostina Boseva knows exactly what she is talking about and how to best follow the call of simplicity and sustainability without having to forego the necessary amount of luxury, elegance and extravagance.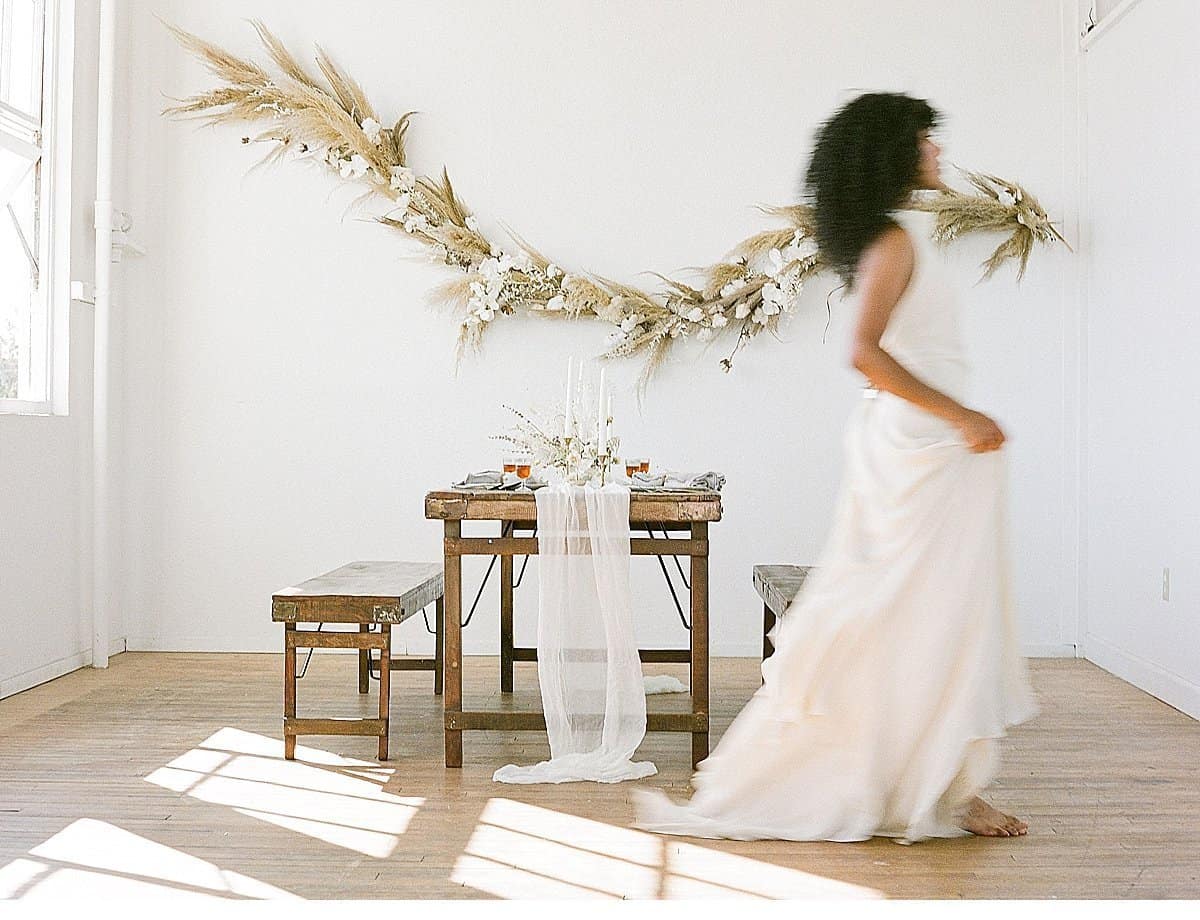 Photography: Radostina Boseva
Graphic Design & Calligraphy: Milena Georgieva
Cake: Batter Up Cakery 
Furniture: Lux Event Rentals 
Make up and Hair: April Foster 
Wedding Vintage Dress: Vera Wang via Shop Gossamer 
Wedding Dress: Studio REN 
Textile and Ribbon: Party Crush Studio 
Floral Design: Bough + Twig 
Photo Lab: Richard Photo Lab