Time travel between classic and modern
Inspired by the historical architecture of Frankfurt, this photo shoot is created with the concept of contrasting modern and classic to have a fashionable bride travelling back in time. Wedding Photographer Echo Kowalski of Kajade Photography selected Locations with signature 19th century buildings as a background, which perfectly blended contemporary bridal fashion and glamorous sweetheart table settings into the story line.
For this photo shoot, Echo invited professional ballerina Victoria Carolina Patronas to dance through the city. "Victoria is a gem! She loves ballet and it is an integral part of her life. From all her moves you can see ballet is in her blood. But she doesn't need a pair of ballet shoes to define her. And this is exactly the spirit of the young generation. She herself is already the perfect combination of modern and classic".
Regarding the Bridal Fashion, Bridal Stylist Jessica Madeo of Yours & Mine Bridal Concept Atelier created two styles, both with dresses from Bridal designer Michèle Weiten. The first look is the knee-length dress MAJKE with small tassels, which is combined with a short veil and a pair of floral earrings to reflects a vibrant and blooming lifestyle. The second look is the maxi dress with feather sleeves SILLA, which is matched with silk organza hairband and a pair of pearl earring to show the delicate and elegant side of women.
Hair & Makeup Artist Yvonne Turek used a clean makeup to bring out the natural beauty of the bride. And she designed two hairstyles to elevate the feelings given by the sleeves of the dresses. For the short dress MAJKE, she tided a small ponytail to give space to the energetic flow created by the movement of the tassels. For the long dress SILLA that has smooth fabric and feather sleeves, she created a hairstyle to match accordingly, i.e. a clean and tidy upper part and a wavey and light weighted lower part.
The sweetheart table is designed with the minimal colours black, white and gold to maximise the grandiosity of the setting. Not only did Florist Daniela Sopcic combined various white flowers to show sophistication in simplicity, but decoration specialist Sonja Stopper also carefully selected glass elements to contrast vintage detailed patterns (e.g. the plates) and modern sleek designs (e.g. glasses).
Stationery made by Marina Mercuri-Schulz from Das Letter Atelier followed the idea of less is more. She put the emphasis on details, such as using serif typeface as a classic element for an exclusive design and using plenty of negative space to give clarity to her artwork.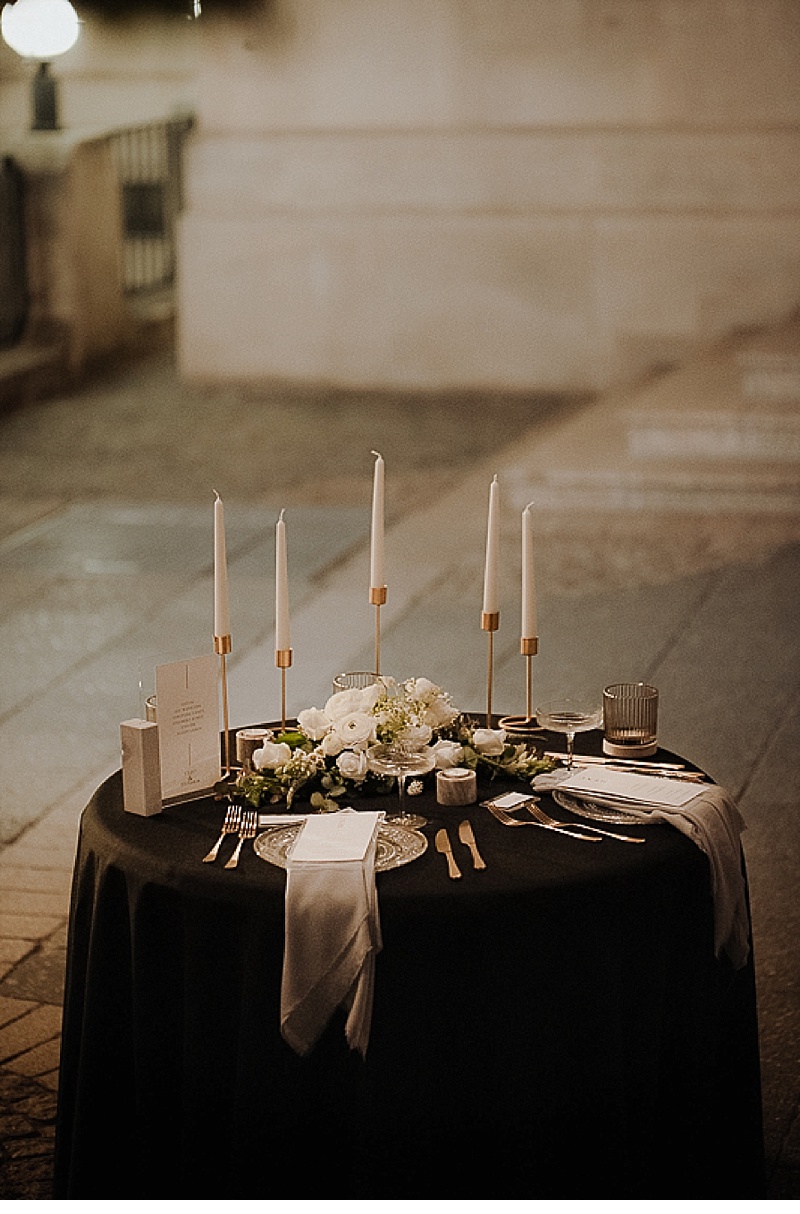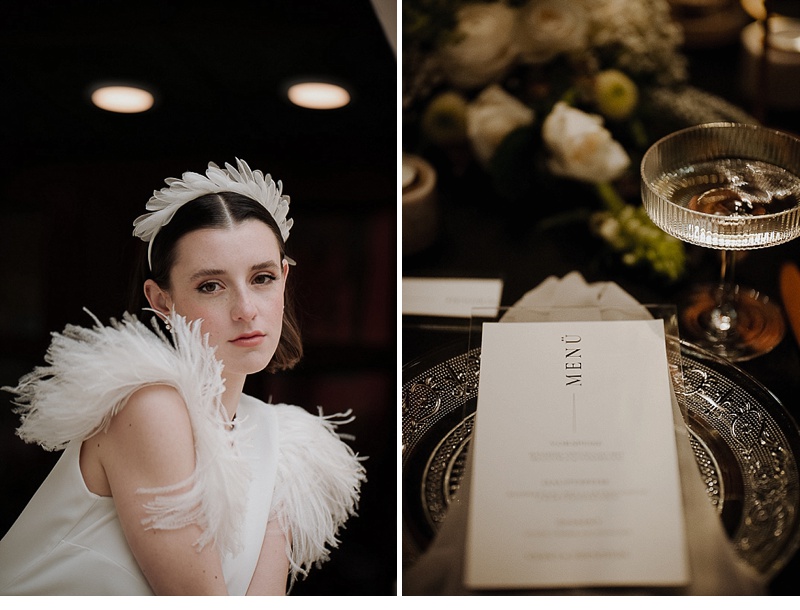 Photography: Echo Kowalski – Kajade Photography
Bridal Design: Yours & Mine Bridal Concept Atelier
Dresses MAJKE & SILLA: Michèle Weiten
Floral Earrings LEORA: Dila Handmade Accessories
Pearl Earrings The Margaux Hoops: Nanna Geller
Leaves: Jeonga Choi Berlin
Hair & Make-up: Yvonne Turek
Florals: Daniela Sopcic
Stationery: Marina Mercuri-Schulz – Das Letter Atelier
Tabledesign: Sonja Stopper
Chameleon Chair: Designrausch Deco Concepts
Rings: LiaNoa
Model: Victoria Carolina Patronas