TO THE MANOR – UNDER OPEN SKIES
Its wildly romantic highlands and the unique landscape of mountians, valleys and lakes make mystic Scotland breathtakingly beautiful. It also inspired the team from Knot & Po to an extraordinary shooting which photo-artist Ann-Kathrin Koch turned into a fascinating world of pictures for us.
Knot & Pop told us:
To The Manor celebrates all that Scotland offers with its honest beauty and stunning rugged scenery.
Scotland has a way of capturing your heart forever – the mountains kissing loch-sides, the vivid and lush greenery, the misty mornings and open expanses of untouched countryside. If you are planning a destination wedding then allow To The Manor and Scotland to sweep you away.
Shot at an opulent Scottish manor, with character in every corner, To The Manor encapsulates a sense of theatre and romance in an indulgent setting.
Mixing purple tones with hints of green and a shot of rich red across florals, the palette speaks of a hunter's haven and sets the scene for an atmospheric wedding.
Pheasant feathers and ornamental birds feature as decorative touches, with the stationery also including touches of bird and feather designs.
Upon table tops, a hand-died calligraphy table runner has 'Love' by Edwin Morgan inscribed, with stunning florals by Scotland's finest florists, Pyrus Flowers, placed in copper vases, and a sense of feasting with fruits laid out for guests to graze upon.
Beautiful hand-made plates mix with crockery with antique silver cutlery holding place names, written on red robin leaves.
Red robin leaves are layered to also form the table plan, reminiscent of bird feathers, and adding natural texture to the details. Further tactile flourishes appear across fabric flag table numbers, fabric menus and statement hand-crafted shields.
To move from day to evening, two incredible wedding dresses from UK designer Susie Stone team perfectly, with their dresses always speaking of individuality and absolute luxury. The Grace gown with its intricate rose detailing and ivory palette, contrasts beautifully with the evening allure of the 1920s inspired gown and all it's embellished charm. Feather head-pieces and beautiful jewellery add the statement finishing touches, giving an other-worldly feel to bridal style.
Words from the Photographer: Ann Kathrin Koch
Being a wedding photographer is the best job I can imagine.
I prefer working in a documentary style and shoot on film at every wedding for a few reasons, none of them nostalgic. I love that I am connected to my subject with no distraction like a screen on the back of my camera. Shooting film let's me create images I love.
Scotland has always fascinated me. If you are looking to be enchanted, this is the place to go. Combining the roughness of Scotland with delicate beauty creates just that – a little bit of magic.
Translation: Marina Jenewein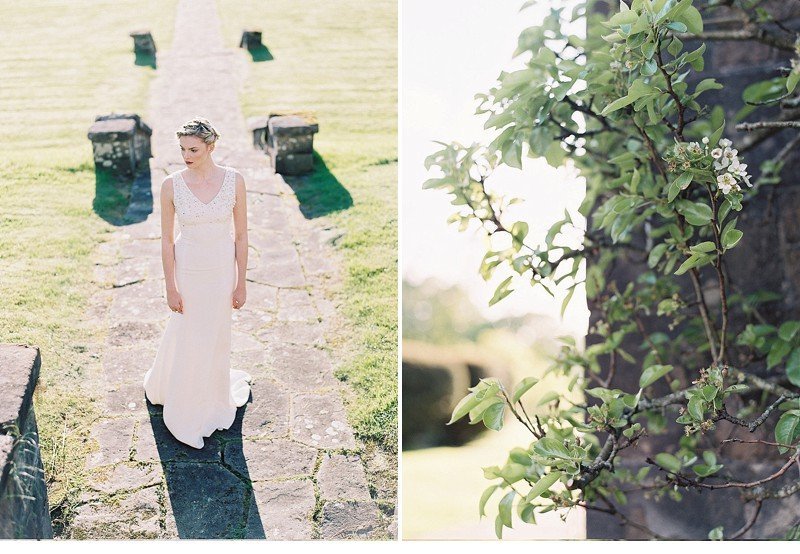 PHOTOGRAPHY: Ann-Kathrin Koch Photography on Kodak Portra 400 and Fuji 400H
STYLING AND PROUDUCTION: Knot & Pop
LOCATION: Ardkinglas
FLOWERS: Pyrus
DRESSES: Susie Stone
HAIR: Anne Marie McElroy
MAKE-UP: Julie Diplacito
LARGE FEATHER AND BEJEWELLED HEAD PIECE: Vagabond Couture
JEWELLERY: Maria Nilsdotte and Cornelia Webb
STATIONERY: Lamplighter London
PLATES: Love It Want It Buy It
CROCKERY AND CUTLERY: Helene Millot
CANDLESTICKS: Classic Crockery
CAKE: Big Bear Bakery
MODEL: Elaine Fisher at Colours Agency
FILMLAB: Richard Photo Lab