Transparency, lightness and poetry at Château de Santeny
The magnificent Château de Santeny presented itself as the perfect backdrop for an ambitious editorial. Photographer Lisa Hoshi and wedding planner Pauline Maguin of A la bon'heur Paris staged a romantic variety of wedding visions on the theme of transparency, lightness and poetry.
Enchanting flowers, a beautiful table setting in a delicate color palette and a fairy-like muse captivate the viewer.
From Lisa Hoshi: "This shoot was orchestrated around the theme of transparency, lightness and poetry on a palette of very soft colors: only white, cream and blush to blend perfectly with the bright interiors of the Château de Santeny .
Indeed, the chateau atmosphere was the setting for our little poetic interlude, between art and dance, to draw an elopement with a dreamlike atmosphere.
For the flowers, I wished I had neither foliage nor greenery to choose a very unusual plant that I adore: the Lunaria. Round and delicate, sometimes pearly, its parchment and transparent appearance was perfect. Mixed with dried country flowers, the bouquet and the bohemian centerpieces from Champ Libre were the mystical asset.
Our muse Valentine perfectly embodied our fairy-like bride. With speckled cheeks and playful eyes, she was a delicate dancer wearing a floral dress from Julie Bauer. Her lover, Aramis, perfectly played the role of the future husband with his angelic face. A chance to have been able to be accompanied by a real couple to feel the alchemy.
I imagined this pretty fairy getting ready to join her lover, running through maze of hallways in a large, immaculate castle. Door after door, she approaches him. Her dress flutters behind her legs where wings are outlined in the drape.
The mist rises around the table where the flowers lie that never wither. Light and gold dress the tables. A stolen kiss, a flying sail and we see as through a mirror a scene of poetry. She is bathed in sweetness. Our fairy dawdles and adjusts her crown of lunaria before joining the arms of her husband who hugs her tenderly. On tiptoe, our fairy plays between the ribbons animated by the breeze, improvises dance steps on a few piano notes before dusk falls. It's time to join the crowd by the grand staircase, they both escape to disappear into the light.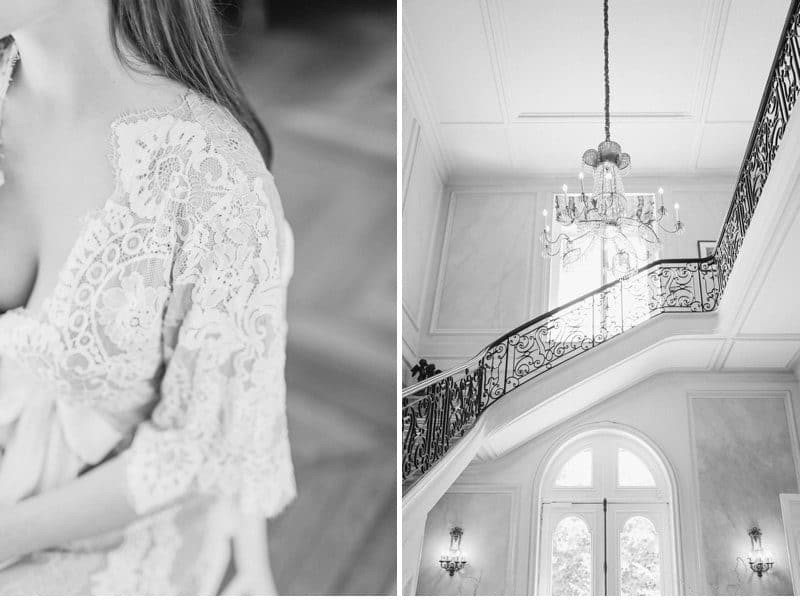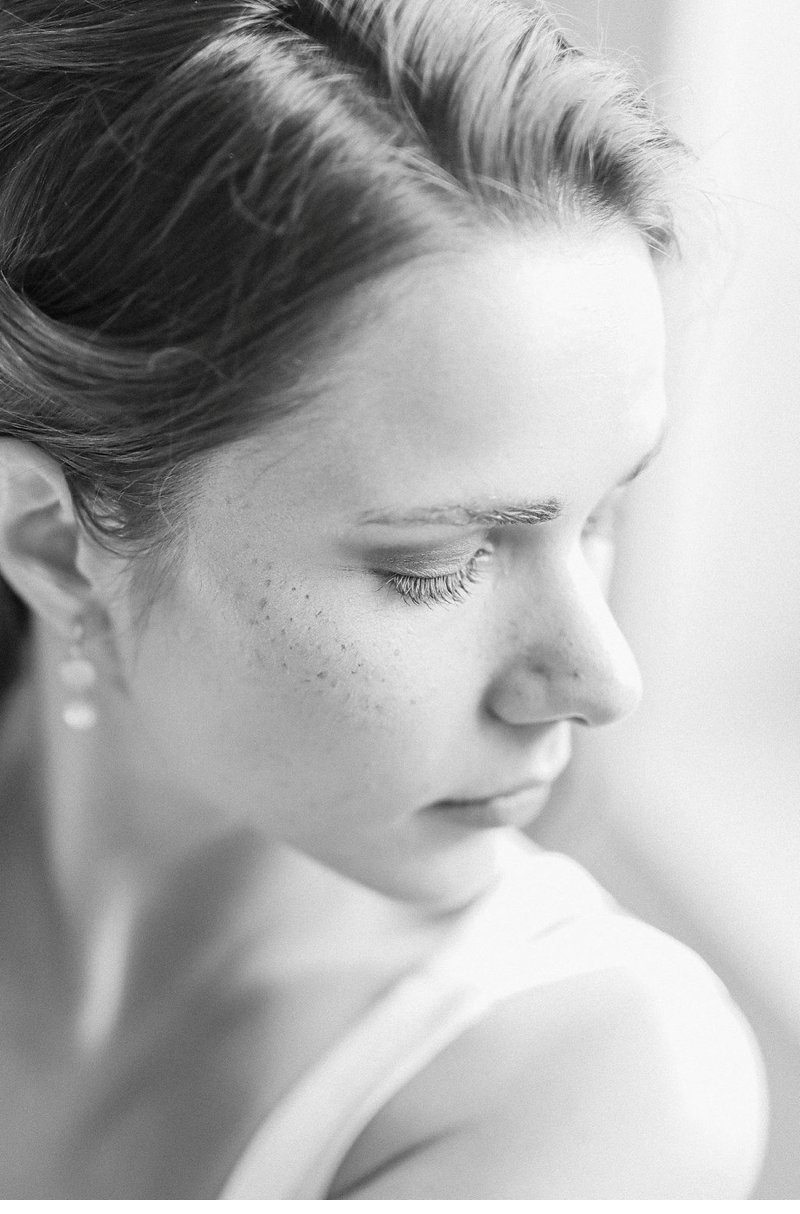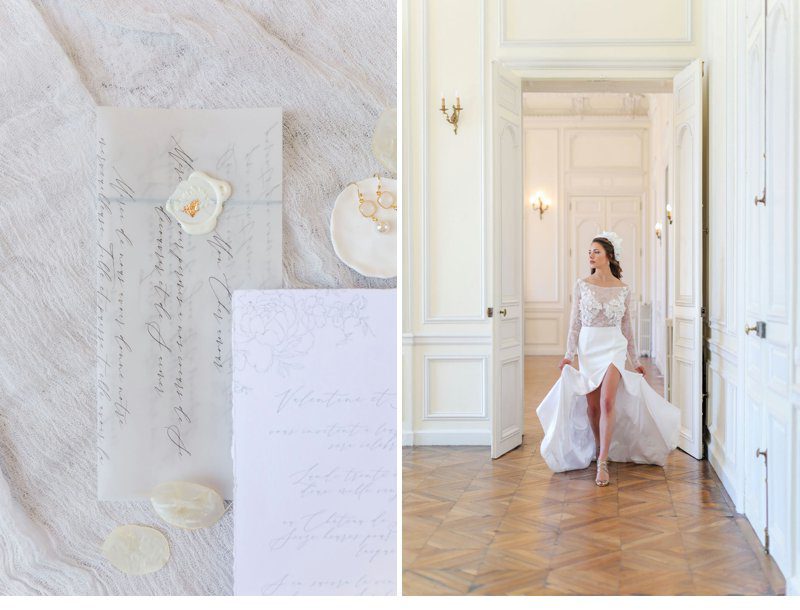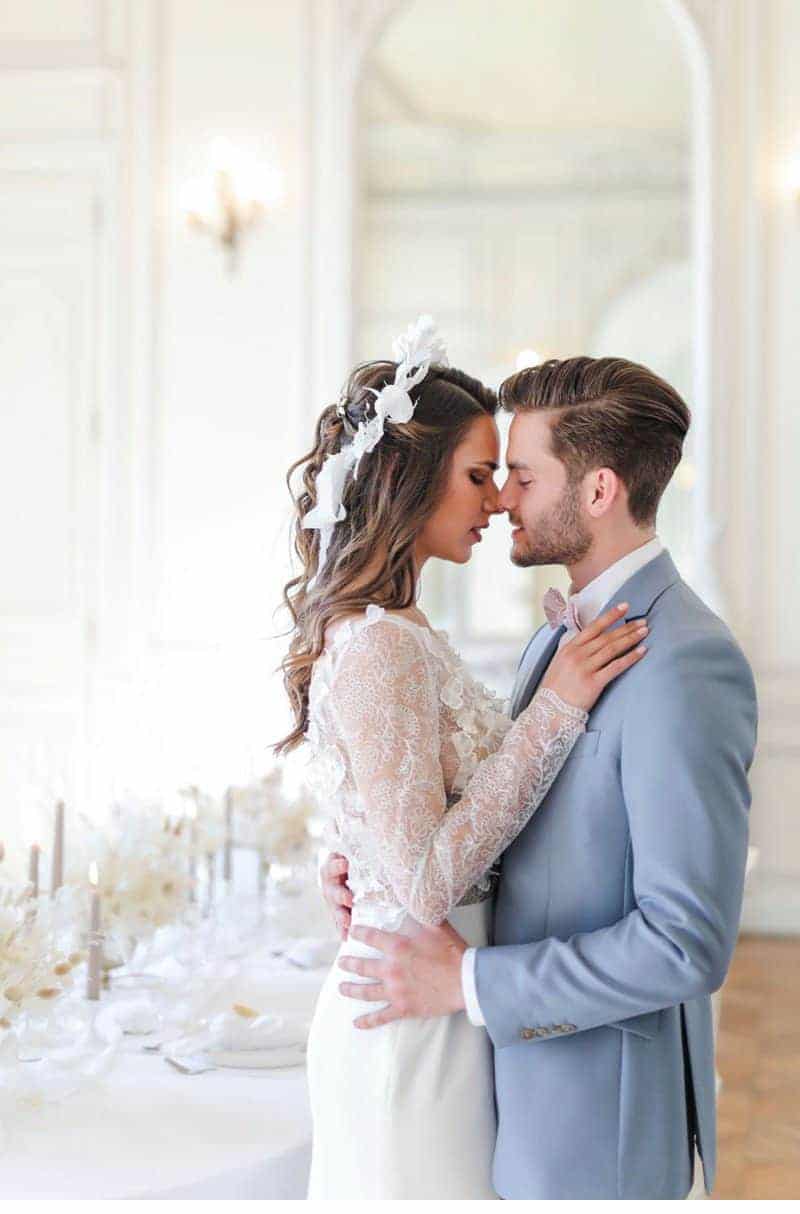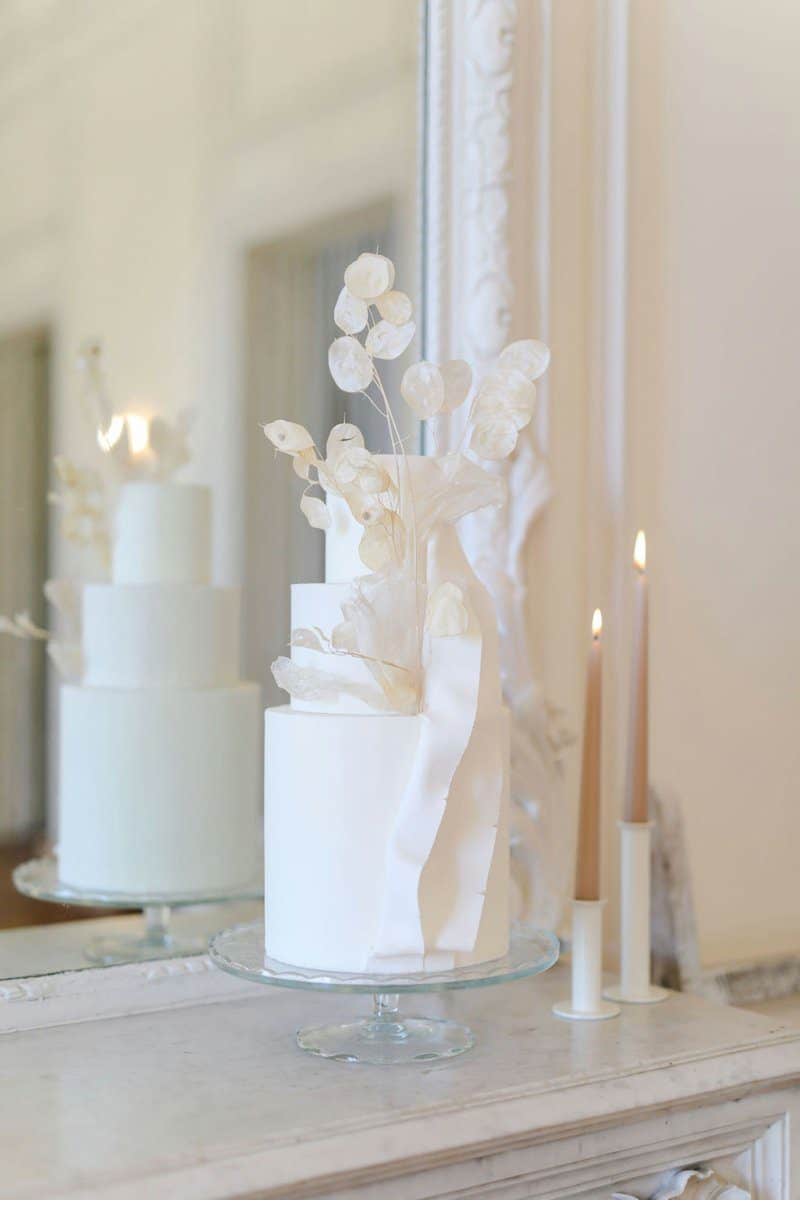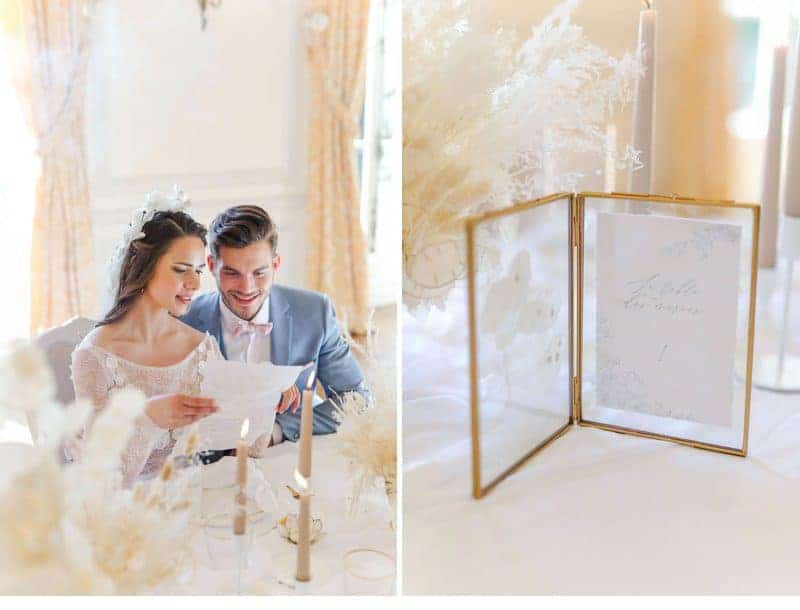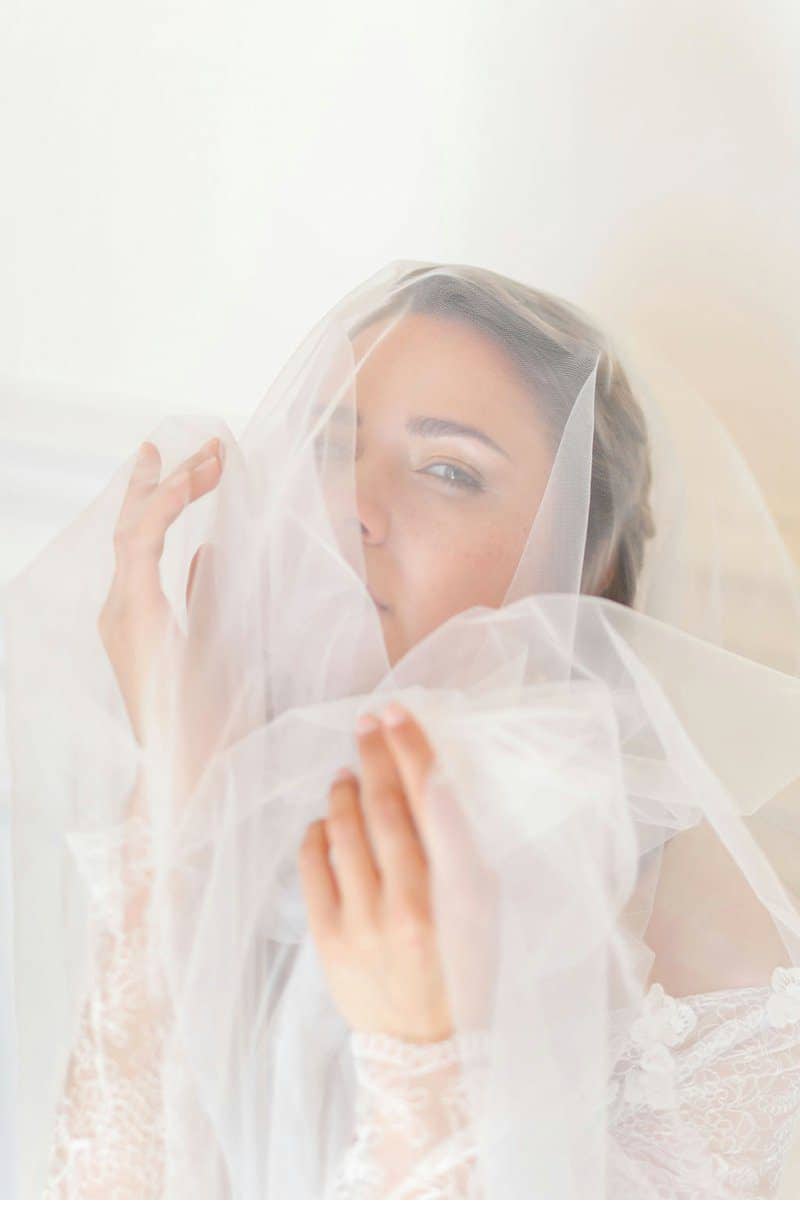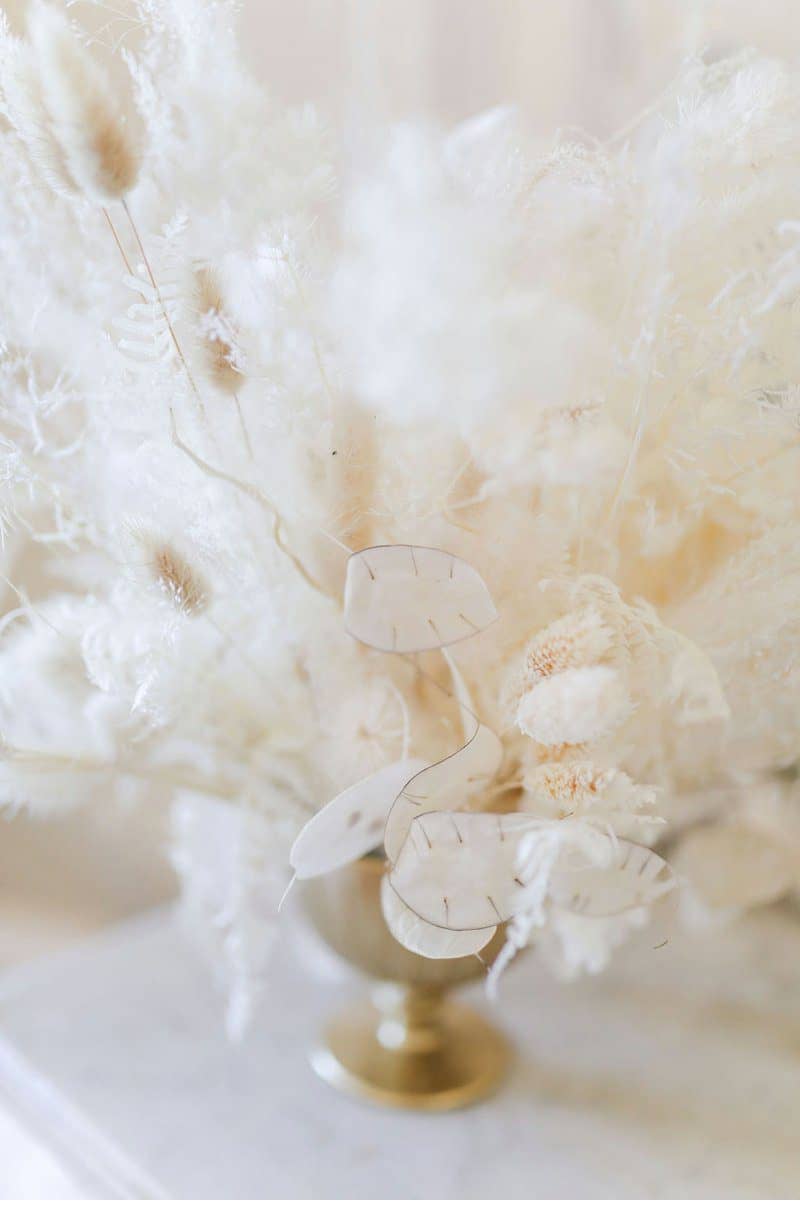 Photographer: Lisa Hoshi
Wedding planner: A la bon'heur Paris
Location: Château de Santeny
Vidéaste: Pierre and Julia Photography
Cake designer: Wedding Cake and Co 
Flower: Champ Libre
Accessories: Atelier Sarah Aime
Stationery: Studio LPM 
Dress: Julie Bauer
Suit: Blandin et Delloy
Make-up / Coiffure: Mademoiselle Isa'Belles
Plateau brunch: Graze in Paris 
Muses: Valentine Monnier & Aramis
Kimono: The Lace Atelier
Bride Shoes: Mikael Kors