Urban Rooftop Editorial in Athen
When ancient ruins, historic buildings meet urban atmosphere then excitement is in the air.
Evendesigner Anna Gierhards from Kiss from Fleur inspires us again with her artistic creativity.
A rooftop terrace with industrial charm and a view of the Acropolis was the backdrop for this extraordinary editorial.
With a great sense of aesthetics, the stylist presents us with a wonderful mix of glamour, romance and modern elegance.
The extravagant wedding dresses by Rime Arodaky gives the self-confident bride an individual and strong look, which is underlined by a striking eye make-up and high fashion sandals by Ancient Greek Sandals. The huge white balloons give the bride lightness and create a floating impression.
The sweet scent of a pink sea of roses by Petridis directs our attention to the elaborately set table. Cutlery, glasses and place settings in rose gold round off the harmonious picture, while green coasters provide an exciting break in style.
The white feather trees and the metallic stationery from Studio van Hart complete the total work of art.
Adrian Wood takes us on a fantastic journey into a modern wedding world with his impressive pictures.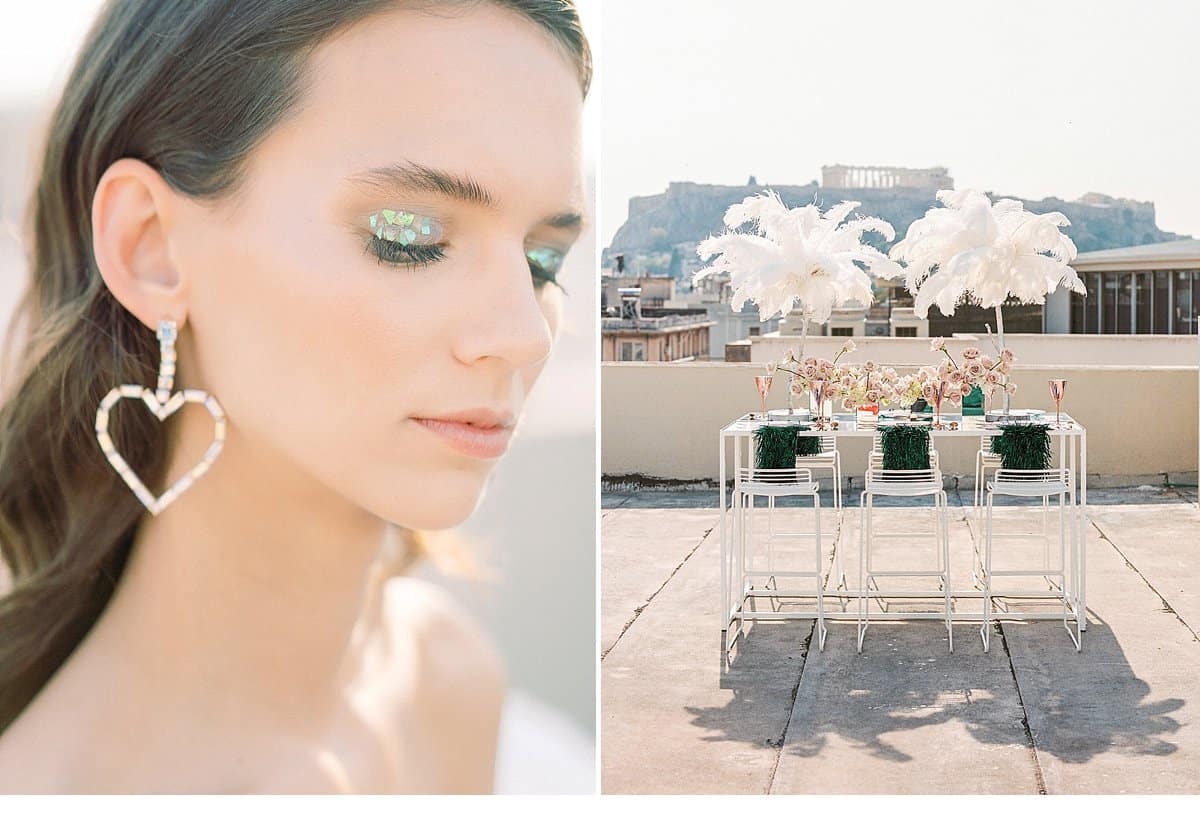 Photographer: Adrian Wood Photography
Wedding Planning & Styling: Kiss from Fleur
Bridal Dresses: Rime Arodaky
Event Rental & Coordination: Stylebox
Florals: Petridis
Video: 7th Art
Stationery: Studio van Hart 
Hair & Make-up: Giorgia Xristodoulou
Jewerly: Anna Sheffield 
Model: Rachel Marie Thomas
Shoes: Ancient Greek Sandals 
Balloons: The balloon idea