Wedding Destination Hawaii
White sandy beaches crisscrossed by black lava rocks, turquoise-blue sea topped with soft foam crowns and a magnificent world of flowers that not only attracts attention as an artistic "lei", the world-famous floral necklace – the impressive pictures by photographer Sara Olivia leave no doubt why the wedding destination Hawaii is becoming more and more popular.
"With so many kinds of destination weddings coming to Hawaii each year, we wanted to create an adventurous option for the sea swept souls." she explained and told us what this minimalist but fascinating styled shoot was all about.
Minimalist on one side, because she focused only on the essentials in her planning: the unique landscape, a stunning bride and a handful of lovingly coordinated details. Fascinating on the other side, because she managed to tell a compelling story from these few ingredients.
It is the story of a bride who has lost her heart to the sea and wants to make a covenant somewhere far away, accompanied by witnesses of a very special kind. "What could be more romantic than a sunrise sailboat ride to say I do?" Sara Olivia thought and got surprised by some animalistic support:  "We even had a pod of dolphins come by to put on a show."
A lucky coincidence that the experienced photographer did not want to rely on and instead preferred to have a team of passionate wedding vendors gathered around her. "Together with some of Oahu's most talented fine art vendors, we put together this look pulling inspiration from the lush island greens and surrounding rugged seas."
These included floral designer Passion Roots, who created a dreamy flower garland, or the beautiful wedding cake from A Cake Life, which in its design was reminiscent of the gentle waves of the sea or even the soft fabric panels of the wedding dress waving in the wind.
Speaking of the wedding dress, the creative photographer left nothing to chance and combined a figure-hugging Truvelle dress with a graceful cape from Pure Magnolia. A combination that could unfold all its splendor on the deck of the amazing Tradewind Charters yacht.
And then there was the stationery from Grey Meets Gold Print Shop, which seemed to combine all the nautical and floral elements of the shoot and thus harmoniously rounded off the concept.
Enough said, just slide into the sunset with photographer Sara Olivia and her pictures of a magical Oahu Bride…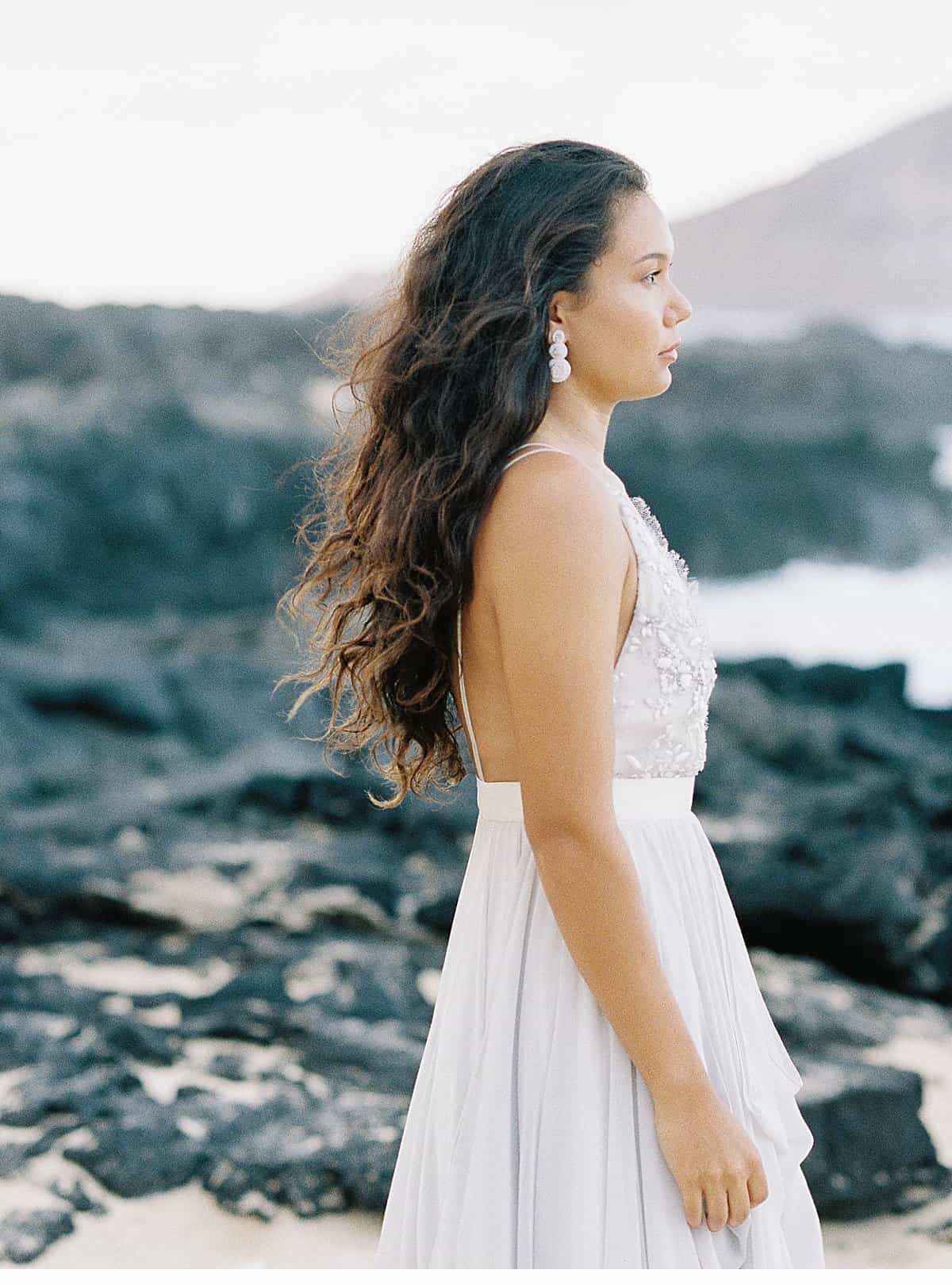 Photographer & Planner: Sara Olivia
Film Lab: The Find Lab
Floral Designer: Passion Roots 
Venue: Tradewind Charters 
Cake Designer: A Cake Life 
Bridal Shop: Bateau Bridal Boutique
Dress Designer: Truvelle
Cape Designer: Pure Magnolia
Earrings: Untamed Petals 
Calligraphy: Grey Meets Gold Print Shop