Wedding visions in an enchanting variety of colors
The ravishing ambience of the Huize Frankendael country house in Amsterdam was the backdrop for this extraordinary wedding world. The turquoise walls and medieval charm of this property inspired floral designer Katya Hutter to create a versatile and colorful editorial. Together with a great team, she implemented her wedding vision with great attention to detail, her flair for aesthetics and her talent for enchanting floral arrangements.
Photographer Erdinc Catras of Olive Wedding captured this amazing work in mesmerizing images.
From Katya Hutter: "A dreamy fine art atmosphere of a charismatic Amsterdam country house from the 17th century
Huize Frankendael is the last country house in Amsterdam. Built in the 17th century, the house was used by noble citizens to enjoy nature with friends. The city has now embraced the mansion, but little has changed in enjoying it. The house, garden and kitchen are open daily all year round so that guests can enjoy nature, gastronomy and culture. It is one of the nicest places in Amsterdam for a Sunday afternoon walk.
When I first saw this location – those beautiful turquoise walls, draped in fine mid-17th century textile mustard salons, so rich in color, those charming fireplaces, huge windows and the most stunning sunroom with abundant daylight filling in the room from almost 360 degree panoramic windows, overlooking a beautiful century-old magnolia tree (then in full bloom) and a manicured French garden – I fell in love at first sight. I thought I would like to do a creative project here, with my floral designs, beautiful models, in a fine art style. The atmosphere of the place is very special, peaceful, as if time stops there, you look outside, at the beautiful French garden and you imagine yourself two centuries ago. The location was the inspiration for this shoot and I think you can see it in the photos.
I wanted to make flower arrangements airy, almost floating in the very bright room. Light yellow was my main choice for the color scheme to compliment the turquoise walls. Illuminating yellow is also Pantone's color of the year, so the choice seemed perfect to me. I combined pearly white, pale yellow and yellow tints of one of the most beautiful spring flowers – Japanese ranunculus and ranunculus Romance. Thanks to one of the best Dutch growers, Monarch Flowers, I've had access to the world's most beautiful flowers. Garden style is one of my favorite styles. I thought it was the most suitable for this project. Although my idea for an arrangement was modern – to build a gradient in an analogous colour scheme – soft and pleasing to the eyes, very romantic for the wedding design. The turquoise walls complimented the flowers and together these colours created a fairytale effect.
A styled photo shoot is always a big production, just as big or even bigger than a real wedding. The vendors and the creatives come together in one in a large team, with the aim of making beautiful photography and / or a film to inspire their customers and let their talents blossom. I myself worked in the photo industry for 14 years as a producer and fashion stylist, before discovering my great passion for floral design. I often notice that when I have a strong creative idea, all the necessary puzzle pieces come together quickly. For example, somewhere in August 2020, I met a fantastic fine art photographer from Germany Erdinc from Olive Wedding. When I saw his work, I knew – with his talent and fine taste, we can create beautiful work in this special space. Erdinc was very enthusiastic about my mood-board and was eager to do the project together. His participation was a great boost for the project. I enthusiastically continued in search of other creative gems.
A Japanese cinematographer Eori Wakakuwa, who I had known for a few years and whose talent I really appreciate, agreed to make the film. He is known for his dreamy, vintage style fashion films, great sensitivity and fine style. He did a great job on the short film for this project, in my opinion.
Our models Sanne and Lucas are a real couple, they are both very beautiful young people and have this harmonious and dreamy appearance, which perfectly matched the atmosphere of the location.
I was very lucky to work on the production with a great wedding planner Emilva from Santé Weddings. Together with her assistant she created the chic table setting. Her choice of the beautiful pearly soft blush tablecloth and the antique props have given the room its right character. My flower arrangements and a bridal bouquet melted together in it. A gem of the table setting was a calligraphy set and beautiful silk ribbons from a Dutch bespoke stationary artist Naomi van Pen to Paper. It enhanced the romance in the atmosphere.
Emilva invited one of the most talented and prominent Dutch wedding designers and couturiers Edwin Oudshoorn to participate in the project. Fortunately, he was also enthusiastic and let us select some most striking dresses from his collection. We went for a dress with cut-outs in long and short lengths and almost open back – a memorable bridal look was completed with antique jewelry. For the groom an Amsterdam store "New Tailor" has put together a "state of art" wedding suit.
When our make-up artist Elen Cherednikova and her assistant Uliana Matkovska finished the make-up and hair styling, all the pieces of the puzzle came together in this fairytale photo-shoot."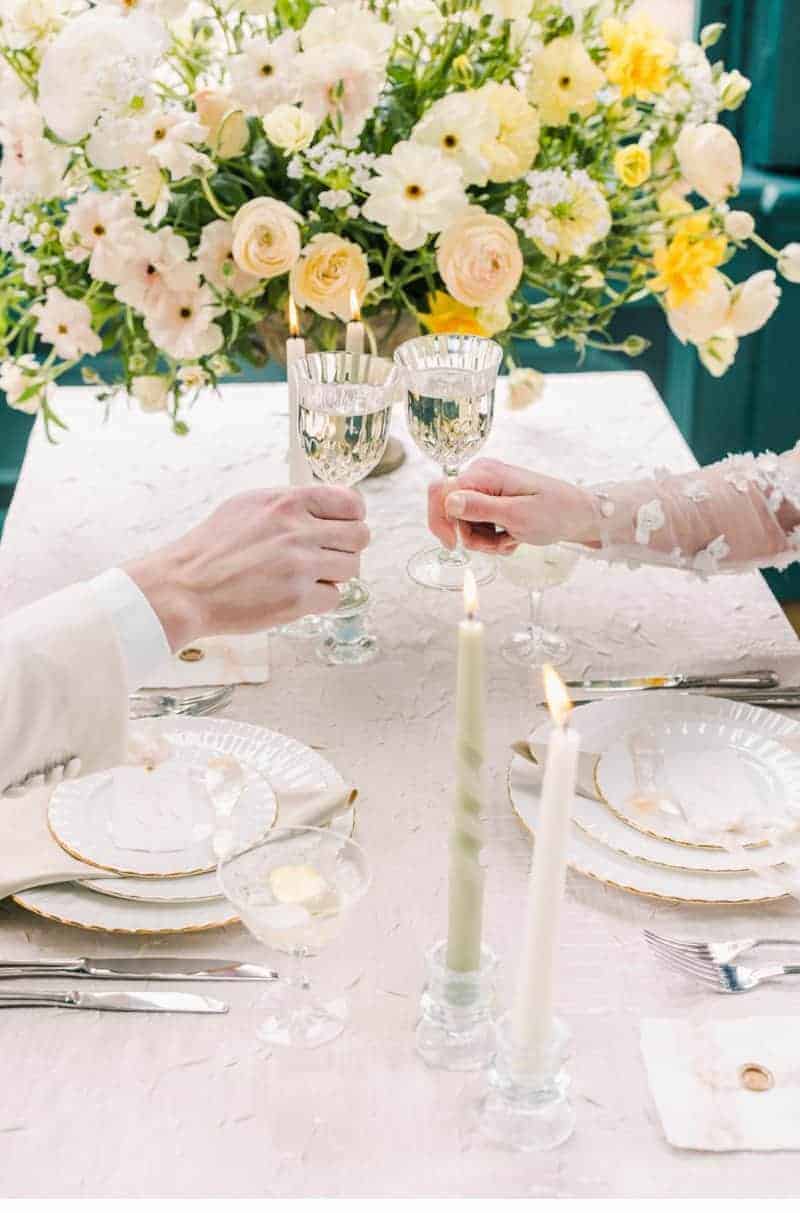 Photography: Erdinc Catras – Olive Wedding
Idea & Production: Katya Hutter
Planning & Styling: Emilva Tervoort – Santé Weddings
Floral Design: Katya Hutter Floral Design
Location: Huize Frankendael Amsterdam
Videographer: Eori Wakakuwa
Make-up and Hair: Elen Cherednikova, Uliana Matkovska
Dresses: Atelier Edwin Oudshoorn Bridal
Suit: New Tailor Amsterdam
Flowers: Monarch Flowers, Green Works
Stationery & Silk Ribbons: Pen to Paper
Photographer Assistant: Feyza Nur Korkmaz,
Floral Designer Assistants: Katrin Sircu, Celi Carreras, Nata Bisschop,
Wedding Planner Assistant: Quynh Pham
Models: Sanne & Lucas