Will you be my bridesmaids?
Themed as "Will you be my bridesmaids?" the happy bride invites her girl-friends over to celebrate her stag party.
At the beautiful Schloss Weikersdorf she prepared a room full of romantic and playful dresses, shoes and accessories in shades of mint, coral and gold for her bridesmaids Lissi and Margo.
Together they got styled, settled details for the upcoming wedding, laughed a lot and talked about the most important question of all: "Will you be my maid of honor?" Highly excited the girls choose from wonderful handmade jewelry with matching braceltes and enjoy delicious cocktails.
As little refreshment in between they try all the delicacies for the sweet table. Mintcolored cakepops with golden sprinkles, tasty cupcakes, adorable mini ring cakes and a dreamlike wedding cake – it´s amazing to choose from such a sickly-sweet variety.
Finally they let this exciting day come to an end at a heavenly dinner. A dreamlike arranged table with romantic-playful decoration, golden elements and perfectly matching floral decoration let´s the girls imagine how the big day is going to be…
Weddingplanner Raphaela Ramler from Venus-Weddings and photographer Karin Ahamer created this lovely world of inspirations and we enjoy this gorgeous dream of pictures happily.
Translation: Marina Jenewein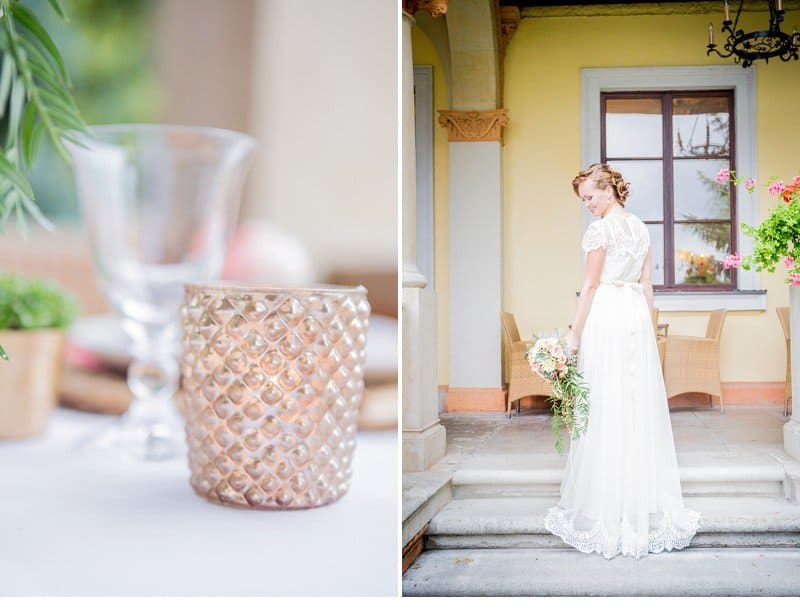 IDEE & FOTOGRAFIE: Karin Ahamer Photography
IDEE & DEKORATION: Raphaela Ramler – Venus-Weddings
FLORISTIK: Julia Stockinger – Blauer Bauernhof
SWEET TABLE: Anita & Attila Moser – McBox
PAPETERIE: Cordula Weißensteiner – For Magic Moments
DEKOELEMENTE: Birgit Horn – Wedding Avenue
KLEIDER & SCHUHE: Katharina Kimm – Heyday
ACCESSOIRES & SCHMUCK: Yerida Göschlberger – Butterfly-Treasures
VERLOBUNGSRING: Juwelier Dogan
MAKE-UP & HAARE: Andrea Olek
LOCATION: Schloss Weikersdorf
EMPFOHLEN IN UNSEREM SCHATZKISTCHEN:
Moser Cook 'N' Cake Box Heyday