Winter Blues
With the following classy images, the event stylist Sofia of My Fancy Wedding and the photographers of Passionate Wedding Photography from Portugal want to take us to a world representing love and passion for fine art like no other.
As she awakes it´s the delicate silk that clings to her soft skin. Later it´s the invitation card in her hands that makes her heart skip a beat. A short glimpse out of the window brings a thought to her mind: today´s her wedding day.
Surrounded by innocent white, valuable gold and royal blue she trades her morning gown for a dress, grabs her scented bouquet and devotes herself fully to the happy future ahead of her.
Before she leaves her secret empire as bride she adorns her long red hair with a crown of gold, holding her veil while highlighting her natural beauty. Candles flicker and the table is set; her big moment may come…
"From the glamorous point of view of Fine Art, we're captured by this bride´s preparations, step by step until she let's herself leave her own little world. Between calligraphy written invitations, velvet sofas and olive leafs, her fingers lightly dance to rest in the copper hair that holds her leaf crown." the artists behind the camera revealed excitedly.
The breathtaking property of Pestana Palace seemed predestinated for graceful bridal inspirations like these. Exceptional, spacious and imposing yet groomed, cozy and charming its interior as well as its gardens offer a wide range of backdrops for one-of-a-kind pictures.
"As her feet touch the stone ground outside, she feels that little cold feeling of excitement. He must be arriving by now. She covers herself with the soft veil, decidedly grabs her bouquet and gazes one last time at the house that will later cease to be her own secret." the photographers of Passionate Wedding Photography told us about their visions which they captured so artfully on camera for us…
Translation: Marina Jenewein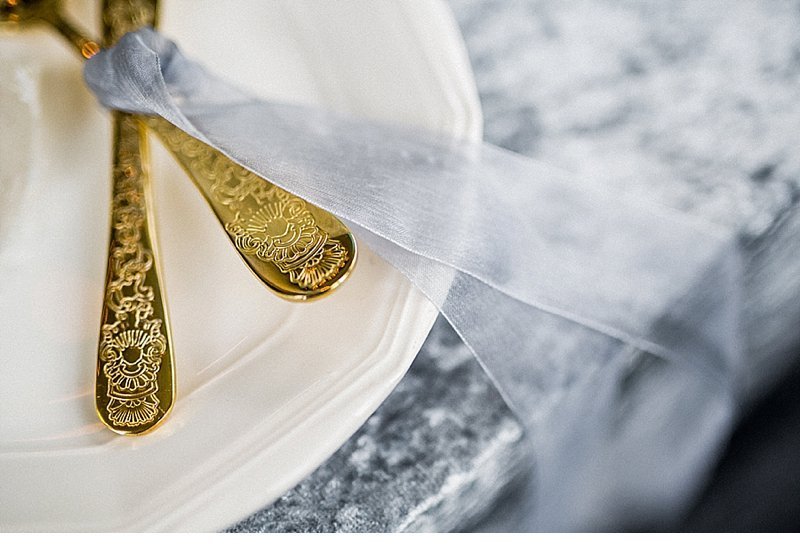 PHOTOGRAPHY: Passionate Wedding Photography
CONCEPT, STYLING & DECOR: My Fancy Wedding
MAKE-UP & HAIRSTYLING: Carla d'Oliveira
DRESS: Laure de Sagazan
LINGERIE: Dama de Copas
CALLIGRAPHY: Levado à Letra
CAKE DESIGN: Migalha Doce
VENUE: Pestana Palace
MODEL: Inês Duque from Best Models Agency
SCANS: Carmencita Film Lab
RECOMMENDE IN OUR VENDOR GUIDE:
Passionate Wedding Photography