Dream Couple Session in Mexico
Are you ready for a dream Couple Session in Mexico? Then look forward to powerful colors, a vibrant metropolis and plenty of fine art as photographer Jeremy Chou lets us be part of an exciting journey.
The amazing event stylists at Crosby + Jon tell us how it came to be: "As destination wedding organizers, we get to search for the world's most beautiful venues on behalf of our clients. Most recently, we have lost our hearts to the lively city of Puerto Vallarta in Mexico. During our visit we wanted to organize a unique lifestyle editorial shoot for Ollie and Kubie. It should be a mix of engagement session, fashion shoot and travel editorial. Together with great photographer Jeremy Chou, we created unique memories for Ollie and Kubie at the magnificent Grand Velas Riviera Nayarit and the colorful streets of downtown Puerto Vallarta."
The result is impressive: luminous facades, imposing architecture and a paradisiacal plant world served the creative team as background and inspiration in equal measure. "Our vision matured on the beautiful and huge property. The resort is idyllically located in Banderas Bay with stunning views of the Sierra Madre Mountains in the distance. Terra cotta roofs and fuchsia bougainvillea add colorful accents throughout the grounds. Peacocks roam the manicured tropical gardens, and an incredibly large infinity pool spans three floors toward the sea. We were blown away by the all-inclusive offerings, service, and five-star cuisine, and it was important to us to capture that relaxed and luxurious ambience that makes the resort so popular." raves the team.
But not only the grandiose luxury hotel, also the nearby city had so much to offer, as we learn. "On the lead evening, we headed to the historic old town of Puerto Vallarta. Our plan was to capture the elements of fine art and architecture found throughout the city. We started at the Los Arcos Amphitheater, a landmark consisting of four huge stone arches that have become an important symbol for the city. Our couple danced along the Malecón where cobblestone streets showed us the way to abandoned buildings and wildly growing flora. As the sun began to set, we climbed to the top to catch a glimpse of Our Lady of Guadalupe, a meaningful symbol of the city that dominates the skyline. From there we had an unforgettable view of the entire cityscape as it stretched to the ocean. By the time the sun sank into the ocean, we had all fallen in love with Puerto Vallarta. We hope you feel the same way."
To find out, we now release you into the colorful and stirring world of images by photographer Jeremy Chou.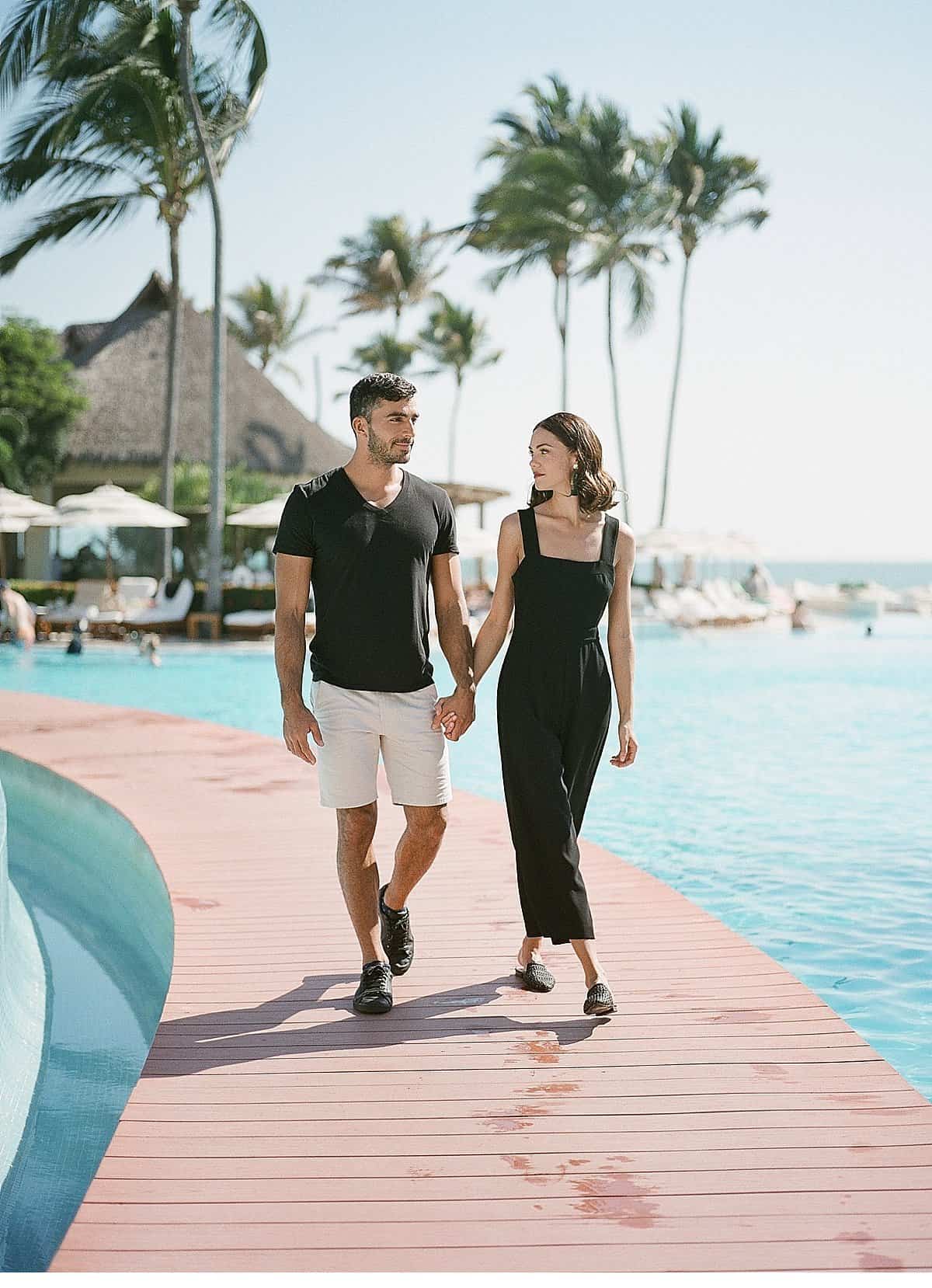 Couple Session in Puerto Vallart, Mexico from Robert Michael Films on Vimeo.
PHOTOGRAPHER: Jeremy Chou
VIDEOGRAPHER: Robert Michael
PRODUCER AND CREATIVE DIRECTOR: Crosby + Jon
VENUE: Grand Velas Riviera Nayarit
GRAND VELAS PROJECT DIRECTOR: Ary Iturralde
HAIR + MAKEUP: Zoë Elizabeth Makeup
JUMPER: Madewell
VIDEO ASSISTANT: Excursion Media
PHOTO ASSISTANT: Lexi Marie Photography