Fresh and Minimal in Paris
Deep gazes, loving gestures and tender kisses, accompanied by a touch of haute couture – all this and much more happened in Paris, the city of love and fashion.
We meet Aurora and Dimitry, a charming pair of lovers who seem to live these two attributes with each fiber. They are young and beautiful, deeply in love and blessed with a subtle sense of fashion.
"Aurora is wearing a made to tailor sophisticated and sensual French Chantilly lace layer with wide and straight silk pants created by French designer Tasya Talitha." photographer Julia Rapp told us. She was the one capturing their luck on camera.
Together they roamed the romantic city in search of the perfect setting for unique pictures of togetherness. Surrounded by an invisible cloud of Grande Amour, Aurora and Dimitry soon had only eyes for each other and sank into gentle caresses.
Playful teasing in front of the Concorde Fountain, a familiar walk in front of the Palace of Versailles, whispering declarations of love in the park and a profound moment under the archway to the Louvre – Paris seemed to be extinct, as if the world was revolving around these two in those magical moments.
In the end this couple shoot made a lasting impression on photographer Julia Rapp."It was such a pleasure to photographer these two love birds that have opposite yet complementary characters: Aurora is so tender and playful like a fresh peach and Dimitry has calm and protective nature."
Isn´t it fascinatinghow Julia Rapp captured exactly that special connection between them?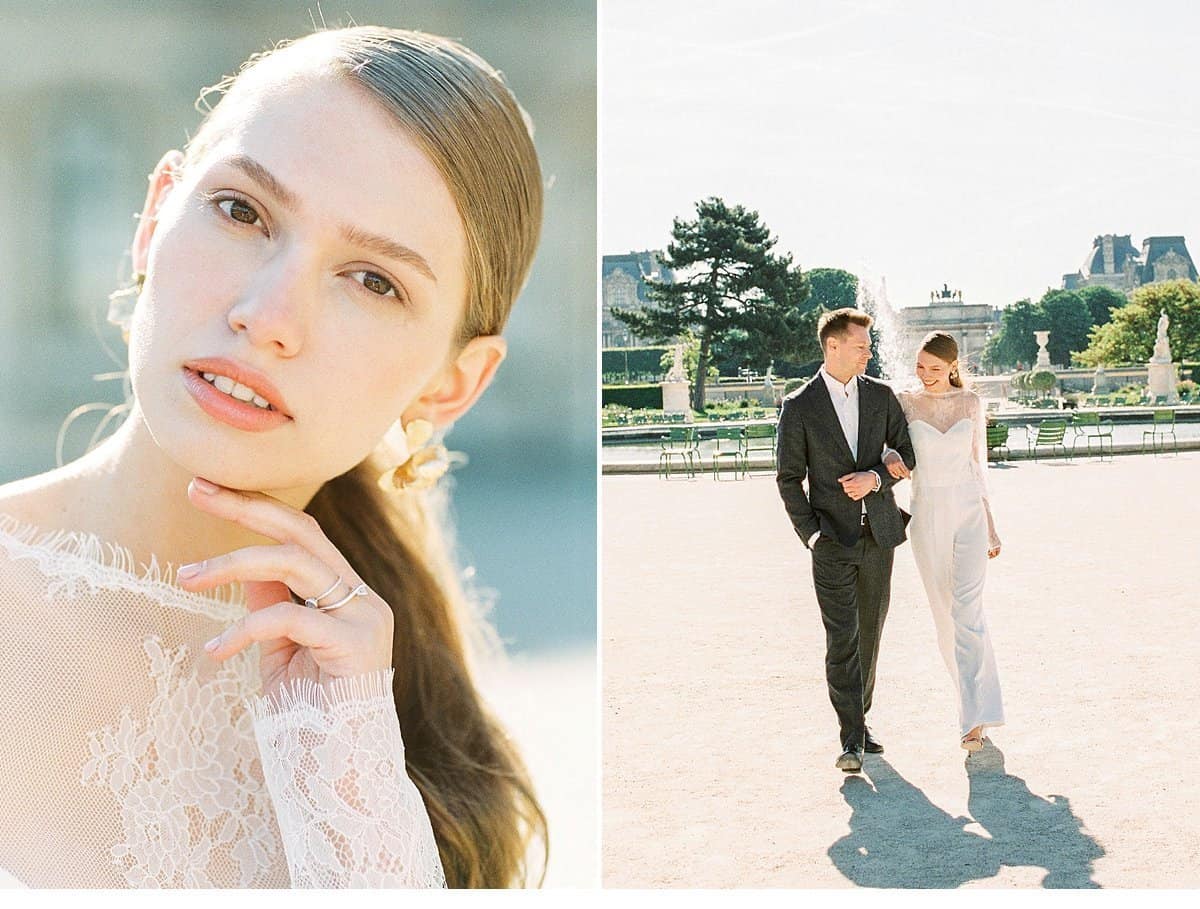 PHOTOGRAPHER: Julia Rapp
MADE TO TAILOR BRIDAL SUIT: Tasya Talitha
MUAH ARTIST: Jiyoung – Modern Bride Paris
EARRINGS AND HAIR ACCESSORIES: Maison Sabben
WHITE EARRINGS: Chanel
FILM LAB: Carmencita Film Lab